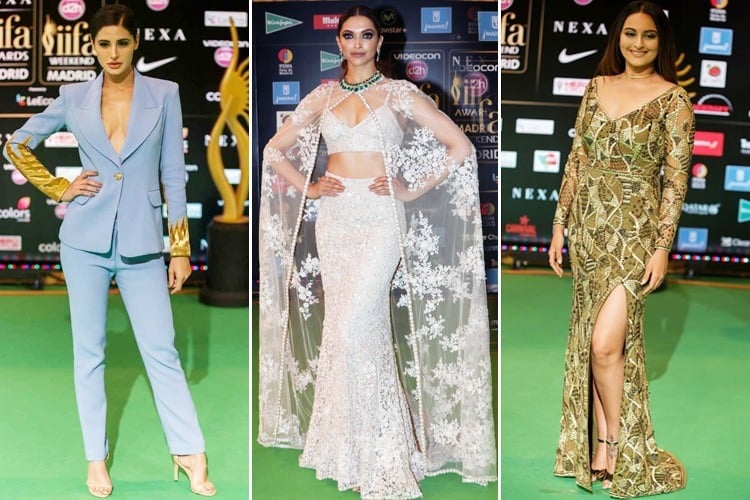 We all remember the golden age of Rekha succeeded by Madhuri Dixit when award functions in Bollywood used to be all about gorgeous sarees, Kanjeevarams specially. As much as we rejoiced that era, it is a fresh change to see the actresses these days break out of those yards of silk during such evenings. Bollywood is not limited to India anymore, and the world is becoming a melting pot, the ones like Priyanka Chopra hold before us that the horizons of Indian actors have been broadened. In an industry that holds looks and presentation central to its business, it was incumbent on the stars of Bollywood to explore outside that of traditional attire and adopt a style that resonates more with the international fashion.
[Also Read: Choosing The Right Gown Patterns Can Be One Big Deal, Actually!!!]
The same was prevalent at the IIFA 2016, where all major names were seen echoing a sense of dressing that were founded on the trends that had ruled the Hollywood red carpet earlier this year. Given that Bipasha is still a new bride among all the other stars from the industry, we were in fact pleased to see her in a light pink Sabyasachi saree. Her husband Karan Singh Grover could be called her best accessory. The only personality to have rocked a saree, apart from Bipasha was T-Series sovereign Divya Khosla Kumar, while most of the other celebs chose to go urban in their fashion decisions.
We saw a great collection of interesting gowns being worn at the 17th celebration of IIFA. Deepika Padukone, for instance had quite a rich collection to display. Given that she is one of the leading ladies in the industry right now, it is easy to infer that designers must have been hoarding her with their creations. The actress however showed some wise choices. Nargis Fukri, Shilpa Shetty, Shriya Saran, Priyanka Chopra were seen boasting some unique pieces too, and all their style were screaming out Hollywood. Unique cut-outs were also a big thing during the event. The lehenga-choli inspired Sabyasachi outfit of Deepika Padukone that was completed with a cape was a perfect fusion of east and west.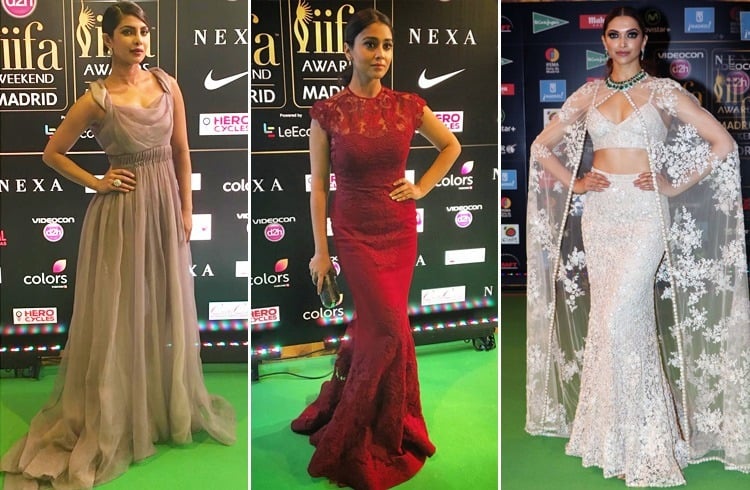 Inspired by the best of wardrobes seen at the Cannes film festival this year, we saw Indian heroines embracing the princess gowns and need we say they looked every bit princess-esque. Bhumi Pedneker, for instance, was channeling the princess vibe in an extravagant silver grey gown by Shantanu & Nikhil. The designer duo also dressed up Aditi Rao in a green ball gown and Sonakshi Sinha in an ankle length white dress with a wide skater skirt.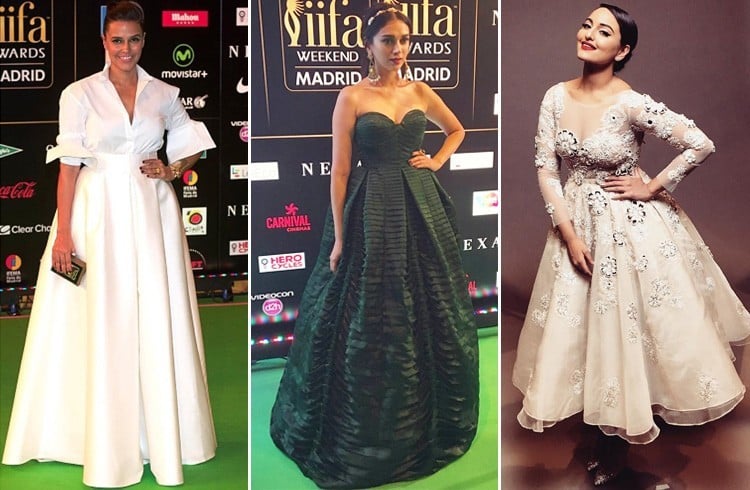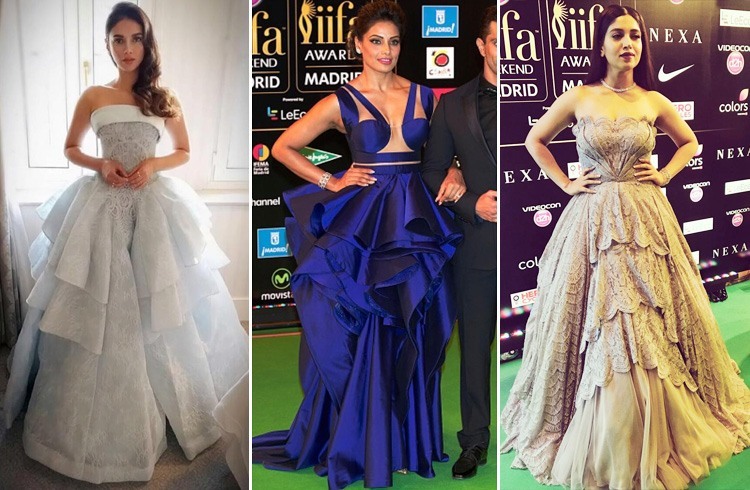 We were pleasantly surprised to see some Angelina Jolie leg at the IIFAs. Girls close to home has got all that needs to be flaunted, then why not giving it a shot.
[Also Read: 5 Indian Celebrities in a Jolie Slit]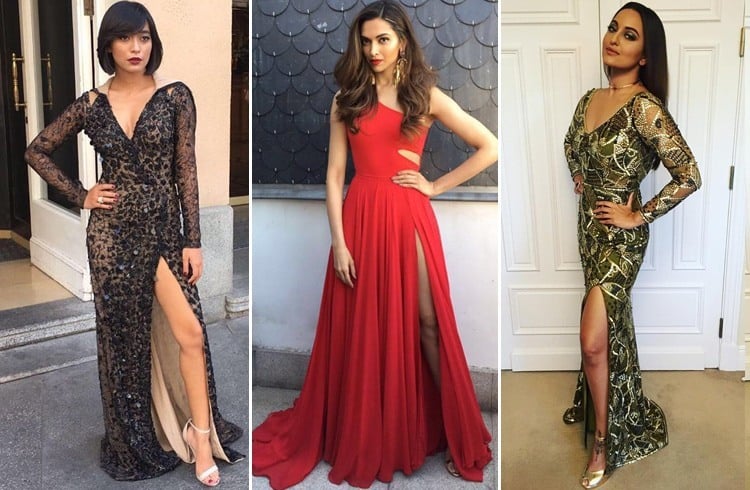 The stunning ladies didn't shy away from giving us some generous peek at their abundant cleavage and we know that works best. Nargis was killing it with the side boob thing going on, Dia Mirza tried staying a little conservative. Deepika was way ahead of herself, but was also modest to cover up with a mesh paneling, which if you don't peer too close, you won't figure it.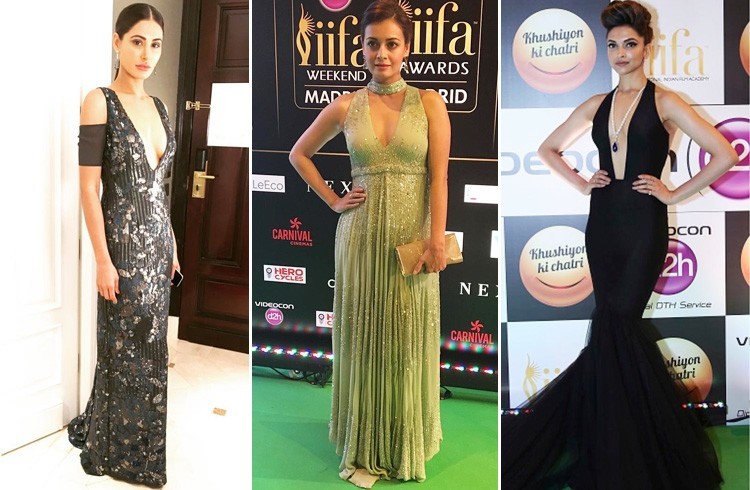 Another trend that was ruling the green carpet of the award ceremony rolled of at the capital city of Spain was the appreciation of pant suits or jump suits. The ladies chose to go a little masculine and of course it was bringing in a different dimension of sexy.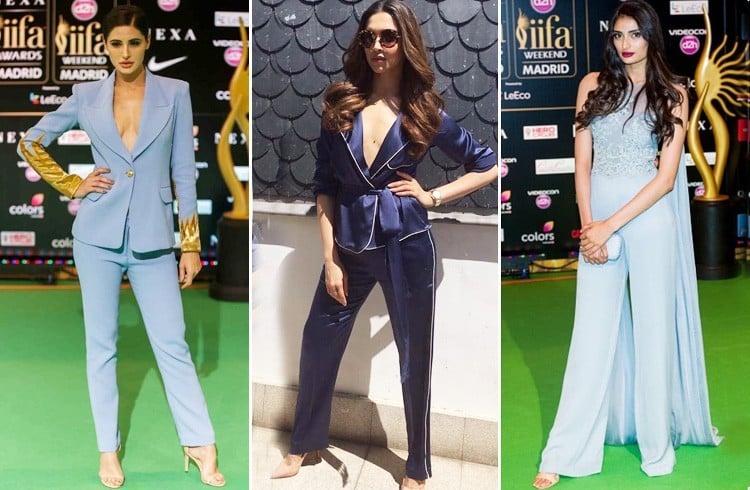 The new generation of actress in Bollywood have seen through the international sense of styling. And what we understand from the wardrobe choices made for the green carpet of IIFA last Saturday, even when the girls are trying to pick an outfit inclined toward the traditional style, they fashion it in a manner to attract international appeal. They have positioned themselves well in a world shrunk in by internet as they have an understanding of the audience's awareness of the latest trends accepted internationally and they wouldn't want to discourage their fans. Again, stepping in for a grand event help in Madrid, it was smart of them to adopt trends that had a global appeal than to act the coy maiden from India.
Images Source: instagram.com