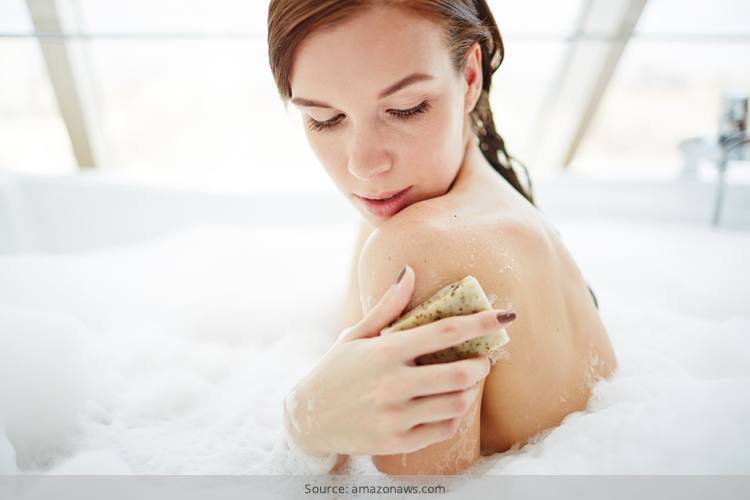 Have you ever come out of bath with red itchy skin leaving you irritated and uncomfortable instead of relaxed and cleansed? If so, the culprit can well be the phlates, glutens, parabens, sulphates, artificial fragrances and host of other chemical toxins in your soap. So how do you cope? I agree, you cannot do without body soap. Thankfully, the solution comes in the form of hypoallergenic organic soaps which have taken the skin care market by storm.
Types Of Anti Allergenic Soaps
Today we have a wide variety of gluten free soaps brands available whose pure ingredients are bound to leave you with a cleansed, nourished and baby-soft skin. Check out my top favorite ones.
1. Hugo Naturals
More than soap, these fizzy bath bombs are the ultimate luxurious all-natural skin conditioners loaded with botanical extracts and essential oils. Their rich creamy lather and intoxicating unique citrus herbal scents of Bergamot and Mexican Lime will leave you feeling totally pampered. If you are all about going green, you can be confident of this gluten free organic soap which is completely vegan and cruelty free as well.
2. Desert Essence Exfoliating Lemon Soap Bar
If you are looking for a natural exfoliater that would leave you skin revitalized and moisturized, opt for this brand's hypoallergenic organic soap. This suds' GMO free rich foam has exfoliating Oat Kernel Flour and Jojoba seed powder which eliminates impurities and dead skin smoothly while the Jojoba seed oil moisturizes and nourishes the skin well. Its Italian lemon fragrance is known to revitalize and energize even the laziest creatures. Completely gluten-free and vegan, the soap comes beautifully wrapped in 100% recycled material.
3. Plantlife
Those of you who not only have to put up with sensitive skin but also body odor, this brand is the right choice for you. The brand showcases a terrific line of anti-allergenic soaps, adept at providing therapeutic, healing and aromatherapy benefits. Even though the company never uses any artificial fragrances, the first thing that floor you is its strong lemon scent that actually lingers on your skin for a good length of time. Completely vegan, cruelty-free and gluten-free, the brand has a wide range of nourishing soaps with exotic fragrances. You can check out its sandalwood, rosemary, tea tree and coconut vanilla scents, among others!
[sc:mediad]
4. Kiss My Face
If you thought soap bars cannot get anyone excited, think again with Kiss My Face hypoallergenic soap. Originating from the sun drenched Mediterranean orchards; it lays at your disposal several nourishing and enriching olive formulas whose antioxidants and anti-ageing properties are legendary. Devoid of any artificial foamers, colors or additives, these bars are pure pampering cleansers. Choose from chamomile, lavender, green tea or any other terrific olive oil formulations.
5. Dr. Bronner's
Available online and in health-food stores, this brand is reputed for its pure Castile non-allergenic soap. Its versatile and eco-friendly soaps enjoy the certification of being organic and fair trade. Totally gluten-free, these are made from completely bio-degradable and vegetable based ingredients. Few rock star ingredients to woe you are extra virgin jojoba, hemp and coconut oil along with some essential oils to let you have a super cleansing experience. Its peppermint, almond, lavender, tea-tree, eucalyptus, rose and citrus fragrances are quite soothing and therapeutic. It also has a specialized unscented mild formula for babies.
6. Lush
Easily mistaken for a piece of cheese, Lush takes you to a fairyland of fresh handmade wonderful colorful blocks made of pure vegetarian ingredients. What sets this brand apart is selling completely unpackaged products with no preservatives added to it. This organic and gluten free suds not only have stunning colors but their invigorating scents like sea vegetable, ginger or even porridge enthralls you totally. The soap can be purchased in kilograms and irregular soaps. Its Sultana of soap is the hallmark product.
7. Tom's Of Maine
This organic gluten-free brand makes terrific soaps in clear, moisturizing as well as deodorant varieties. Conceptualized with awesome formulas and fragrances, these organic soaps are super loaded with naturally-sourced, plant-derived ingredients like jojoba, coconut and olive oils. Completely cruelty free and gluten-free, the brand provides a range of specific formulas to suit different skin types. Moreover, they are long lasting. You definitely need to try it out.
With increasing list of health-compromising substances becoming a common discovery in cosmetics every day, it's wise that you be extremely selective about your personal care products and stick with known and trusted brands which produce hypoallergenic organic soap and other skin care products. With these brands, you can really indulge in a worry free bath. After all, it really matters what you feed your skin with!