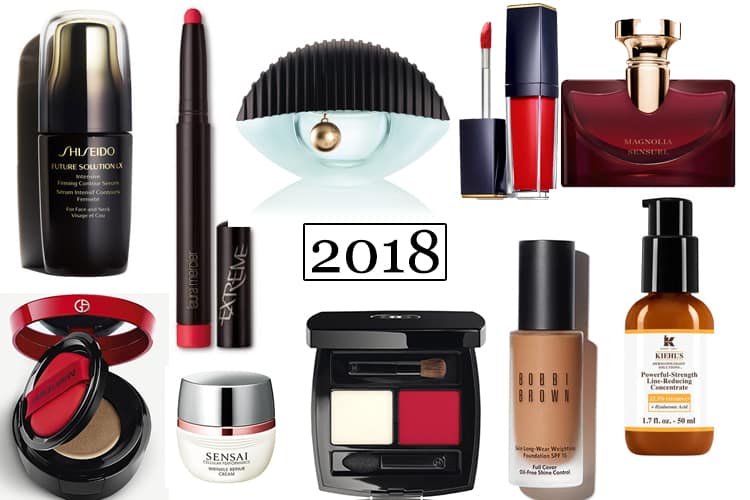 New Year means new beauty products. It also means a new you. All you need to do is update your makeup kits from time to time, try out a new scent or basically tweak your skincare routine.
Get spoilt for choice as we bring you the latest in beauty launches and top new beauty product launches in January 2018. This covers the best beauty products, best makeup brands, best makeup products and cosmetic products launch. Sounds exciting, right?
Top 19 Beauty And Makeup Launches In January 2018
Let's treat ourselves to 2018's hottest new launches that are going to take the beauty industry by storm. Goodbye, money!
1. First Aid Beauty Coconut Water Cream:
The year 2018 is all about the water-based creams and First Aid Beauty nailed it with the brand's Coconut Water Cream. Being an oil-free formula, this is one of the best beauty products that come with a heavenly coconut fragrance.
Price: $34
2. Kenzo World Eau De Toilette:
Designed for the fragrance-lovers, this fruity, floral scent from Kenzo comes with notes of pear, peony, and iris to put a smile on your face.
Launch Date: 29 January at Boots
Price: £55 for 50 ml
3. Giorgio Armani My Armani To Go Cushion Foundation:
This chic-looking compact cushion from Giorgio Armani is the perfect tool when it comes to best makeup brands or for that matter cosmetic products launch. Expect imperfections to get blurred through this essence-in-foundation. Moreover, it has a finish which provides a subtle glow lit-from-within.
Launch Date: Out now
Price: £59
4. Chanel Poudre À Lèvres Rosso Parthenope:
Chanel's new lip palette, from its Neapolis: New City Spring 2018 Collection gets you precise color application. It also has a comforting balm to go underneath. Chic you will feel after using this top new beauty product launches in January 2018 from Chanel.
Launch Date: 12 January
Price: £31
5. Caudalie Premier Cru The Serum:
What's Harvard University got to do with one of the hottest cosmetic products launches of 2018? This beauty serum from Caudalie was formulated with the help of research from Harvard. Light on the skin, this serum makes use of the anti-aging benefits of grapeseed in order to boost and revitalize your complexion.
Launch Date: 9 January
Price: £90
6. Bobbi Brown Skin Long-Wear Weightless Foundation:
Ever thought of upgrading your foundation? Bobbi Brown is undoubtedly one of the best makeup brands which give you a full-coverage base and a long-lasting one too (without making it look and feel heavy or failing to shine). The choice of 30 shades makes this weightless foundation hold a lot of weight! What say?
Launch Date: Out now
Price: £31
7. Splendida Bvlgari Magnolia Sensuel:
Meet the latest addition to the Splendida Bvlgari range – the Bvlgari Magnolia Sensuel which combines rose, iris, and jasmine – exotic flowers in perfumery – with punchy notes of magnolia. Which is why you get Bvlgari Magnolia Sensuel! Airy and sensual, this is one of the most divine cosmetic products launches in 2018. It is definitively floral with just a hint of zesty citrus.
Launch Date: Early January at Selfridges
Price: £97 for 100 ml
8. Givenchy Gloss Interdit Vinyl:
This latest revolution for your lips from Givenchy is super-n-superb glossy. At the same time not sticky but filled with hi-impact color. The application is G-shaped. Aww…that's a sweet bonus, isn't it? In short, you gotta love it.
Launch Date: 18 January at Debenhams
Price: £23.50
9. Ameliorate Transforming Body Cream:
This is one of the best beauty products from Ameliorate and it is for the bod, not face, sweetie. It nourishes and hydrates your skin, making it look healthier and feel smoother.
Launch Date: Out now
Price: £27.50
10. This Works Evening Detox Cleansing Water:
How much we are reading and hearing the word 'Detox' these days (for many days and months actually). But this cleansing water from This Works brand is a treat. Removes makeup, pollution, and dirt making your skin feeling fresh, rejuvenated and clean (of course!).
[sc:mediad]
Launch Date: Out now
Price: £22
11. Shiseido Future Solution LX Intensive Firming Contour Serum:
You've got to massage this futuristic serum from Shiseido on your face and neck twice a day. And then it's goodbye to dullness and loss of suppleness. The feeling of firmness you get post-application will leave you wanting more. It's a long-term complexion-boost.
Launch Date: 18 January
Price: £300
12. Clarins SOS Primer:
This primer from Clarins hydrates, primes and shields your skin from pollution. That's good but it also corrects your complexion. Which means you can say goodbye to dark circles, redness, and sallowness.
Launch Date: 28 January
Price: £26.50
13. Laura Mercier Velour Extreme Matte Lipstick:
Goodbye dry and chapped lips! This new stand-out lipstick from Laura Mercier gives you highly pigmented color and matte finish. Looks lush, right?
Launch Date: 28 January
Price: £22
14. Kiehl's Powerful-Strength Line-Reducing Concentrate:
With 12.5% Vitamin C and Hyaluronic Acid, Kiehl's Since 1851 brings this clinically demonstrated serum which decreases the appearance of fine lines and wrinkles. It also improves skin radiance and texture.
Launch Date: Early January
Price: £49.50
15. CliniqueFIT Workout 24-Hour Mascara:
Whether you want to work out in mascara or not, this is long-wear waterproof mascara from Clinique. A worthy range for gym selfies.
Launch Date: Out Now
Price: £20
16. Aveda Invati Advanced Exfoliating Shampoo:
Want some refreshment for your hair? Try out Aveda's new Invati Advanced Shampoo. It is skincare for your tresses. Yes! because this shampoo will cleanse and exfoliate your scalp, at the same time protect against hair breakage.
Launch Date: Out Now
Price: £ 25
17. Estee Lauder Pure Color Envy Paint-On Liquid LipColor:
This liquid lipstick is deeply pigmented – the perfect choice when you want your lips to do the talking. Options are cool too: pick either a matte, metallic or high-shine finish.
Launch Date: Out Now (exclusively available at Selfridges)
Price: £25 each
18. Sensai Cellular Performance Wrinkle Repair Essence:
This is one of the most promising cosmetic products launches in 2018 that uses technology modeled on skin's natural collagen. Sensai is a nourishing serum that gets quickly absorbed. It also fights fine lines giving you firmer, silkier skin.
Launch Date: Out Now (exclusively available at Harrods)
Price: £ 145
19. Eve Lom Radiance Face Oil:
Anytime your complexion starts to look dull, tired and pale – here comes this multi-tasking oil from Eve Lom. Apply it on your skin every morning. You can also mix this oil in your moisturizer to get a dewy, fresh-faced glow.
Launch Date: Out now
Price: £60
Mind-blowing these, aren't they? So which of these top new beauty product launches in January 2018 fascinated you the most? Write in and tell us the best beauty products or the best makeup brands launched in January 2018 that you wish to buy.