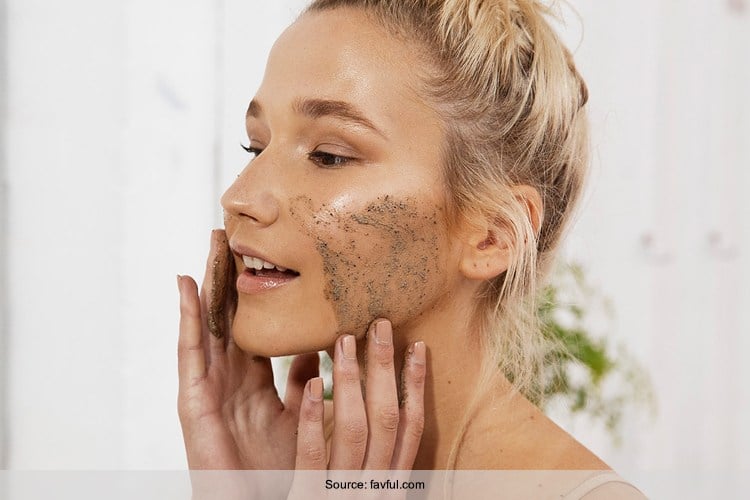 Festivities in India start from September and go on till December. It is only obvious for everyone to desire beautiful and flawless skin during these festivities. Except, it's such a pain that the season of celebration is always accompanied by winter which automatically translates to dry and flaky skin.
Today, we are going to discuss how to get rid of dryness by exfoliation and what are the best exfoliators available in India.
The markets are full of exfoliating scrubs and face washes. You have to decide which are be best for you, depending upon your skin type.
Here are some of the top selling face exfoliators available in Indian market:
Lakme Clean Up Pores Face Scrubs
Packed in a bright sea green tube, this Lakme product, with its mini crystals, gives the face the much needed exfoliating effect. Its effective on black and white heads also, and deep cleanses the pours and shrinks them. The gel with a pleasant fragrance comes in a travel friendly packaging of about 50 grams.
VLCC Skin Defense Indian Berberry Face Scrub
Content with the goodness of tree turmeric, neem extracts and papaya seeds, the product keeps its promise of gentle exfoliation and rejuvenation of skin. The chemical free creamy base has minute granules that smoothens the skin, giving it a radiance that lasts for 2 to 3 days. With its fruity fragrance, it's one of the best face scrubbers in the country. A 100 gm pack comes for a little above rupees 200.
Biotique Bio Papaya Smoothing and Revitalizing Scrub
The scrub is not just a cosmetic but is loaded with many therapeutic properties and is one of the exfoliating cream wash es available. With Papaya as its main ingredient, it's known for its stimulating and therapeutic benefits. Ideal for taking away dead skin cells while restoring the sheen on your face, this scrub turns your skin softer and adds to its elasticity. Fruit facials and scrubs can cause no harm to any skin types and cause no reactions like the chemical based products. So you can start using the scrub from any day.
Lotus Berry Scrub
With its lovely aroma of fresh strawberries, goodness of lemon, orange peel and aloe vera, the transparent gel from Lotus scrubs your tender skin leaving it baby soft. Very affordable to the pocket, it reveals polished facial skin with a bright complexion after exfoliation. This is also the best scrub for oily skin, so those tired of their oily skin, this amazing product will prove to be a holy grail.
St. Ives Timeless Skin Apricot Scrub
This is one product which is not only pocket-friendly but also magical within its tiny budget. It keeps blackheads and blemishes out of the way. It exfoliates well and tones the skin too. It has powerful antioxidants that cleanse the skin deeply. The best thing about this apricot scrub is its suitability for all skin types. People with sensitive skin types would feel very safe using it. Thrice a week usage of the St. Ives product would leave your skin free from all dead cells with a sweet smell.
Body Shop Seaweed Pore Cleansing Exfoliator
This Body Shop exfoliator is a great product to unclog pores instantly and cleanse your face. Its soap free formula works perfectly on all normal to oily skin types. The microbeads in it also help in ridding the skin of acne and blackheads when used over time without drying the skin. The jojoba oil in it provides the skin for prolonged hydration, and its USP is that a little goes a long way, and so though the initial cost may seem appalling, the longevity of the products justifies it.
The Nature's Co. Corn Exfoliating Face Pack
For those looking for something that doubles as a face pack and an exfoliator, The Nature's Co. Corn Exfoliating Face Pack is just the right product for you. The USP of the face pack, we have to say, is the natural goodness of corn, hill spring water, complete with vegetable glycerin. Yes, priced at over 2400 INR for a 350, cannot deny that it is a little expensive, but only upon use will you realize the absolute worth of it. A must for those with acne prone skin. The clay texture when applied on dry and clean face works like an anti-aging product too.
Bio Care Face Scrub Cucumber
With its cucumber extracts, the Bio Care Face Scrub gives a soothing feel to the skin. It works as a great exfoliator and removes every spec of dirt effectively from the deepest pores of the skin. The vitamin E present in this formulae provides the skin with required nourishment and helps in brightening the skin while reducing pigmentation too. By using this face scrub at least 4 times a week to you will get fresh, energetic and younger looking skin.
Herbal Roots Almond Face And Body Scrub
If you are searching for a scrub which is purely made out of herbal products, this is one product you have to try. It exfoliates your skin, gently and naturally, removing all dead cells and eliminates dullness and pulls out impurities hiding in the pores. The product is rich in vitamin content and is helpful in lightening the complexion of skin also. As we all know vitamin E and almonds rejuvenates and softens the skin.
The Body Shop Tea Tree Squeaky-Clean Scrub
Eliminating excessive oil from the skin's surface is just one of the many benefits of this scrub from The Body Shop. Tea tree is antibacterial in nature, and effectively fights acne. It scrubs of deep layers of dead skin gently and clears pores keeping dirt-free. Women or men suffering from prolonged white and blackhead problems must use this product.
Apart from the above, you may also go for facewashes that double up as scrubs. The best exfoliating face wash I have been using lately is available in Ustraa brand and goes by the name, Badass Sexy with Cinnamon. A 100 grams tube costs about 250 INR.
Home Made Scrubs
Now these were all examples of the best facial scrubs from a general store near you. But if you want to work with what you already have, more like what you already have in your kitchen, here are a few things you have to round up.
[sc:mediad]
Homemade exfoliator for face:
Besan, or Bengal gram flour – 1 cup
Dahi or yogurt – 1 cup
How to exfoliate face with Besan pack:
These two products easily found in every kitchen are the best option of skin exfoliation. Mix the two products and stir till it forms a smooth batter.
Apply it generously on the face, and leave it on for 15 minutes to dry.
Once you start feeling the tightening on your skin, splash some water on to it, to loosen it up.
In circular motions massage the pack out of your face and rinse off with water. Follow up the process with a mild moisturizer.
Best Body Exfoliator – DIY
1 cup unboiled rice
1 cup masoor dal
5 tablepoon of milk
How to scrub or exfoliate body
This DIY product is one of the best exfoliators for dry skin to be used throughout the body. The rice and masoor granules remove dry skin while milk moisturizes the skin.
Ground the rice and masoor daal in a grinder and form a fine powder.
Take 3 teaspoon of this mixture in a ceramic bowl and set aside the remaining powder in a tight jar to use later, say once a week.
Add the milk to the bowl and make a grainy paste out of the rice, dal and milk.
Take this bowl with you to shower.
Wet the body and rub this paste in circular motions on your entire body.
Rinse under running water.
Don't forget to apply a generous coat of moisturizer to follow up.
Consistency is the key, ladies. You cannot apply it once and expect to turn out glowing in a day. Be it a face scrub you picked from the store or a homemade mask, it would take some time to show its magic. Use regularly and discover the world of smooth skin.