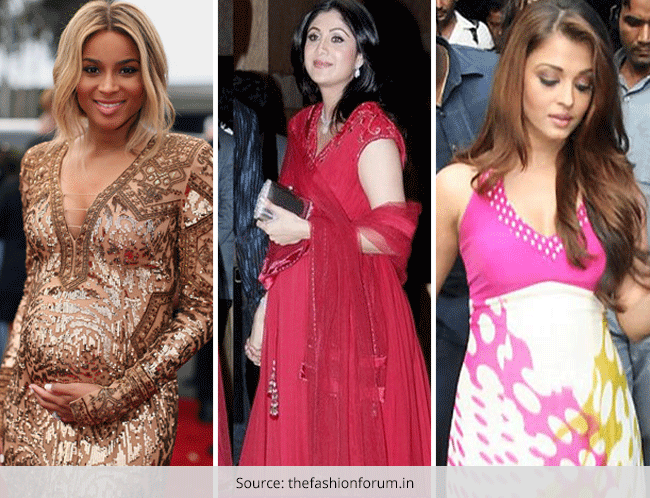 Pregnancy is a very confusing times for mothers-to-be. The most obvious confusion being how to dress the baby bump and still look gorgeous! Eventhough there are endless maternity clothes in the market, how you style is what really matters. Here is a list of most stylish pregnant celebs who got it bang on when it came to dressing up and looking like a hot mothers-to-be. Check it out and get some style inspiration from these most stylish pregnant celebs!
1. Amy Adams: When she was pregnant with her daughter, Aviana, a seven-month pregnant Amy Adams attended the Vanity Fair wearing a bright blue Philosophy di Alberta Ferretti gown. It glided over her bump beautifully and showed it off in style.
2. Busy Phillips: At the Screen Actors Guild Awards, Busy Phillips wore a Gabriela Cadena long sleeved black gown with a small train. She added a dazzling Irene Neuwirth statement necklace to go with it. She did not shy away from her baby bump and flaunted it in style.
3. Hilary Duff: The gorgeous mom-to-be, Hilary Duff wore a leopard-print tunic and an easy updo when she appeared on Chelsea Lately. Both the bump and the amazing glow on her face made it obvious that she was expecting.
4. Kajol: Bollywood is not behind when we talk about most stylish pregnant celebs.
Kajol made a gorgeous mom-to-be. She made several public appearances and was seen mostly in anarkalis, as they help in making the bump look just right. She looked amazing in this orange and red anarkali with black and golden brocade detailing. Her laugh was the most important accessory of all.
5. Christina Aguilera: While hosting the Rock the Vote Awards in the November 2007, Christina Aguilera opted for a Green Dress and stocking, and kept the overall look extremely sexy. She flaunted her baby bump in style!
6. Gwen Stefani: When Gwen Stefani was pregnant with baby Zuma, she chose to go the comfortable route and chose a flowy print blouse and a pair of jeans for a casual day out. She tried to hide the bump with her choice of loose fitting clothes, but barely managed to do so.
7. Jaime King: She attended the 2013 Met Gala in NYC wearing a black suit made of satin. She played it right by hinting at just enough skin through the sheer black lace blouse. She almost did succeed at hiding the bump with the way her outfit was coordinated!
8. Kate Middleton: If done correctly, prints can really work! For a casual school visit, Kate wore an Erdem printed dress that flattered her figure very nicely. Being a part of the royal family, she really knew how to flaunt the baby bump elegantly.
Kate was also amongst the latest pregnant celebrities until the beginning of May, 2015 when she delivered a baby girl and named her Charlotte Elizabeth Diana.
9. Sienna Miller: Sienna Miller absolutely did not shy away from the fact that she was pregnant! While filming for an Amore Pacific commercial, Sienna Miller wore a striped shirt and paired it with a ruffled sweater which enhanced her baby bump.
10. Drew Barrymore: Drew Barrymore nailed the laid back look in boyfriend jeans and a casual top. Later she changed into a flowy dress for a photo-shoot. Both looks played down her expanding stomach a tad bit.
11. Amrita Arora: Amrita Arora looked dazzling in her bejeweled off white lehenga. The layers hid the baby bump a bit, but it was obvious that, that was not her intention. Her face revealed that she was a very happy mom to be.
12. Tiffani Thiessen: When pregnant with baby Harper, she wore a body hugging black dress which proudly flaunted her baby bump.
[sc:mediad]
13. Jenna Fischer: Jenna Fisher looked fabulous in a long and flowing floral printed gown, which she wore to a maternity fashion event.
14. Reese Witherspoon: To go grocery shopping, Reese Witherspoon wore a red shirt dress and teamed it with golden sandals and a very simple necklace. She tried to hide the bump, but was quite unsuccessful.
15. Christina Applegate: For the premiere of Going the Distance, Christina flaunted her figure in a body hugging Max Mara purple sheath dress. It was very snug on her belly, enhancing her bump. It's quite obvious that she was a proud mom-to-be.
16. Kourtney Kardashian: While pregnant with her second baby, Kourtney Kardashian wore a red chiffon dress to a press event. She may have been trying to tone down her bump a bit, but her dress left little to the imagination.
17. Alyson Hannigan: For the launch of Diane von Furstenberg's collection for kids, Alysson Hannigan stood out in her black and white dress and pink flats. Her stomach was enhanced quite nicely in the dress.
18. Ciara: Ciara was all for showing off her bump! At the 2014 Grammy's in LA, Ciara wore bump flattering gold gown.
19. Genelia D'souza: Genelia D'Souza looks like a cute kid herself, so some were shocked when she announced her pregnancy. She was seen at an event in a dazzling white and green anarkali, which flaunted her figure and made her bump look gorgeous, the glow on her face was absolutely mesmerizing.
20. Adriana Lima: She is a Victoria's Secret star for a reason, while pregnant she stepped out in a see through sparkly dress, and looked absolutely fabulous doing so.
21. Shilpa Shetty: Shilpa Shetty is known for her impeccable sense of style and a figure to die for, and she maintained that image even when she was pregnant. When attending an event, she stepped out in a vibrant red anarkali and looked absolutely fabulous. She loved the fact that she was pregnant and flaunted it in style. Her glow just added more to the overall package!
22. Carla Bruni: Even though she had not announced her pregnancy officially, and really did try to hide her bump, her white smock dress and black coat enhanced her bump so well that it became quite difficult to hide that she was pregnant.
23. Aishwarya Rai: The ex-Miss World really knows a thing or two about style. She was seen wearing a halter multicolored dress with a pink base. It defined her bump perfectly, enhancing it in just the right way.
24. Kim Kardashian: Kim Kardashian wore wore an all white ensemble and threw on a camel-colored cardigan to break the monotony while attending business meetings.
25. Sonali Bendre: Sonali Bendre is an eatremely pretty cute-as-a-button celeb. When pregnant, she still stepped out in style always. In this black strappy dress, her bump is barely visible, and that is probably exactly what she was aiming for. Nevertheless she looked absolutely gorgeous!
Hope this article on most stylish pregnant celebs was fun to read.