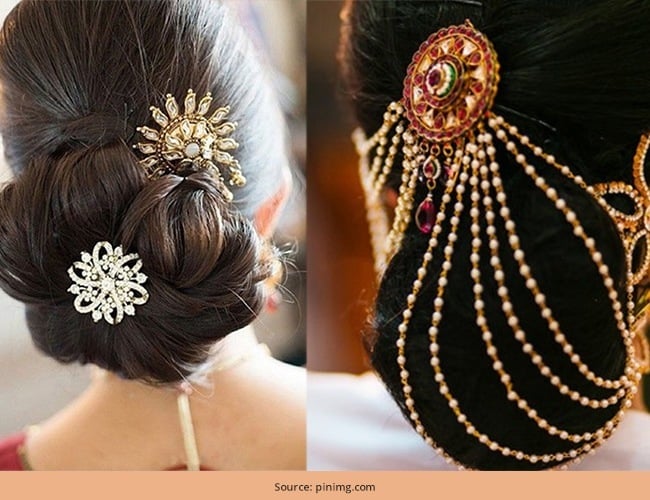 Hairstyle plays a vital role in bridal makeover. No matter how much perfect the bridal makeup, wedding trousseau and accessories are, a bad hairstyle can ruin the entire look. This is the reason both the stylist and the bride are keen on getting the hairstyle right that not only suits her face but also complements her overall look. In this post, I offer you 5 Indian bridal hairstyles with timeless appeal.
Wedding dress, makeup and hairstyle are three important aspects that work together to make a bride look the most gorgeous among everyone present there. Since Indian bridal getup involves heavy jewelries with heavily adorned veil, so hairstyle needs to be strong and beautiful alike to sustain for several hours.
Go through these 5 classic bridal updos to get some cues for your wedding!
1. Traditional bun hairstyle
This is one of the most commonly preferred buns that add volume to the hair. Since veil (pallu) is a must for the bride, the updo bun secures the veil's position on the head. Therefore, bun hairstyle or updo is preferred by most of the brides unlike South Indian brides who do not have cover their head during wedding. So they rather go for a long embellished braid. The bun is also embellished with elaborate hair accessories flanked by kundan and crystals, which are clearly visible from beneath the veil.
No matter whether the bride is wearing a saree or lehenga, this hairstyle perfectly suits the look. And for those who have short hair, they can read our article on bridal hairstyles for short hair.
2. Pinned-up bun
Pinned-up bun is another popular bridal hairstyle updo that is preferred by the fashionable brides across the nation. Unlike regular bun or juda that is made up from the hair knot; the pinned-up bun is usually created by pinning up small sections of hair that are gathered together, thereby giving an illusion of bun. This pinned-up bun is further embellished with pearl beads and also floral accessories to enhance the beauty of the bridal look.
3. Side bun
This is another variation of new age Indian bridal updo that comes with a change in the position. As the name suggests, this low bun is created on one side instead at the center back.
For this, first of all a thorough blow dry is required and then hair is brushed to one side and pulled into a low puffed-up bun. Even though this style is not that popular but you can still go for to create a change in the regular bridal updo.
4. Regal updo
This is one of the most regal updos for Indian brides. This hairstyle is actually for Christian brides, who wear gowns while taking the wedding vows. Renato Campora has created this regal updo that complements the ornate wedding gown in white.
If you're in petite side then this sleek high updo will surely help you in virtually increasing your height. For this style, you can go for bouffant updo, white ribbon and also sweep updo.
5. Bun with side swept bangs
This is another great style for Christian brides. In this image Jennifer Behr from Revenge fame flaunts a glitzy and loose high knot that gives a less contrived feel. In order to add substance to her look, hairstyle wizard Ruben Colon also created side swept bangs and finished her look with beautiful star accessories. The stylist recommends to apply a spritzing hairspray on the backside of a paddle brush and to use the brush to smoothen the surface of the bun.
We'll leave you with a few more images of bridal hairstyles or bridal bun hairstyles for you to inspire from.
So these are the top Indian bridal updos with timeless appeal. Hope you get some cues for your D day!