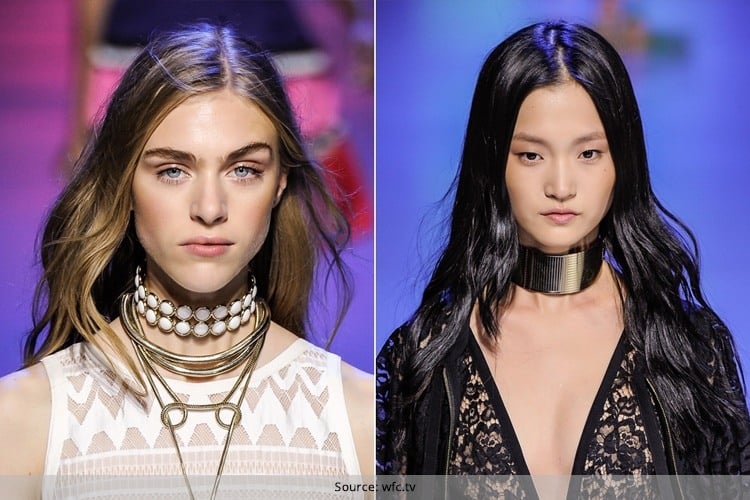 Choker trend is what is so haute and raging right now, and a reminiscent of the 90s too. They are hot, they are sizzling and they are the best accessories to wear any time you venture out of the house. The best part is, the choker trends that we would show you now are for the current season, but you know it well, fashion lasts for as long as you can handle it with grace. If you are bored of the large and chunky neck pieces, you can wear chokers to be an outstanding girl at the parties or gatherings, or maybe to work. Here are a couple of sweet choker trends that are worth a mention. Check them out!
[Also Read: Choker Trend Is Back And We Are In Love With It]
Choker Necklace Designs
1. Dare To Go A Little Kinky
You could have a choker necklace design in leather which could be intricately embroidered upon or simply plain. You get to choose how to style it! Look at Hollywood celebrity Daphne Groeneveld in a leather and rhinestone choker, making a statement at a red carpet saga.
2. For An Elegant Touch
If you want to go all minimal and retro, you could wear a platinum white choker which is a raging choker trend for women who attend one too many social do's with the graceful lot. It can be paired with Indian wear, indo-western wear and pure western wear or evening cocktail gowns too. Minimal and sassy at the same time, your neck gets a lot of attention!
3. Illusion Of A Long Neck
For women with short necks, who would like a little more of the neck stand to flaunt, here's a deal. You could have a leather belted choker to wrap around the neck, and it can go well with your smart casuals to wear for an after office party. Quite bold and daring, this is one of the chokers for women that brings about a grunge look; if the makeup is done right.
4. For A Fun Casual Look
If you are heading out with the girls; for a movie or maybe to spend time at the mall or just coffee, wear an off-shoulder top with a pair of denims or a midi skirt, and embellish the neck with a satin fabricated choker in solid hues. All eyes would be on the simple yet sassy choker style you flaunt!
5. Bohemian Chokers
For the free spirited and the wild child at heart, the bohemian chokers made from turquoise and beads in vibrant tones makes an unique fashion statement to wear. Try such cool choker trends with street style fashion wear, or simply wear it to the college festivals and the house parties you have been called too. Namaste and hello fashionista, we say!
6. Beaded Charms
For the neck so slim and sexy, you need to have the right beaded charm adorning it. In most cases, women would look at chunky large beads on a longer length piece to flaunt, but this time though the tables have turned. We see a rise in beaded choker necklaces, which can be worn with off-shoulder tops, cut out tops, graceful evening frocks and dresses too. Just be vibrant and match the colors right!
7. A Colourful Bulb Statement
While we are at beaded love for chokers, let's look at this lovely bulb choker neck piece that can be worn to college for a head turning moment to make. Simple, beautiful and with plenty of colors in them, this is a choker that can be worn to spruce up a formal event in college, and to make you the sparkling diva everyone would talk about.
[sc:mediad]
8. You Don't Need A Neckscarf
If you are wearing a lace choker necklace with an elegant evening wear, then you wouldn't need a neckscarf or a stole to complete the look. How about a beautiful lace choker neck piece with a pendant for the evening? Who needs to wear a statement neck piece so heavy, when the lightweight choker with a pendant in a Victorian garb does wonders!
9. Bridal Chokers
We also have something nice with the choker trends of 2016 for our brides to be. Here we see minimalism and beauty, in a lace white choker, which can be worn with the white bridal dress for the wedding. You can also get this customized for the color you plan to wear at your wedding.
10. For The Midas Touch
For those of us in love with all things gold, because of the bling factor attached to it, a svelte gold choker to the neck with a Grecian white outfit in an one shoulder number makes for a magical princess touch! Think about this as an elegant way to sashay into those formal parties, with the least of accessories jingling all over you!
Well, now that we have shown you choker trends in fabrics, lace, net, gold and a choker necklace in silver too along with a few designer choker necklaces as well – take your pick and let us know which one caught your fancy!