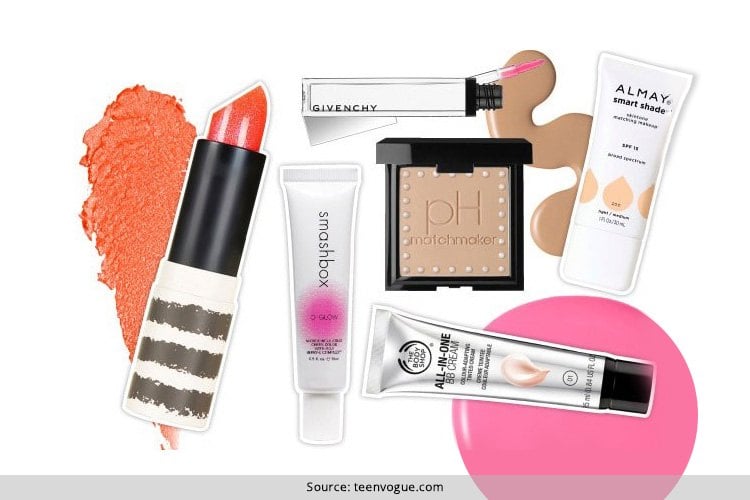 Have you ever been mesmerized by the mercurial tones of oil floating on a puddle? Are you the '90s kid who had a ton of mood rings, pendants or bracelets? If yes, then how about trying on some color changing makeup? Wouldn't it be just fascinating? It surely would be a total makeup revolution if the cosmetic formulations possessed the power of color-shifting.
[Also Read: Flower Jelly Lipsticks – The Fabulous New Trend]
Color changing makeup products usually appear to change their shade when lights hit them or when they are exposed to different pH levels, moisture content or heat. The popular duo-chrome products seem to change color when viewed from different angles, whereas pH sensitive products imbibe a characteristic hue after coming in contact with the skin.
We have rounded up a list of Chameleon-esque (color changing) makeup products for you.
1. Color Changing Lipstick
Color changing lipsticks rely on factors like exposure to light, heat or the body's pH levels to create a perfect custom hue. They have been in existence since the late '80s and came along with mood related rings, bracelets, etc., back then. They are a fun way to add color to your pout, while keeping them moisturized and soft. However, little bit of tricks should help you lighten or darken the shade of your color changing lipstick.
To Achieve A Lighter Tone – Just blot and seal the lip color with your favorite clear gloss, this would keep the color change to the minimum. You could also add a touch of foundation or concealer prior to applying the lip color. This would limit the contact of the product with the skin and would help you to get a lighter lip color.
To Achieve A Darker Tone – Use the lip color to fill the lips completely. You might want to apply a second coat to darken the shade further.
To Neutralize A Tone – Sometimes, you might feel the need to neutralize the shade of your lip color in order to match it up with your outfit or mood. You can achieve a neutral tone by mixing the lip color with a neutral or earth toned eye shadow.
2. Color Changing Lip Gloss
Based on a similar chemistry as color changing lip colors, the color transitioning lip glosses also attain a custom color when applied to lips. For instance, a clear gloss could magically turn into rosy red or a bright acid green could turn into bright yellow or even pink. Most of these glosses contain a portion of bromic acid that can help you achieve the color changing lips, when it comes in contact with moisture.
Caution – Most color changing lip-glosses can stain the lips for up to 24 hours and require a combination of several scrubs and washes owing to their strong chemical compositions. Thus, it would be wise to coat the lips with a natural lip balm or wax prior to applying a color changing lip gloss.
You could also choose duo-chrome lip glosses which tend to be a bit more subtle on the lips. They are mostly available in shades of light pink to champagne with a bit of sheen.
3. Color Changing Eye Shadow
Wondering what would happen if your eye shadow could transition from day to night? Wouldn't it be so cool? Don't worry as the duo-chrome eye shadows can help you check that off your list. For instance, Chameleon Glow in Shuffle the Cards from Topshop can look peach from one viewing angle and gold from the other or the eye shadow in Tonic from Urban Decay that turns from violet to blue in a jiffy. For visual appeal, don't forget to match up the hues of your duo-chrome eye shadow with a dual-toned ensemble.
Tip – To achieve a lighter shade, apply the product in minimum quantities and remember to blend it well. Avoid adding skin toned powders or fillers to the eye shadow as it could spoil the product.
[Also Read: Must Try! Beauty Products Launched In July That You Are Going To Love]
4. Smart Shade Foundations
Are you tired of trying foundations that failed to match your skin type or complexion? Do you wish to achieve a blemish free face (although temporarily)? If yes, we have a solution for you. The smart shade foundations contain makeup emulsifiers that change color on being exposed to keratinous surfaces. Thus, these foundations are able to match up to the color of the skin or even hair in no time.
[sc:mediad]
Tip – Don't forget to pick a non- comedogenic smart shade foundation to prevent the formula from blocking the pores of your skin.
Color changing makeup is a great way to create your very own custom hues. These futuristic products react to the pH of your skin and look completely different from one girl to the other. So, are you set to experiment with some amazing shades?