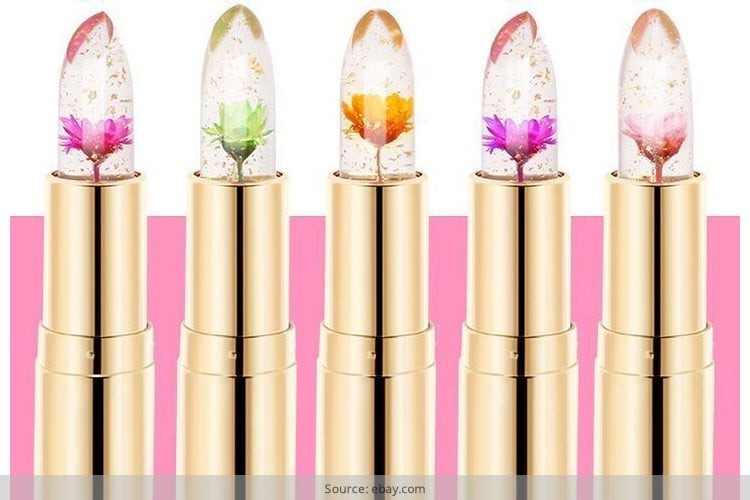 Are you a fan of lipstick? Love collecting all the latest shades and styles? Well, you wouldn't be reading this if you weren't. So listen up ladies, you are going to be mesmerized with the new lipstick collection that's arrived – Flower Jelly Lipsticks! Designed by a China based brand Kailijumei; you will be amazed by the lipsticks they have come up with.
[Also Read: Best Lipsticks For Dry Lips]
What Are Flower Jelly Lipsticks, Exactly?
It is a transparent lipstick which has been permeated with jelly, gold specks and a petite flower positioned right in the middle. The color of the flower, indicates the color of the lipstick. So when you look at the tube, the lipstick seems to be clear with just a flower inside, but as soon as it is applied it changes the color of your lips. This lipstick has literally been inspired from the glass-encased rose from the traditional fairy tale – 'Beauty and the Beast'. It is truly the magical lipstick you've been waiting for.
You have to admit, the Asian makeup distributor, Kailijumei has really made this lipstick big in the fashion market, as it sold out as soon as it launched. Seriously! It is valued at $30 (approximately Rs. 2000), slightly costly, but worth each paisa. Although it is all sold out from the official site, you can purchase it on pre-order. But what's even better, is that it is available on online sites, such as eBay, at discounted rates. These rates are going as low as $4 (approximately Rs.270). So try bidding on eBay, if you're broke but really want it!
It's a little pricey, so why buy it? Well, mainly because of the fact that it is gorgeous and entrancing, and will make you feel like a fairy tale princess (as if that's not enough of a reason). And if that's not all, you'll be even more perplexed to know that your lip color will change as per the temperature of your body. That means the colder it gets, the more the color of your lips lightens.
Wondering How It Changes Color With Temperature?
There's a specific dye used in the lipstick known as 'Red 27'. When you apply this lipstick on your lips and it comes in contact with even a little moisture, the alteration in pH causes the dye to lighten. The dye is actually drab, that is why the lipstick appears clear in the lipstick tube. Interesting, eh?
[sc:mediad]
The dye when amalgamated with other dyes give the lipstick various shades, like light pink, dark pink etc. Pretty enchanting, right?
Flower Jelly Lipstick Shades
So far the lipsticks are purchasable in 4 varieties, which have cute little unique names. The names denote the color of the flower, not the shade of the lipstick. All 4 variants are in the shades of pink. Each are priced at $30 only, except clear balm which is priced at $25.
[Also Read: Best MAC Lipsticks]
1. Flame Red
The flower in the glass case is of a vibrant red color, similar to a poppy flower.
2. Barbie Doll Powder
The flower inside is of the same shade as of a Barbie's shoes (childhood memories refreshed).
3. Minute Maid
Minute maid is an orange juice brand, thus indicating the color of the flower inside (which is also orange).
[Also Read: Lipstick Trends]
4. Clear Balm
This lipstick acts as a balm and doesn't change color when applied. Also, it doesn't have a flower inside.
Let's have a look at the reviews of the flower jelly lipstick so far. As per social media, like Instagram, and the rage this amazing lipstick has created – it seems as if the effects of this lipstick are pretty remarkable. But it's too early a stage to find out how the lipstick can do in the future market. It claims to have natural ingredients such as beeswax, lavender oil and cocoa butter, which makes it a quite spectacular product.
[Also Read: How To Get Full Lips]
So quickly pre-order your lipstick tube, and join this new lipstick trend. You cannot actually select the color you want, Kailijumei automatically picks it out at the time of checkout, as each lipstick gives your lips the same tinge of color.
Won't it be a fabulous addition to your current collection? It will also aspire all your gal-pals to buy it too! We're sure of it. And think of how it'll look in your vanity case! So hurry before it sells out again. And keep visiting the official site, to gain more updates on the upcoming shades.