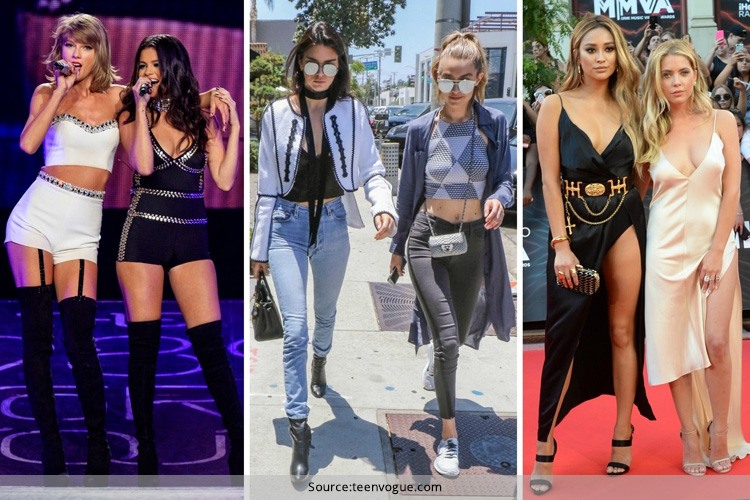 Celeb fashion never fails to give us some goals, but the thirst gets real when we see celeb besties twinning. That, my friend, is the new goal. Friendship weekend is round the corner, why not get inspired by these glam pairs of BFFs and emulate something similar this Friendship day?
[Also Read: Reel Queens, Real Friendship: BFF's In B-Town]
Kendall Jenner And Gigi Hadid
It is not even legal to talk about celeb besties and not start the conversation without paying homage to our super model besties. Like how often do you get two smoking hot Victoria's Secret angels gushing over each other like there is no competition at all. In the world of Ken-Gi, it is quite a regular sight. It was a blessing for the eyes when Kendall Jenner and Gigi Hadid decided to walk down the street in matching black tops and classic blue denims.
Selena Gomez And Taylor Swift
When we broach on the topic of celeb besties, the pop duo of Selena Gomez and Taylor Swift never falls too low on the list. Through all the highs and all the lows, they have stood beside each other, and that is what makes their friendship, our goals. They are also goals because despite having opposite personalities, their dresses match perfectly when they decide on it, like that one time Tay-Tay invited Sel Go for a special performance to her tour – keep business aside, we are BFFs for life.
Sara Sampaio And Emily Ratajkowski
So, there are stars who draw inspiration from their friends and match their outfits. This is one thing. But wearing the exact same outfit, in exact same color and most certainly the same size is taking the Bestie-ness of the Best Friendship to a whole new level. That is absolutely what bikini model duo Sara Sampaio and Emily Ratajkowski did at the Sports Illustrated event. Anyone else wants to be the third wheel of that friendship? I am totally up for it.
Eva Longoria And Victoria Beckham
'We're best friends and have shared life lessons' says the Desperate Housewives star in an interview. She is not secretive for her equation with the fashionista and her children. Mrs Beckham and Eva Longoria have been best friends for years now, so much that the former has designed Eva's wedding dress. Given how gorgeous these two ladies are, there is no room for insecurities and jealousies. And hence the two were spotted complimenting each other wearing similar full length black gowns at a Gala held in 2014.
Jennifer Lawrence And Amy Schumer
One is the highest paid actress in Hollywood and the other is the greatest female comedian the world has ever seen. What a combination do these ladies make as besties? Not only is their friendship full of humor and charm, they are the perfect idols is you are looking for speaking your mind the way you mean it and breaking false body images. Speaking of images, we recall how these blonde bombshells decided on red hot gowns to walk the red carpet of an award show and had the paparazzi floored.
[Also Read: 5 Things That You Can Gift Your BFF for Friendships Day]
Ashley Benson And Shay Mitchell
Talking about celeb besties twinning and not bringing up the girls from Pretty Little Liars? Is that even possible? Hell no! And so we got you the hottest divas who star in one of the most successful dramas on present times – Ashley Benson and Shay Mitchell. The girls have been spotted in matching clothes more than once, but the shutterbugs lost all chill when they showed up in the sexiest of slip dresses with a daring amount of cleavage and an equally high leg slip at the iHeartRADIO MuchMusic Video Awards this year.
Kylie Jenner And Kendall Jenner
These celeb sisters are not twins, but they do share the similar sense of style, and as Kylie has often called out Kendall for raiding her closet, we won't be surprised if we spot one of them wearing clothes we have seen on the other before. But as they also run a fashion line together, their Instagram feeds give us hints of how they would look if they were twins wearing the exact same piece. And trust me it's amazing, just look yourself if don't trust me.
[sc:mediad]
Beyoncé And Blue Ivy
You know what is common between my mom and me, and Beyoncé and Blue Ivy – we are a couple of mother-daughter pair that doesn't need a bestie outside, cause we have found each other. And I am sure, like us, a lot of you are besties with mamma dead. So how about twinning with mom this friendship day, like Beyoncé and Blue Ivy? If this is not adorable, then what is?
I hope to have sloshed you with enough bestie twinning ideas. So who have you decided in favor of? BFF from work, college, sis or mum?