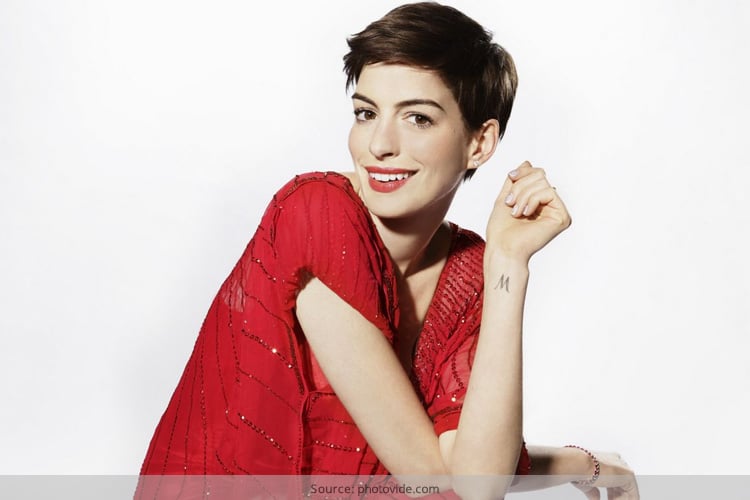 Personal Details
| | |
| --- | --- |
| Name | Though popularly known as Anne Hathaway, her full name is Anne Jacqueline Hathaway |
| Birthday Date | 12th November 1982 |
| Birth Place | Anne was born and raised in Brooklyn, New York |
| Sun Sign | A true blue Scorpio |
| Eye Color | Hazel |
| Hair Color | Black – though she can be seen in a number of avatars in different movies |
| Nationality | American |
| Religion | Roman Catholic |
| Occupation | She is an actress and a singer |
| Marital Status | Married |
Family Details
| | |
| --- | --- |
| Father | Her father is Gerald Thomas Hathaway who is a labor attorney |
| Mother | Katherine Ann Kate |
| Siblings | Anne has two brothers – Michael and Thomas |
| Spouse | Adam Shulman |
| Children | Adam Shulman, Jonathan Rosebanks Shulman |
Body Status
| | |
| --- | --- |
| Build | Slim |
| Height | Anne stands at a tallish 5'8" |
| Weight | The slim actress weighs a mere 56kgs! |
| Waist Size | 25 inches |
| Hip Size | 35 inches |
| Shoe Size | Anne wears an EU size of 39 and a 5 in US size |
| Dress Size | Even at her height, Anne's dress size comes to about 4! |
| Body Measurements | 34-25-35 are her vital measurements |
Anne Hathaway Without Makeup
Well known for her doe eyes and full lips, Anne Hathaway looks pretty even without a trace of makeup. She is often seen running errands in LA or New York in a simple hoodie, flats, and jeans and still looking gorgeous. She is not a big fan of makeup and loves stepping out without it most of the time!
Favorite Things And Hobbies:
| | |
| --- | --- |
| Color | Anne's favorite color is purple because she believes it is a very regal hue |
| Food | Japanese cuisine, Sushi and Miso Soup |
| Place | Anne loves her little hometown of Brooklyn where she grew up |
| Sport | She loves football |
| Brand | Prada, Valentino, Vivienne Westwood |
| Actor | Ralph Fiennes and Joaquin Phoenix |
| Actress | She loves Meryl Streep, Michelle Pfeiffer, Cate Blanchett, Sigourney Weaver |
| Film | Her favorite movies include – Stand by me, City of God, Elizabeth, Pretty Woman and the French movie Amelie |
[sc:mediad]
Anne Hathaway Weight Loss
Anne Hathaway has always been a lithe and slim actress and seldom have we seen her gain weight in her 15-year career. Even when she was carrying her child, the media went berserk trying to see how much weight she gained! But Anne didn't gain a substantial amount.
The only time Anne lost an insane amount of weight was when she was cast for Les Miserables. She was to play the role of a prostitute who was dying of tuberculosis. Not only did Anne chop off her signature brown locks, she lost 25 pounds by virtue of a very strict diet. Some newspapers reported that she was having less than 500 calories every day and surviving on just two dried oatmeal pastes in a day. However, she still believes this was one of the toughest roles she ever had to play and thinks that it was grueling.
Anne doesn't have a set workout plan or diet plan and she is an on and off vegetarian. She is not an enthusiastic weight-watcher.
Though she is not a big fan of the gym, she has been snapped several times by the paparazzi visiting yoga centers. She loves doing a bit of pilates to keep herself fit and fine.