Whenever we think of young achievers in the Fashion Industry, a name always comes to our mind. A name that has made a mark and has been a role model for many. Someone who has worked hard and is among the most successful models in the industry. Yes we are talking about the gorgeous Ashley Graham.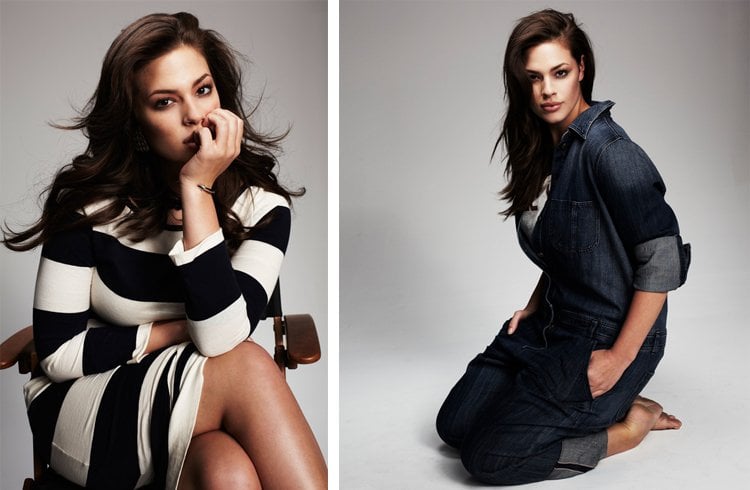 Discovered at the tender age of 12 at a mall in Omaha, Nebraska by an International Modelling Agency, I & I, Ashley Graham was the chosen one. With her extravagant personality and a great attitude, her journey to stardom began at such a young age. Signed up after a year, she was among the very young models to pursue modeling as a career so early in her life.
She is an American model who has featured on the cover of various fashion magazines like Vogue, Glamour, Elle, and Harper's Bazaar. She has appeared in several campaigns of Levi's, and was the first plus-size model to appear on the cover of the Sports Illustrated Swimsuit Issue. But if you are keen to read the latest update, in 2018, she became the first plus-size model to get featured on the covers of British Vogue and American Vogue.

Ashley Graham Height | Ashley Graham Age | Ashley Graham Family | Ashley Graham Without Makeup | Ashley Graham Career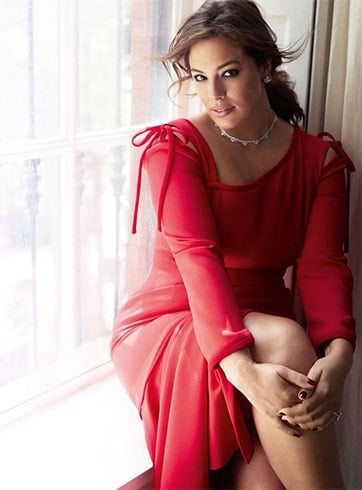 Ashley Graham Personal Details:
| | |
| --- | --- |
| Name | Ashley Ann Graham |
| Birthday Date | October 30, 1987 [celebrity_age_calc data="1987-10-30″] |
| Sun Sign | Scorpio |
| Eye Color | Dark Brown |
| Hair Color | Brown to Dark Brown |
| Nationality | American |
| Religion | Not shared by Ashley publicly |
| Education | Scott Middle School (1999 to 2002), Lincoln Southwest High School in Lincoln, Nebraska (2002 to 2005) |
| Occupation | Plus size model (and prolific too given her modelling contracts) |
| Marital Status | Married |
Wouldn't you want to know a thing or two about Ashley's family background? Though little details are available, let us see how much justice we can do with it.
Family Details:
| | |
| --- | --- |
| Father | N/A |
| Mother | N/A |
| Siblings | Two younger sisters |
| Spouse | Videographer Justin Ervin |
| Children | None |
Ashley Graham Beauty Bytes:
Ashley Graham has been creating the buzz for her fabulous weight loss results. She recently posted no-makeup selfies and we can't agree more to her looking absolutely flawless. She has posed for magazine shoots with very minimal makeup and pulled it looking like a goddess. Her weight loss effect seems to have sharpened her face to a gorgeous little manner too. Her unblemished skin seems to have no issue in being exposed without any cosmetics and we are loving it.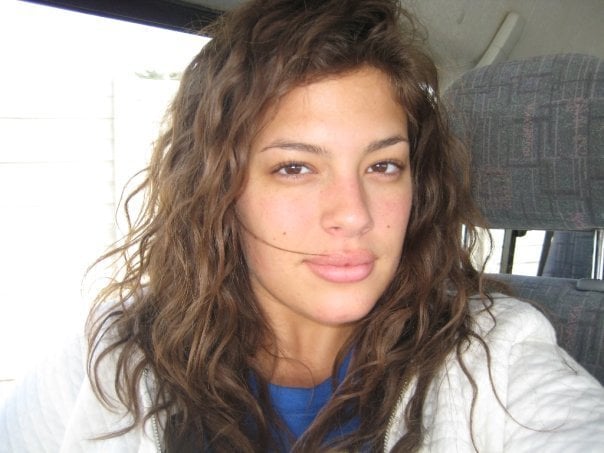 Body Status:
| | |
| --- | --- |
| Build | Voluptuous |
| Height | 5 ft 9 inches (=175 cm) |
| Weight | 91 kg (= 21 pounds) |
| Waist Size | 30 inches |
| Hip Size | 46 inches |
| Shoe Size | 10 (US) |
| Body Measurement | 42-30-46 or 107-76-117 cm |
Favorite Things and Hobbies:
| | |
| --- | --- |
| Color | Black |
| Food | French fries |
| Place | N/A |
| Sport | Tennis |
| Brand | N/A |
| Actor | N/A |
| Actress | Tilda Swinton |
| Film | Gypsy Eyes, Boys Klub |
Let us see the work history of Ashley, from the formative years till today.
Brand Endorsements:
Ashley has the reputation of working for several brands including Bloomingdale's, Elomi lingerie, Evans, Hanes, Lane Bryant, Levi's, Macy's, Nordstrom, Old Navy, Simply Be, Target. The list is endless.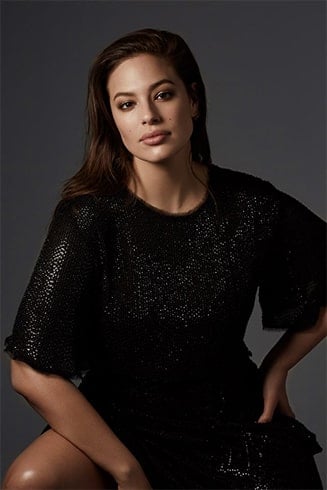 Remuneration: NA
Net Worth: 1 million dollars
Talking about fatty issues, Ashley Graham works round the clock to say goodbye to unwanted fat. Let us have a look at her weight loss plans and strategies. They can be of help to you if you follow them religiously.
Ashley Graham Weight Loss:
Ash is a die-hard advocate when it comes to embracing her curves. But at the same time, she looks after her body in the gym.
Graham feels her reason for working out is not just to lose weight but to feel healthy. She said to InStyle magazine "I like to think of going to the gym as a way to stay strong rather than a way to lose weight. Yes, I model a lot of swimsuits and lingerie, but to me exercising is more about being healthy and feeling good."

Says Dawin Pena, co-founder of the gym The Dogpound in NYC and Ash's trainer "Ashley is a busy woman…But that doesn't mean she can't get in a great workout in a short amount of time. Generally, we do weights with a high rep count and some calisthenics in between to get her heart rate up."
This workout routine made by Dawin Pena gives Ashley an extra boost and confidence to say goodbye to pesky fat.
Squats (The Warm-up): Stand in such a way that helps keep your feet wider than hip-distance. Your hands need to be right in front of you when you do this pose. Do the squat until the time your thighs are parallel to the floor. Now return to start. This makes one rep. You need to do 20 reps.
Lunges (The Legs): You need to stand hip-width apart, keeping your hands on your hips. Step ahead and forward with your right leg. Then lower your body till the time your right knee gets bent at 90 degrees. Get back to the starting position and repeat with your left leg. This makes one rep. You need to do 20 reps.
Ball Smash(The Cardio): Stand wide with your feet hip-width apart. At the same time, hold a medicine ball with knees slightly in a bent position. Raise the ball so that it goes straight overhead. Using your core, bring your torso and arms to a downward position when you slam the ball on the ground. To do the finish position, aim your torso parallel to the ground, keeping your arms behind you. Do 20 reps of this.
Workout Plan:
The hugely voluptuous Ashley Graham is a regular at doing workouts in order to maintain her curves. Gym is as crucial to her as bread and butter.
To tone her legs, Ash does hamstrings, quadriceps, and glutes. She also does cycling from Brooklyn to Harlem and then back which makes it around 25+ miles.
And then there are aerobic sessions and high-intensity cardio included in her workout itinerary.
Having seen some of the steps of the weight and workout plan adopted by Ashley, let us see her dietary habits.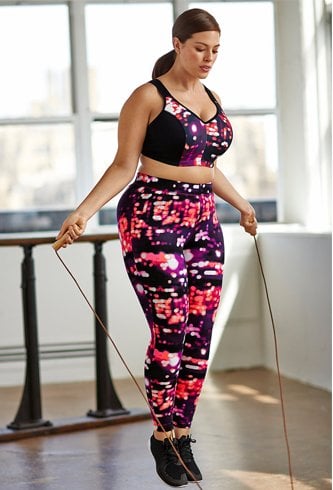 Diet Plan:
Let us grab a peek into the food and fitness diary of Ashley Graham.
Breakfast: For Ash, green juice a day is the motto. Her favorite blend is lemon, ginger, kale, parsley, apple, and beets.
Lunch: A bowl of quinoa and brown rice with vegetables and tahini are just perfect.
Dinner: Nothing in the world can take away baked salmon, sweet potato and arugula salad from Ashley's dining table.
This obviously means Ashley is very conscious of her eating policies (as much as her beauty regimen and modeling assignments).
By the way, she does have a guilty pleasure when it comes to food, and Mac and cheese satiate her suitably.
Talk of Ashley's favorite healthy snack and it is Rayo de Sol raw, organic, vegan rye bread teamed up with vegan organic Cheezehound blue cheese.
Ash's signature healthy dish is kale paste pasta sauce along with gluten-free pasta and her go-to healthy drink is "Green Giant" from Juice Press.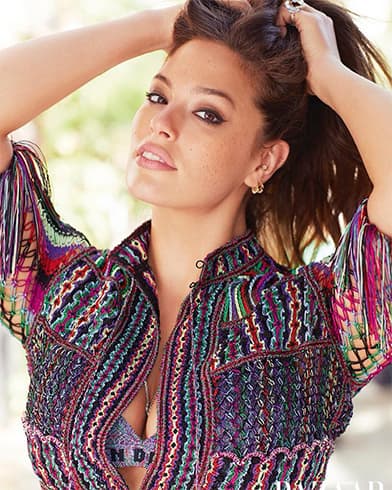 Social Profiles
While Ashley doesn't leave a stone unturned to look her beauty best, we are sure she has inspired to opt for a healthy well-being and live a physically fit and glamorous life. Hoping to see more from her, we wish her all the best!
Images Source: Official social profiles of the celeb mentioned with in the article.