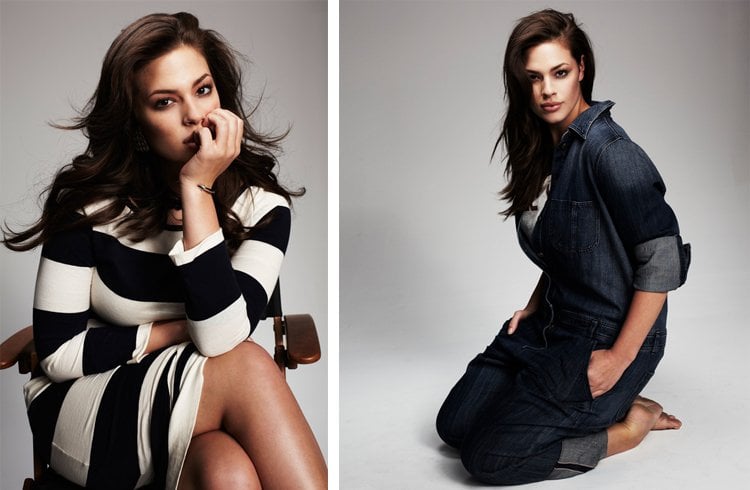 She was discovered while shopping at a mall in Omaha, Nebraska at the age of 12 by an international modelling agency I & I. One year later, she was signed up. She is an American model who has featured on the cover of fashion magazines Vogue, Glamour, Elle, and Harper's Bazaar. She has appeared in several campaigns of Levi's, and was the first plus-size model to appear on the cover of the Sports Illustrated Swimsuit Issue. But if you are keen to read the latest update, in 2017, she became the first plus-size model to get featured on the covers of British Vogue and American Vogue.

Ashley Graham Height | Ashley Graham Age | Ashley Graham Boyfriend | Ashley Graham Family | Ashley Graham Without Makeup | Ashley Graham Career
Ashley Graham is an epitome of confidence, beauty and power. Holding the model status very dearly, she has been reigning hearts with her bold nature. Her plus size body has given motivation to millions all around the world, that a body size cannot determine whether its beautiful or not.
Her fashion statements have included everything a supermodel would wear ranging from casual jeans to swimwear. Trying to make girls feel fashion forward with her apparel line is what she aims at, and has definitely achieved the same.
Let us find out more about the extremely hot and voluptuous model Ashley Graham.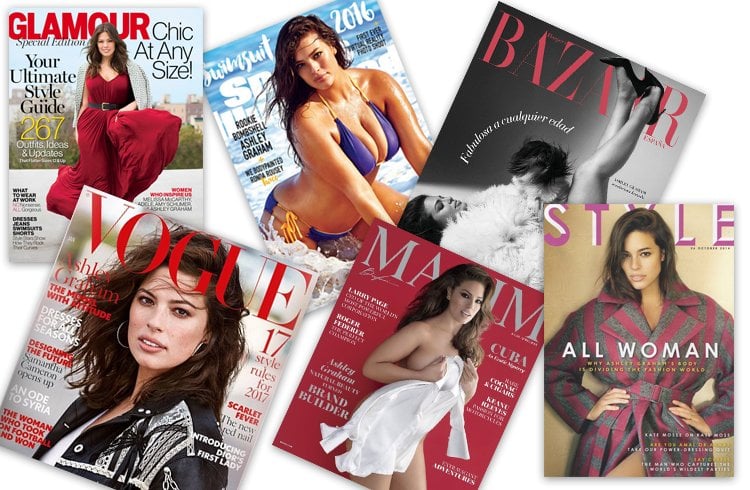 Personal Details
Ashley (nickname Ash) is far from boring. She is hot as hell, if you want an apt description. Her bio-data will give you a true idea of her credentials.
Name
Ashley Ann Graham
Birthday Date
October 30, 1987

(30 years)

Sun Sign
Scorpio
Eye Color
Dark Brown
Hair Color
Brown to Dark Brown
Nationality
American
Religion
Not shared by Ashley publicly
Education
Scott Middle School (1999 to 2002), Lincoln Southwest High School in Lincoln, Nebraska (2002 to 2005)
Occupation
Plus size model (and prolific too given her modelling contracts)
Marital Status
Married
Wouldn't you want to know a thing or two about Ashley's family background? Though little details are available, let us see how much justice we can do with it.
Family Details:
Ashley Graham was born into a family of Lincoln, Nebraska. Not much detail is available on her parentage, meaning family background, except for the fact that she was born to ethnic German parents from Russia.
| | |
| --- | --- |
| Father | N/A |
| Mother | N/A |
| Siblings | Two younger sisters |
| Spouse | Videographer Justin Ervin |
| Children | None |
With Ashley Graham as the main subject, am sure curiosity would be running overtime in your mind. So let us take a sneek peek into her relationships of the past (so that we can satisfy our forever hungry eye and mind).
Ashley Graham Without Makeup
Ashley Graham has been creating the buzz for her fabulous weight loss results. She recently posted no-makeup selfies and we can't agree more to her looking absolutely flawless. She has posed for magazine shoots with very minimal makeup and pulled it looking like a goddess. Her weight loss effect seems to have sharpened her face to a gorgeous little manner too. Her unblemished skin seems to have no issue in being exposed without any cosmetics and we are loving it.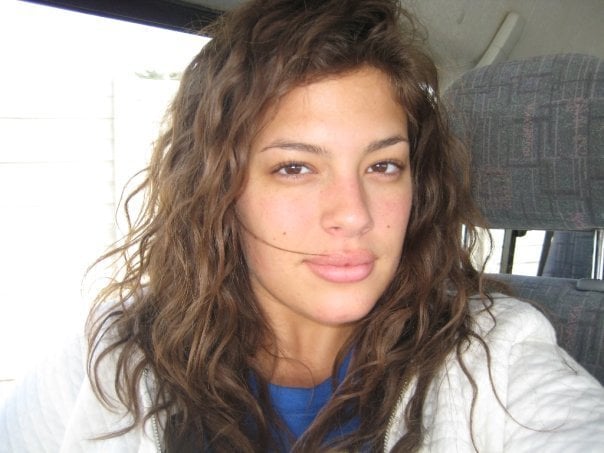 Past Relationships
Though she took the fashion industry by storm, did she have any associations with men during her modelling days or before?
Says the brunette bombshell Ashley Graham "I dated all the wrong men. I thought I could feel appreciated in my body through guys. [My ex] never hit me, but he did throw me up against a wall. I didn't know to get out then because I was so insecure."
But all sad stories have a happy ending. It was much later when Ashley found her fairy-tale ending with husband Justin Ervin.
An interesting bit here,
The inside story is that the pair never slept together, until their wedding night
Does this take you to the Indian wedding scheme of things? You figure it out.
Well, I guess let us look at her body stats because we will either agree or hate to disagree what makes Ashley Graham such a curvaceous creature born on Earth. At the end of the day, Ashley has had a stable relationship and such an explosive career, very few of her contemporaries have, at such a small age.
Body Status
"I'm a model, who loves my curves and isn't afraid to show them," reads the Twitter biography of Ashley Graham. This sums up her attitude to life beautifully, don't you think so?
Now that she joins the ranks of feisty supermodels like Kate Upton, Heidi Klum, would you ever dare to skip reading the body stats of the voluptuous looking Ashley Graham? No way. Here is how she fares in the body built, height, weight, and measurements cheat sheet.
| | |
| --- | --- |
| Build | Voluptuous |
| Height | 5 ft 9 inches (=175 cm) |
| Weight | 91 kg (= 21 pounds) |
| Waist Size | 30 inches |
| Hip Size | 46 inches |
| Shoe Size | 10 (US) |
| Body Measurement | 42-30-46 or 107-76-117 cm |
Tell me of one female celeb who we don't follow in terms of what are her likes/loves and dislikes in food, fashion, books, perfumes and so on. We will do the personality tracing of Ashley Graham.
Favorite Things and Hobbies
Ashley Graham has her "loves" in place. How about knowing what she likes the most – in food, sports, etc. Here are some rapid fire answers to your questions.
| | |
| --- | --- |
| Color | Black |
| Food | French fries |
| Place | N/A |
| Sport | Tennis |
| Brand | >N/A |
| Actor | >N/A |
| Actress | Tilda Swinton |
| Film | Gypsy Eyes, Boys Klub |
Let us see the work history of Ashley, from the formative years till today.
Professional Career
Ashley as we know started young in the professional ladder. And it was not a typical 9 to 5 job but a model who would give goose bump to men and women both, for their own set of reasons. It is worthwhile tracking down Ashley Graham's professional journey in the plus- size business.
First Debut:
Ashley Graham justifies the law of firsts, since she started modelling at the tender age of 12. The brands she has endorsed take her modelling career to a niche scale.
Brand Endorsements:
Ashley has the reputation of working for several brands including Bloomingdale's, Elomi Lingerie, Evans, Hanes, Lane Bryant, Levi's, Macy's, Nordstrom, Old Navy, Simply Be, Target. The list is endless.
Career Achievements:
From being a multi-million dollar babe to featuring on the covers of the prestigious magazines to collaborating with Canadian brand Addition Elle on her line of size-conscious lingerie to speaking at high schools about body image, there is no stopping Ashley Graham on her path of achievement.
Remuneration: NA
Net Worth: 1 million dollars
Talking about fatty issues, Ashley Graham works round the clock to say goodbye to unwanted fat. Let us have a look at her weight loss plans and strategies. They can be of help to you if you follow them religiously.
Ashley Graham Weight Loss
Ash is a die-hard advocate when it comes to embracing her curves. But at the same time, she looks after her bod in the gym.
Graham feels her reason of working out is not just to lose weight but feel healthy. She said to InStyle magazine "I like to think of going to the gym as a way to stay strong rather than a way to lose weight. Yes, I model a lot of swimsuits and lingerie, but to me exercising is more about being healthy and feeling good."
Says Dawin Pena, co founder of the gym The Dogpound in NYC and Ash's trainer "Ashley is a busy woman…But that doesn't mean she can't get in a great workout in a short amount of time. Generally we do weights with a high rep count and some calisthenics in between to get her heart rate up."
This workout routine made by Dawin Pena gives Ashley extra boost and confidence to say goodbye to pesky fat.
Squats (The Warm-up): Stand in such a way that helps keep your feet wider than hip distance. Your hands need to be right in front of you, when you do this pose. Do the squat until the time your thighs are parallel to the floor. Now return to start. This makes one rep. You need to do 20 reps.
Lunges (The Legs): You need to stand hip-width apart, keeping your hands on your hips. Step ahead and forward with your right leg. Then lower your body till the time your right knee gets bent at 90 degrees. Get back to the starting position and repeat with your left leg. This makes one rep. You need to do 20 reps.
Ball Smash(The Cardio): Stand wide with your feet hip-width apart. At the same time, hold a medicine ball with knees slightly in bent position. Raise the ball so that it goes straight overhead. Using your core, bring your torso and arms to downward position, when you slam the ball on the ground. To do the finish position, aim your torso parallel to the ground, keeping your arms behind you. Do 20 reps of this.
Workout Plan
The hugely voluptuous Ashley Graham is a regular at doing workouts in order to maintain her curves. Gym is as crucial to her as bread and butter.
To tone her legs, Ash does hamstrings, quadriceps, and glutes. She also does cycling from Brooklyn to Harlem and then back which makes it around 25+ miles.
And then there are aerobic sessions and high intensity cardio included in her workout itinerary.
Having seen some of the steps of weight and workout plan adopted by Ashley, let us see her dietary habits.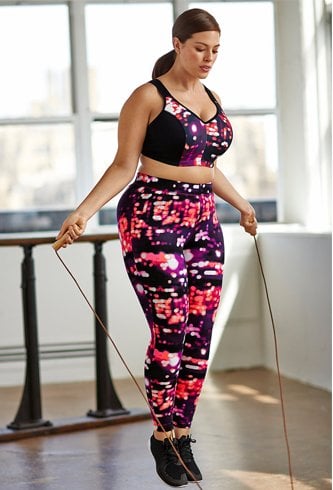 Diet Plan
Let us grab a peek into the food and fitness diary of Ashley Graham.
Breakfast: For Ash, green juice a day is the motto. Her favourite blend is lemon, ginger, kale, parsley, apple and beets.
Lunch: A bowl of quinoa and brown rice with vegetables and tahini are just perfect.
Dinner: Nothing in the world can take away baked salmon, sweet potato and arugula salad from Ashley's dining table.
This obviously means our Ashley is very conscious of her eating policies (as much as her beauty regimen and modelling assignments).
By the way, she does have guilt pleasure when it comes to food and Mac and cheese satiate her suitably.
Talk of Ashley's favourite healthy snack and it is Rayo de Sol raw, organic, vegan rye bread teamed up with vegan organic Cheezehound blue cheese.
Ash's signature healthy dish is kale paste pasta sauce along with gluten-free pasta and her go-to healthy drink is "Green Giant" from Juice Press.
Social Profiles
Interesting Facts
Here is a rundown on top 10 things you need to know about the hugely popular Ashley Graham.
The gorgeous brunette that she is, Ashley Graham visits schools to talk about things like body image and acceptance. In fact, she has been actively involved in a couple of humanitarian missions in South Africa. And you thought this 'killer looks' model does not have a social side to her!
Ashley born in Lincoln, Nebraska is a tall tall figure. Her height is 5'9″ (can't say '…and counting').
Till date, she has graced various magazine covers, but did you know that Ashley started modelling at the young age of 12? It is a different story that Ashley has featured for a variety of famous brand campaigns including Levi's, Calvin Klein and Marina Rinaldi. Brands such as Nordstrom, H&M, Old Navy, Bloomingdale's happen to be regular clients of Ashley.
 Ashley has done non-stop pioneering for women who love to embrace their bodies irrespective of their size quotient. She has also helped in forming ALDA, a coalition body of models who are out and out promoting a healthy body image for the females.
The plus-sized sexy Ashley has an Instagram account (@theashleygraham) which is not just for keeps. On the contrary, it gives a wonderful insight into the life of a model, all courtesy her backstage photos clicked at the various catwalk shows she did to tell-and-reveal what all she does to stay in shape.
Ashley did not just pretty admiring her own gifted bod. She contributed to the formation of ALDA, an alliance of models, aimed to promoting a healthy body image for women.
The super sexy Ashley Graham has actually made history. Not through her a million bucks face and modelling assignments, but featuring on one of three covers for the 2016 Sports Illustrated swimsuit issue. Such a leap in the fashion modelling world doesn't happen quite often.
Apart from modelling, Ashley has struck an impressive collaboration with Addition Elle on her lingerie range, which is available at Nordstrom as well as AshleyGrahamCollections.com. It means you have a ready passport to look sexy!
Go back to January 2016, and you will be glad to learn that Ashley Graham was named to the "30 Under 30" list of Forbes Magazine. The recognition value does not end here. Ash got featured on the January issue of the magazine alongside top entrepreneurs and celebrities.
When she got featured in the Sports Illustrated cover way back in 2016, this is what she had to say "This is for all the women who didn't think they were beautiful because of their size." Hats off to her for saying that!
Ashley Graham has a website of her own www.ashleygraham.com. Guess the slogan for the website? None other than "Stand up for curves, confidence is sexy."
Inspite of her stupendous success chart, Ashley Graham is firmly grounded. She often shares photos of celebs she meets at various fashion and events, from Karlie Kloss to singer Ciara, joking about her 'fan girl moments.'
So how did you find this natural beauty and one helluva personality Ashley Graham? Write in and tell us the thing(s) that make you swoon for her.
Images Source: pinterest