One of the most important ornaments that adorns a woman are bangles, stacks of them. Especially if you are a Indian married woman, bangles are a part of the solah shringar and signify the long life of her husband.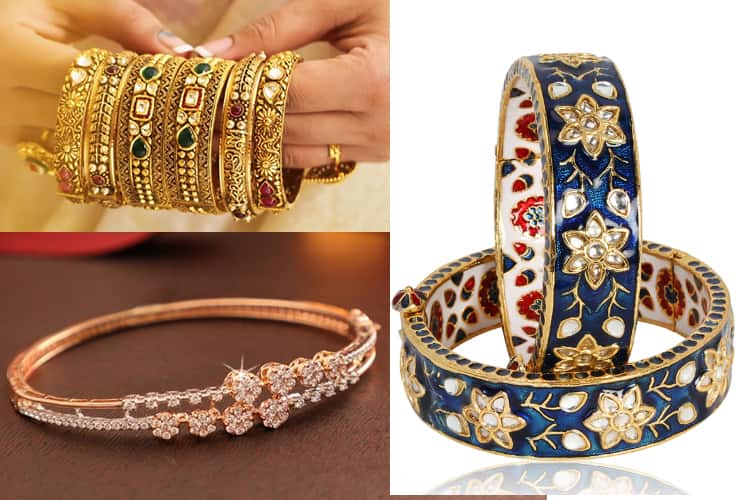 There is a scientific reason behind wearing bangles too. It is said that the constant friction of the bangles with the wrist increases the blood circulation level.
However, in today's age and time, most women wear bangles purely for fashion purpose. The latest designer bangles have become more of a fun accessory. Women are warming up towards experimenting with patterns, designs and styling of bangles.
Best Bangle Designs:
In this article, you will find the best of designs of bangles that you can take inspiration from for your next jewellery shopping. We bring to you some of the most outstanding bangle designs catering to every need from simple to designer Bangles.
1. Animal Head Bangle Design:
This is a must-have fashion jewellery for women. The animal head latest designer bangle is an edgy piece suitable for formal as well as traditional events. It also makes for a perfect Valentine's Day gift for her. Swap those mundane regular bangles with this statement piece to make jaws drop and eyes pop.
2. Kundan Kadas:
There's nothing like wearing kundan studded kadas to make a style statement. This designer bangle design is traditional yet dramatic and will add a hint of class to your femininity. Kundan kadas are more of a festive wear, and must not be worn on an everyday basis.
3. Floral Design Bangles:
One of the latest designer bangles that is worn by most women these days, the floral diamond studded bangle makes for a perfect cocktail party wear jeweller. This impeccable piece of jewellery will define you rich taste for accessories.
4. Pearl Citrine Bud Bangle:
Latest Bollywood movie Manikarnika saw Kangana Ranaut wear some latest jewellery pieces including this bud bangle design that is inspired by the art and architecture of the Maratha region.This bangle design makes for a perfect traditional wear jewellery.
5. Rasin Bangle Design:
This latest bangle design is popular among teenage girls. The rasin cuff is perfect if you want to go a tad bit understated.This bangle design makes for a great office wear or client meetings.
6. Thin Stacked Bangles:
The latest fashion jewellery trend is to wear a stack of bangles on a single hand and team the jewellery with ethnic wear. Stacking up bangles is a subtle and elegant way of adding some bling to your outfit.
7. Mayura Bangle Design:
Perfect for a bride to add it to her wedding jewellery collection, this bangle design was seen in the Bollywood movie Manikarnika. This timeless ethnic jewellery piece is adorned with pink colored glass, rawa work and peacock motifs making it a perfect festive wear jewellery.
8. Charm Drop Bangle Design:
This Amrapali designed charm drop bangle is a stylish addition to your jewellery collection and makes for a great festive wear. If you like to make a statement with your jewellery, you can't do better than this gold plated bangle design.
[sc:mediad]
9. Gems Studded Bridal Bangles Design:
A set of gold bangles with intricate details and studded gems makes for a perfect bridal wear jewellery. These modern design bangles set will help dress up any traditional ensemble.
10. Meenakari Work Bangle Design:
This elegant designer bangle with beautiful meenakari work engraved on it makes for a perfect ethnic wear jewellery. This is an excellent option of accessory that will work in the day as well as night.
11. Hand-painted Kada:
This emerald green kada with hand painted pink flowers is a statement piece and and be worn with Indian wear. The pearl details on this delicate bangle gives a very feminine touch.
12. Yellow Gold Diamond Studded Bangle Design:
An exquisite diamond studded gold bangle that much be reserved for special occasions alone. This bangle must be worn on a single hand and only as a single piece. This latest designer bangle design is perfect for Indian and western wear.
All the above mentioned bangle designs are the latest fashion jewellery for women and will surely make you stand out in the crowd. These latest bangle designs are suitable for every occasion.