A new season calls for a toast to wardrobe refreshment. Enter Spring and we have the best looks courtesy the high street fashion blogs and runaways. For the feminine at heart, there's the layered dress; for those loving the bright side, there is the flirty green and lavender hued dresses; and so on. Read ahead in detail about the 15 trends that caught our eye this season.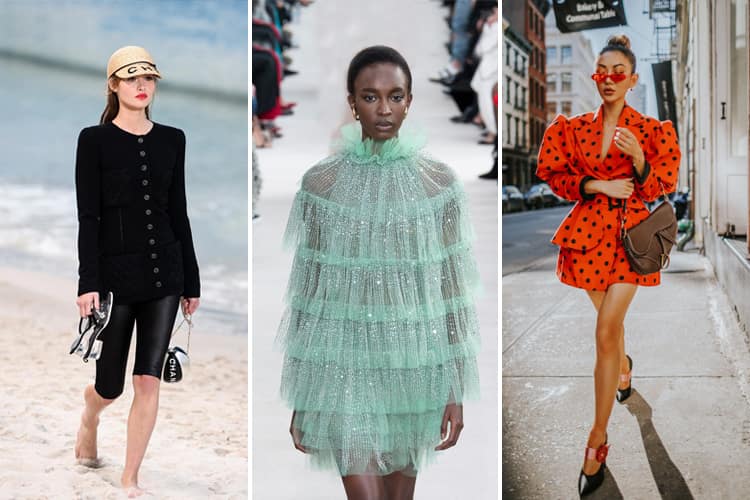 The Best Spring Dresses Trends To Choose From:
Spring 2020 is all about lavender adjacent hues, synthetic rubber, polka dots, green floral dress, snakeskin designs and more. Whether you are looking for spring dresses to wear to a wedding or a party to let your hair down, there is an ensemble idea for everyone.
Read our forecast of the season, ahead for spring outfits ideas 2020.
1. Wrap Dresses and Robe Coats:
Spring's favorite silhouettes are wrap dresses and robe coat this season. This 2020, be prepared to see a lot of both these robe silhouettes.
2. Snake Prints Dresses:
2020 is predicting the rise of snake skin prints. The trend isn't all that surprising. With the trend leaning towards animal prints like leopard, tiger, prints, last fall, the snake prints are a natural transition. We love this trend for its versatility.
3. Synthetic Rubber Outfits:
The synthetic rubber ensembles are going to be huge this Spring season. Several brands and designers are introducing this surprising element for their creative work.
4. Ruching Dresses:
Gone are the days for stiff corsetry. Ruching is far more comfortable and trending big. The fabric got a big push this season with big designers like Tory Burch and Tom Ford pulling off curvy-huggers with ruching details.
5. Lavender Colored Ensembles:
Top designers like Michael Kors and Victoria Beckham are predicting that the Millenial pink will be soon replaced by lavender. The soft hue is the next trending color, hugely making its appearance in suits, knits, and formal wear. You can select a number of cute spring outfits for teenage girl and women alike online or stores.
6. White Suiting:
We clearly saw how 2018 was dedicated to gray plaids. Now Spring is all ready to start fresh with the Presidential white suiting. For an edgy look, style the suit with an exposed white bra.
7. Dark Denim Set:
Do not retire your vintage, light-wash and dark denim sets just yet because they are a big part of spring outfits 2020. They are having a major resurgence. The textile is showing up this season in sleek outfits like you've never seen before.
8. Feathered Dresses:
Because there is nothing more fun to wrapped oneself in fluff or a suit with feathered ends-this Spring season everything from blouses to trousers to mules to handbags is given the feather treatment. We are feeling you're going to be exposed to several feathered expressions at parties you go to this year.
9. Square Neckline:
Moving on from off-shoulder tops, we have the square neckline in trend. The shape has a fresh twist to it with enough skin show and feminine feel. The covered shouldered designs are doable for the workplace, as well.
10. Puffed Shoulder:
The puff shouldered trend is playful and flattering-and it's the perfect pairing with your denims. The new fashion IT girl silhouette is taking over dresses and blouses this season.
11. Exposed Briefs:
Get ready to salute your ensembles this season with the line of transparency. From barely there dresses to embroidered tulle picks, the trend is all about freeing and exposing the briefs. Pairing sheer dresses and see-through trench with thongs are currently trending big.
12. Dresses with Extra Flair:
Allow your innermost child to come out this season. Because extra is immensely possible with layered and frilled dresses with fanciful colors available at your disposal.
13. Biker Shorts:
Get prepared to see two types of shorts this Spring season: biker shorts or board shorts. While few may shy away from the trend, these spring outfits casual when styled well can amp up your look. They can be surprisingly paired with classic tops or coats, too.
[sc:mediad]
14. Polka Dotted Prints:
You need quick glances on high street fashion blogs and runways to know that polka-dotted dresses are winning goals the new season. There are numerous types of polka designers found in midi to full dresses.
15. Green Floral Dress:
Green floral dresses have continued to soar at record speed. You can find the best selling brands under a number of fashion websites available online.
FAQ's:
Q.1 What are the colors for spring 2020?
A. The colors for Spring 2020 are lavender, green, white, coral, pink peacock, aspen gold, princess blue, and more.
Q.2 What are spring colors for 2018?
A. The spring colors for 2018 are sky blue, purple, rapture rose, light green, etc.
Q.3 What kind of clothes do you wear in the spring?
A. The type of clothes you can wear in the spring are vintage florals, polka dots, snakeskin prints, whites, lavender hued suits, and biker shorts.
Hope you found inspiration with our ideas on spring dresses for wedding and party look, both. You can find similar cheap spring dresses online and selected fashion stores. Tell us which look you would love to get your hands on in the comment section below. We would love to hear from you.