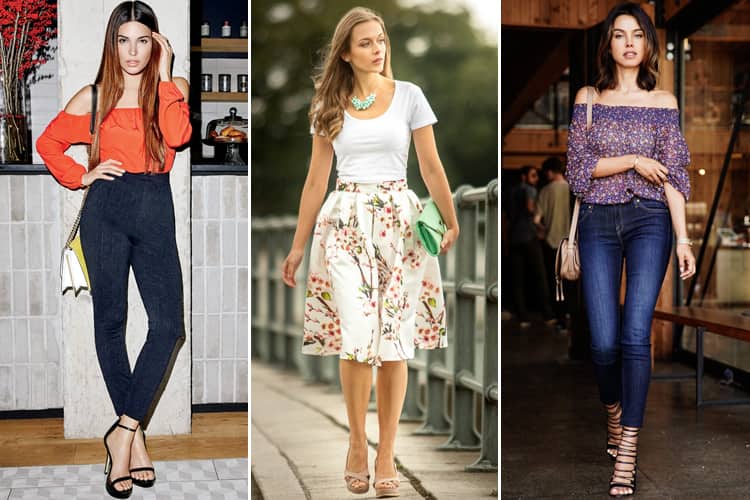 Goodbye winters, many hellos to Spring. No more chilly winds, and bone-chilling mornings. It's Springtime – a great season and reason for fashionistas to get their beautiful dresses out of their wardrobes or try new outfit ideas.
In this post, I have got you outfit ideas for Spring 2018. These are tips on how to make a fashionable outfit for Spring-summer with wardrobe staples. Scroll down and enjoy reading 2018 Spring fashion and women's outfit ideas.
Top 25 Spring Outfit Ideas For 2018
This Spring, it's time to think out of the box and try something which is novel, original, and bright (without being OTT). Game to go? Go ahead and check out our style guide.
1. Casual Spring Outfit Idea:
Comfort is all yours in this casual chic outfit. Whether you are going shopping or simply chilling, this one is one of the coolest stylish outfits to try.
2. Boyfriend Jeans And Black Blazer:
Want to add a dash of panache to your power dressing. You can think that way when you combine a pair of boyfriend jeans with a black blazer. Imagine what a cool corporate lass you will look.
3. White Blazer Outfit:
If the pretty lady in you wants to ooze a little more feminine charm, then say yes to a beautiful white dress. For the finishing touch, wear it with a white blazer. This is one of the sleekest cute outfit ideas that can glam up your office meetings.
4. Leather Jacket And Ripped Jeans:
One of the most popular pieces this Spring is this black leather jacket. You will look an uber cool rock chick when you pair it with ripped jeans. Full marks to this street style outfit.
5. Fashionable Spring Outfit:
There is something stylish and contemporary about this one of the most carefree Spring outfits 2018. Long skirt with an irregular hemline portrays loads of attitude. I will classify it as one of the best in Spring outfit ideas 2018. Can be worn for all important occasions which demand confidence that slays.
6. High-Waisted Jeans:
Want to show longer legs this Spring? Then go in for a pair of high-waisted jeans. Pep up this outfit with a fashionable looking off-the-shoulder top in a bright hue and you will make the heads turn your way.
7. Pleated Skirt And White Top:
When you are in the midst of warm and cozy days, impress the fashion street with a flowing pleated skirt. Match this dress code with a statement necklace and a pair of stylish shoes and you will look dashing for sure. This is one of the most stylish outfits for sure.
8. Camel Pencil Skirt Outfit:
This is one of the sleekest women's outfit ideas and it is sure to impress the corporate honchos because of the smartness it brings to the table. Try it!
9. Black And White Outfit:
Whoever said black and white is boring? The 2018 Spring fashion is all proof of how B&W is not just formal, but fashionable too. You will surely look like a hottie this Spring when you are dressed in such a classic look. Mark my words.
10. Stylish Spring Outfit Idea:
Come Spring and summer, the off-shoulder trend is something that's going to stay. And when you have a purple chiffon top, then your overall look is going to be soft and feminine. What about the icing? Roman sandals are there to make 2018 Spring fashion look more interesting.
[sc:mediad]
11. All White Spring Outfit:
White is the color of Spring-Summer. And this picture is a classic – in fact living example – of how all white outfits look more fashionable than just adorable.
12. Trendy Spring Outfit:
The lady in this pic stuns you with her halter top showing off her beautiful shoulders, whereas the baggy pants get you a boho-chic look. Super cool women's outfit ideas it is for holidays and 2018 Spring fashion.
13. Denim Shorts And Knitwear:
Lethal combination this is – in a knitwear top, a pair of denim shorts and ankle boots. Chic ladies will find this as a fashion must. Copy this dress code for Spring outfits 2018.
14. Off-The-Shoulder Dress:
You did see the above purple chiffon top, right? This yet another off-the-shoulder dress goes to prove how women's outfit ideas can be sexy and elegant.
15. Flared Sleeves For Spring Outfit Idea:
Look fairy and fashionable with this flare sleeve dress. Up the fashion quotient by wearing a pair of metallic flats.
16. Floral Skirt:
The season of Spring is all about blooming flowers. And so it will be wise of you to wear floral prints. A basic white t-shirt and a midi skirt can turn you into a lovely lass in a matter of minutes.
17. Printed Coat Outfit:
"Interesting" is the best word for this one of the quirkiest women's outfit ideas. If you have a fetish for bold colors and prints, then a long coat with such fancy prints can keep you stylish at the same time keep the chill at bay.
18. Floral Outfit Ideas:
In Springtime, it's hard to go wrong with florals. Any proof? Yup, just pair a floral top with a pair of light washed jeans. It will get you a casual feel to the utmost. Wearing a beige jacket that is roomy adds comfort and looks great.
19. Orange Hues:
Springtime means a riot of colors, not dull and boring. Orange is that bright and stylish color that is instantly striking. You just need to mix and match your accessories to make the hue the focal point of your entire look.
20. Cardigan Spring Outfits:
Pair your orange shades with a tank top that's plain. But do add a stylish necklace so that you do not end up looking like a plain Jane.
21. Casual Skirt And Tee Outfit Ideas:
Talk of Springtime favorite and a flowy skirt comes up as a sure winner. Include such pieces in your wardrobe and it will keep you prepared for the warm days ahead. Skirts can be paired with almost anything.
22. Cute Outfit – High Heels Combination:
Make your casual look feel cool as you sport a dark pair of jeans with a neutral brown heel and a matching purse. A flowy blouse is all it takes to complete your Spring vibe.
23. Maxi Skirt:
Floral maxi skirt in bright shades is one of the safest Spring outfits 2018. An old favorite tee with it will add extra style.
24. Flirty Pink Spring:
Pink is a hit for Springtime. So pair a pink maxi skirt with another of your pleasing shades.
25. Floral Crop Top And Jeans:
A flowery crop top pairs well with straight fit jeans, long sweater, and flats. If you find the crop tops frightening, add the sweater to cover some skin and bring the whole outfit together.
So which of the Spring outfit ideas 2018 impressed you the most? Write in your comments and tell us.