With a myriad of different skin products out in the market, how can one possibly keep up with the expanding beauty range? Well, you definitely can overlook some products but not a formula like a face toner. You probably may be on and off using the product, but we have more reasons than one to explain why this is essential.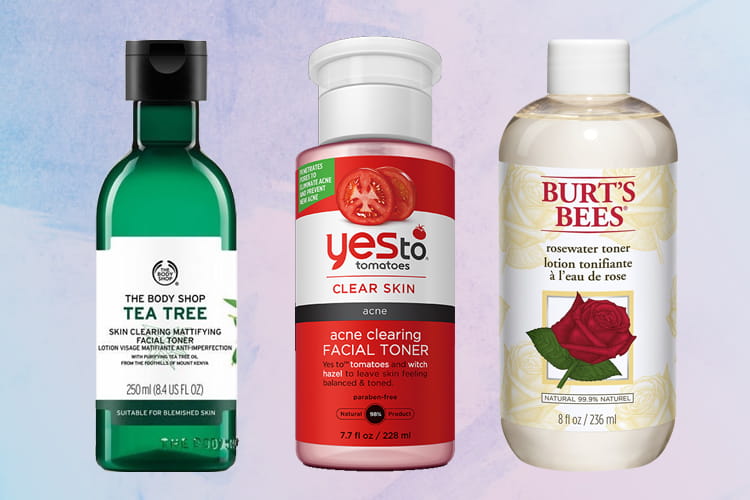 Below, we're breaking down what exactly is a face toner, how it benefits skin, how to use it, and last but not the least our list of 10 best drugstore toners.
What Is Face Toner?
Face toner has a liquid consistency that is essential to use after cleansing and before moisturizing skin. The product is intended to be used solely on the face using a saturated cotton ball or pad.
How Does Toner Benefit Skin?
The toner has several benefits. The most popular uses are its ability to remove dirt, makeup, excess oil, and leftover cleanser from the skin. Other uses of the toner are its ability to hydrate the skin. You may select a toner that can refresh your skin and make it appear smoother. Some claim that the product can also tighten and shrink pores. All in all, a face toner is versatile and is a must-have beauty essential.
Our Pick Of Top Face Toners:
If you are looking for the best drugstore toners you're on the right page. Our list of top ten formulas can be considered the best bet for dry, normal, oily, and combination skin. Every skin type can benefit from these gentle, non-drying products.
1. belif Witch Hazel Herbal Extract Toner:
This witch hazel herbal toner is very popular, and for good reasons. Not only does it contain the botanical extracts of witch hazel, but it also has a good concentration of apothecary herbs to help hydrate skin and seal in moisture. It leaves skin looking radiant and glowing.
2. Klairs Supple Preparation Facial Toner:
The brand offers a ton of amazing products, but this toner can't be beaten. It has relied on a blend of ingredients that removes impurities while refreshing skin. The toner is also fragrant-free and pulls off a high ranking from loyal users.


3. Simple Soothing Facial Toner:
This ticks off all the essential criteria to look when selecting a face toner for sensitive skin. The formula is free from alcohol, irritating fragrance, and has soothing ingredients like chamomile extracts and pro-vitamin B5. Containing triple-purified water for hydrating skin and moisturizing, it also has witch hazel to correct excess oil.
4. Dr Hauschka Clarifying Toner:
Okay, this may be named as clarifying toner, but for all purposes, it has all the workings of a regular toner. Made for enlarged pores and blemishes, this facial formula truly works. Best of all, the toner comes in a spray dispenser, which can allow to help set your skin whenever you need a quick touch-up.


5. Sisley Grapefruit Toning Lotion:
Formulated from natural extracts like grapefruit, this toning lotion helps to gently cleanse and clarify the skin. It removes debris without stripping off skin's natural moisture. And let us assure you more about this toner by mentioning that its' safe for all skin types.


6. The Body Shop Tea Tree Skin Clearing Mattifying Toner:
Underperforming in cost and overpowering in efficiency and quality, The Body Shop mattifying toner is an essential for all skin types. Whether your skin needs a refresh after a long day or an extra-cleanse after a makeup session, this best drugstore toner has your back.

7. Botanics All Bright with Hibiscus Cleansing Toner:
A favorite of many users, the toner features botanical extracts for straightforward results. The cleansing formula has all the winning ingredients like exfoliating flower acids to reveal a brighter, even-tone complexion, and balanced tone. And well, it just happens to improve skin's texture, too. Say what?

8. Burt's Bees Rosewater Toner:
Burt's bees lip balms are already a cult. What many don't realize is their rosewater toners are equally praiseworthy. The formula is 99% natural. While it does have witch hazel in it, but it also has mild astringent properties like rosewater which provides a light scent. Other ingredients like glycerin and aloe vera hydrates skin leaving it fresh and soft.
9. Khadi Gold Cucumber Pore Tightening Toner:
We are giving this all-natural drugstore toners brand a mention because of our obsession over it. This pore-refining product is one of skincare's best. Boasting of cucumber to balance and soothe, it has all the making of a toner 10 times its cost.
10. Yes to Tomatoes Acne Clearing Facial Toner:
If you're looking for a drugstore toner, affordable face toner designed for acne then this cruelty-free product is perfect. It has the infusion of tomato extracts, salicylic acid, with hazel, and exfoliating fruit extracts like watermelon and blackberry. Post-use, skin feels clean, refreshed, and even toned.
How To Use Face Toner:
So, now you're sorted on the right type of toner for your skin, how do you apply it? Below, find the perfect skincare routine for using toner:
Cleanse your face using micellar water to remove makeup, dirt, and excess oil from the surface of the skin.
Next use a facial cleanser to remove impurities from skin surface.
This next step is when you introduce the toner to your skin. Use a cotton pad or ball to gently sweep the formula across your face. Most toners are suitable to use twice a day.
After your skin dries off, apply a facial serum to improve the overall skin health.
Next dab on a moisturizer designed for your skin type.
For the morning beauty routine, a sunscreen is a must before stepping out. This should be your last step after moisturizing your skin.
Plus include a face scrub or mask twice or thrice a week into your beauty routine to get maximum benefits.
Hope our roundup of drugstore toners gives you clarity on picking the best one for your skin.