When you think about ruffles and flounce, chances are you're envisioning yourself as a toddler going to a family event wearing a party dress covered in multi-layers. Back to the present date: The historical frilly detail has got a huge fashion makeover with top designers coming up with pieces featuring voluminous ruffles and structured shape. The key to looking adult with the exaggerated frills is to make the ruffled piece the focal point of your ensemble, and making sure it's balanced.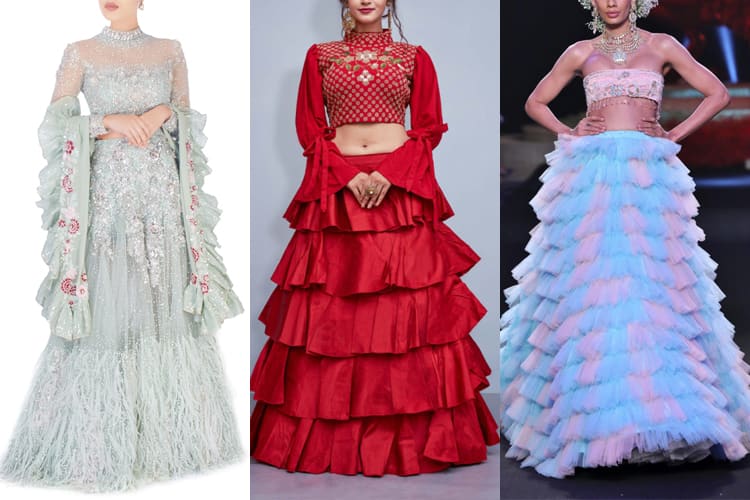 The beauty of this fashion is that it isn't reserved for a certain ensemble category rather it's a detail that can be added to any pieces-lehengas included. Plus, they can take on several forms, from beaded to embroidery.
How To Wear Ruffled Lehenga To Wear Now:
Here, we have rounded 10 Ruffle Lehenga ideas for you to choose from:
1. Powder Blue Ruffled Lehenga:
Brace yourselves-the layered lehenga this season is totally cosmic, according to top designers. Get an idea of the whole '70s vibe with the ensemble below. An effortless piece like this is the perfect solution for an evening occasion and on-trend color will make you stand out for the good reasons.
2. Mint Green Ruffled Lehenga:
Ruffled lehenga just got way dramatic, right? Look how the western detail slipped its way into Indian wear. Get after it with the mint green ensemble below!
3. Multi-colored Beige and Ruffled Lehenga:
Pair this multi-colored lehenga with a classic blouse, and you'll be a moving piece of art. Subtle ruffle details with sequins takes this lehenga from gorgeous to "OMG, where'd you bought that!?"
4. Grey Embroidered Lehenga Choli:
Somber shade, but make it fashion. How crazy is the ruffled lining of the embroidered lehenga? These are the perfect piece for someone looking to spin similar style for the first time. Take this frill long skirt while attending a ceremonious event.
5. Embroidered Georgette and Netted Lehenga:
Embroidery designs are popular yet again thanks to the likes of hi-fashion designers. Walk on your dramatic side with the georgette and netted lehenga options below. This can literally catch all attention and get you all the compliments.
6. Peach Colored Lehenga with Net Design Ruffle Dupatta:
Mix and match patterns are coming in hot and give you the ultimate look. Shop for similar clashing designs like the ones below! Anyone up for peach colored lehenga and ruffled dupatta?
7. Mint Green Silver Embellished Ruffle Lehenga Set:
Yes, its' a thing! Mint green shade is here to stay. These embellished lehenga set could be a subtle way to introduce the color into your wardrobe this season. And why not go for it in a lehenga style form?
8. Royal Blue Embroidered Ruffle Lehenga:
Spruce up your collections with a rich colored Ruffle Lehenga like the one. Everyone definitely these embroidered creations. Right. Now.
9. Art Silk Red Lehenga:
Public Service Announcement: Art silk lehengas are the new-age lehengas. Show off your classic side with a similar design because we say, anything's better in art silk. Plus a multi layered lehenga like this one is the perfect excuse to carry for a party with an Indian wear theme.
10. Grey and Silver Embroidered Lehenga:
We went all crazy for this richly embroidered lehenga. Scroll below and you will be too. You can wear this designer party wear to a wedding, cocktail, engagement, and family function, to make it seem like you really got something going.
11. Multi-layered Lehenga:
A multi-layered lehenga is just perfect for those glamorous nights, no? We mean, yes to the breezy dramatic on this pretty ruffled set.
12. Ruffled Organza Lehenga:
When extra is the mood, and you just can't get enough of ruffles-these lehenga will be here for you. And this organza creation is to die for.
Hope these 12 stylish Ruffle Lehenga help you get a right-fit for your personality. We bet you will. If you want to fill you on frill lehenga saree we have that covered too. Thank us later.