We love the change of seasonal trends for Indian wear. While traditional craftsmanship is still respected, there is a constant need to upgrade silhouettes to keep up with the times. Ruffled saree are currently the newest trend that is renewing that modern culture. Thankfully, the effect of the ruffles this season around is not overly dramatic. There are a lot of clean-cut options too where the frills are featured in hemlines, collar, and pallu.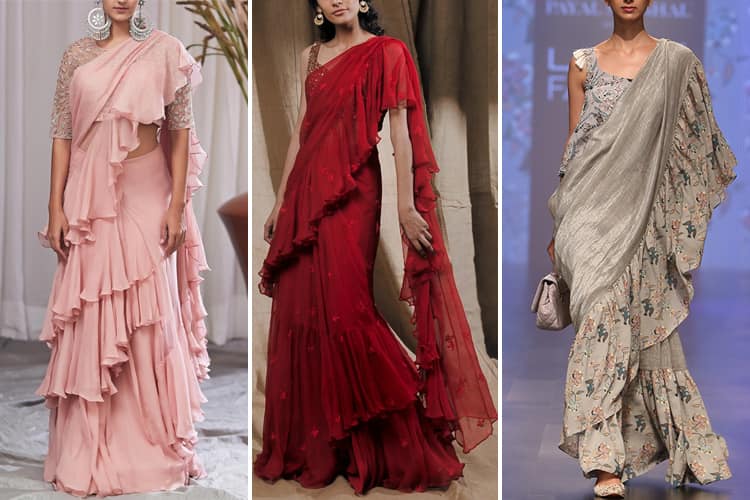 Our list of ruffle saree designs has all that features and more. Its fuss-free elements make it the perfect go-to-ensemble choice for evening get-togethers.
10 Best Ruffle Saree Designs For Parties:
These 10 ruffle sarees aren't too dramatic and can easily struck a chord in a minimalist heart too. Check them out:
1. Georgette Ruffle Saree With Mouse Mirror Work Blouse:
Embrace overly ruffle design for an eye-catching fantasy. Delicate studded jewels and mirror work are played along the sheer blouse, as seen with the earthy tone stitched saree here. Let it shine!
2. Black Ruffled Drape Set:
The beautiful black ruffled saree is giving us heart eyes. That heavily embellished blouse makes for a sensual look, while the ruffled look on the saree gives it a dose of femininity.
3. Red Ruffle Drape Saree:
On print, red and ruffles should have been oddly dramatic to make the cut. But in reality this Astha Narang's red ruffle drape saree has managed to make this look sensuous, yet simple. Tick!
4. Blue Leaf Print Ruffle Saree Set With Embroidered Belt:
While this ruffle saree set by Bhumika Sharma has managed to turn the pretty dial to ten. Blue leaf prints with embroidered belt keep the saree from being too much on the traditional side.
5. Ruffle Saree And Chantone Petticoat:
And who would have guessed it-pure ruffles in grey and peach monotones are literally the best blending. Like the Bhumika Sharma set above, the subtle play of the design by Payal Singh here keep it away from getting too conventional.
6. Ruffled Saree With Cutdana Work:
Flamenco frilled saree, sheer embellished blouse, and a pink hue all the way down banish any thoughts that ruffles means frump.
7. Sky Blue Drape Saree Set:
Sky blue saree is given new life with a splash of ruffles by Astha Narang. But if you must wear it at parties, this drape set calls for a pointy heel.
8. Sage Green Silk Base Ruffle Saree:
The sage green ruffle saree makes it to the perfect line between girly and grunge. The comfortable fit adds a good amount of character to the whole ensemble.
9. Pink Embroidered Ruffled Saree Set With Jacket:
For a relaxed ruffle saree look for the evening, its' this pink embroidered ruffled set we are taking notes from. This whole look can take you up to the nines.
10. Sage Green Ruffle Saree Set:
Thank God we're still celebrating the glory days of the ruffle trend. This sage green saree set pays a good homage to the 80s. And we only have good sight for the belted version match made in 2019.
Hope these are options and style lessons are enough for you to make a choice in how to choose the best ruffled saree design for an evening party.