We've officially clocked into festive rush hour when traditional wear are all but unskippable. And most of us commonly streamline our garment choice to something that can be seamlessly embedded with every occasion. Lehengas, for instance are a popular pick. But for this season if you are looking to add a little something extra, then we suggest latkans for added sparkle. Seriously, these accessory attachments go beyond beautifying your look. They balance out textures on different color-blocked ensembles.
So without further ado, check out these ten fresh latkan designs for lehenga.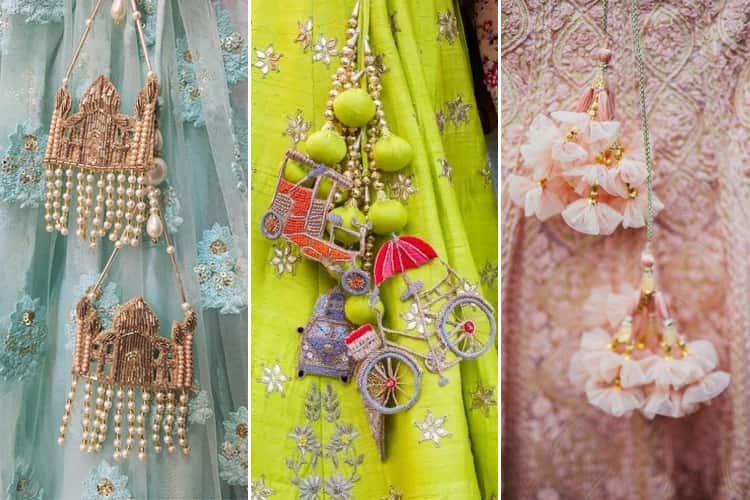 All The Ways To Wear Latkans This Season:
Here is everything you need to know:
1. Pearl Kaleere:
The pearl kaleere design is a head-turning piece, when it comes to latkan designs for lehenga. If you really wish to wear a similar piece, match the rest of your ensemble to the statement-making fashion accessory.
2. Kaleere Latkans:
If going for heavy latkan pieces seem too daunting, inject a lightweight tasseled latkans into your lehenga. This pop of pink kaleere can instantly elevate a monochromatic garment.
3. Jute Craft Tassels:
Although jute craft tassels are an unusual choice when it comes to latkans, it can be just as beautiful-and far rarer. Another bonus is they can make your colorful outfit really pop out.
4. Fabric Tassels:
Fabric tassels shouldn't be left just for saree pallu or even shoes. Wearing it as latkan design with a chic lehenga and heels can take your entire look to ooze attitude.
5. Potli Latkan With Gold Beads:
Although a gorgeous lehenga have the potential for a great wedding look, potli latkan with gold beads can also be used to bring about more fun into your outfit. They have the connotations of unique when it comes down to latkan choices.
6. Cute Bow Latkans:
Want a girly update for your next festive outing? Then add a cute bow latkan design as this one here. This can work well with your feminine silhouettes and dainty heels. Save it for a special occasion.
7. Dori Tie-ups:
Or these unique pieces are another latkan idea to try out. Except try it with a twist. Wear it with a low-cut blouse with matching dori tie-ups and sky-high heels. It can add a little fun your look and add a dose of sass in the way a plain lehenga would not. We will be following suit.
8. Metal Work Latkans:
You can definitely add a metal work latkan to your lehengas even if it sounds odd. Team it with extravagant lehenga set with dramatic heels. Say goodbye to the average look for your next event out.
9. Mirror Work Latkans:
An even cooler way to tap into the latkan trend this festive season is to layer them up with matching mirror-work lehenga. Here, this mirror work accessory piece is perfectly complemented by the sparkly embellished lehenga.
10. Ghungroo Jewellery Latkans:
Its' 2019! Even your latkans can have ghungroos now.
Don't these latkan designs for lehenga deserve more credit? After all, they inject better attitude and style to your festive wardrobe.