Neckpieces like the choker are extremely popular this season. It is easily a favorite pick when it comes to wedding wear and other festive ceremonies. These days most prefer to wear their chokers alone sans other jewellery. Keeping the ongoing seasonal heat in mind, it's a good choice to skip the heavy ethnic jewellery. Wearing the choker pieces with low necklines will make the perfect pairing to bring all the attention to the neck. Below, we have rounded ten traditional choker necklace designs that are versatile for all occasions.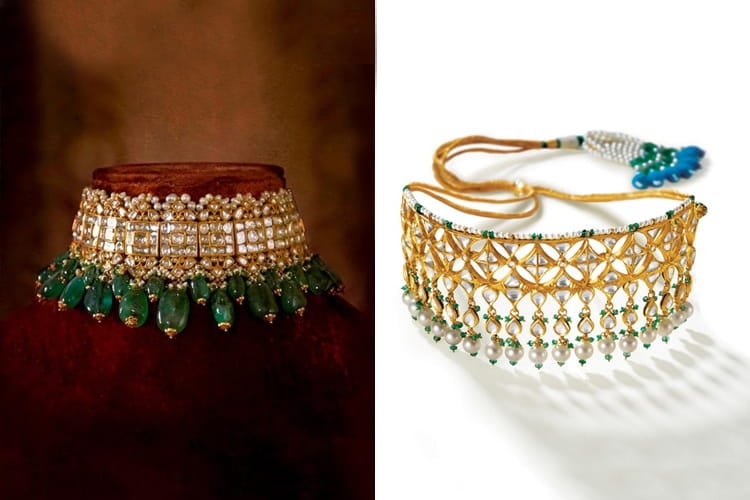 10 Classy Chokers Designs To Choose From:
From minimal light chokers to dramatic pieces, here's how you can choose the best jewellery.
1. Crystal And Pearl Choker:
Think of taking a sleek choker design as this one to a daytime wedding and layer it with your simple diamond stud earrings for added interest. This piece can allow in approaching your look as an entirety and focus on balancing.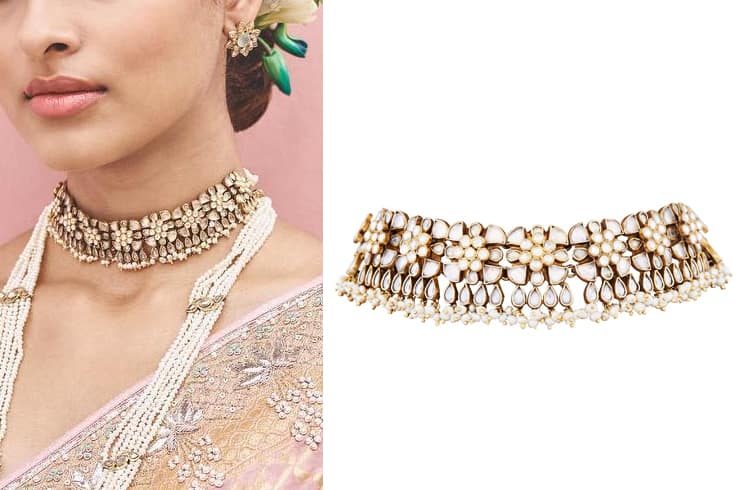 2. Ruby Choker:
Invest in a statement ruby choker as this one to avoid layering multiple pieces. With this you don't need to put on a lot of heavy jewellery. Work this one beautifully with a plunging neckline.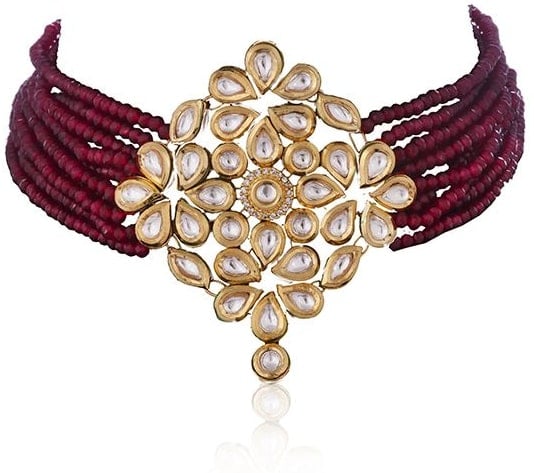 3. Choker In Yellow And White Gold:
Wearing a lightweight choker brings attention to your neck and décolletage. A unique piece as this can be worn for all occasions as they are versatile. They can blend well with both western garments and saris alike.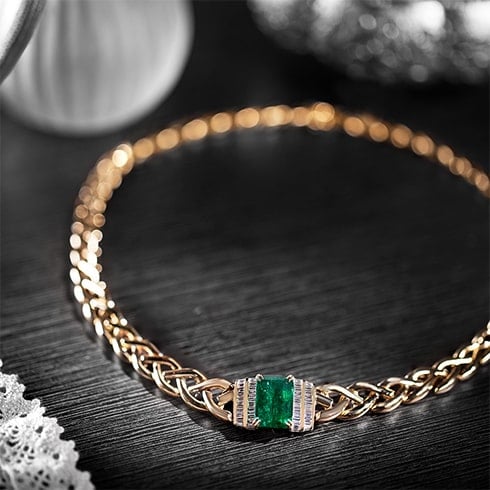 4. Mint Pearl Choker:
Modern brides are drawn towards simplicity these days-at the same time they want bold, statement pieces. The mint pearl choker can make a sophisticated choice to portray this.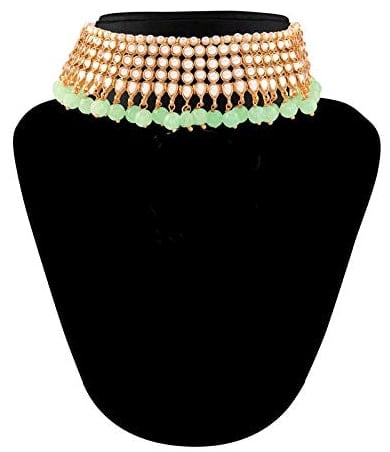 5. Nakshatra CZ Choker:
If you are attending a wedding as a guest, then you can pick a similar as this one. We recommend keeping other things minimal. Wear it with a lightweight sari for a formal yet understated style statement.
6. Kundan Choker:
Chokers with precious stones and dangling pearls look exquisite as they decorate the neck. This is a perfect style to wear to a wedding or any special festive ceremonies.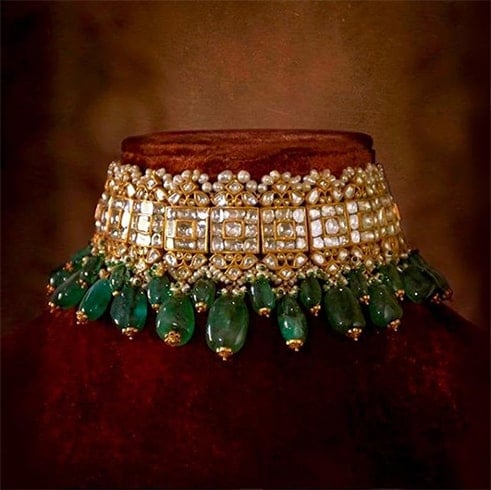 7. Crystal Floral Choker:
A unique floral choker piece as this one can be worn in unusual ways. You can match it with a hair ornament or a polka necklace to balance out the factors. All these different pieces won't be fighting for attention.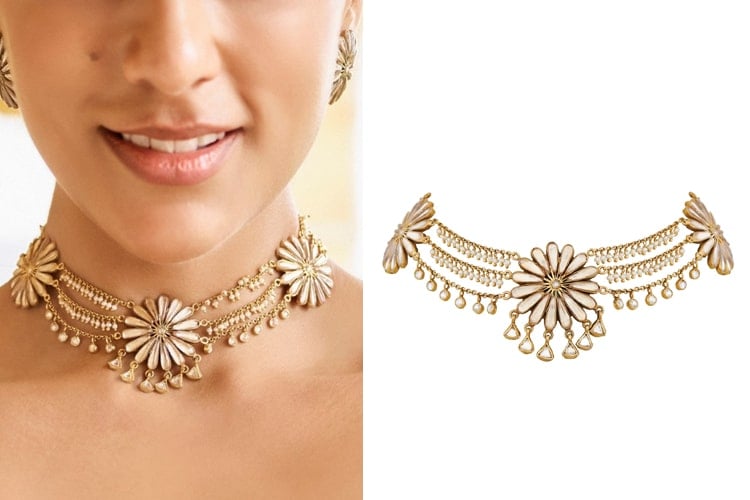 8. Gold Choker With Dangling Pearls:
The gold choker with dangling pearls makes up for pure versatility, royal flair, and classy. This one features a natural luster of pearls punctuated with tiny diamond set-the result is magnificent.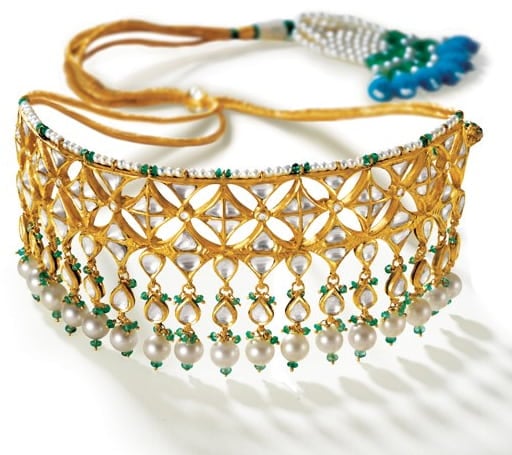 9. Multi-Crescent Choker With Russian Emerald Drops:
Classic jewellery like this one gives a fresh perspective to bring in pure delicacy, while the touch of Russian emerald drops offers a contemporary touch.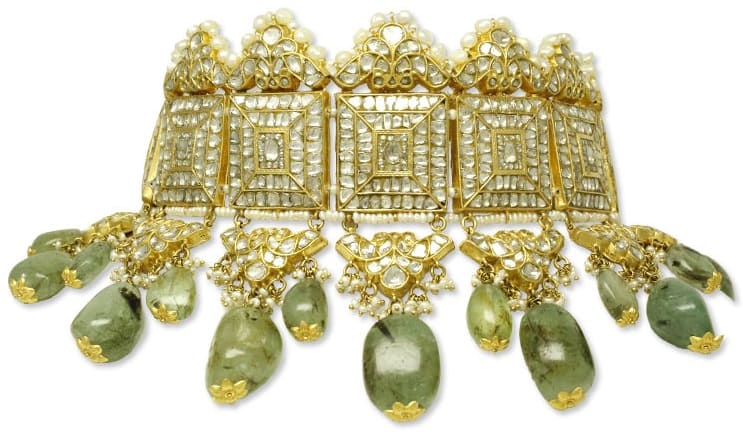 10. Gold Finish Choker Necklace With Pink And Green Stones:
The gold finished choker with pink and green stones can work beautifully with your modern wear. Instead of wearing it for weddings, make it a part of mehendi or sangeet ceremonies.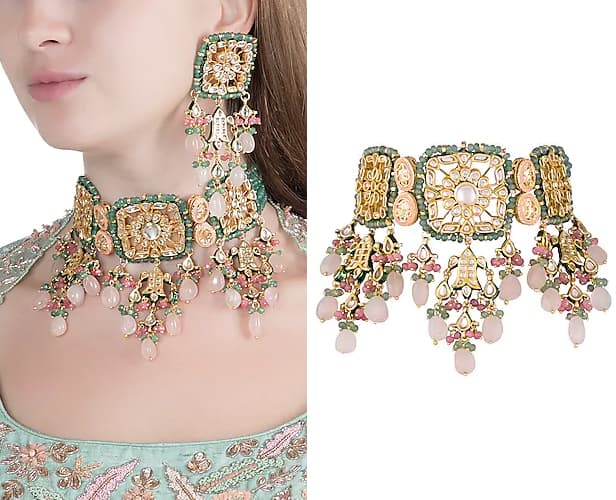 These are the top ten traditional choker necklace designs that make for good festive choices. You can choose from one of these sartorial pieces and reinvent it for upcoming festive ceremonies.