Five days of Lakmé India Fashion Week Winter/Festive 2019 this season: a roller coaster of speculation, anticipation, and the debut ground for many talented designers. We have taken a lot of notes from this year's show. Despite the odds, the event was welcoming towards all shades of creations. The final day ended with the same surge of excitement with shows by major designers like Gauri & Nainika, Rina Dhaka, Disha Patil and the like. All the collections had a panoramic point of view catering for different styles.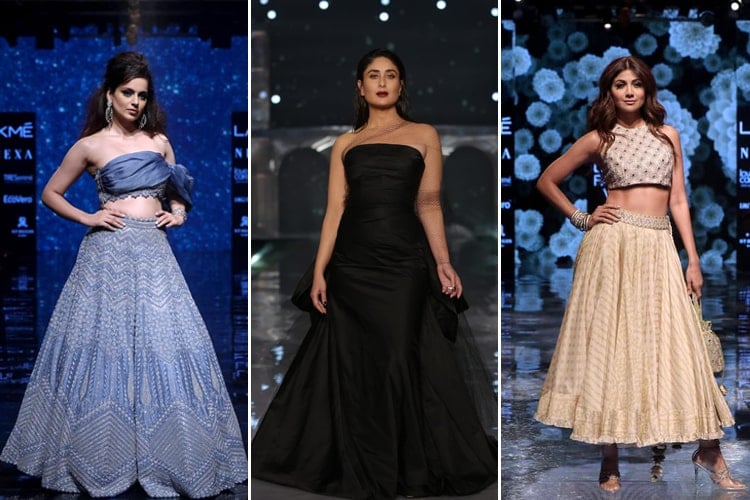 Lakmé India Fashion Week Winter/Festive 2019:
Here are all the 5 days highlights.
Day 1 Highlights:
Lakme Fashion Week Winter/Festive 2019 has officially stared, marking the beginning of fashion month. Day 1 introduced us to the diverse frenzy of designs, and this fashion week solidified everything we expected: full of personalities. With top designers like Rohit Gandhi and Rahul Khanna returning after a hiatus of 15 years, Payal Singhal representing her 20th year at IFW, and six fresh talents from INIFD showcasing their unique designs, the show reached new heights with silhouettes blurring the line between art and style.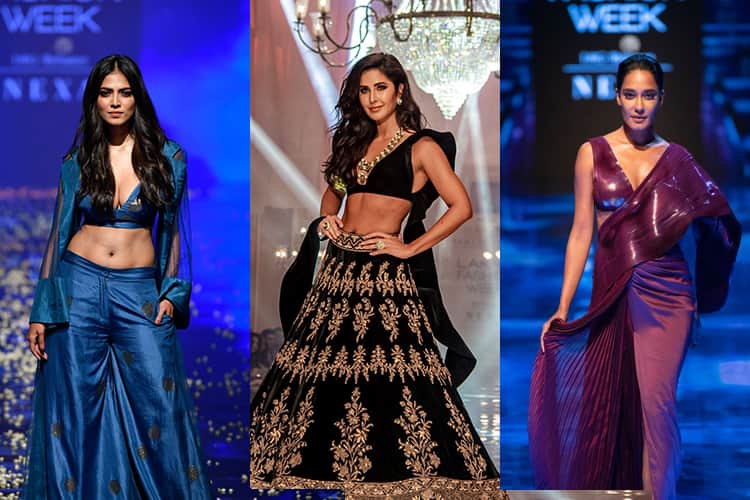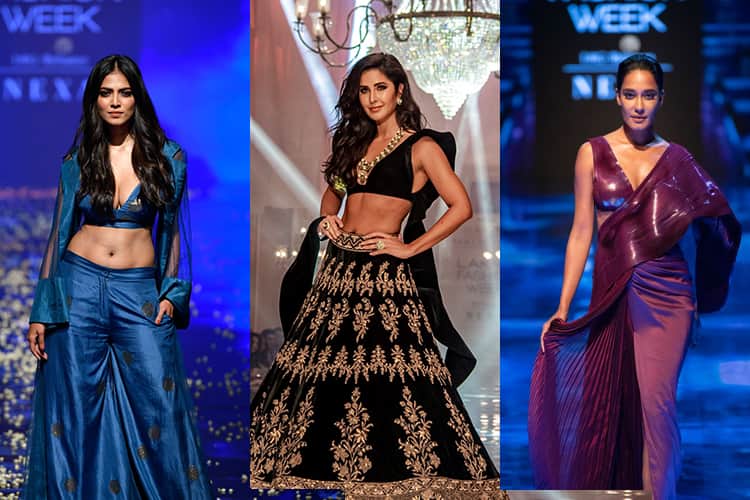 Keep scrolling to see all the best looks from Day 1 of Lakmé India Fashion Week Winter/Festive.
INIFD, GEN X:
As the show started with anticipated excitement, the audience was high on expectation for the six Gen Next Designers by INIFD. The six designers included Manjushree Saikia with Dawn to Reality, Sahib Bhatia with Amaaré, Ankita Srivastava with Little Things Studio, Gaurav Singh with Anatomy, Stanzin Palmo with Zilzom, and Akanksha Aggarwal with Noié Noié. All the collection made quite a grand entrance.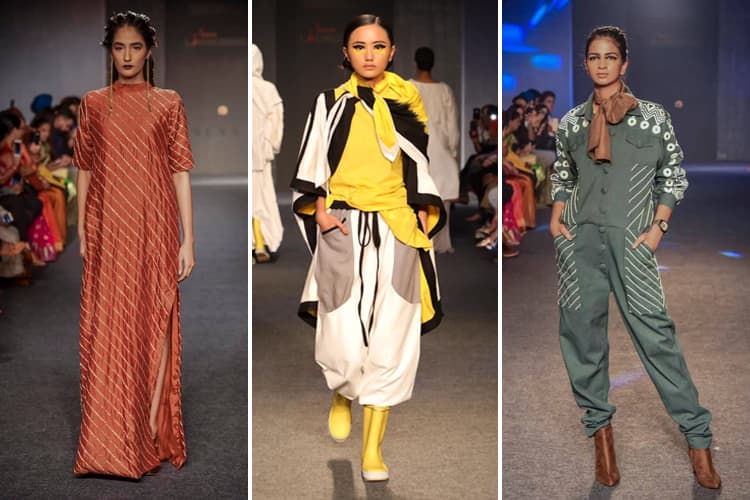 Manjushree Saikia's Dawn to Reality collection combined Assam's traditional western designs with hand-woven textiles.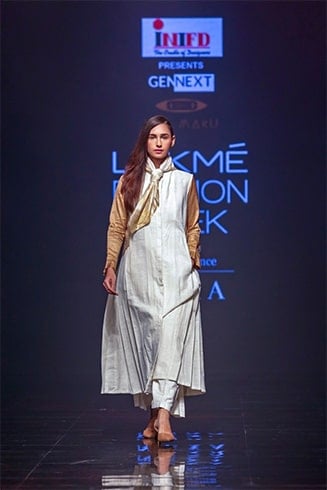 Sahib Bhatia's Amaaré was a men's collection using a blend of cotton and wool. His designs took inspiration from Native Australian art and Japanese culture featuring surface techniques and embroidered jackets and coats.
Ankita Srivastava's Little Things Studio showcased a gorgeous collection of designs inspired by artist Henri Matisse and handloom textile saris. All the textile prints were beautifully hand-drawn and transformed into screen printing into the silhouettes which was pretty cool.
Speaking of cool, Gaurav Singh's Anatomy collection knew when to move to a fresh look. More than anyone, the designer is going to be responsible for the comeback of draping and boning structure to dressmaking.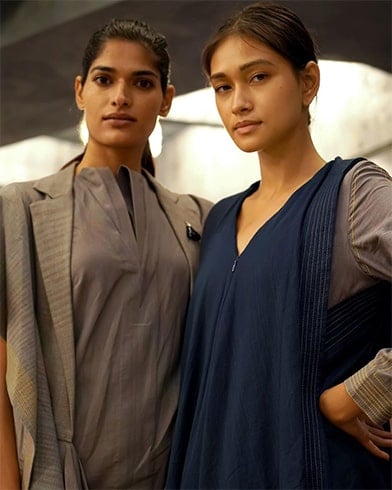 The idea behind Stanzin Palmo's Zilzom was probably to showcase the designs inspired by Ladakh's flowers and national dress. The effect was exceptionally on par with all the other top designs of the day.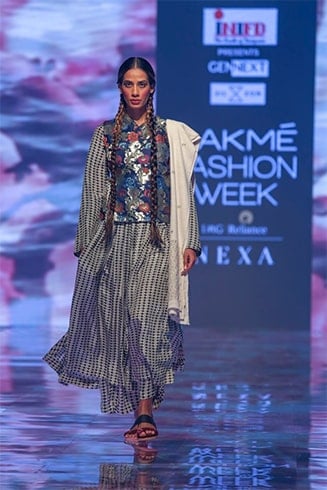 Akansha Aggarwal's Noié Noié was a blast to watch and probably took the audience to a world of dreams and reality-exactly as the designer envisioned. The entire collection was made up of 100% cotton and linen.
Half Full Curve by Vineet Rahul:
In a season where there's much talk about couture dressmaking and design skill appreciation, Vineet Kataria and Rahul Arya took it to the ultimate with their label, Pichwai. The collection was lusciously inspired by the richness of Indian textiles.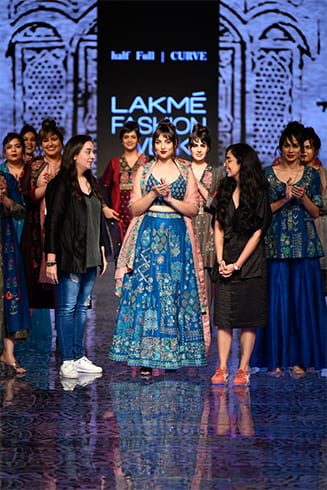 Malvika Mohanan made the final walk in their much sophisticated and modernized silhouettes.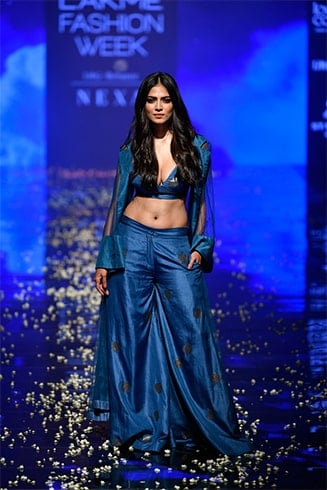 Not so Serious by Pallavi Mohan:
Pallavi Mohan's offering Not So Serious was brimming with new ideas, and her older styles, too. The use of looped metallic and silver on the dress were sensational and looked very powerful.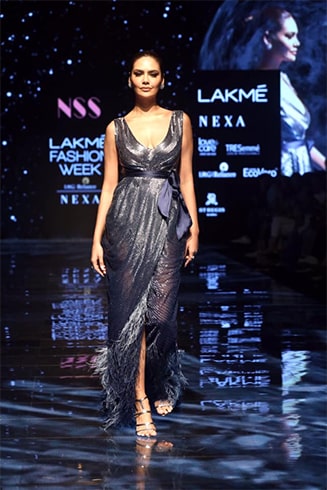 Rara Avis by Sonal Verma:
In a sea of solution designs, in which brands have been stressing on real-world wearable factors, Rara Avis by Sonal Verma was in his world on the first day of the fashion week-introducing his set, 'The Still Life' which resonated with the look of Jacques Linard, the French painter from the 17th century. The designer emphasized that he was interested in bringing out the edge of classic silhouettes which successfully brought out with the use of recurrent motifs. Verma effortless played off with neutral hues like ocean blue, deep black, and tan bringing his already accomplished collection to an all-round gorgeousness.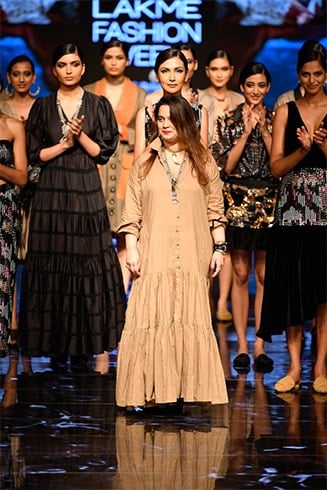 Payal Singhal:
Marking her 20 years of showcasing her collections at Lakme Fashion Week Winter/Festive 2019, Payal Singhal's designs didn't disappoint. Her show was enlivened with the presence of power couple Shibani Dandekar and Farhan Akhtar.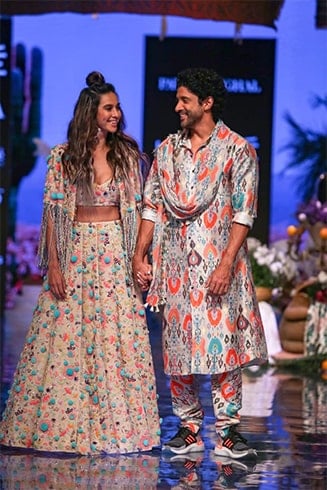 Saakshi & Kinni:
With this collection Saaksha & Kinni at Lakmé Fashion Week proved why their take on Gujarati and Rajasthani inspired silhouettes were far more interesting. They presented a smattering of prints inspired by Gujarat's ikat, Fakirani Jatts by Kutch, and Rajasthan's leheirya. The designer duo also came up with bold, formal designs including translucent kaftans, suits, and indo-western evening gowns with embellished jackets in shades of green, purple, and rust.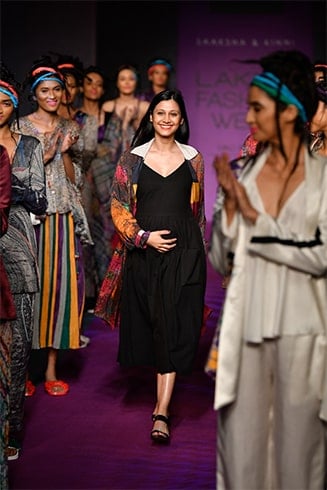 Amit Aggarwal:
Amit Aggarwal ended the night with his luxury prêt collection Flux that looked surprisingly relaxed. Celebs like Hardik Pandya and Lisa Haydon walked the ramp for the designer in standout metallic pieces in pleated material which wounded around the body in tier.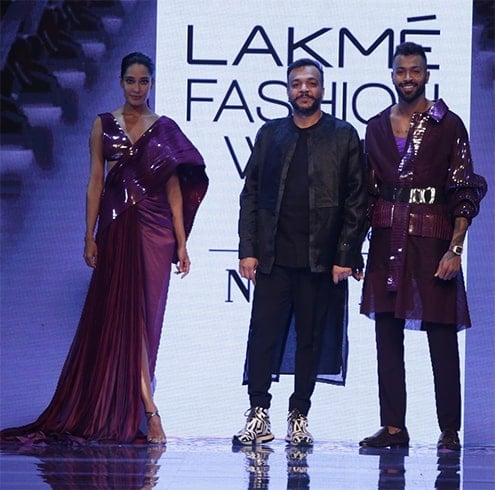 Day 2 Highlights:
Day 2 of Lakme India Fashion Week Winter/Festive 2019 gave a voice and a platform for sustainable brands and designers alike to present their eco-friendly collections. The designs on the ramp didn't represent any sort of undesirable detailing rather it banished all stereotypes revolving around sustainable garments. Scroll down to see all the effortless silhouettes and colorful approach.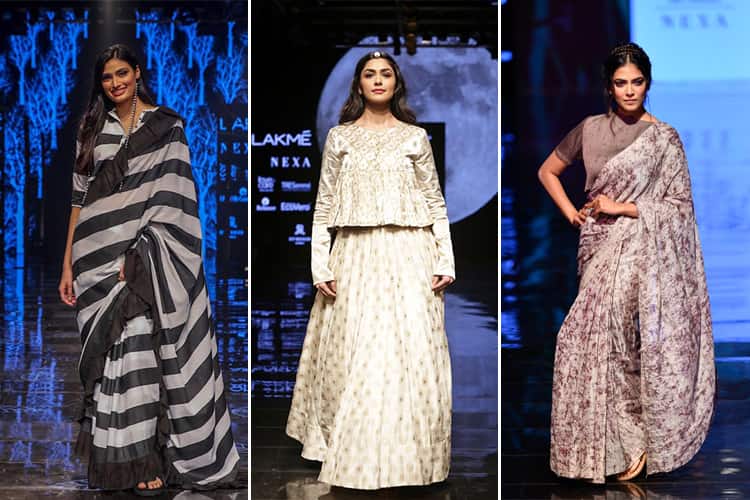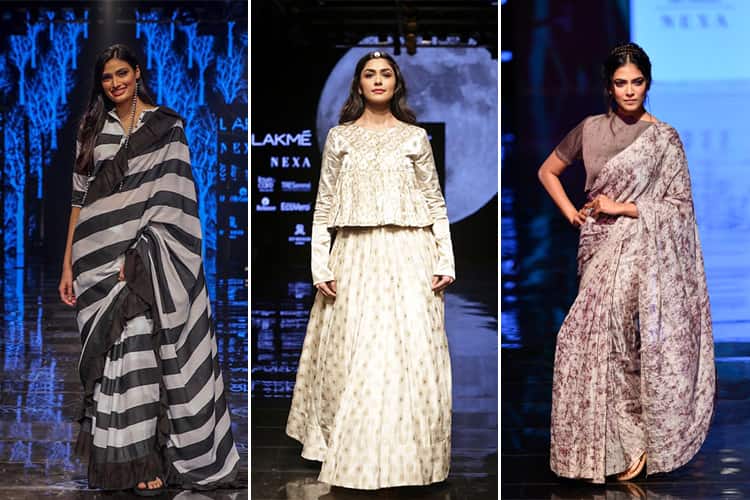 Here are all the highlights from Day 2:
Cotton Champions: Farmers by C&A Foundation with II.II/Eleven Eleven:
The show, Cotton Champions: Farmers by C&A Foundation with II.II/Eleven Eleven was a prêt collection by designers Shani Himanshu and Mia Morikawa. They introduced silhouettes in geometrical and straight cuts delivering hand-woven organic and kala cotton. The collection comprised of jumpsuits, slim dresses, baggy pants, short dungarees, and joggers.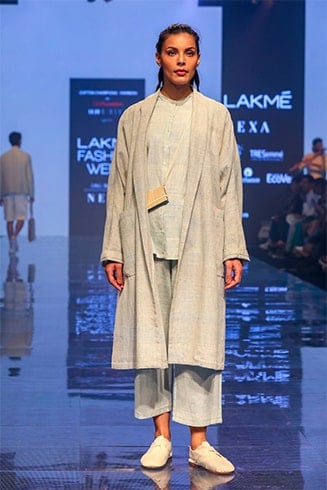 Khadi & Village Industries Commission Presents Anuj Bhutani | Three| Khanijo:
Khadi, India's oldest and humble fabric found a place at Lakme India Fashion Week Winter/Festive 2019 as Khadi India showcase three of their collections. The show was dedicated in honor of 150 years of Mahatma Gandhi.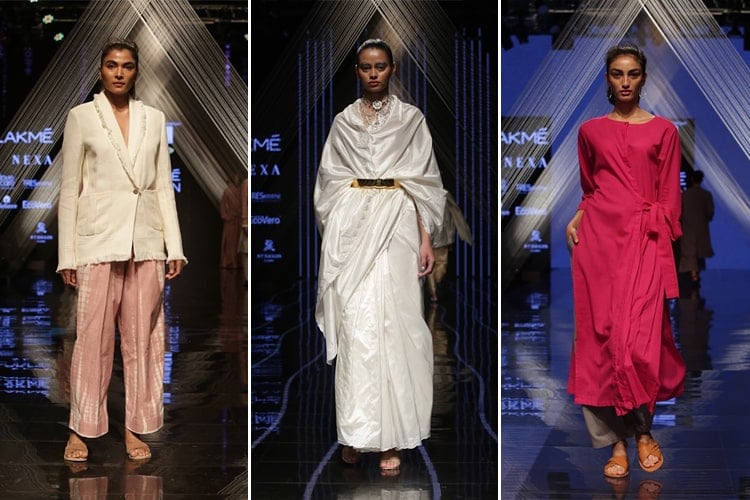 Corozo-vegan Ivory x KA-SHA Supported by Proecuador:
Designer Karishma Shahani Khan introduced her label Ka-Sha which worked around traditional ethnic motifs and textiles. A beautiful display of 'Koum' inspired by nomads was transfused into her designs. The fabrics used to weave the lovely creations were from Bihar, Madhya Pradesh, and Kerala looked lovely on the runway. Other materials included handloom cotton, handspun khadi, and chanderi with plain or woven zari stripes.
But the symbolized use of Corozo or Vegan Ivory for the show will go down in history. Proecuador the institute from Ecuador collaborated with LFW for the promotion of exports in Ecuador and Corozo-a plant based ivory made from buttons, art, and jewellery. The collaboration between the sustainable fashion label Ka-Sha and ProEcuador used special garments and accessories using Corozo based materials.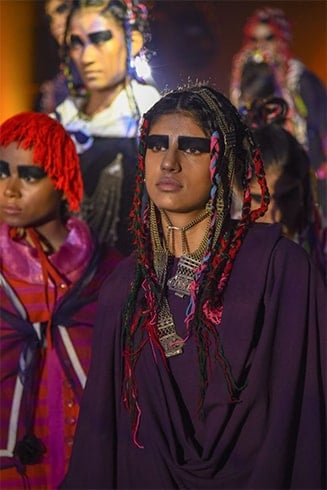 An Ode to DABU by Aavaran Udaipur:
Aavaran-Echoes of Rural India's showcased their comfortable and chic wear collection on Day 2 of Lakme India Fashion Week Winter/Festive 2019. The creations saw the use of natural fabrics and modern prints to restore the traditional craft of Dabu mud-resist hand block printing.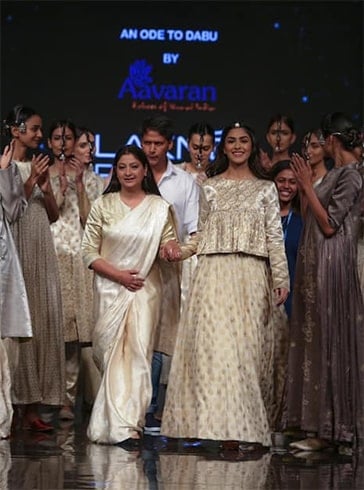 Soham Dave:
Soham Dave presented her stunning collection 'Zari' using the finest of craftsmanship. Her pieces acknowledge the feminine body and are created to never go out of style.
Padmaja Maku:
Designer Padmaja Maku showcased 'Ayahuma' with the use of freshly hand-woven and sustainable resources.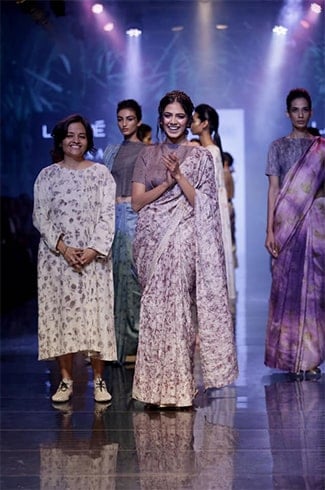 Antar-Agni:
Antar-Agni by Ujjawal Dubey presented her collection, 'You Grow on Me.' The collection mixed traditional ensembles made with handloom cottons from Bihar and Uttar Pradesh. All the ethnic silhouettes rightfully showed off the collection's eco-friendly creations.
Urvashi Kaur:
Urvashi Kaur presented her collection titled 'Masira' made by hand-woven fabric from Punjab and Shibori tie-dye from Maheshwar and Churu silks from Madhya Pradesh. The models walked the ramp for the designer in relaxed fusion wear ensembles.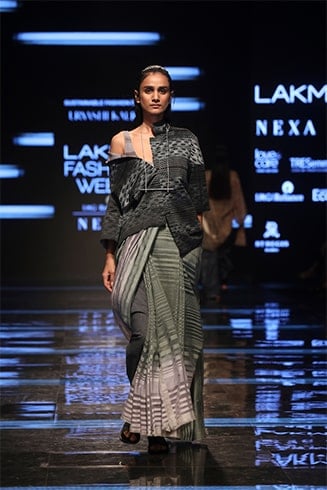 Circular Design Challenge Presents I was a Sari:
I was a Sari project produced small runs at the ramp with their collection to bid against luxe fashion. Their eco-friendly approach is already a favorite amongst influencers.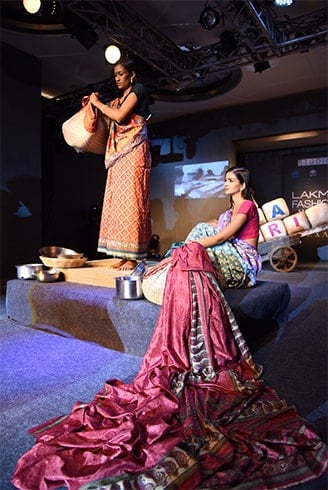 EcoVero™ Abraham & Thakore:
Designers David Abraham & Rakesh Thakore are not new to bringing out innovative traditional textiles. The designers collaborated with the Lenzing group for this year's event and presented a menswear and women's wear collection made out of eco-friendly fabrics called LENZING™ ECOVERO™.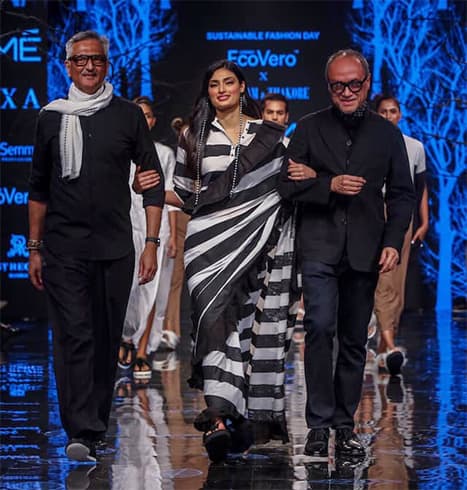 This is everything on Day 2 of Lakme India Fashion Week Winter/Festive 2019.
Day 3 Highlights:
Day 3 of Lakmé Fashion Week Winter/Festive 2019 was the most action-packed with consensus of the biggest designers in the industry. With the dozens of successful shows, we expected to see thought-provoking, uplifting thematic representations, and brilliant inspiration. And the show didn't disappoint. Here, the best collections that riveted with festive-ready-details sparked with glamour.
Here are all the highlights from Day 3:
Abhijit Sharma:
Abhijit Sharma's observational skills were depicted all over his collections-"ARUP" celebrating the coming together of man and womanly forms. His designs consisting of tailored jackets, winter coats, lapel jackets proved the point that when designers are really great, they offer us what we want. His blurring of lines between innovative materiality and sophisticated craft was self-evident. Sharma with his sharp eye for fit-and-flare outlines spoke to a knowing generation that loves trendy.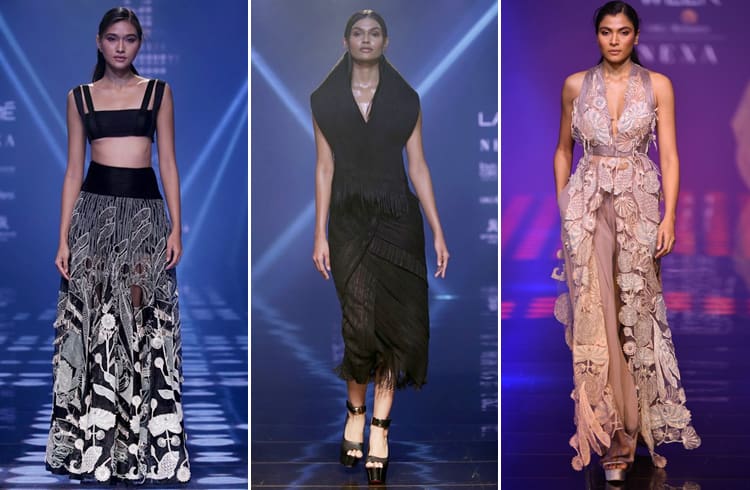 Kshitij Jalori:
For those who zoom in what Kshitji Jalori had made for Lakmé India Fashion Week Winter 2019 will marvel at his creations. The intricate balance between advanced technical craftsmanship and natural-looking touch of this collection "Moulin Rouge" of was breathtaking. His designs set an example that creativity and pleasure go hand-in-hand.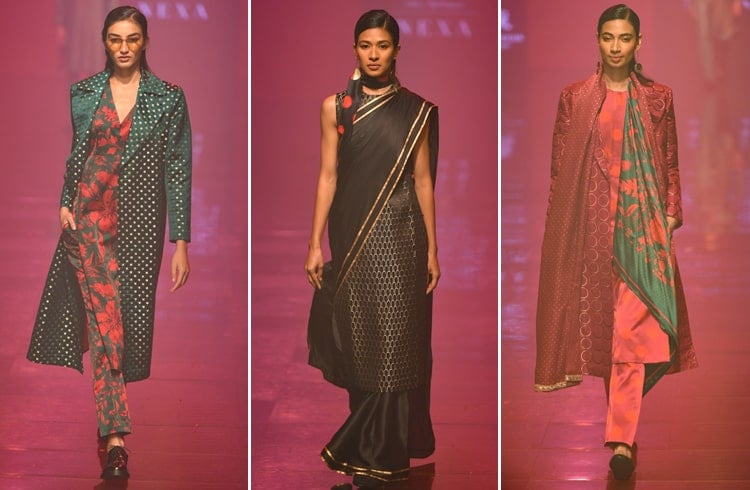 Sunaina Khera:
The level of novel fabrication that went in Sunaina Khera's collection, "Dear Mom" was astonishingly spectacular. The designer's collection was accessible and relatable purely because it was dedicated to her mother. On sight, one could see that that it was going to be exceedingly exclusive, which was worth it.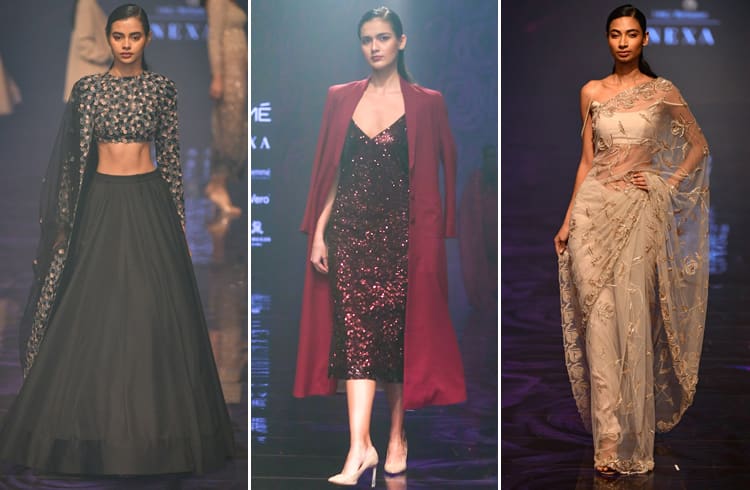 Jayanti Reddy:
Day 3 also saw Jayanti Reddy's evolutionary creations taken inspiration from royal palace to fortress to the city of Benaras. The motivating conception between the designer's collections combined a royal palace phase with grand versions of the past look with the future. The Banarasi woven fabrics, raw silks, finished with sheer organza and net added fluidity.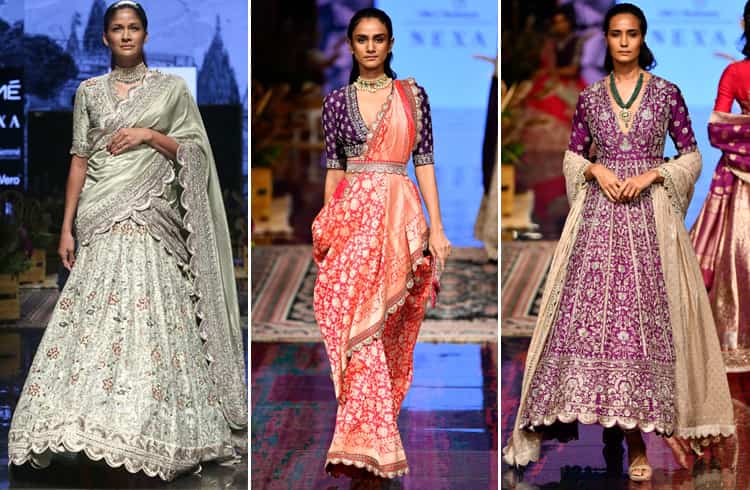 Actress Pooja Hedge walked the ramp for the designer in an embellished purple lehenga choli set with mint-green meenakari depictions matched with a silver dupatta. She finished her look with open beach waves.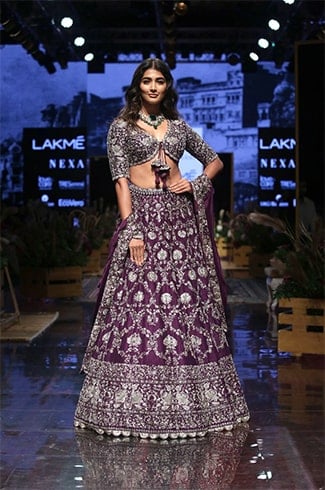 Ridhi Mehra:
Technically speaking, Ridhi Mehra's collection's "An Ode to Heirlooms" had a simple festive wear narrative: Note all the familiar cuts, including plaids, tulle, and quilting. In a season of flavor, Mehra's use of the delicate textures were undoubtedly the most inspiring. But beyond the ethereal nature of the ensembles, the designer had a bigger story of pushing the envelope from eye to places. The Basra pearls, Kashmiri Pashmina shawls, hand-woven silk saris, and vintage jewellery summed up her collection.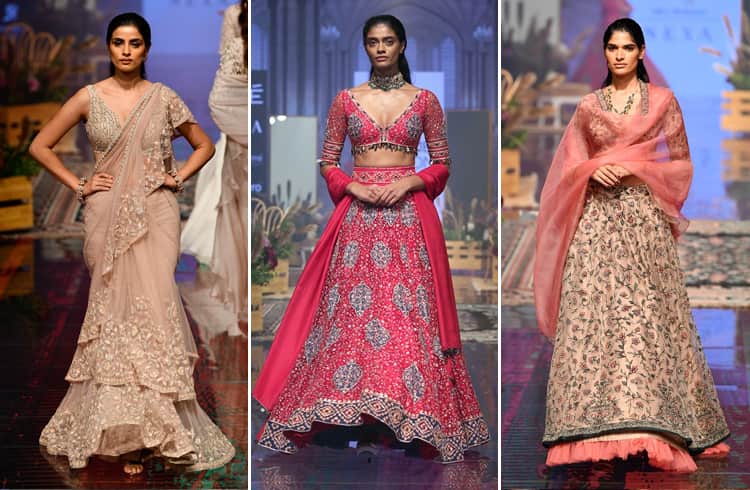 The gorgeous, Diana Penty walked the ramp for the designer in a stunning ivory sequined lehenga with pearl detailing and a matching dupatta and blouse.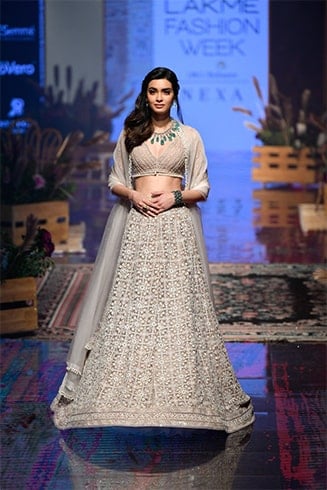 Ritu Kumar:
The excellence of Ritu Kumar lies in her capability to make a woman feel powerful and very today. This reflected well in her spectacular collections at the third day of the fashion week. The show was a true calling to punch things up in elegant pieces.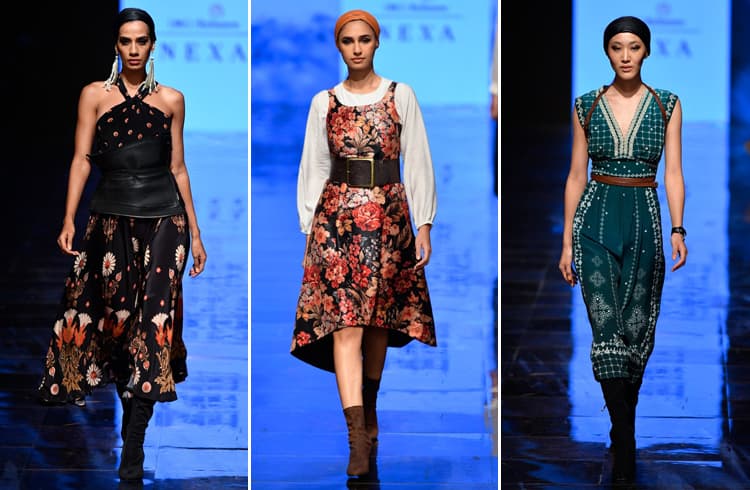 The effervescent Tara Sutaria closed the show for the designer in a white shirt with black halter, mini pinafore, knee-length boots, and leather belt. The mood of the look was very collegiate and youthful.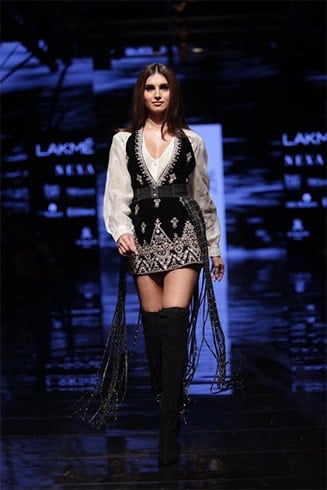 Gaurang Shah:
In playing it regal with his "Peshwai" collection, Gaurang hinted at the aspects of Deccan plateau, a lifelong part of his own taste. The elements came into play this season.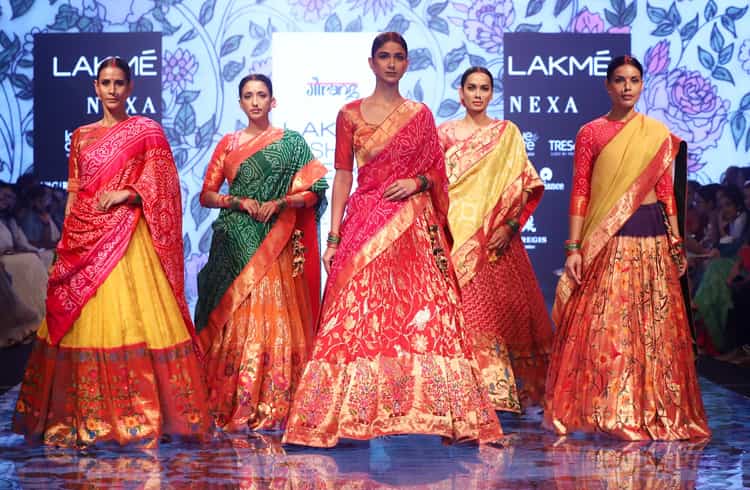 Nachiket Barve:
Nachiket Barve's collection, "Passport Princess," arrived with a nature influenced manifesto and welcomed more kinds of the same elements. The show was an energetic meeting of embroidery and beading works epitomized in the combination of feminine silhouettes.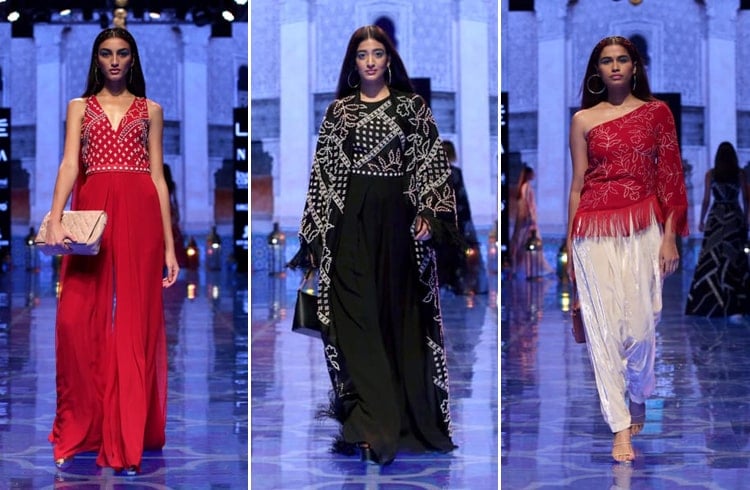 Rakul Preet Singh walked down the runway in the imaginings of Nachiket with an embellished, black jumpsuit and totally lighted up the stage.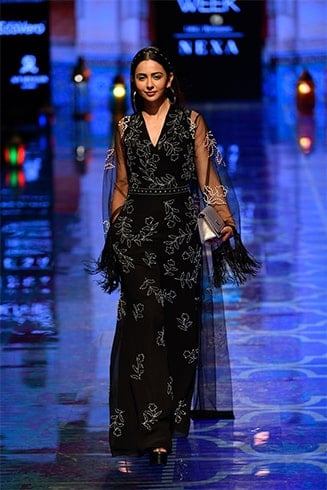 Kanika Goyal:
Kanika Goyal's aesthetic tinged with modernist-moved went on to give a definite signature on the runway. Some of the big exceptions were the organza underlay embroidered pantsuits, distressed dresses, and marcel coats.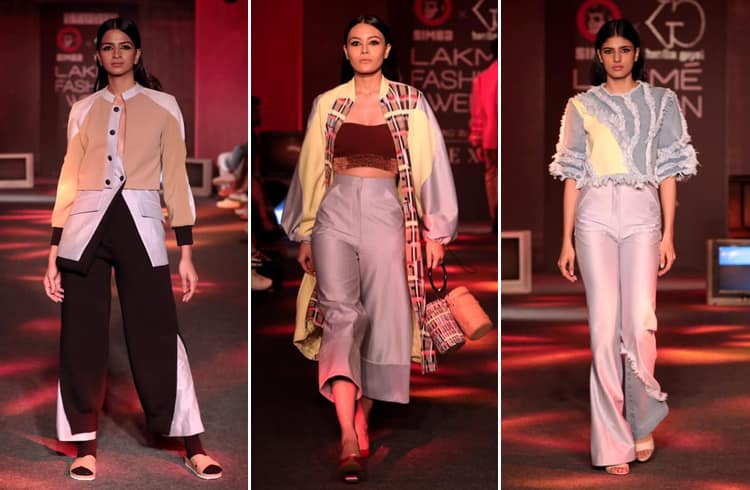 Day 3 ended on a high note giving us the best of show-stopping looks while giving a whole set of seasonal festive styles.
Day 4 Highlights:
The fourth day of the Fashion Week Winter/Festive 2019 was special. The panel of designers who showcased during the day had a strong, clear vision of every element they painstakingly selected to represent their craftsmanship. The day witnessed Arpita Mehta's signature opulent extravaganza, Ambika Lal's sleek pieces, and Rohit Gandhi+ Rahul Khanna's futuristic couture appeal. All the collections had one thing in common-and that was to truly represent their brand identity while of course celebrating femininity!
Click through for all the best looks of the day.
Here are all the highlights from Day 4:
Anurag Gupta:
Anurag Gupta's collection "A True Story" tapped well into his design expertise. The impactful creative was made using handloom textiles which was (really) good. Think floral motifs, oversized dresses recreated in raw silk. The designer may be new in the game but he definitely knows what's up.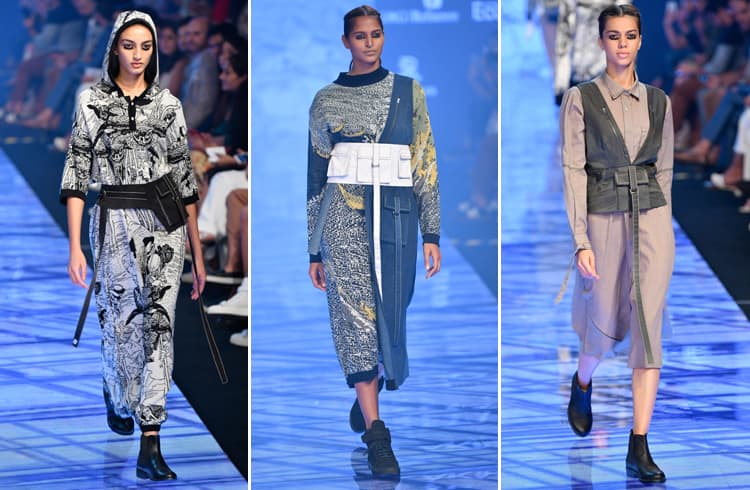 Esse:
It's great that a brand name Esse is the one pushing the edge. They take simple creations and give minute detailing on the fabrics inspired with the social culture. The Ease Clothing Collection titled, "Isn't it Ironic" had an edge and wearable factor to them.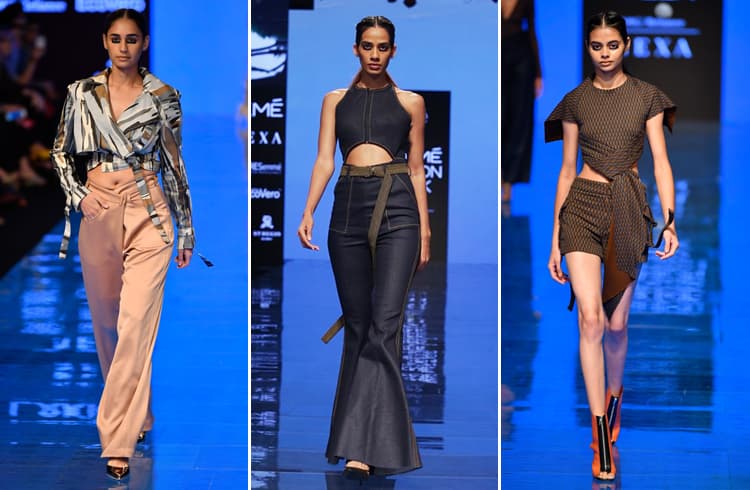 Jajaabor:
While the label may still be part of the newbie Gen X group, their designs are worthy of international acclaim. Emphasizing silhouettes with folk influences, the collection exuded rustic glam with an abundance of embroidery.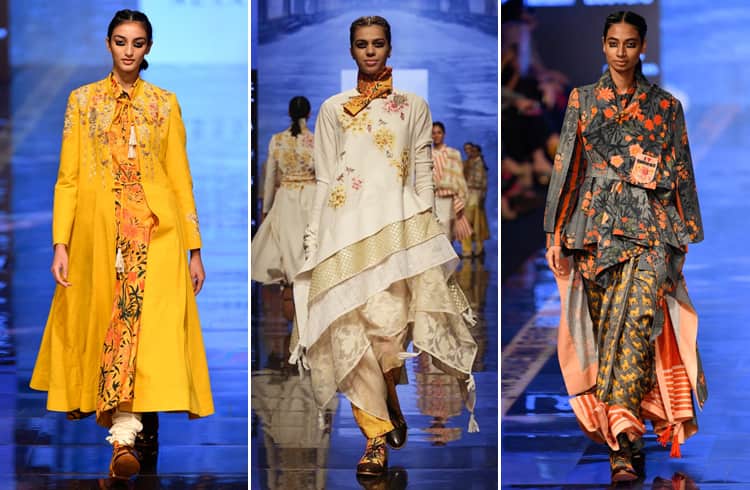 Akshat Bansal:
Akshat Bansal revealed his couture show "Bloni" with an intense level of artistry. The opulent collection had a selection of ensembles in earthy hues like black, brown, and tans.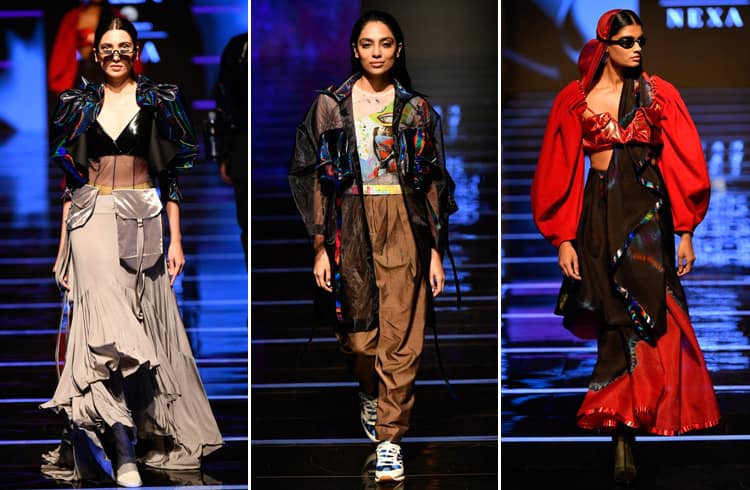 Salita Nanda:
Salita Nanda's haute couture showcased a connection which loomed between vintage appeal and modern expression. Inspired by the work of Thierry Guetta, a street artist; her designs portrayed that celebration with a splash of colors. The collection included mini sheath ensembles, lop-sided outfits, and mini jackets.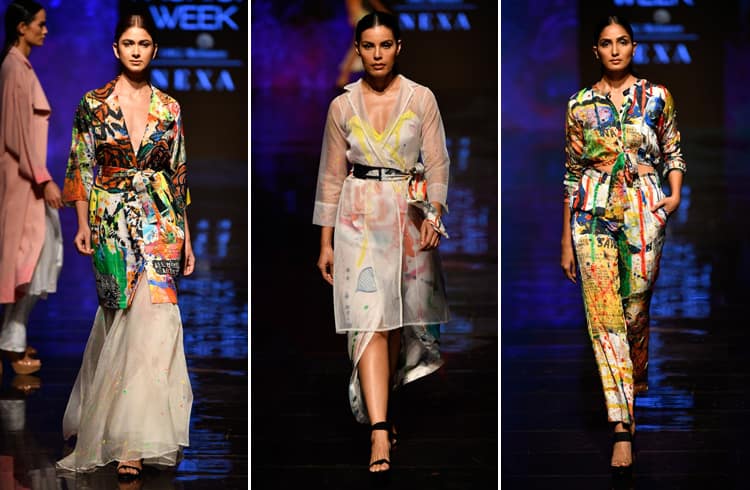 Sweta Tantia:
Inspired by the streets of Morocco, Tahweave by Sweta Tantia couture collection explored the charms and streets of the city in all its incarnations. The ensembles highlighted modern techniques of hand-weaving and screen printing in a range of resonant textures and dreamy fabrics.
Arpita Mehta:
Drawing inspiration from lavish Bollywood weddings, Arpita Mehta explored imperial mass within her collection using personal touches. Opulent sarees and lehengas in jewel-tones explored the runway.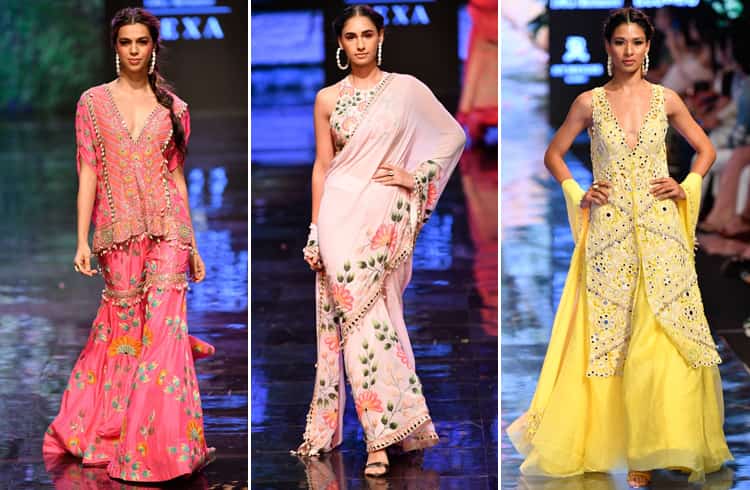 And looking all regal and romantic was Ananya Pandey in bridal wear with a variation of breathable fabrics and designer's signature mark.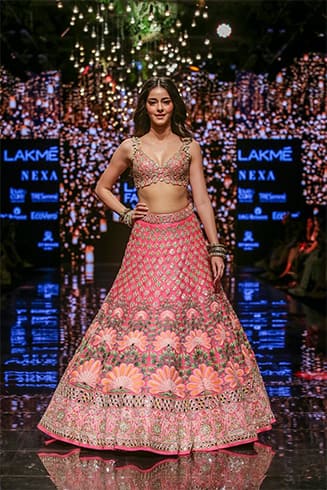 Anushree Reddy:
Following the same theme of Bollywood wedding extravaganza was designer Anushree Reddy. Her bridal collection gave a new face to decadent luxury.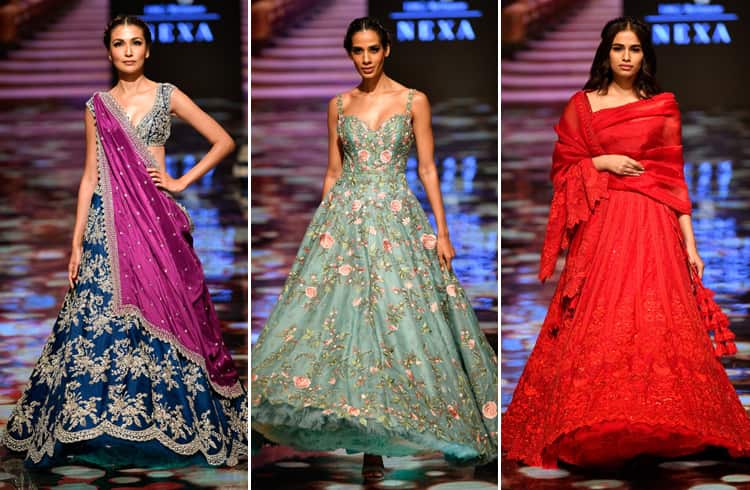 And then, Ananya Pandey closed the show in a breathtaking bridal suit-hitting the runaway once again.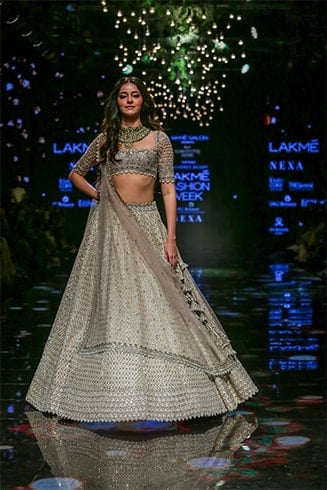 Pinkey Agarwal:
Purple Feathers by Pinkey Agarwal took the creative reins at the Fashion Week and her collection proved to be their finest yet. Opening with the run of clean-cut silhouettes, the designs transitioned into a modern take of the rich textures flawlessly.
The gorgeous Adah Sharma took center stage in a beige ensemble mixed with a head-dresser and purple wig. It was a stunning mix of daywear and whimsical world that felt fresh.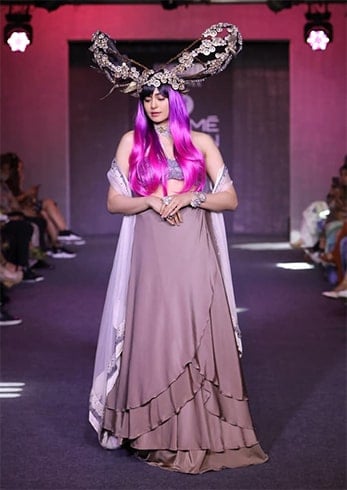 Bandana Narula:
Bandana Narula has long expertise on swoon-worthy outfits, but this Fashion Week she proved her design chops is limitless. Amongst a sea of pastel and purple ensembles, Bandana managed to make her collections look just as dreamy.
Another standout was Shibani Dandekar who looked like a true study above all of the designer's creations with added pastel flair.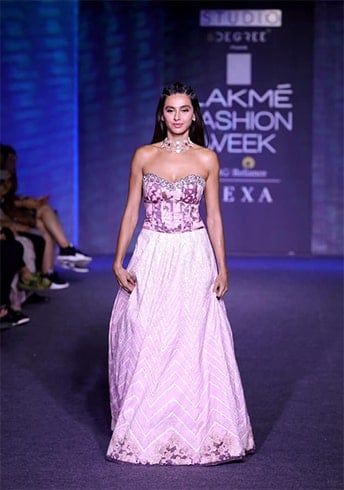 Ambika Lal:
Texture, hues, and transitional creations were part of Ambika Lal's show. Whether plush or tailored ensembles, one thing is solid. Wearing the designers' creation is an expression pass to fall/winter freedom.
Rhea Chakraborty was defined with elevated elegance in a gorgeous black strapless ball-gown as she made the final walk for the designer.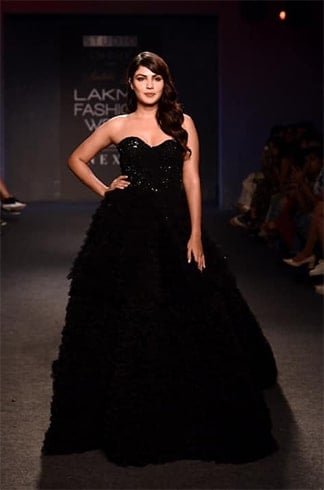 Dhruv Kapoor:
Dhruv Kapoor put his stamp on the latest collections and it's a bold one with a preppy outlook. His creations set the mood for all occasions. Denim jackets with embellished floral patterns were the highlight of his show.
Kunal Rawal:
Kunal Rawal's point of view had a cool, dapper feel, focusing more on street-style feel. Unique hem lines and textured designs filled the designers' 2019 runway.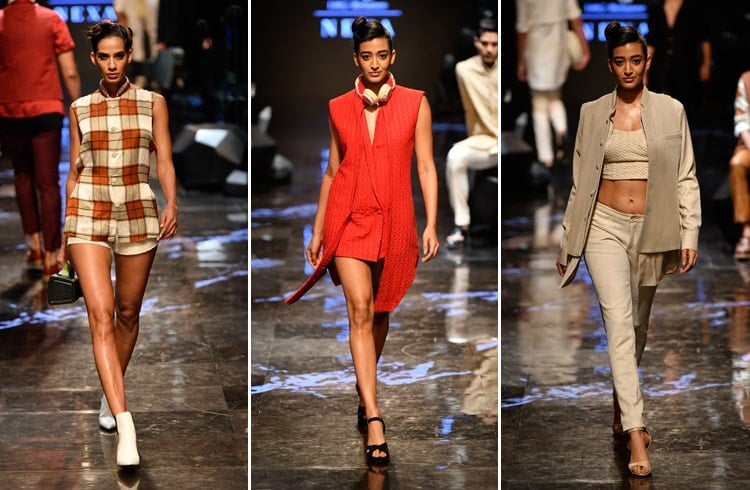 Rohit Gandhi and Rahul Khanna:
Rohit Gandhi and Rahul Khanna reconnected us with a futuristic and vintage compilation representing the richness of the '80s with their show. From all the dreamy illusionary splendor of the theme, it was a show of relatable fashion giving us the heart of a modern woman. Complete with exquisite tulles, plush satins, fringes, and frosted silks, Rohit Gandhi + Rahul Khanna's collections have aced exactly how to work to full advantage.
Disha Patani and Ayushman Khurrana made the final walk in black, arty-sequinned outfits.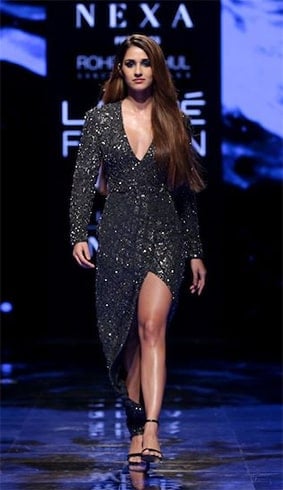 Day 4 delivered the goodness of wearable, trendy, clothes for the woman of today. It was the perfect elevator pitch that was current, but not boring.
Day 5 Highlights:
The final event finished off in dazzling form like the rest of the days. Scroll down to see all the highlights.
Here are all the highlights from Day 5:
Diyarajvvir:
Diyarajvvir runway show felt like a celebration. The collection asserted well and put the audience on the edge of their seats. There were plunging dresses, dramatic sleeves, bows, collision blazers and suits alike in shades of pastel and maroon.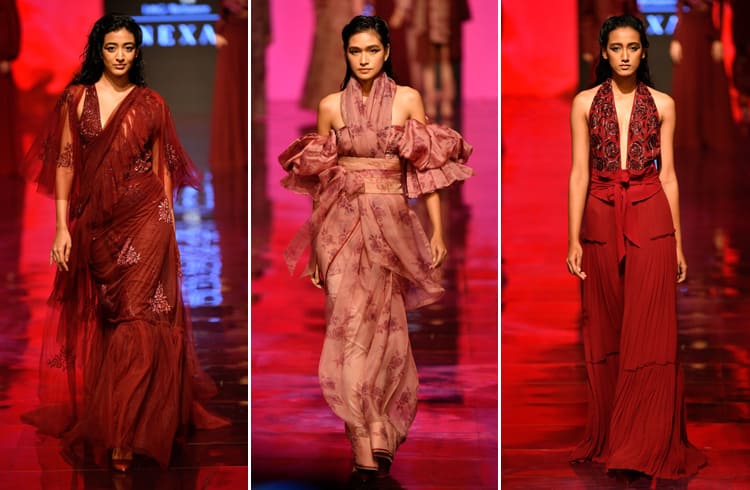 There was something about the way Malaika Arora Khan walked around in the maroon two-piece ensemble-all legs-that showed her being at home with it.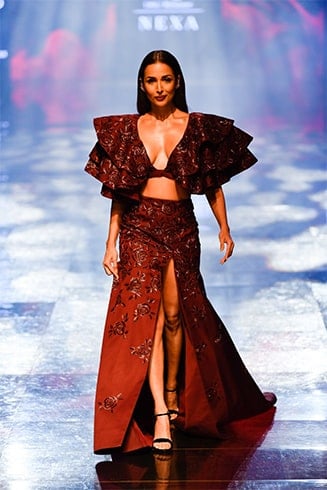 Dishal Patil:
The event was marked not as a retrospective but to fully display Disha Patil's influence to fashion in recent times. The rich layers of the garments, barely-there hue shadings from delicate pinks and blue's were hypnotically captivating. As the eyes moved over to the flares, tunics, and dresses, it shared easy-to-wear vibes.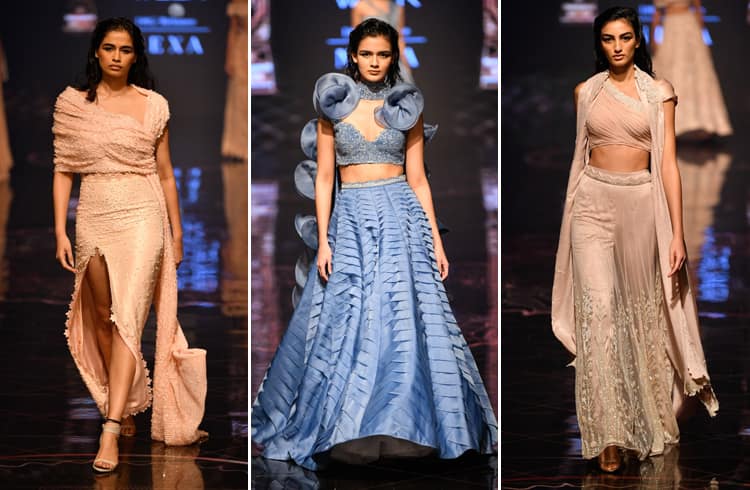 Smiles were seen runway-side when Kangana Ranaut walked the runway for the designer. The actress wore an equally impressive all-out printed blue ensemble with a one-sleeve-dramatic-blouse which was quite the opposite of traditional notions.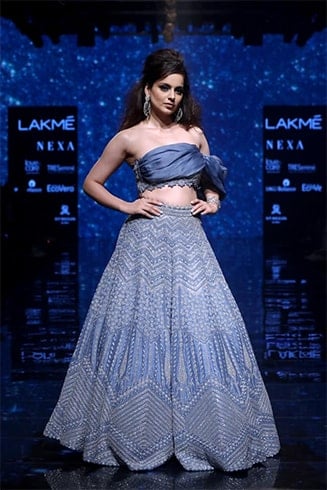 Punit Balana:
Next was Punit Balana's collection which captured the vitality of the work. The assemblage of the breezy materials blended on lovely. Perhaps the greatest take-away from his show was that over thinking designs can ruin things. His was a delight to watch.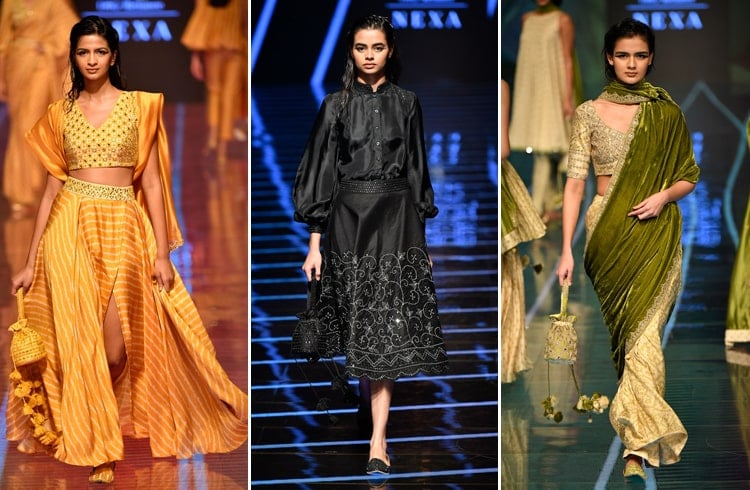 Shilpa Shetty made the final walk epitomizing Punit's youthful designs which felt like a welcome surge on the runway.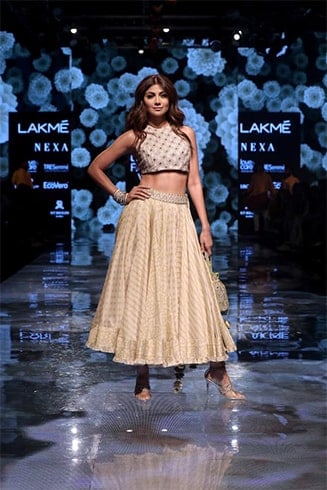 Kaveri:
Kaveri added a dose of spring summer inspiration by way of the dresses mixed with minimal approach. There were simple summer ensembles alongside poppy hues of white and blue. We're into this fresh perspective as everyone else.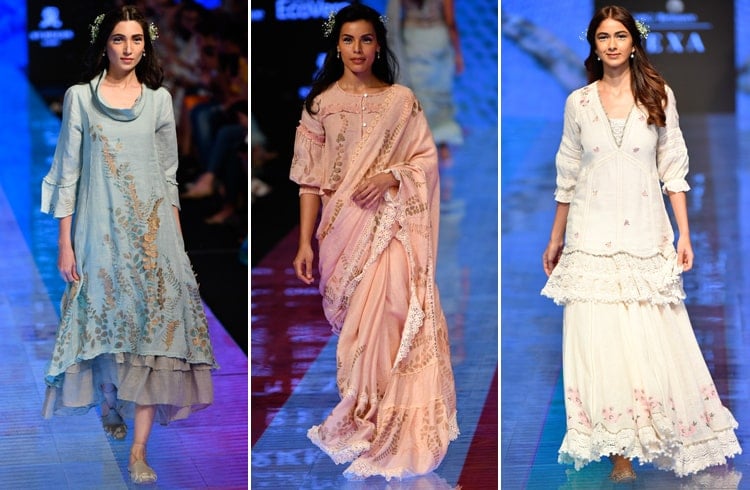 Sparkling from the rest, Shabana Azmi added more playfulness into the collection with the edgy ensemble. It was chic minimalism that we missed seeing on the runway.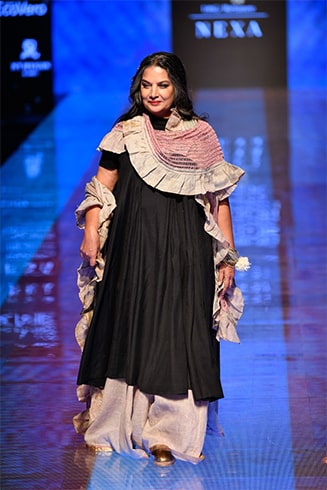 Rajdeep Ranawat:
The fashion week this season is shaping up to be one big festive mood reboot. Rajdeep did it best with his series of ethnic pieces from short jackets, trousers, skirts sets, dhoti pants, and others. The rich color blocked motifs stood out the most in the designer's case.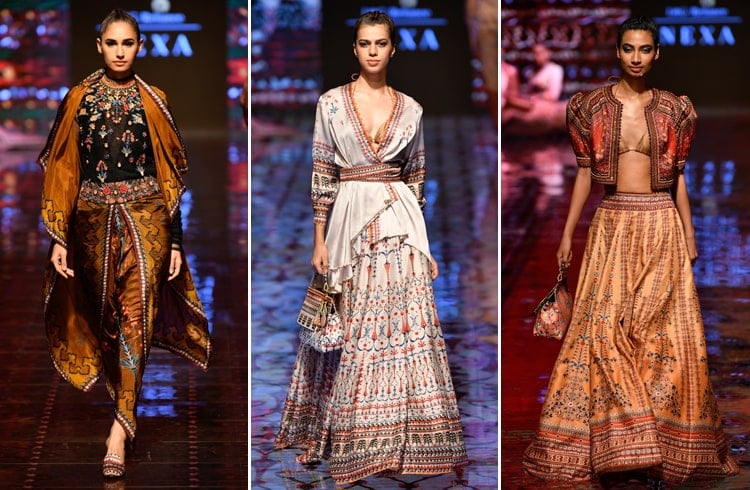 Sonam & Paras Modi:
The winter/festive 2019 collections have been satiated with rich tones-and Sonam and Paras Modi's was no different. Their signature styles have always been unusual prints, and going by the core of this season, their unexpected pairings blended exceptionally well.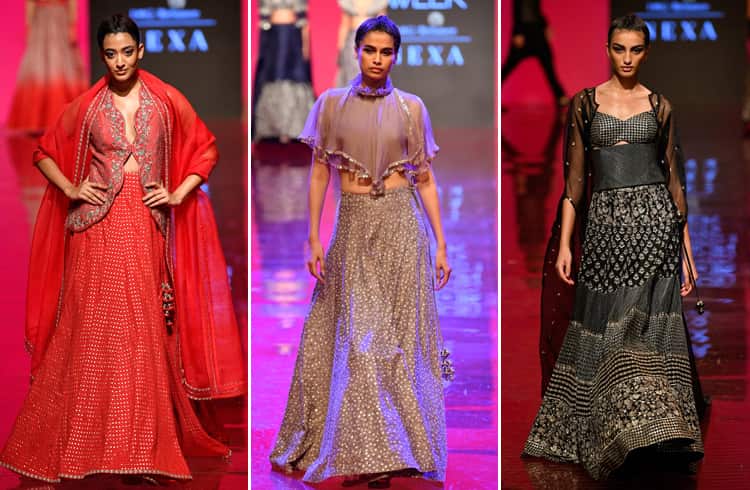 Rina Dhaka:
The starting point of Rina Dhaka's theme delved into a skillful merge of pretty and inclusive. The designer collaborated with plus sized clothing brand aLL. The collection was tailor-made for the plus-size woman looking to wear feminine silhouettes in all designs.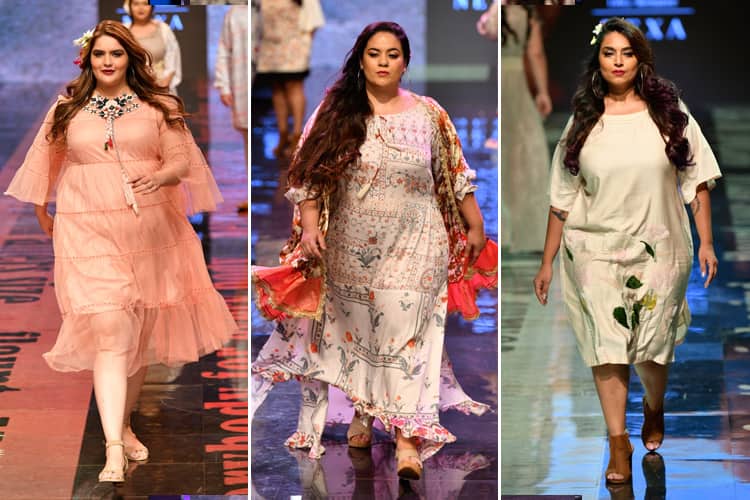 Delnaaz Irani made the final walk in an ensemble that honored the designer's creativity.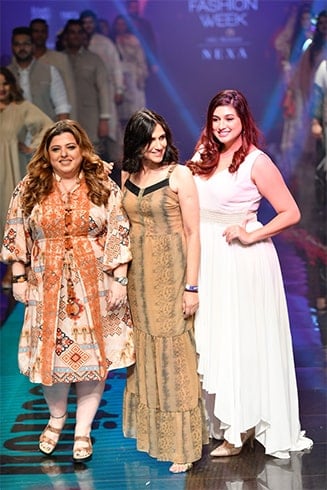 Grand Finale: Gauri & Nainika:
The fashion event finally closed with a tremendous show put up by Gauri & Nainika. Their collection was inspired by the 80s. Perhaps the highlight of the show was Kareena Kapoor Khan as she sashayed down the runway in a off-shoulder black drape gown. Her hair was slicked back matched with bold lips.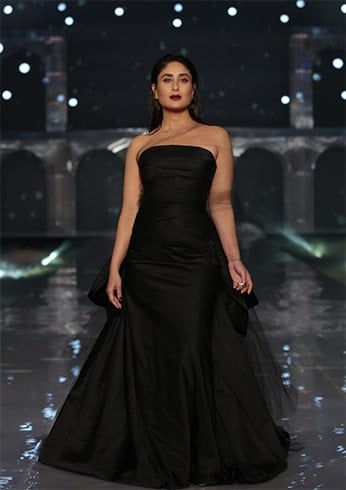 Obviously there was a lot to see from all the shows that happened but it all flowed well together. We are looking forward for more of this kind of style notions next season!
August 26th, 2019.
Author: Lima Aier
---
Highlights of Lakme Fashion Week Winter/Festive 2018
Although the stars lit up the sky on the last day of the Lakme Fashion Week Winter/Festive 2018, it did struck us hard that it's the end of the fashion fiesta. From dashing dappers to dazzling divas, the models slayed the runway and gliding amongst them with sheer elegance and divine grace were our Bollywood faves.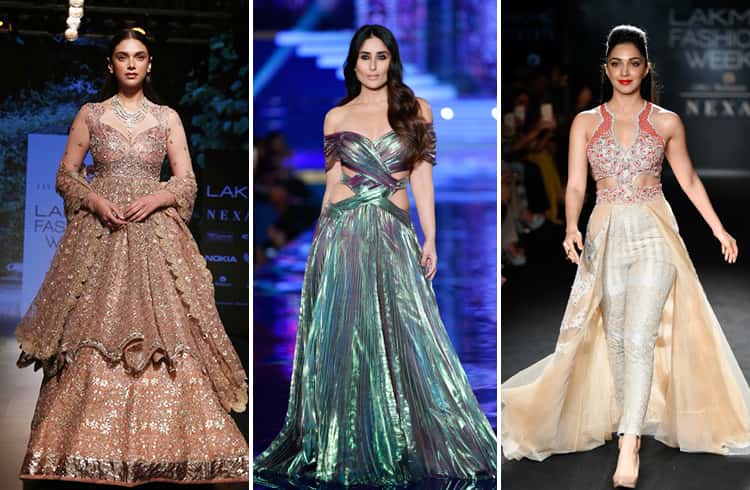 The Grand Finale Of LFW Winter/Festive 2018:
Let us see how the last day of LFW'18 unfolded with interesting and engaging themes-
Nakita Singh:
Inspired by travel and nature, Nakita Singh's collection at LFW 2018 Winter/Festive season was all about doodle sketch embroidery on handloom fabrics. In hues like yellow and earthy shades, the collection was designed to render a relaxed, pleasant and contemporary vibe.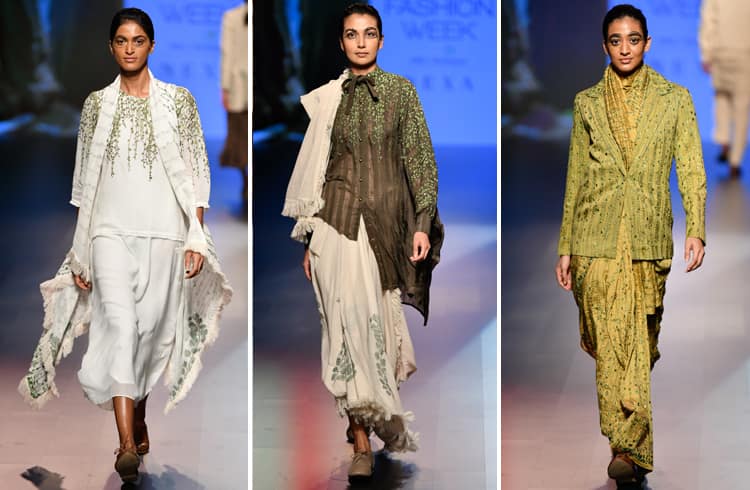 Soumodeep Dutta:
'The Circles of Wisdom' by Soumodeep Dutta was inspired by the analogies of life and lotus in Buddhism. From Ikat motifs, kantha embroidery on textiles from Odisha and Bengal, the collection carried a very earthy feel.
The dapper Gurmeet Choudhry was the showstopper for the designer and he definitely created an awe moment while he walked down the ramp in a black sherwani suit.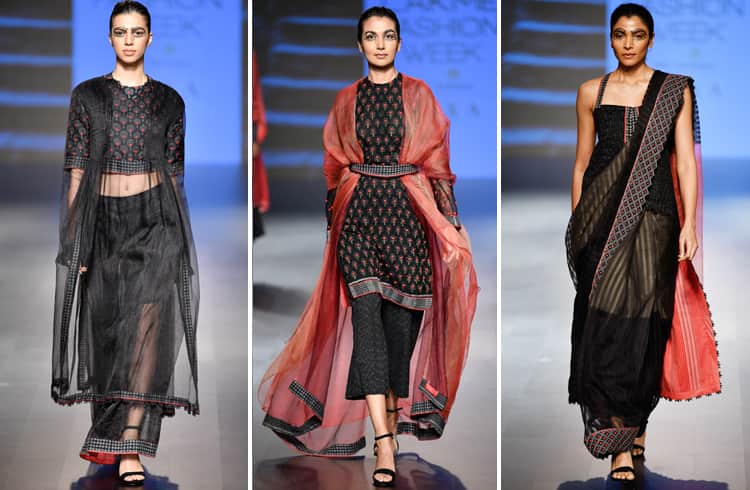 Tahweave:
Tahweave brought together colors from the Irish landscapes on hand-woven textiles and accentuated them with cut-work and kantha embroidery. This collection titled as the 'Unchartered' was a burst of colors in easy flowing silhouettes.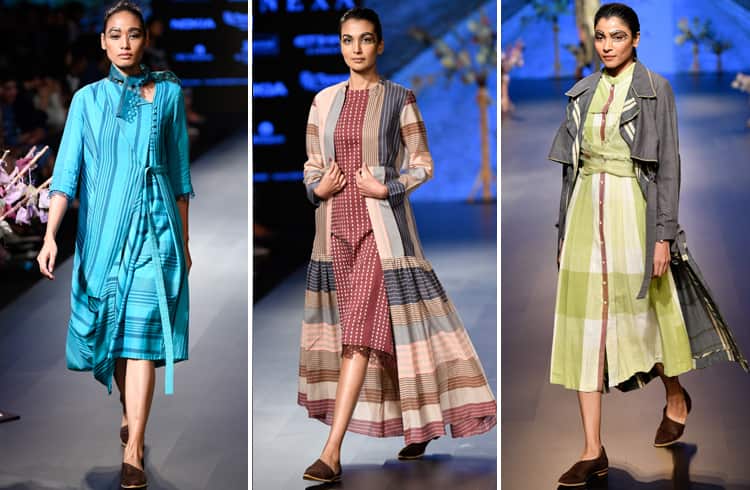 Kriti Kharbanda walked the ramp for the label in a black random dotted pattern gown. With her hair pinned into a ponytail and with matte finished coral lips, she was enigmatic.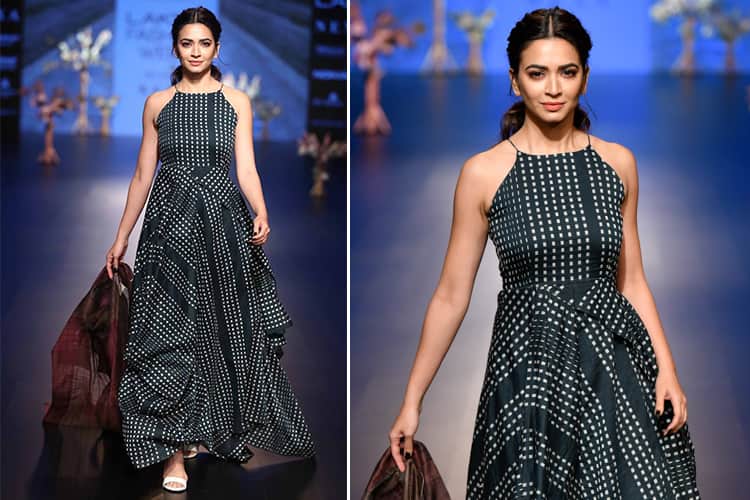 Jayanti Reddy:
'The Twilight Zone' by Jayanti Reddy captured the beautiful transition of the day into a starry night. With the model sashaying celestial styles in soft pastel shades, with intricate threadwork and sparkling jewels, the runway was purely whimsical.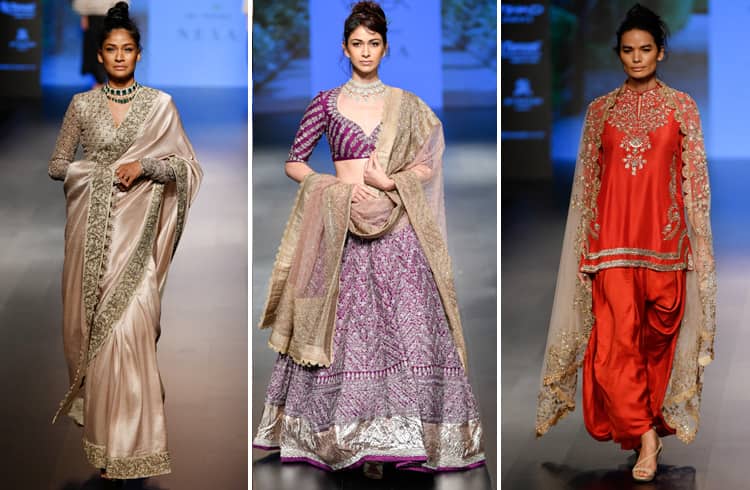 The gorgeous and regal looking Aditi Rao Hydari was Jayanti Reddy's muse for the evening. Donning a beige colored tiered outfit with rich embroidery, sheer sleeves and dazzling jewels, Aditi was showcasing utmost royalty. Mid-parted sleek hairdo, bronze toned makeup that complemented the shade of the outfit, the diva was jaw dropping.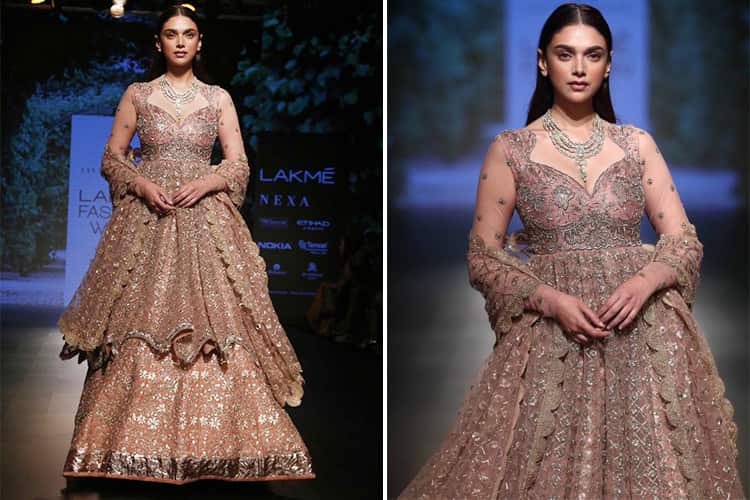 Nupur Kanoi:
Inspired by the Cape Town city which is set against a multicultural backdrop with European and Indian settlements, Nupur Kanoi came up with her latest collection 'Protea' at the LFW W/F'18. The collection comprised of botanical prints, glass beadwork in floral patterns that added a hint of bohemian style. Putting together prints, and beadwork, the collection was bot vibrant and stunning.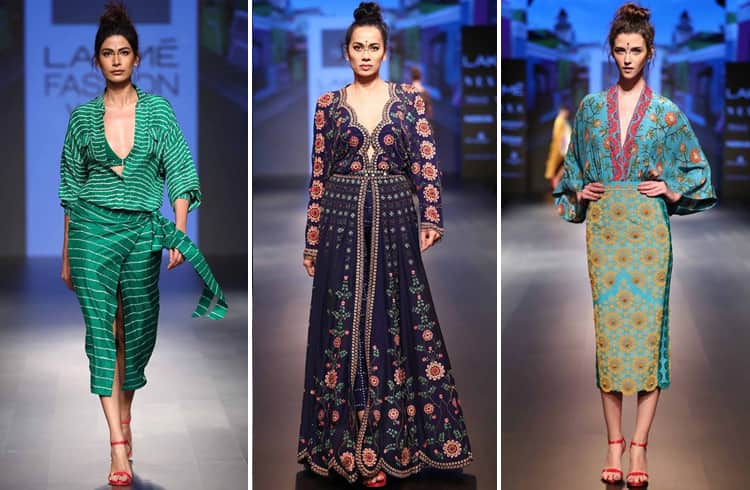 Punit Balana:
'Gulabi Chowk' by Punit Balana at the Lakme Fashion Week Winter/Festive 2018 was an inspiration drawn from the pride of the pink city Jaipur and Amer Fort. It also drew the beauty and delicacy of Jalebi Chowk and Sheesh Mahal. With hand-black prints on flowing outfits, and modern silhouettes, the collection created a stunning charm on the ramp. Majorly ruling were the shades of blue and pink.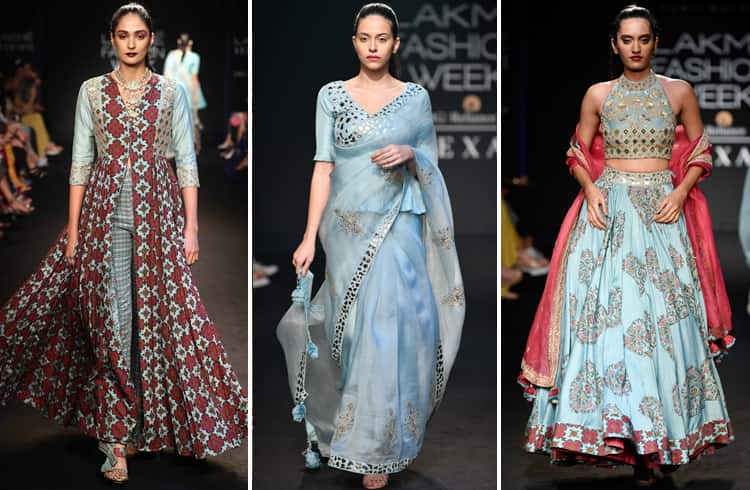 Radhika Apte and Jim Sarbh were the showstoppers for the designer. Radhika Apte swirled on the runway looking lovely in plunging neckline, pleated gown. Sleek hairdo and deep dark red lips elevated the beauty of this Netflix star.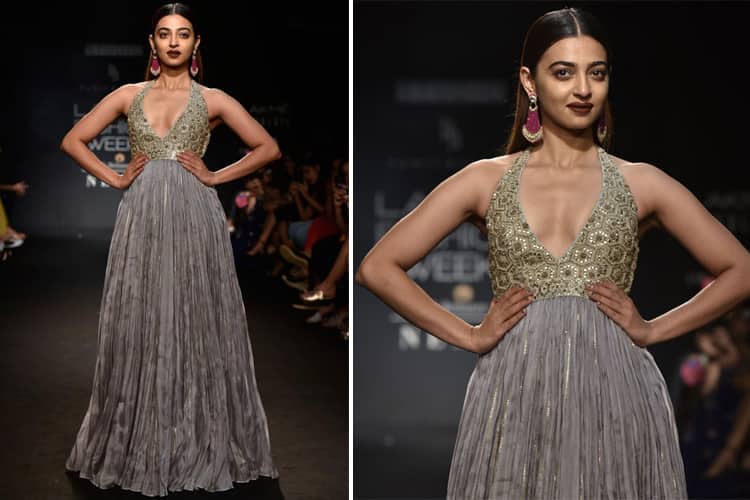 Agami by Neha Agarwal:
'Pushtaini' from Agami by Neha Agarwal, was all about age-old art of Madhubani. The geometric painting achieved by twigs, hand, brushes, matchsticks etc, on the outfits, using natural dyes and pigments rendered a spectacular feel on the runway. The Indian art was blended with innovative fashion and a new zardozi embroidery pattern was remodelled with a contemporary vibe.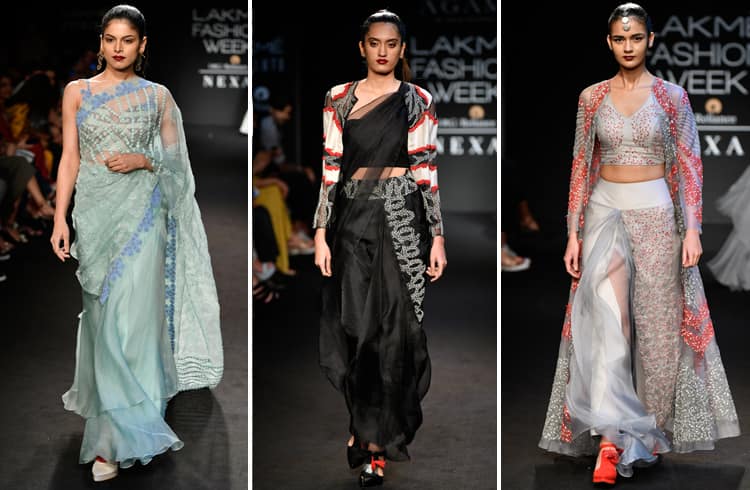 Kiara Advani was captured walking the ramp for the label looking bold and dynamic in a indo-western themed, cut-out top, glittering pants and a cape running waist down. Red hot lips and half pinned soft tresses drew a beautiful picture of her.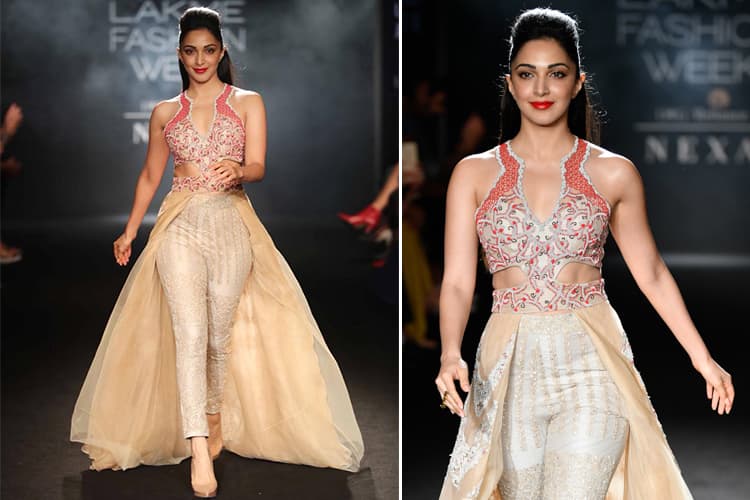 Label Ritu Kumar:
'Native Spirit' by Ritu Kumar was a tribute to the nature and great landscapes. With tribal prints that represented Native American Inca on western silhouettes with a hint of feminism and flirt from the Wild West, the collection was glorious. Rolling out styles in earthy and rustic colors with modern details, the designer nailed the show.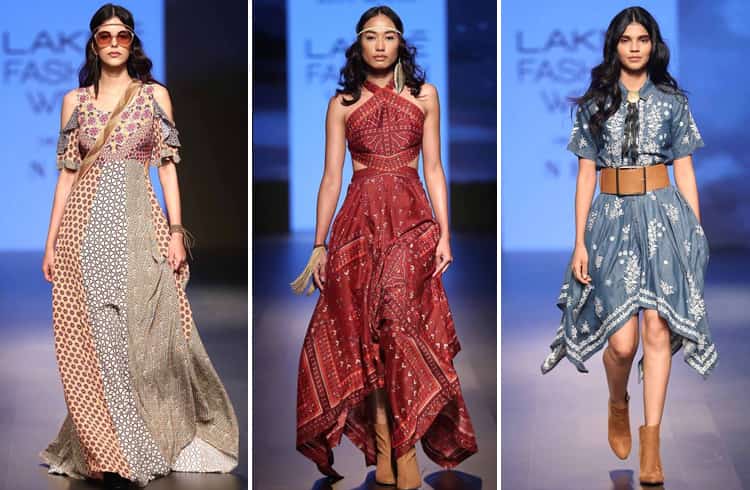 Disha Patil:
Disha patil chose to pay homage to the art of creation by imbibing the Tvastr- the Hindu artisan diety through her collection. In soft pastel hues, flowing fabric and intricate details, the designer brought forth styles in ethnic theme with a hint of modern day woman.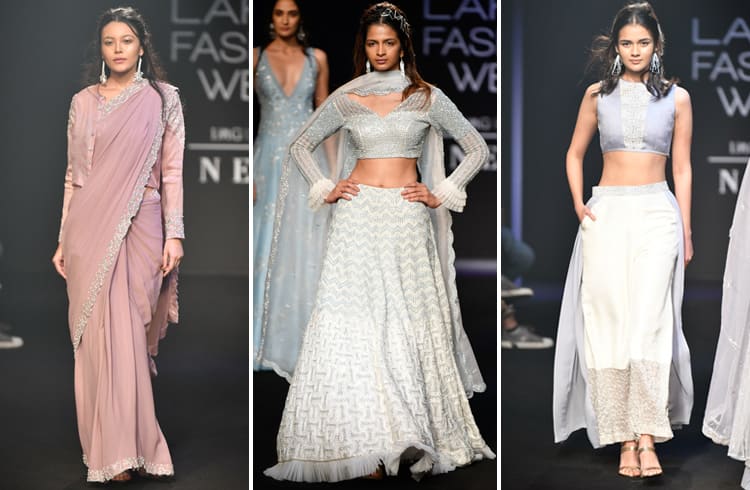 Diana Penty walked the ramp for the designer in an off-shoulder top followed by a cape, and a blush pink skirt.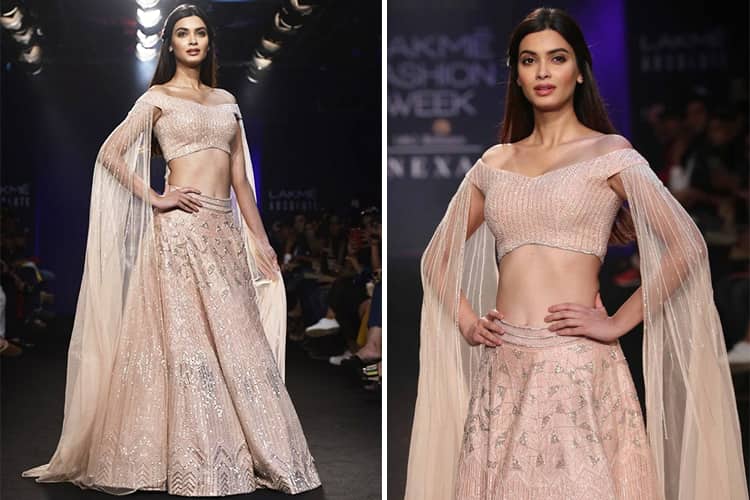 Mishru:
Mishru's collection titled 'Supernova' was all about power dressing with strong blazers and capes with a touch of femininity. With sheer fabric flowing below the thigh line, every garment was sensual in its own sweet way.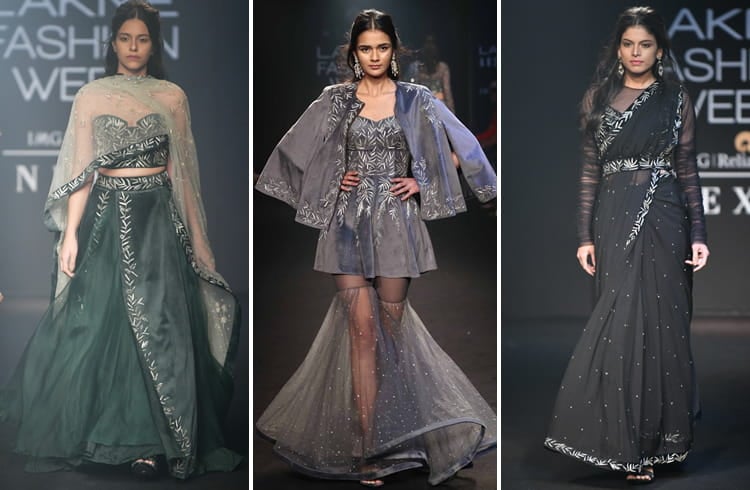 Lisa Haydon was the showstopper for the designer. The diva walked the ramp in sizzling shirt dress with sheer neckline, sleeves and thigh down gown looking grand and majestic. Love the dazzling pieces, her blonde hair and her attitude!
aLL Primero by Narendra Kumar presents Never Hyde:
'Never Hyde' by Narendra Kumar and India's leading plus size store aLL Primero featured day, evening and athleisure styles of men and women in comfortable textiles.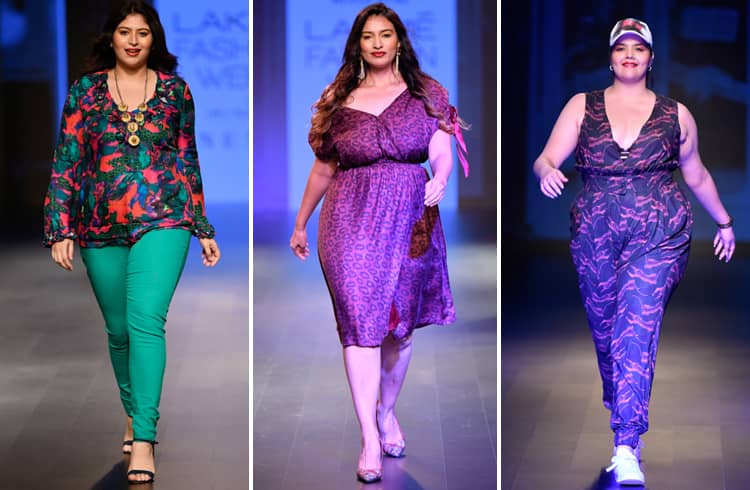 A bit metallic, a bit feminine and a bit of sporty were the shades and silhouettes in this 'Never Hyde' collection. Shikha Talsania was the showstopper for the designer and the diva rocked the ramp in a murky green dress. Love the embroidered, embellished feature along the neckline and her tassel fringe earrings.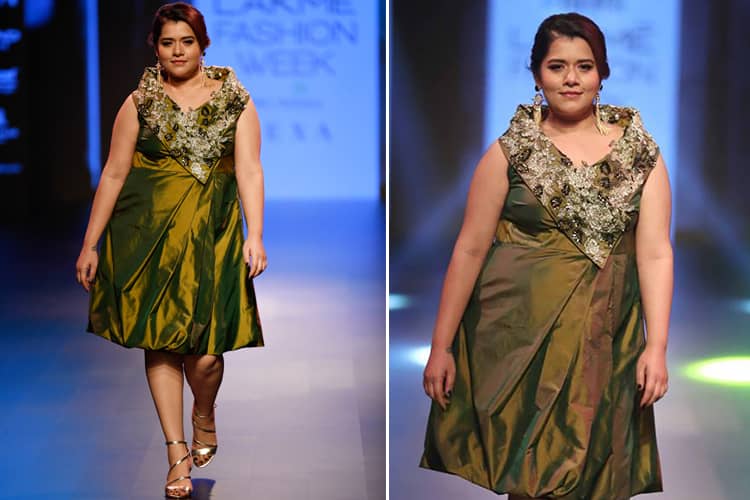 6Degree platform presents Julie by Julie Shah, Arvind Ampula, Gaurav Katta, and Sanjukta Dutta:
Prachi Desai walked the ramp for Julie by Julie Shah in a red floral applique outfit.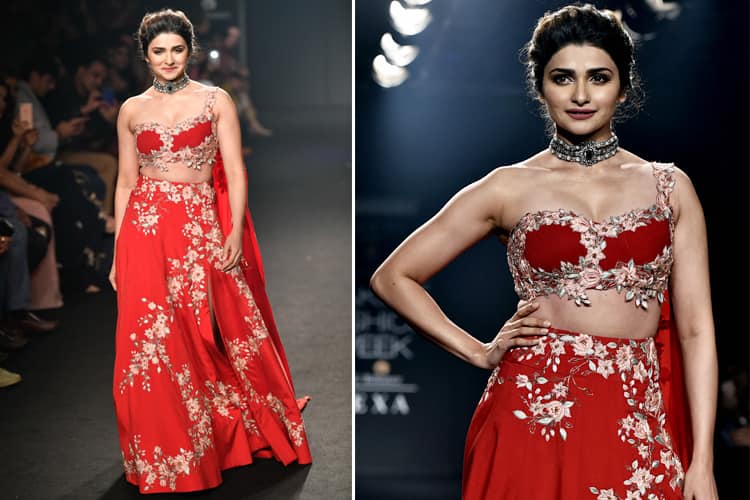 Sophie Choudry was the showstopper for the exquisite collection of Arvind Ampula. In a pink embroidered blouse, yellow flowing skirt and a sheer dupatta, she looked stunning. The creative jewelry pieces, her side swept swirly hairdo and her bronze eyes beautified her style further.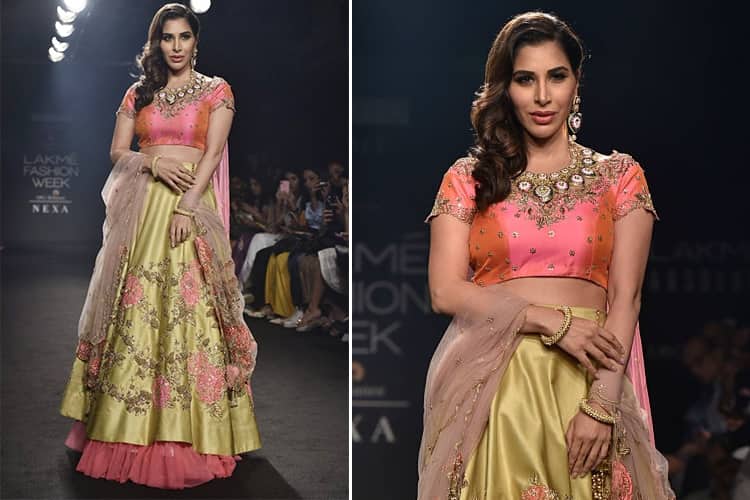 Kalki Koechlin walked the ramp for Gaurav Katta in a pastel toned off-shoulder gown with a wide belt tapering her frame. With her hair tied into a low bun, with a sheer cream toned hair accessory, she magnified the elegance of his creations.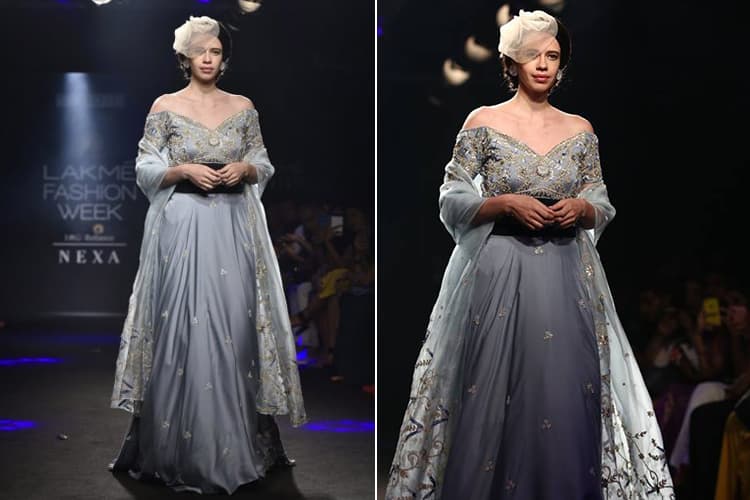 The new mom, Esha Deol along with her mom, Hema Malini walked the ramp for Sanjukta Dutta looking regal and divine. While Esha looked grand in a red and cream half sari, Hema Malini showcased a yellow, red and blue silk sari. Both the beauties picked waistbands, big red bindis and traditional jewelry to suit their styles.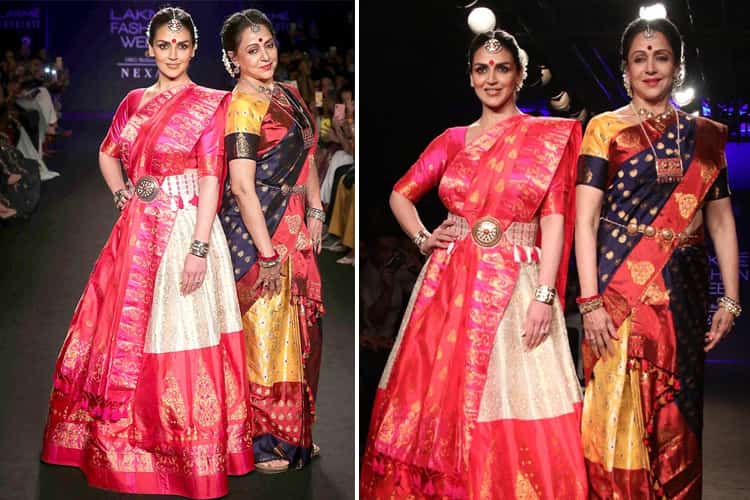 Lakme Absolute Grand Finale by Monisha Jaising:
Finally, the Lakme Fashion Week Winter/Festive 2018 came to a grand end with Monisha Jaising's sizzling show. The designer chose 'Shades of a Diva' as her theme that revolved around luxury, sensuality, originality of every mood of a diva.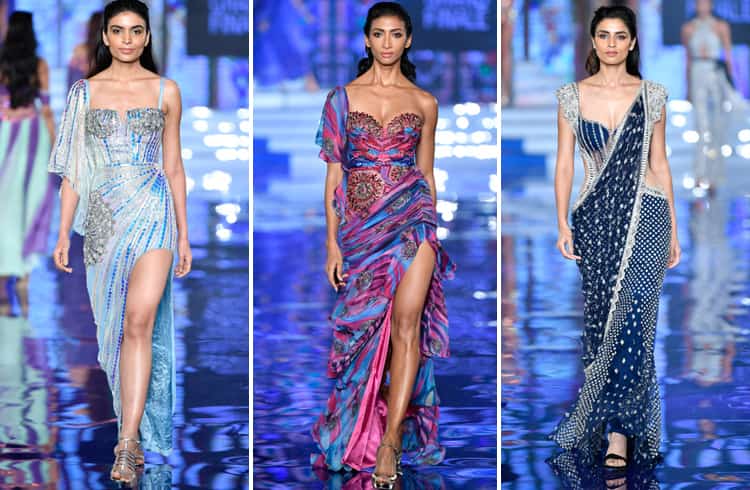 From soft pleasant hues, to vibrant shot of colors, from shimmering styles to solid colored styles, the collection was purely entertaining. Be it butterfly motifs, beadwork, ruffles or tiers, the entire collection drew everyone's attention.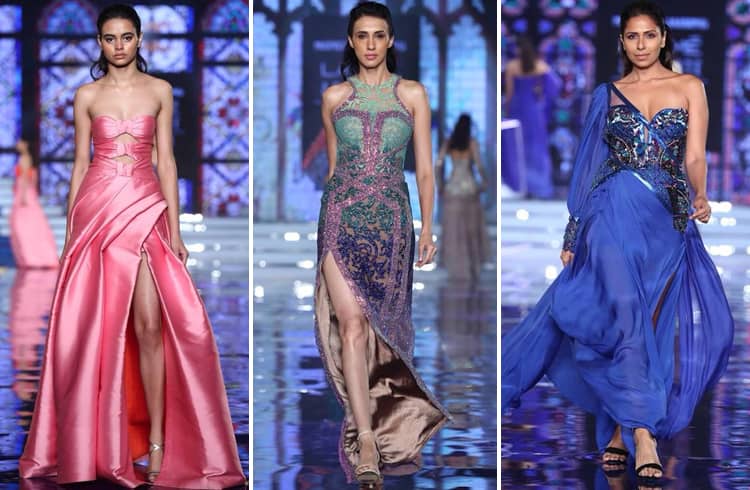 In a glazing green pleated, cut-out style gown, Kareena Kapoor walked the ramp for the designer setting the runway on fire. Smokey kohl defined eyes, flowing wavy tresses and nude lips rounded her style to perfection.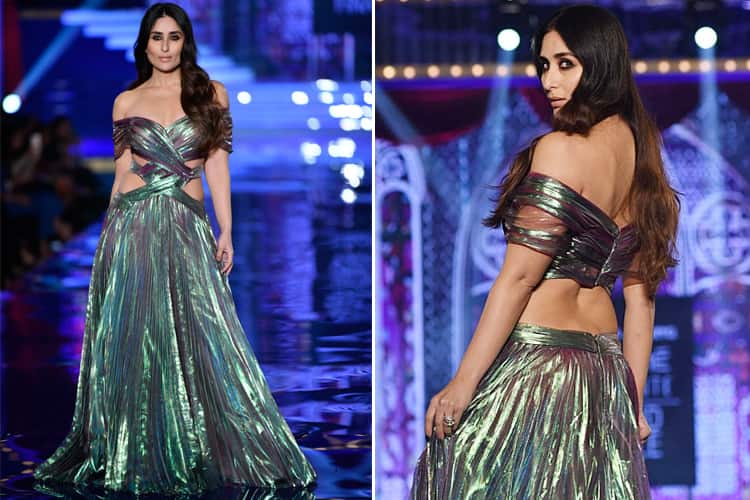 Extending their support to the designer were Sussanne Khan, Farah Ali Khan, Sophie Choudry Kanika Kapoor, Shweta Bachchan, and Lara Dutta.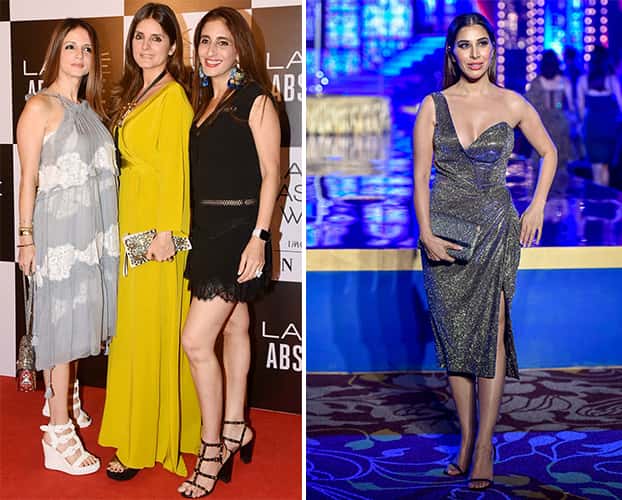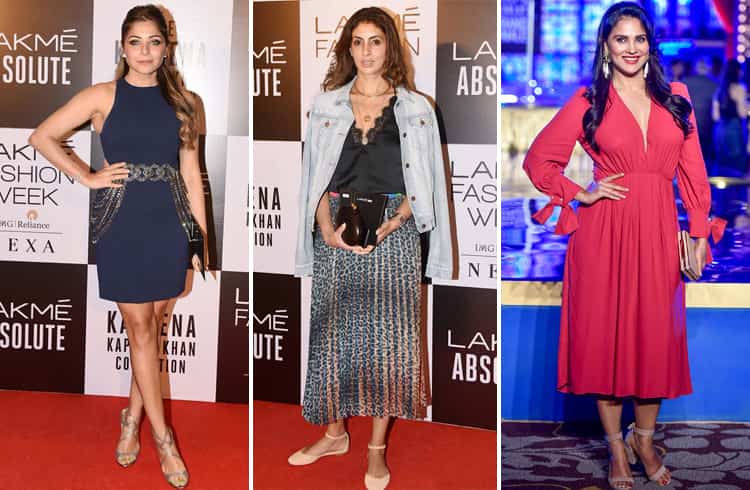 Hope you had a fun time trailing along with us in this 5 day fashion journey!
---
Day 3 And 4 Of LFW W/F 2018:
Like promised we are back with the updates from Lakme Fashion Week Winter/Festive 2018 day 3 and day 4. Check out the details in the spread-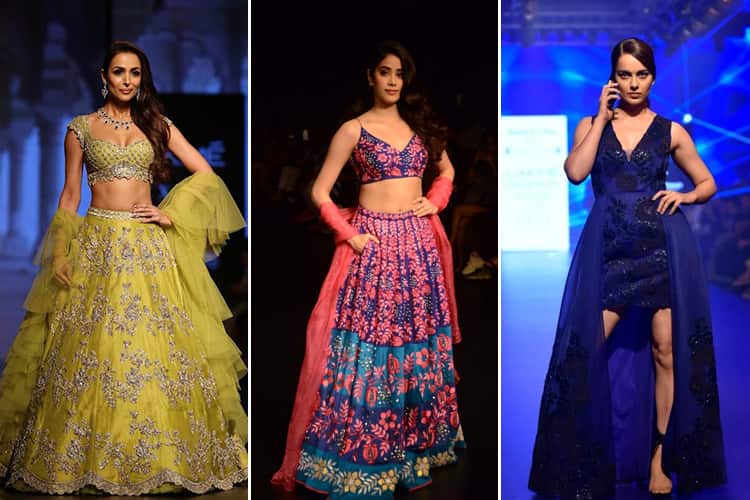 Day 3 of LFW Winter/Festive 2018:
Two Point Two:
Two Point Two Winter/Festive 2018 collection titled 'Simultaneity' was all about the traditional Japanese style pattern, Kimono. Every outfit in the collection was patterned to reconstruct the formal wear into a streetwear pattern with handcrafted thread embroideries and bold geometric patterns. Checks, stripes and prints in black and white with a hint of yellow were the hues used by the designer.
The brother-sister duo, Saqib Saleem, and Huma Qureshi walked the ramp looking fashionable donning the streetwear style.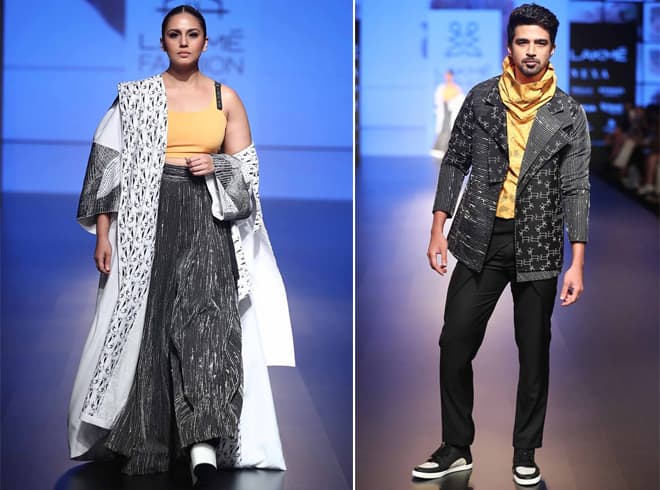 Armaan Randhawa:
Armaan Randhawa chose to pay tribute to Alexander McQueen with his collection 'Twin Queen' at the Lakme Fashion Week Winter/Festive 2018. With minimal styling patterns, boxy silhouettes, and heavy embroidery with an edgy finish, every piece of the collection was jaw-dropping in vibrant to pleasing tones.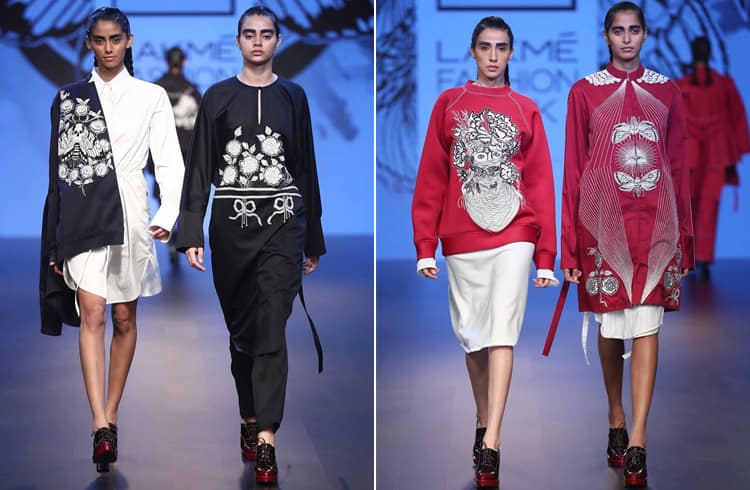 Smartwater Presents 'The Platform' featuring Poochki, Shanti and Kanika Goyal:
Kanika Goyal:
Kanika Goyal presented her collection that comprised of edgy patterns along with graphic art #inspiredbyclouds at the LFW W/F'18. With high-rise pants, maxi dresses, capes and with a lot of layering styles, in beige, blue, golden and black hues, the collection turned out to be an interesting show.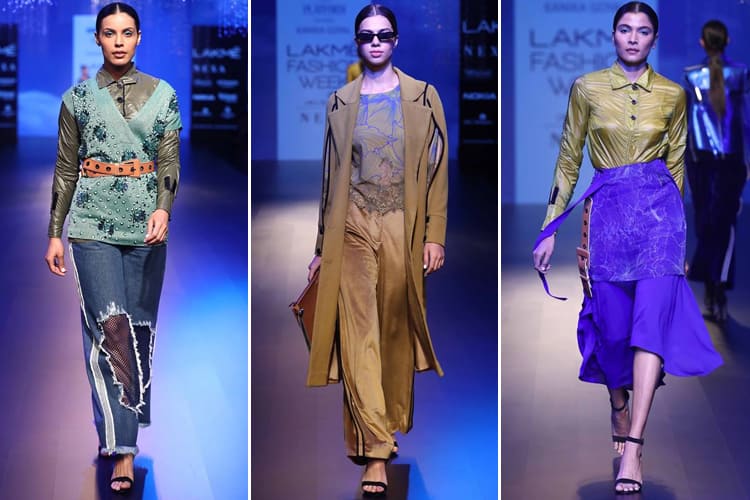 Shanti by Sakshi & Swasti Shah:
The label Shanti by Sakshi & Swasti Shah presented their 'Megh-Malhar' collection that is compiled out of discarded textiles. With motifs and designs patterned to represent the clouds, with an intense mood, the show was splendid.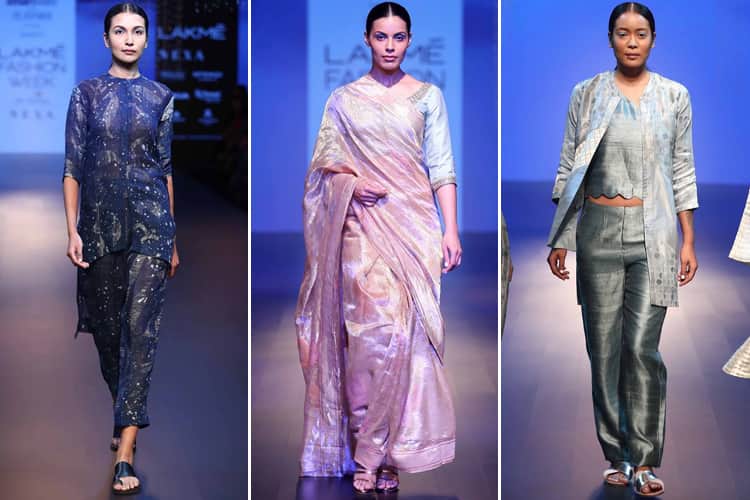 Poochki:
With organza, felt and cotton textiles crinkled and crushed to add volume to the style, and with a hand painted cloud print in indigo tones, designer duo, Ishanee Mukherjee and Anirudh Chawla of Poochki showed their collection in ode of W.HDavies poem 'The Dark Cloud'.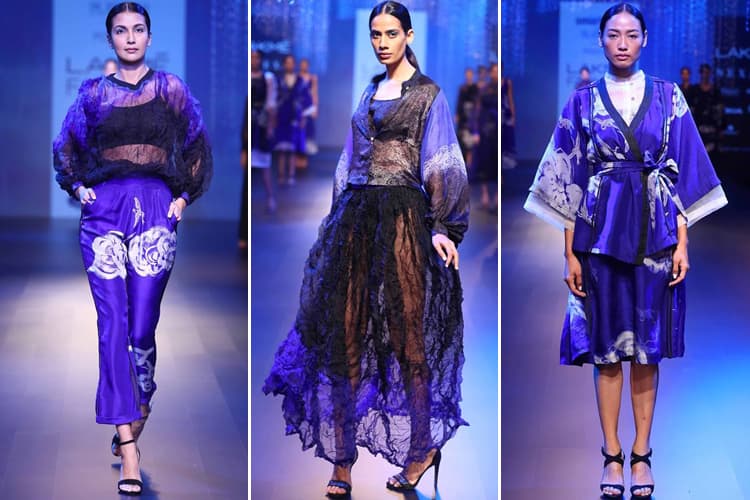 Soha Ali Khan was the showstopper for 'The Platform' presented by Smartwater featuring Kanika Goyal, Poochki, and Shanti. Rich cream top, a glittering cape representing the starry night and dhoti style pants was her pick for the walk and we find both elegance and trend in abundance with her style. Side parted sleek updo, glowing makeup and matter finish natural lip tone rounded her beauty theme.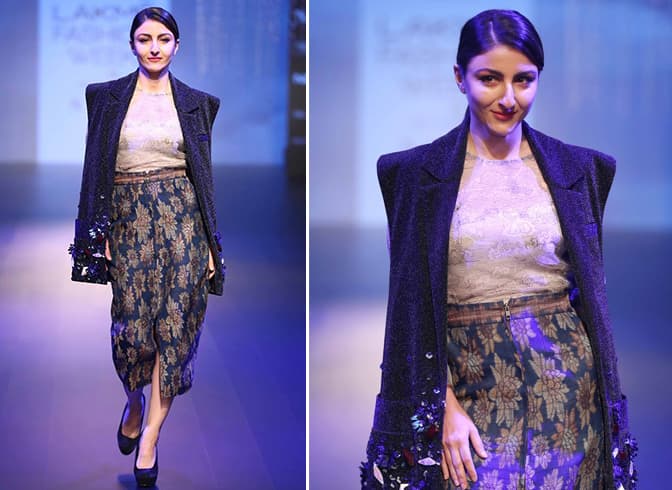 #Genderbender:
Four designers, Anaam, Bloni, Bobo Calcutta, and The Pot Plant brought to light gender-neutral collections to the LFW W/F 2018. Anaam chose to bring art form Behrupiya with fluid drapes in dark and earthy tones, using merino wool and muslin blends. Bloni's Akshat Bansal was about sustainability in econyl wool and organza, with tie and dye patterns. Ayushman Mitra's Bobo Calcutta showcased a collection titled "ludicrous Legacy' that held hallucinatory paintings in his signature colors and silhouettes. Lastly, the designer duo, Resham Karmchandani and Sanya Suri of The Pot Plant chose the by-lanes of Bhuj for their show at the LFW 2018. In athleisure inspired silhouettes, with bandhani and hand painted prints, the show was a huge hit.
Gaurang Shah:
Gaurang Shah who created costumed for the biopic of the legendary actress of the South Indian Cinema, Savithri, paid his homage to the diva by exhibiting his collection at the Lakme Fashion Week W/F 2018. In Mangalgiri, Kota, brocades, silks, organzas, chiffons, the designer showcased Bollywood kurtas, saris and anarkalis on the divas who walked the runway to nostalgic movie tunes.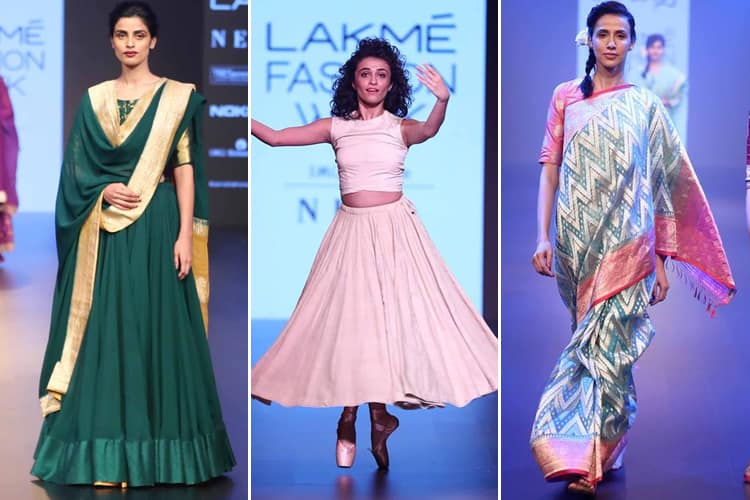 Karthikeya & Misfit Panda:
Karthikeya's 'Heroine of the Opera' brought the theatrics of the European Opera to the limelight through grand silhouettes and deep hues. Misfit Panda added ornate footwear inspired from the Baroque Era.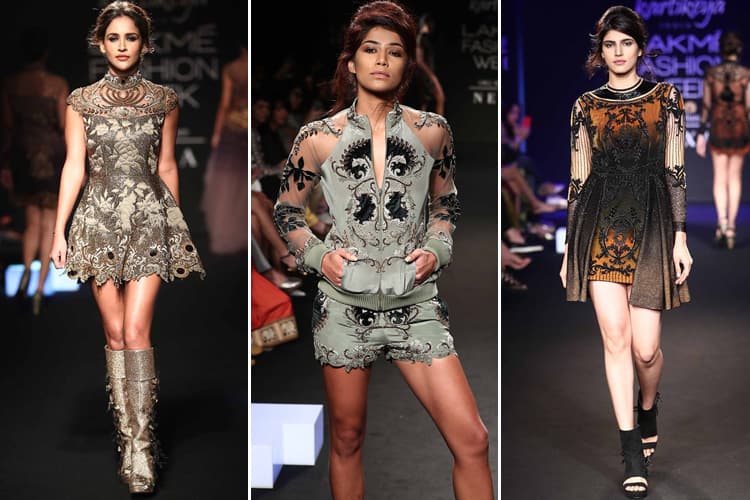 Caprese X Shift & Arpita Mehta:
Caprese presented Shift's Cruise collection at the LFW W/F'18, which revolved around midi dresses, signature shift staple pieces.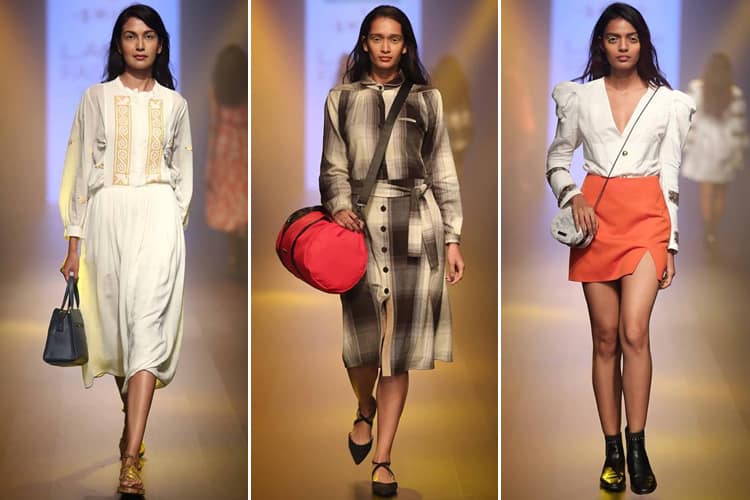 Arpita Mehta's collection presented by Caprese at the LFW W/F 2018 comprised mainly of easy-breezy styles with floral prints. Feminine yet flirty, the collection was beautiful in every swirl and frame. Karisma Kapoor walked the ramp for Arpita Mehta looking sensuous and spectacular in a black sheer sari.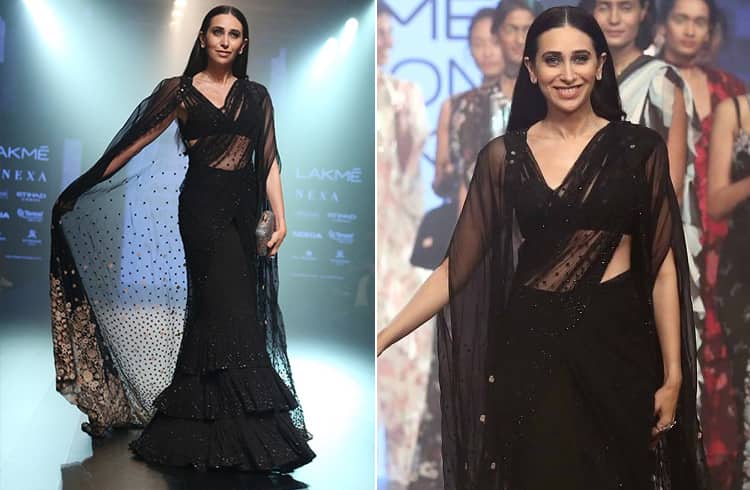 R.Elan presents Nachiket Barve:
Blending the royalty of the 20's and 30's with the today's jet-setting bride trends, Nachiket Barve presented his collection at the LFW 2018 Winter/Festive season. The styles as much as they looked rich were equally light and in fluid flowing pattern. Beading, applique, resham, gota embroidery in rich Rajasthani pink and blue were all a pretty sight on the runway.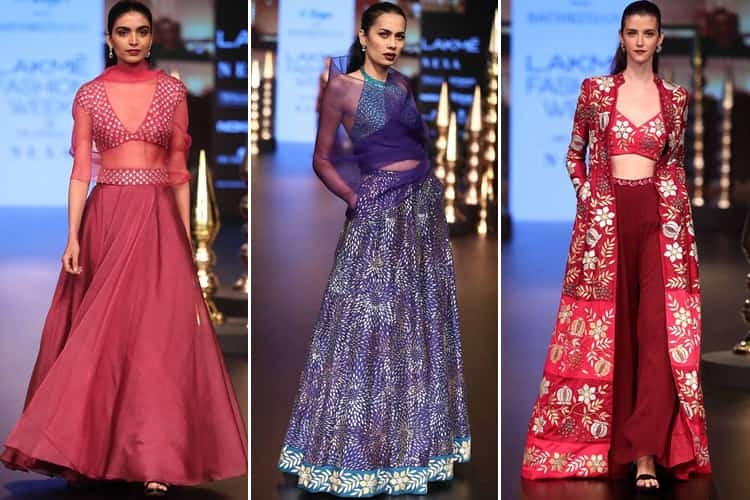 Janhvi Kapoor was the showstopper for Nachiket Barve presented by R.Elan. In a pink and blue floral embroidered lehenga choli, with her side-swept curls, she looked gorgeous on the runway.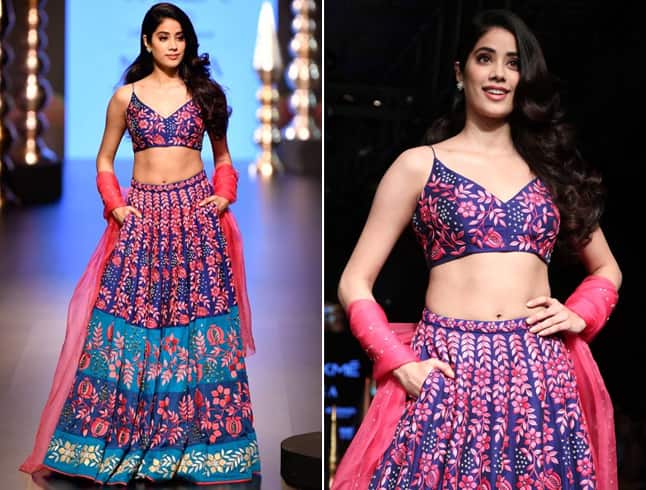 Kallol Datta:
It was abstract for Kallol Datta at the LFW W/F'18. In volume 1 Issue 2, he featured forms and spaces with a better understanding through his outfits. In cotton, silk, georgette, and plastic, with silk screen printing, and in the purple haze achieved by mixing pink and blue, every piece had a story to offer.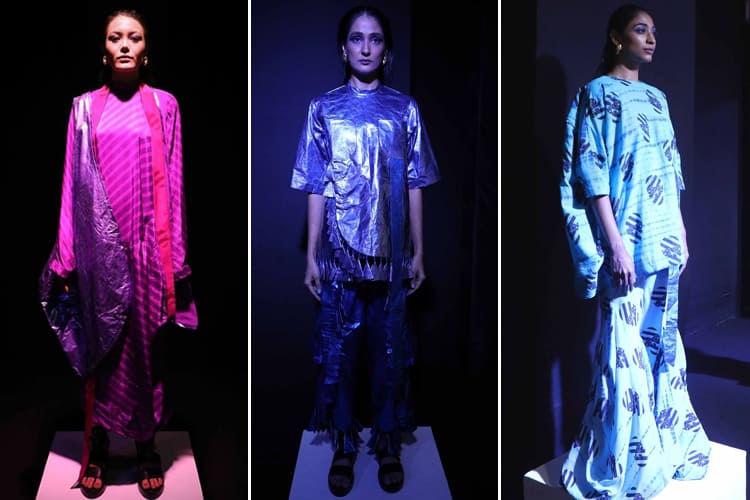 Nexa presents Amit Aggarwal:
Amit Aggarwal's Crystalis presented by Nexa was a collection that brought together new age materials and craftsmanship to create a unique vision. In metallic shades, the collection was a true sight for glamour, glitter, and grace.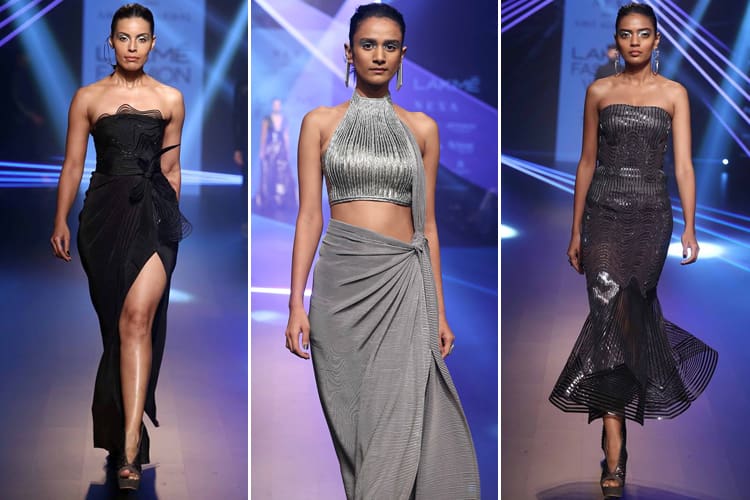 Shahid Kapoor walked the ramp looking dapper, grooving to the music of a live band, in a black compilation of the designer that held a subtle hint of metallics.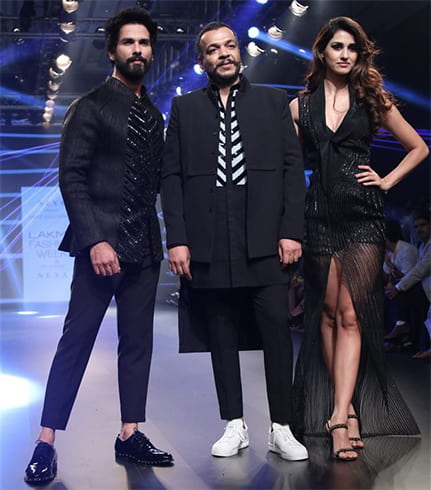 Also walking the ramp, in the light of the beaming lasers, looking sexy and sensational was Disha Patani in an LBD by the designer. That was one hell of a way to end the show, don't you agree?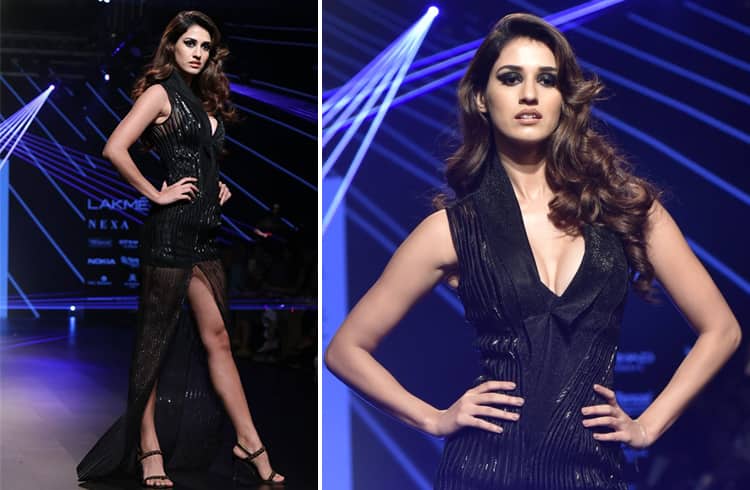 Day 4 of LFW Winter/Festive 2018:
Half Full Curve:
Titled 'Natsukashii', Half Full Curve presented their compilations at the Lakme Fashion Week W/F'18 that comprised mainly of the Japanese textiles, motifs and floral patterns. From flowing fabrics to layered themes, a bunch of bell sleeve patterned outfits, the collection was a true delight in pleasing tones.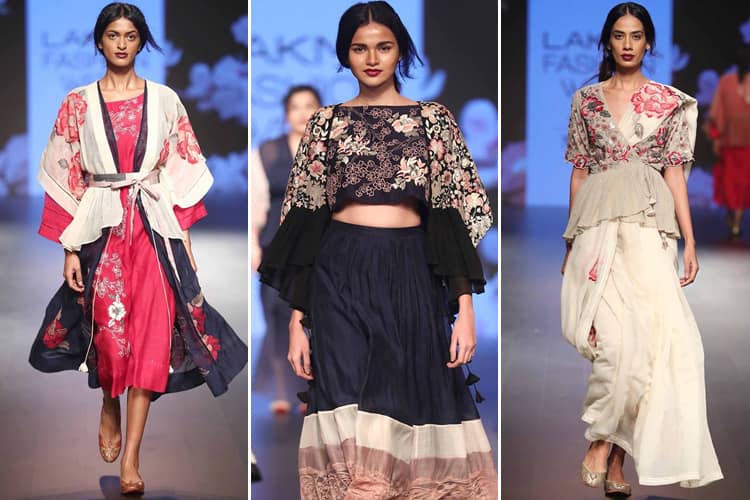 Saaksha & Kinni:
Saaksha & Kinni presented a playful collection of styles with bold colors and stunning prints. The show was devoted to revealing women enjoying Raas. Easy breezy and flowing were every style of the collection and it was a pleasure to watch.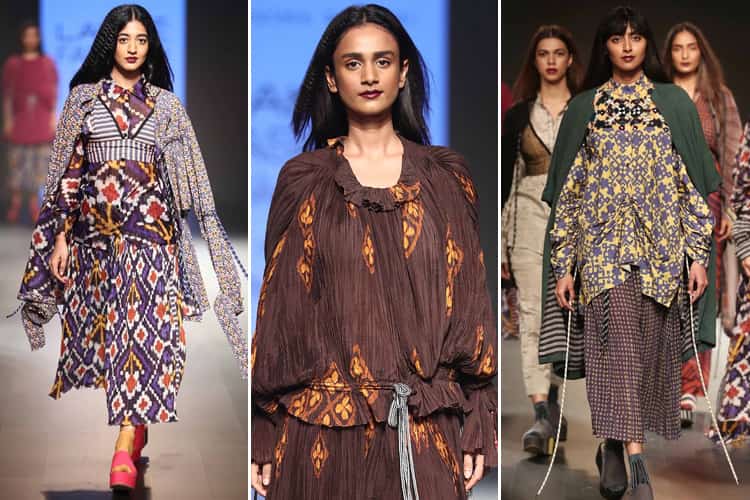 Shruti Haasan walked the ramp in a pleated easy-breezy flowing dress. With deep-toned lips, mid-parted sleek to wavy half pinned hair rounded her style magnificently.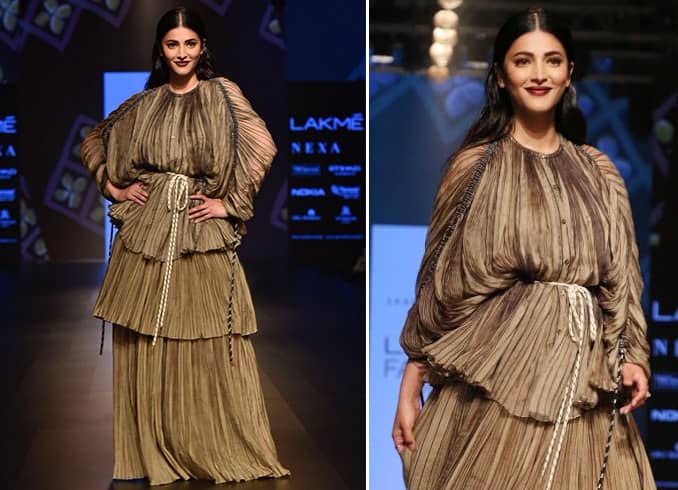 Vineet Rahul:
Showcasing nature in the purest form and sprinkling the beauty of darkness of night with detailed motifs, Vineet Rahul presented his wondrous collection at the LFW 2018. From westernized layered themes to traditional fits, the collection was marvelous. Saiyami Kher walked the ramp dressed elegantly in a stone gray and white outfit. With mid parted sleek ponytail, a bindi and smokey eyes, she looked fab!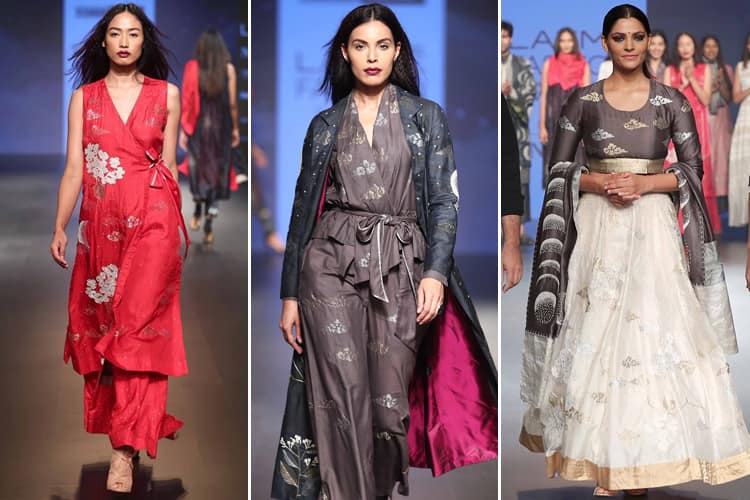 Anushree Reddy:
Like always and bit more majestically, Anushree Reddy drew her collection, every bit feminine, flirty and romantic. Titled as 'Sitara', the sheer and soft textiles in sexy colors along with applique and beads that added a splendid fantasy to the styles, the show was grand.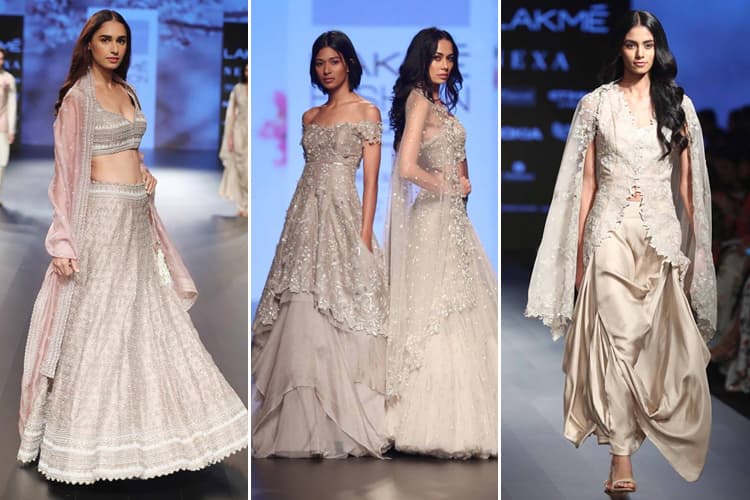 Malaika Arora walked the ramp for the designer looking magical in a yellow embroidered lehenga choli. With sheer dupatta, sparkling jewels, and side swept soft hairdo, she looked stunning like a star.
SVA by Sonam And Paras Modi:
Fluidity in the styles, glittering motifs and with a strong sense of structure, the collection of SVA couture by Sonam and Paras Modi was creative. From burgundy, beige to blacks, be it separates, gowns, indo-western sari styles or lehenga styles, the collection was exquisite.
Sophie Choudry and Nushrat Bharucha walked the ramp for the label clad in black glittering styles. While the former chose an indo-western sari style, a sleek hairdo, ear climbers, hair accessories and smokey eyes with her style, Nushrat picked a gown style and added burgundy accessories around her neck and in her hair.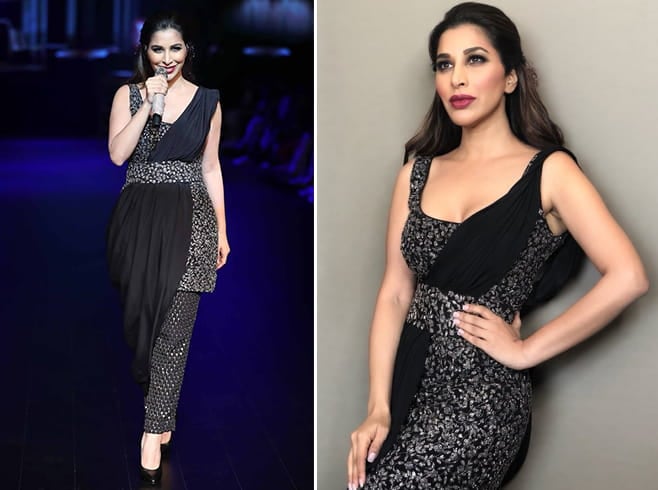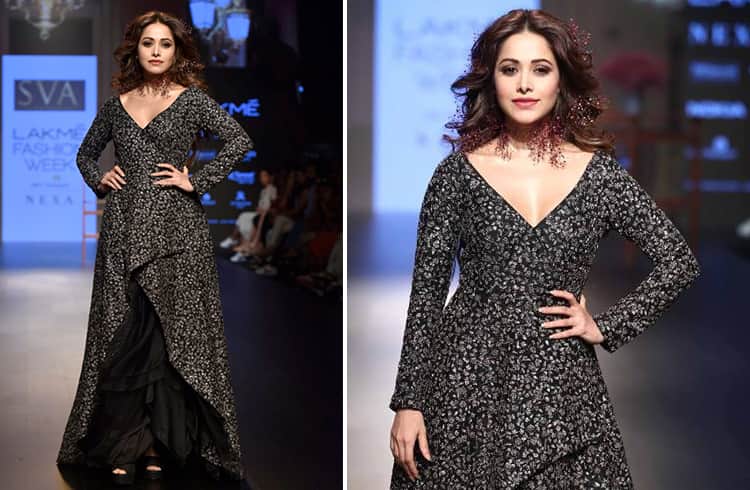 Amruta Khanvilkar and Kajal Aggarwal were spotted in support of the label.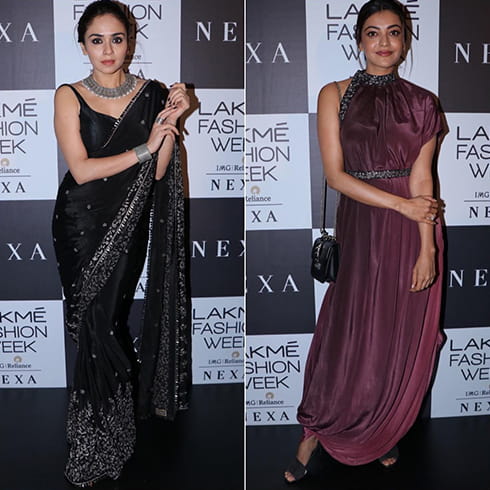 Surendri by Yogesh Chaudhary:
Surendri by Yogesh Chaudhary exhibited his collection titled 'Rangoli' at the LFW 2018. As the name itself speaks, the collection was a colorful ode to the women of the world. In relaxed styles, with braids, beads and bright hues, the ramp turned into a Rangoli.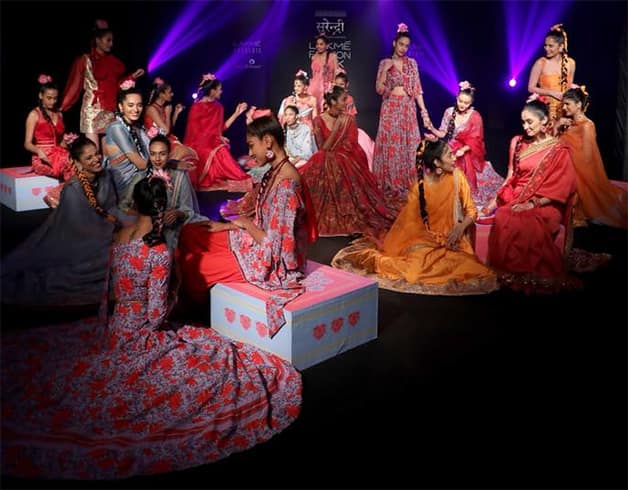 Lakme Salon and Payal Singhal presents The Show-Stopping Bride:
Payal Singhal's 'The Show-Stopping Bride' was a collection inspired from the art of tapestry through the Renaissance times. Holding Persian touch, the collection was celestial. Threadwork with zardozi, applique and beadwork and tassels added glam to every style of the collection.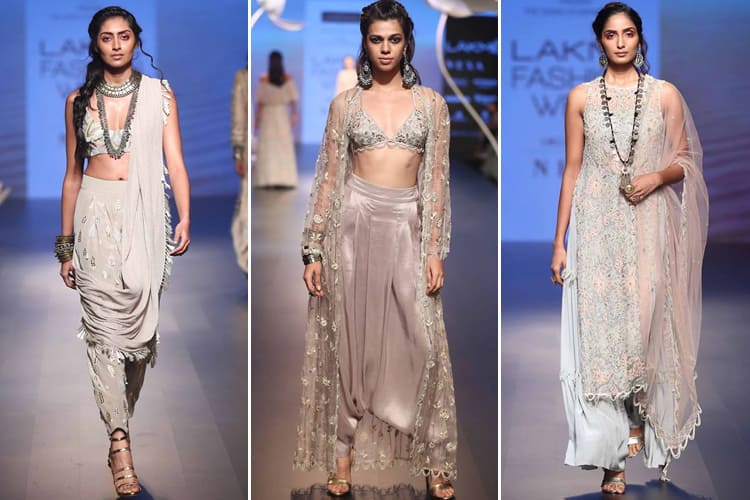 The newlywed couple, Neha Dhupia and Angad Bedi, who are expecting their first child, walked the ramp for the designer in matched embroidered outfits. Showing off her baby bump, the diva glowed beautifully while she walked the ramp. Her wavy hair, the silver metallic accessories, she was remarkable.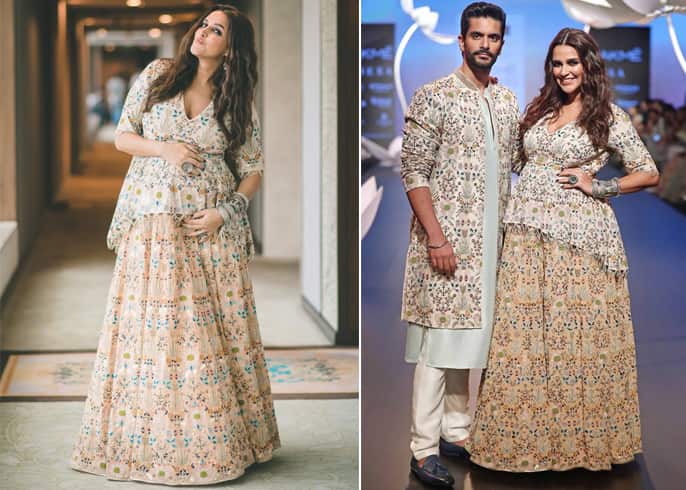 In support of the designer were Ragini Khanna, Shriya Saran, and Krystle D'Souza.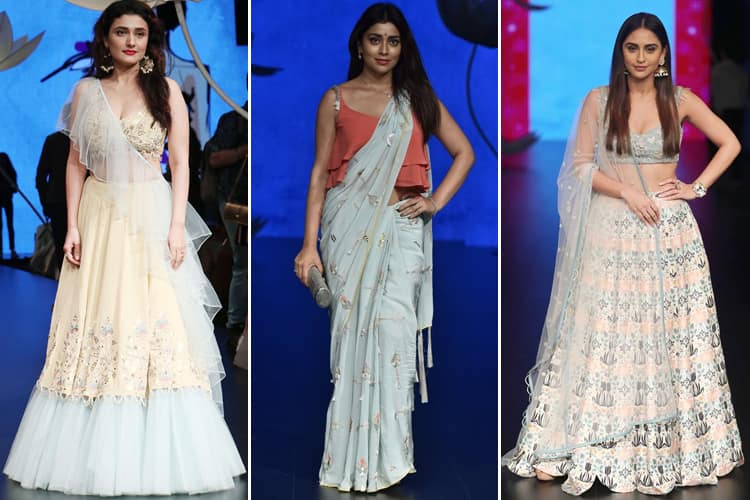 6Degree presents Ruceru:
Ruceru's collection at the LFW W/F'18 was an inspiration of Rabindranath Tagore's Bengali dance drama 'Chitrangada'. According to the theme, a proper woman is one who blends her feminine side with warrior within her and the collection spoke splendidly of it.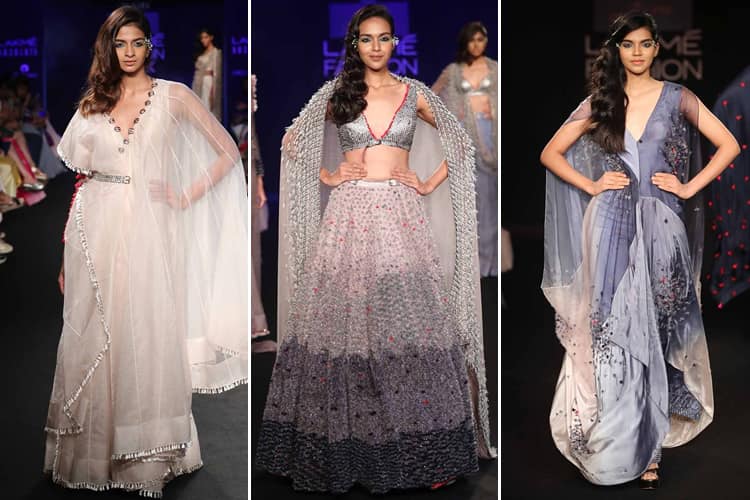 Bipasha Basu walked the ramp in a cream and red, authentic Bengali colored outfit looking sensual. With sleek updo and well-contoured makeup, she was a sight to sore eyes.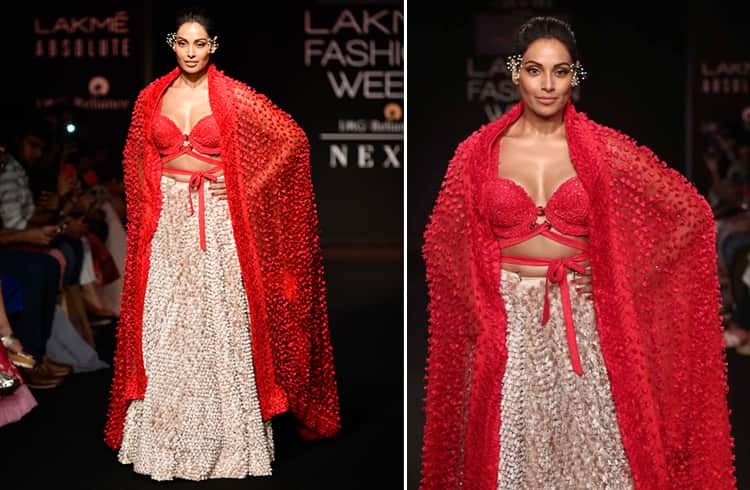 Etika:
Etika's 'Blue City Tales' collection at LFW W/F 2018 was exclusively about ruffles, shimmering styles, and sheer features. Eli Avram was spotted walking the ramp looking rich and majestic in a pastel green top with sheer sleeves, cream skirt and midnight blue dupatta. With her luscious curls rolling down her shoulders, she looked great.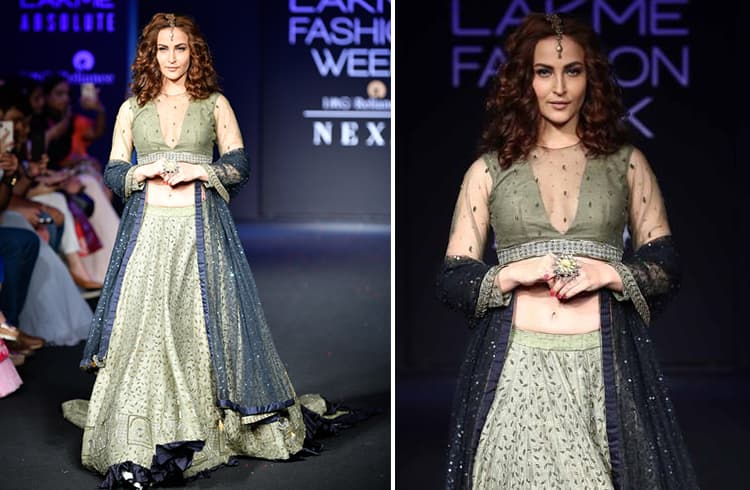 Sammohi by Moksha & Hiral:
Sammohi by Moksha & Hiral exhibited their collection at the LFW W/F 2018 and left us speechless. In pastel hues, from maxi dresses to lehengas, the collection was celestial. Dia Mirza was spotted walking the ramp for the designer duo sprinkling vintage beauty like always.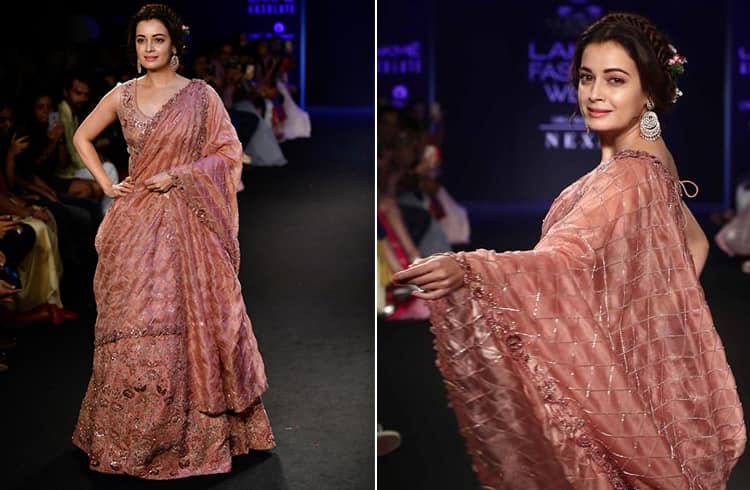 Sita Mikhail:
Sita Mikhail's collection 'Mirror Tells a Tale' was filled with smart cuts, edgy silhouettes, solid hues and delicate glacier patterned details. Neha Sharma was captured walking the ramp in a wine-red outfit with metallic details. Love the shot of red with her lips and the side swept curls hairdo.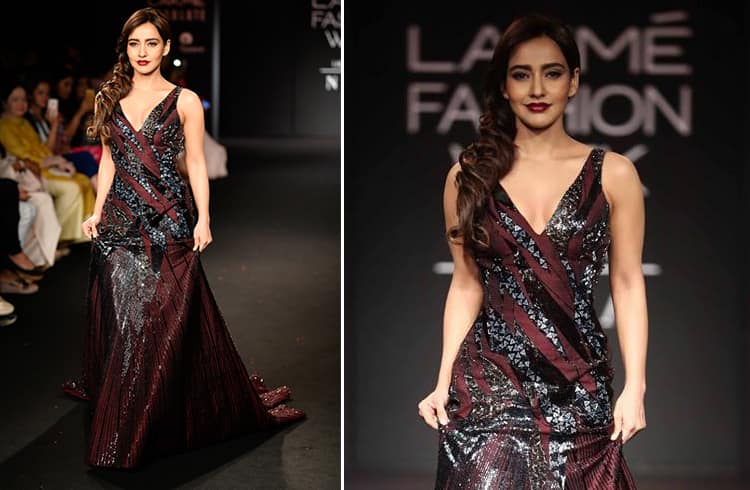 Nokia presents Pankaj & Nidhi:
Pankaj and Nidhi's ready to wear styles at the LFW W/F'18 were truly welcoming. In shades of blue, purple, with detailed embroidery, motifs and applique work, the collection was spectacular. The rocking Kangana Ranaut was their chosen showstopper in a blue-ish purple outfit. With blue smokey eyes and winged liner, she rocked a killer style.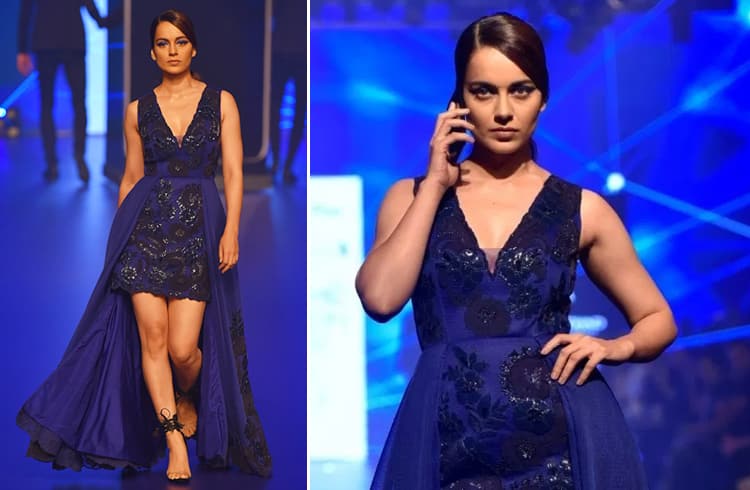 Boat presents Urvashi Kaur:
Urvashi Kaur's collection was all about thinking globally but acting locally. True to the theme, each style was crafted in earthy tones and modern silhouettes.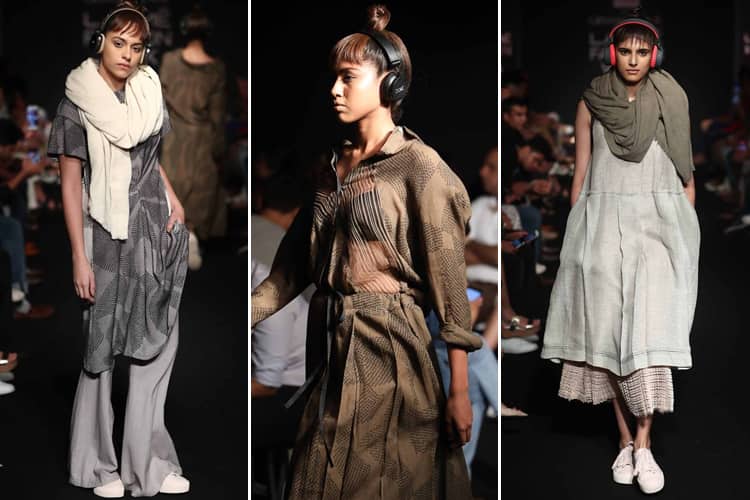 Tresseme presents Ashish N Soni:
Reversible clothing and Metamorphosis was the focus of designs for Ashish N Soni's collection at the LFW 2018. With multiple approaches, he created a collection of modern silhouettes that were wearable and adorable. Jacqueline Fernandez walked the ramp for the designer in two different outfits. She nailed both contrasting styles with utmost grace and glamour.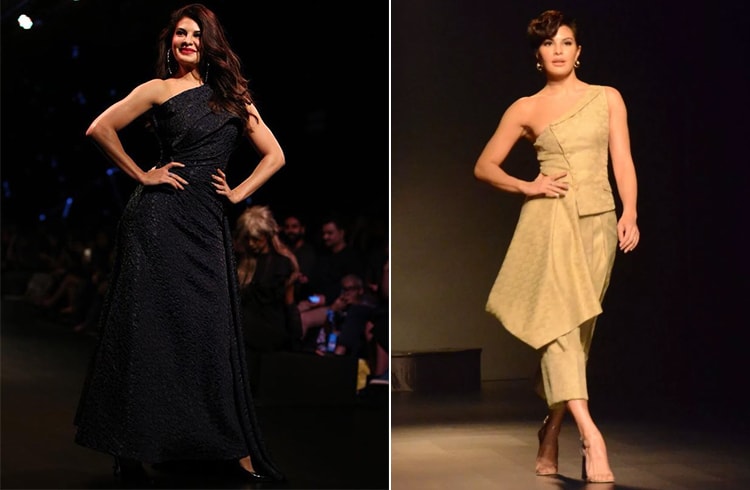 Hope you had a great time exploring the celestial creations of the designers. Stay tuned for the finale show of LFW W/F 2018. Till then keep following FashionLady for more such updates.
---
Lakme Fashion Week Winter/Festive 2018 on Day 2:
The day 2 of Lakme Fashion Week Winter/Festive 2018 which was the day of sustainable fashion stood out for its elegance, delicacy, and details. Having to establish a stronghold on the sustainable fashion is one of the trending challenges in the face of the fashion world and the designers no doubt threw a rock-solid competition at the LFW W/F 2018.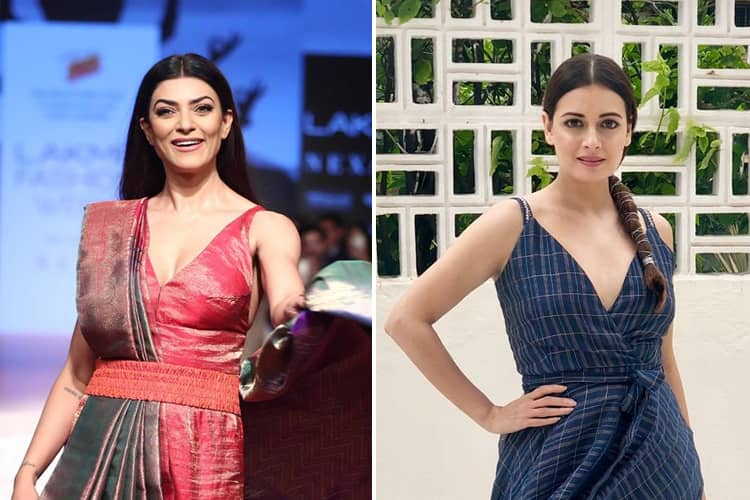 Khadi and Village Industries Commission (KVIC)
Khadi and Village Industries Commission(KVIC) presented four designers, namely Lars Andersson, Pallavi Shantam, Saloni Sakaria and Jewellyn Alvares at the LFW Winter/Festive 2018. These young designers, in their own creative way, presented Khadi in a new limelight, giving the textile a quirky twist to suit the modern woman.
Lars Andersson, a Swedish designer, chose to bring forth a special clothing line in favor of the distressed weavers. Creating contemporary knitwear in shades of ivory, he recreated delicacy in fashion. From headband to the wrap around belts, it was Khadi all along in the most divine form by the designer who vouched to keep the craft alive.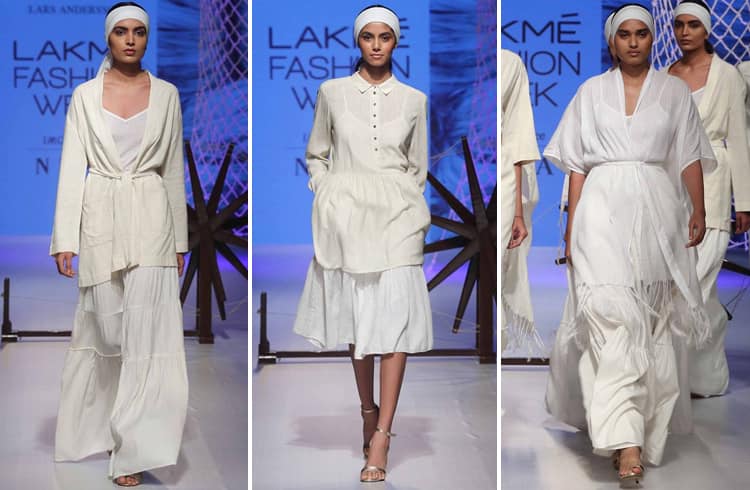 Saloni Sakaria's collection'The Third Floor Clothing', was all about bringing the traditional khadi style to the focus of a new generation. From pants, jackets, tunics and many more, the designer played with colors ranging from soft romantic hues to earthy shades, and androgynous patterns giving a new outlook to the fashion.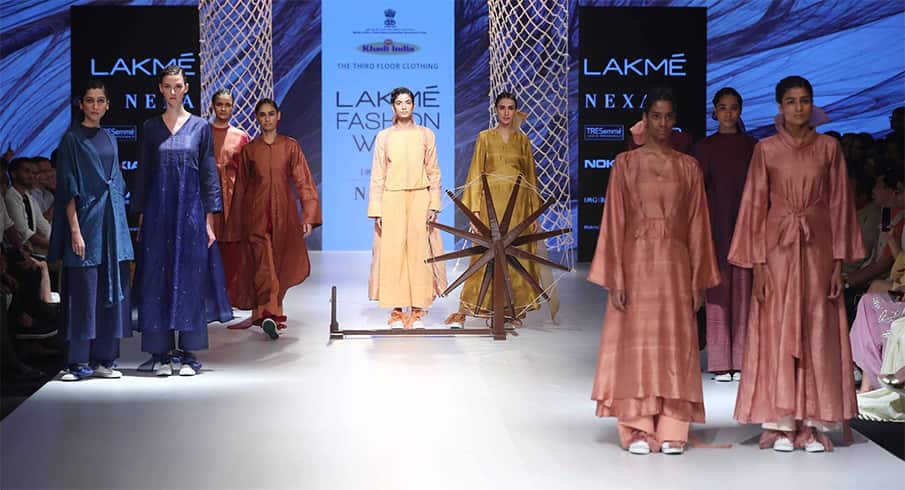 Pallavi Shantam's Buna Collection which was titled 'Time Whisperer' was showcased at the LFW Winter/Festive 2018. In pleasing shades, layered fashion and block prints, the collection was based on the Japanese concept, Wabi-Sabi, the beauty that is driven out of imperfections.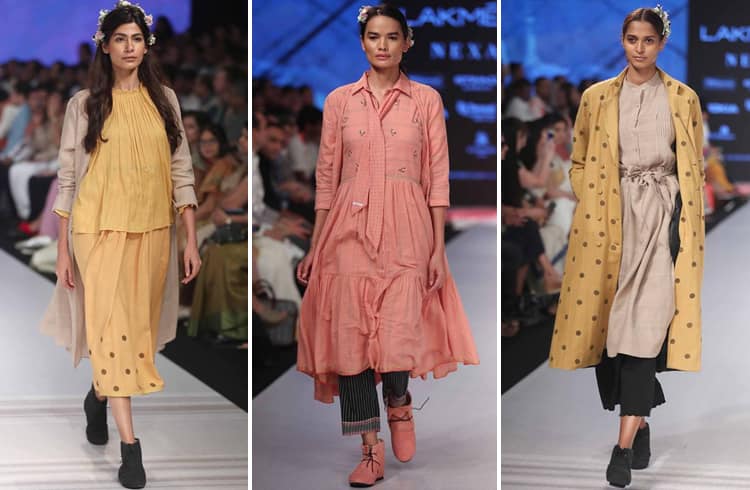 Jewellyn Alvares showcased khadi textile in varying weight, count, and texture and it was amazing how the designer used his women's wear styles as the base for the menswear collection.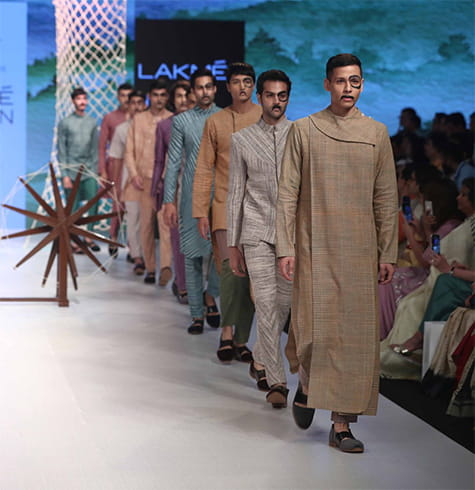 Craftmark X Ka-Sha presents Kota Women Weavers
The Kota Women Weavers Organization collaborated with Ka-Sha and showcased a collection that divinely blend contrasting colors. With round block prints, tassels enriched dupattas, and with varying shades, every piece of the collection had a story to share. With floral appliques, ruffled capes, and easy-breezy silhouettes, the collection was a hit.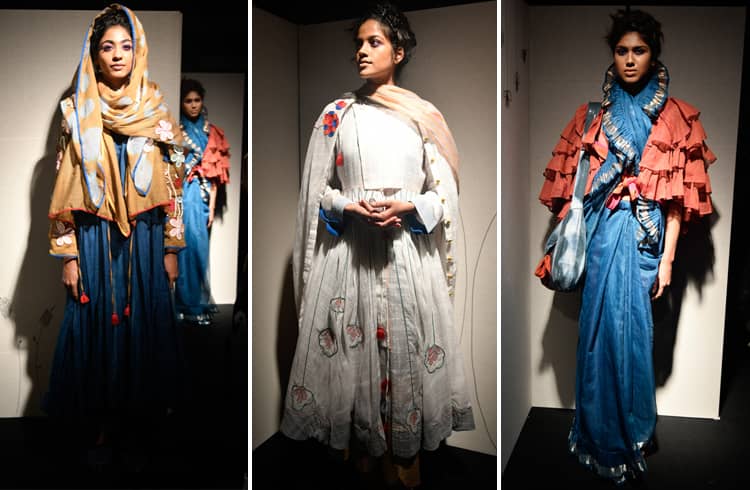 RmKV Silks Re-Crafting Traditional Silks In Collaboration With Sunita Shanker:
The 9 yards never fail to impress us, do they? Sunita Shanker along with RmKV silks showed that as much as the sari takes focus, so does the pattern of the blouse. The show presented silk saris with a twist that left us stunned. Either with a jacket style blouse or with crepe full sleeved blouse or even a bow and knot patterned blouse, the saris were portrayed with immense beauty. In a silk pant and sari, Sushmita Sen walked the ramp for the designer and left us in awe. Looking fierce and fab, Sushmita turned the sustainable fashion day electrifying. Since the reversible sari had a lot to offer, the diva went minimalist with her style and accessories.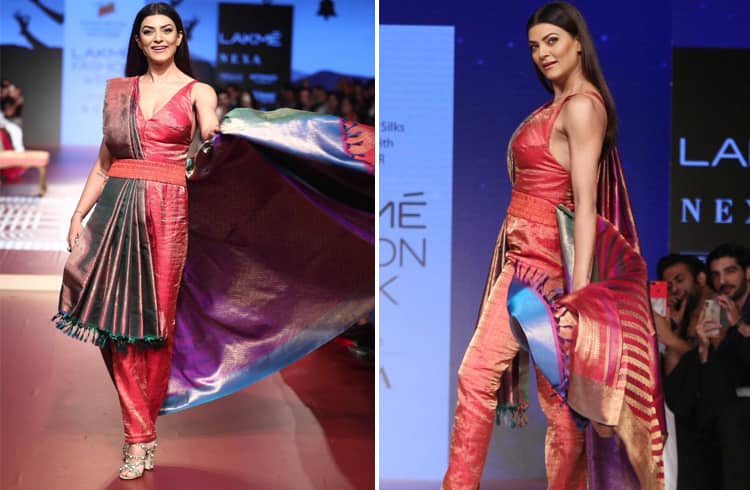 Vrishk by Gunjan Jain
With inspiration drawn from Yogini cult of Odisha, Vrishk by Gunjan Jain was all about royalty with a spice of trend chic patterns embedded into the heart of the styles. The collection of handwoven saris with desirous drapes and work wear blouses cast a strong fashion spell on the ramp. In rich colors and with Ikat techniques, the khadi saris were simple and classy.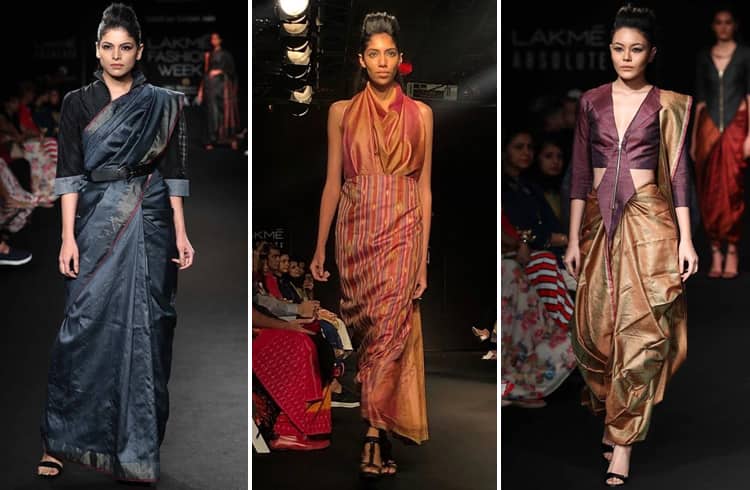 Digital Empowerment Foundation presents #ArtisansOfDigitalAge
One of the collection that was truly digitally driven was Indigene X Barpali & Nuapatna's compilation at the W/F'18. Ikat textiles, silks, and silk cotton were primarily used through the compilation and it brought immense charm to the show.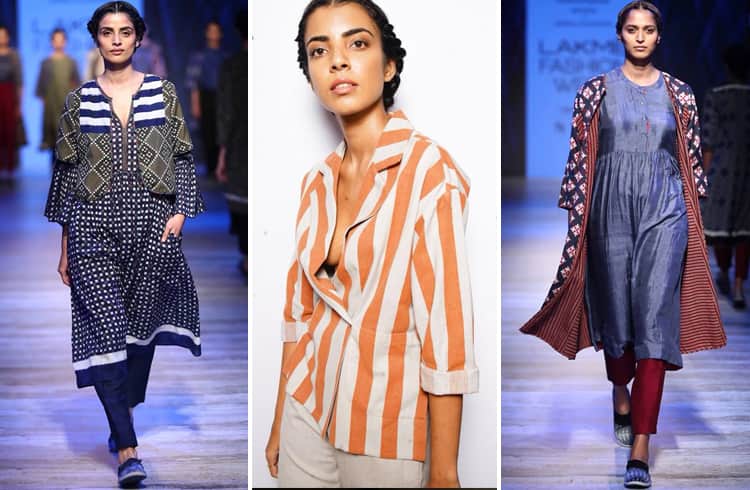 Naushad Ali x Musiri chose to add a sport-luxe to a contemporary style on khadi and we absolutely loved it. From stripes, checks and Ikat textiles along with khadi, the collection was filled with layering styles.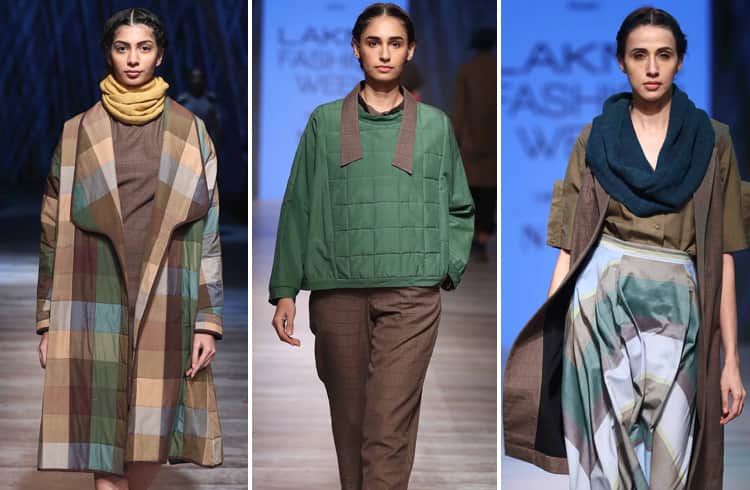 On the same lines of stripes, checks and layers were Three by Pallavi Dhyani x Barabanki at the LFW W/F'18.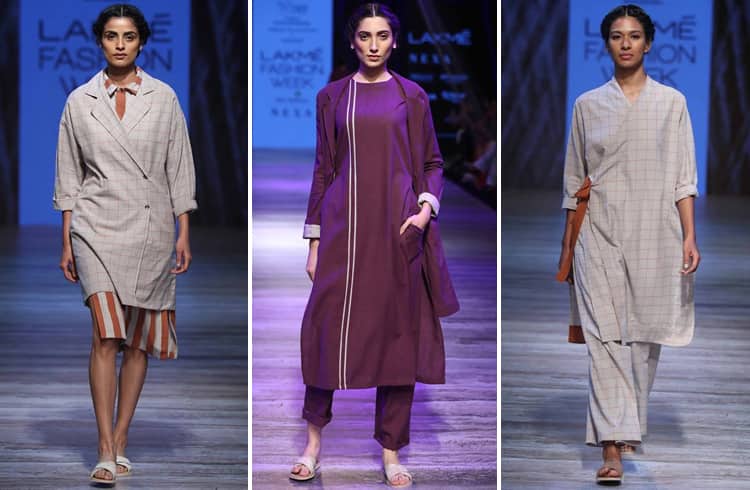 EKA:
Eka pulled off the LFW Winter/Festive 2018 show in a collection of stripes, checks, hand block prints on khadi. With dresses, layering and easy-breezy patterns, it sifted a cool breeze through the show.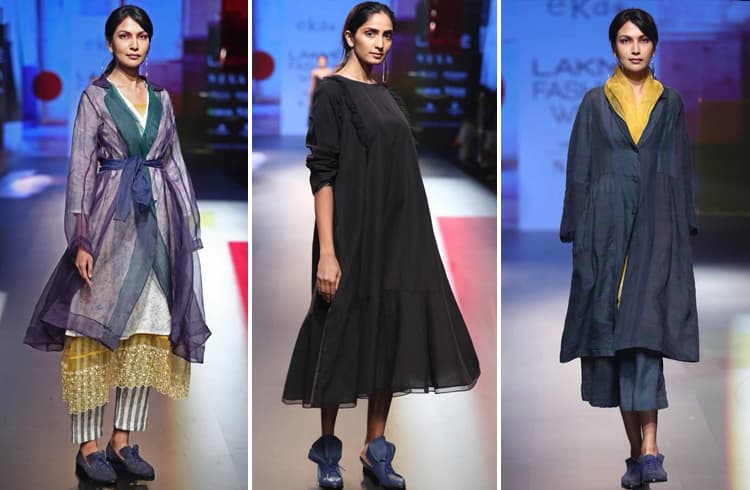 #PlanetPositive and Tencel Presents Rajesh Pratap Singh:
Tencel along with Rajesh Pratap Singh presented an impeccable collection combining the ecological fiber, Tencel with Indian fabric patterns like chanderi, banarasi, jamdani. With hand block prints and drape style silhouettes, the show was totally indigenous.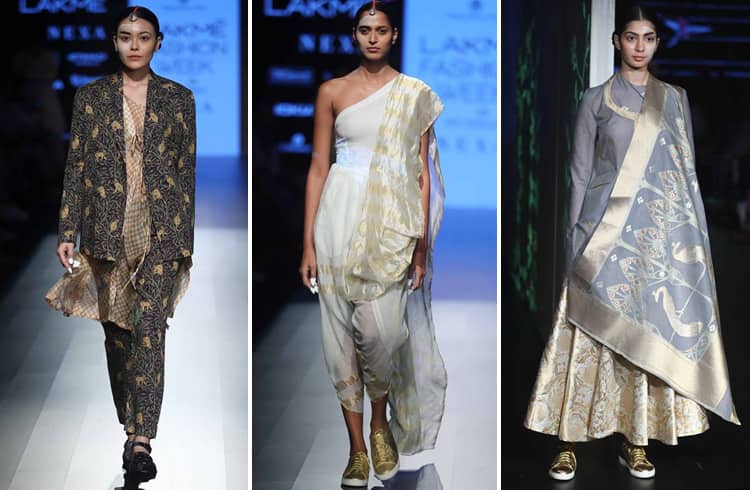 Stay tuned for the updates!
---
The Lakme Fashion Week is back with their Winter/Festive 2018 season spaced from August 22nd to 26th, at St Regis in Mumbai, and the designers are all geared up to knock the spectators off their feet. Of all the designers and their different themes that portrayed their collections on day 1, we have to specify that it was majorly all about eyes with loud bold eye makeup.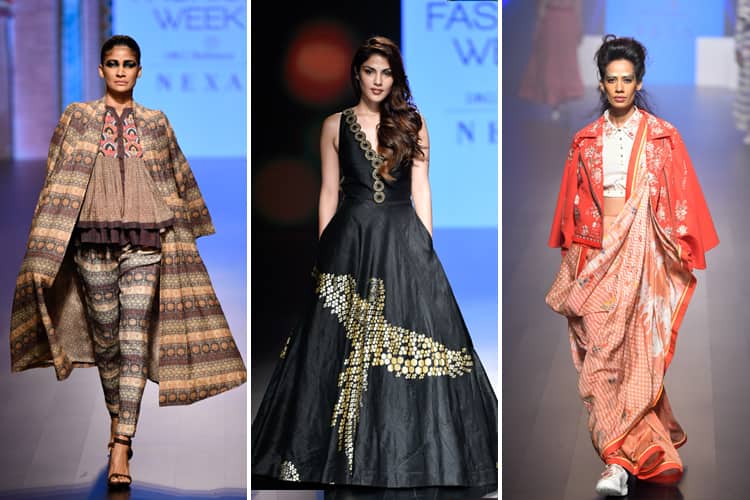 Lakme Fashion Week Winter/Festive 2018 on Day 1:
Dig in for day 1 details and you will agree that it is by far the best statement-making start to the much-awaited fashion show.
INIFD Presents Gen Next:
Anurag Gupta, Ajay Kumar Singh, Kanika Sachdeva, Sweta Gupta and Yadvi Agarwal are the five new designers who made their debut at the Lakme Fashion Week Winter Festive 2018 with the Gen Next show.
Kanika Sachdeva, who goes by the label name Jajaabar, showcased her latest collection titled 'The Artful Lodger', an inspiration of various homestays from all around the globe.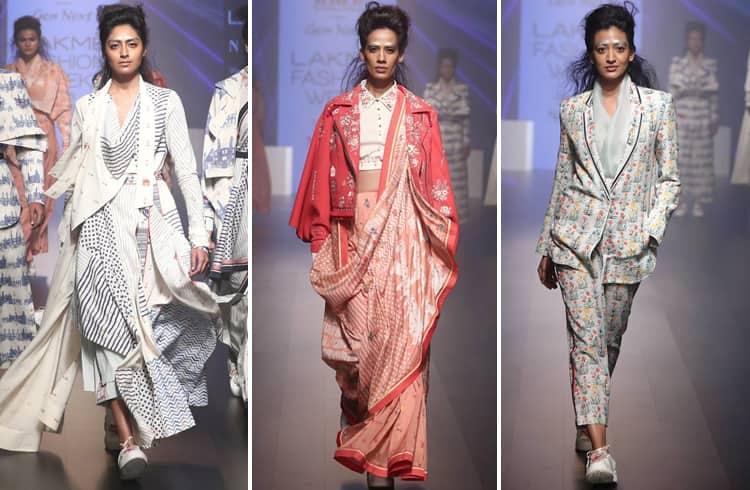 Yavi by Yadvi Agarwal, collection blended art and fashion in the most interesting and unique form. Showcasing worn impressionism through hand-painted separates on silks along with embroidery, the designer rolled out a new chapter in fashion.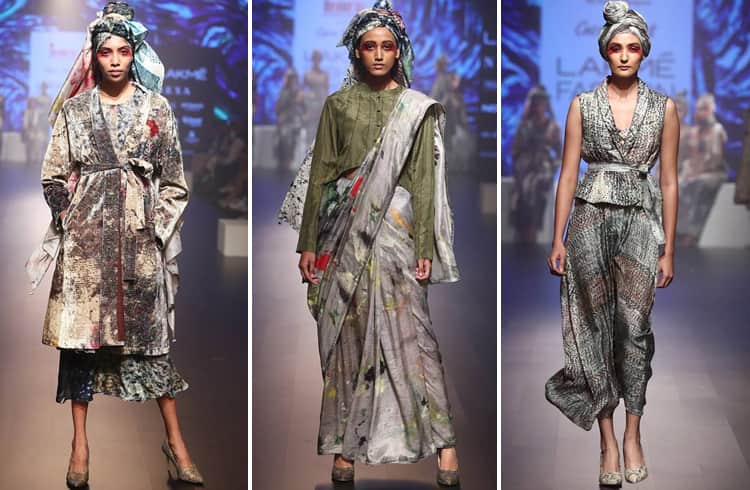 Anurag Gupta, inspired by Maurits Cornelius Escher's day and night artwork created a collection that brought metamorphic change through form, pattern, colors, dyes, and motifs.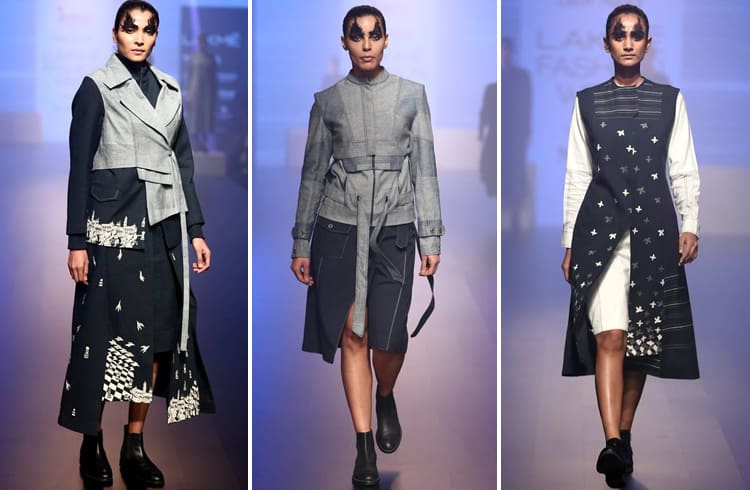 Ajay Kumar Singh brought his latest collection 'Imagination' to light at LFW W/F 2018. Exploring the creativity of human minds to the depths of graphics in digital prints, patchwork on khadi and handloom textiles, he rocked his show.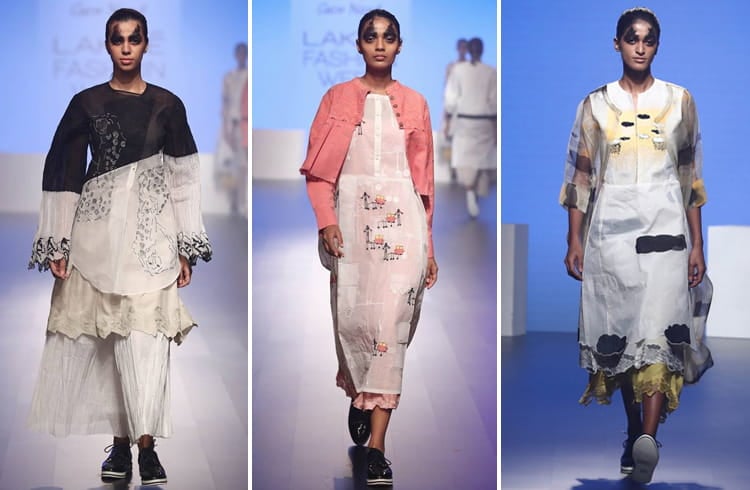 Sweta Gupta's "Begin Again' collection at the LFW 2018 was all about a traveler within and beyond Himalayan terrains. Every piece of the collection rings unique stories, anecdotes, and raw beauty of Himalayan soil.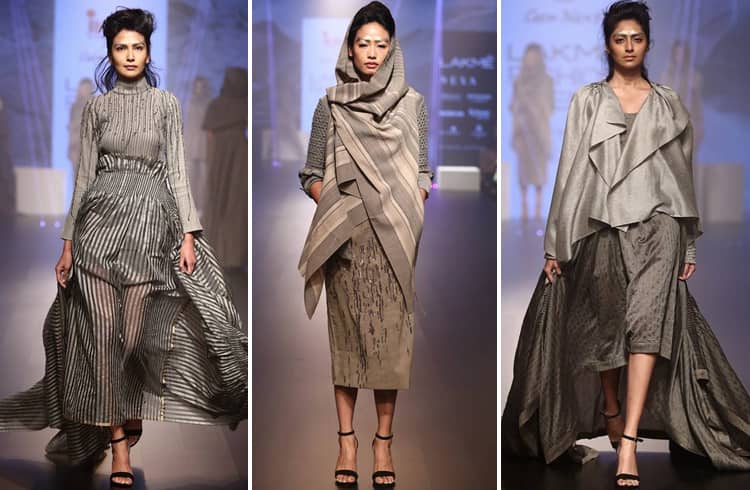 Urvashi Joneja:
Urvashi Joneja, the renowned designer, cast a strong spell with her Winter/Festive 2018 collection titled 'AWAY' at the Lakme Fashion Week. The collection was designed to celebrate the essence of women that shattered the glass ceiling. The collection was all about power dressing with a feminine spice blended in effortlessly. With intricate geometric and graphic prints along with appliques and embroidery, every piece of the collection was admirable.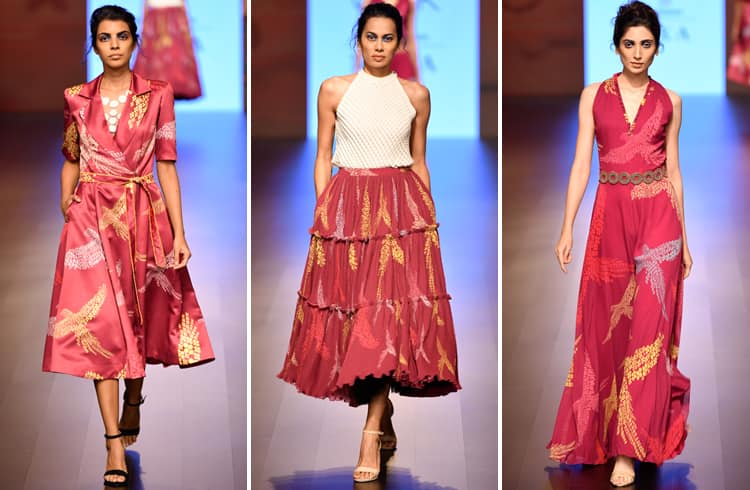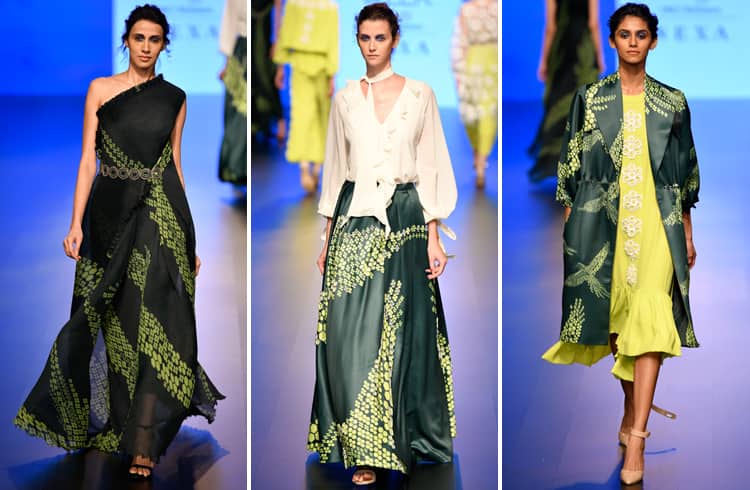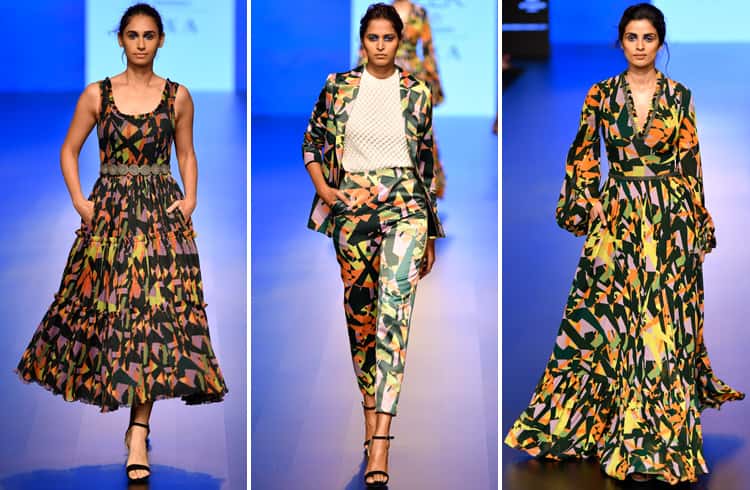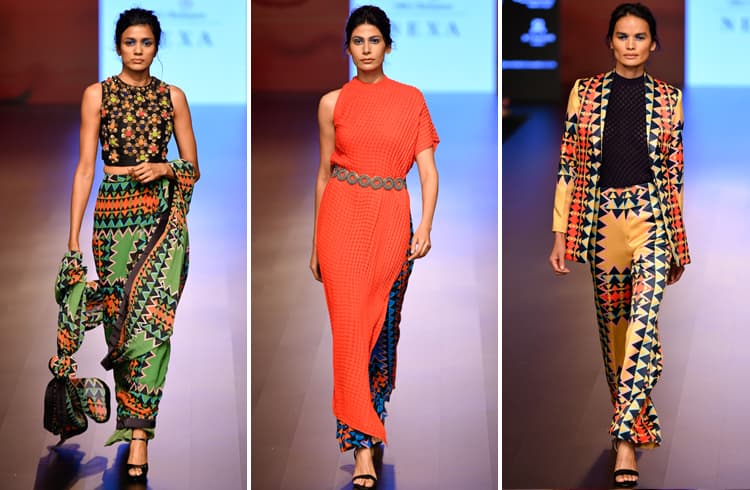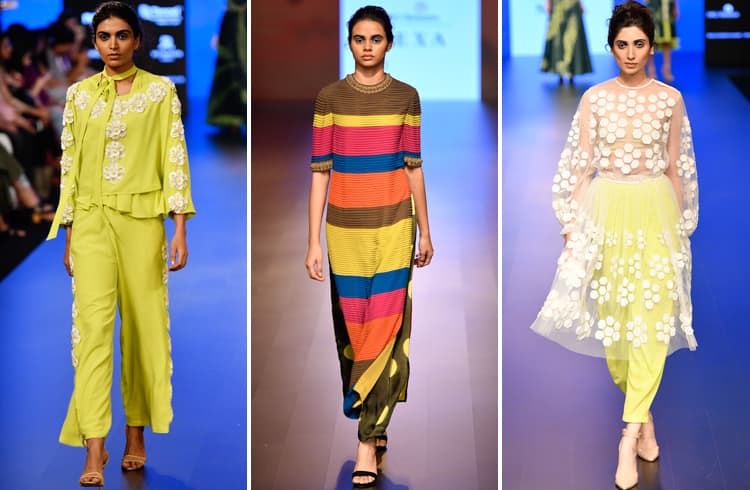 Rhea Chakraborty was the showstopper for Urvashi Joneja's collection. In a black flowing dress with a bird patterned embellishment speaking boldly about the theme of her collection, the diva was gorgeous. Side-swept wavy hair and glowing makeup rounded her style.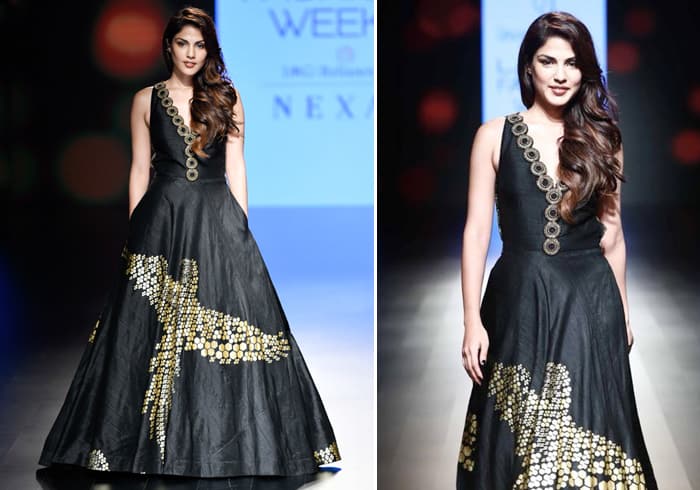 'Bye Felicia' by Chola:
Gender neutrality was the prime concept of Chola, designed by Sohaya Misra, with the Winter/Festive collection at Lakme Fashion Week 2018. Although it seemed a little difficult to absorb such a change in the fashion, it is a welcoming change and we are glad Sohaya pulled it off with immense glamour in focus.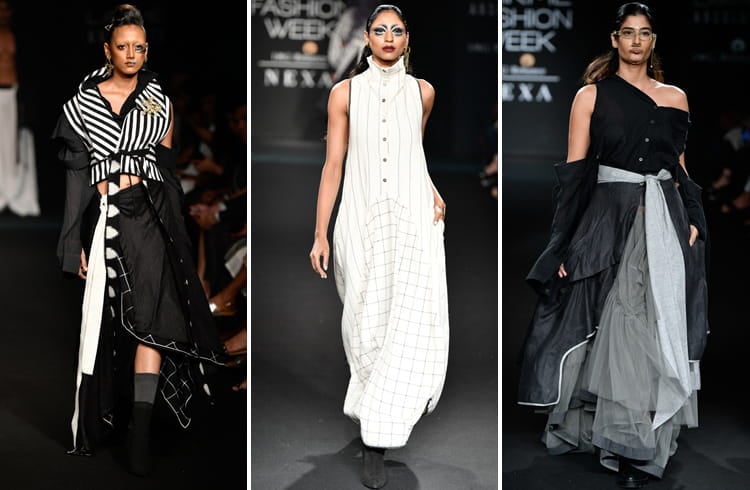 'Bye Felicia', Chola's latest collection showcased drag makeup themes well suited with outfits in ebony, grey and ivory hues. While the men's collection included frills, cropped cuts, the women's collection was all about androgynous elements.
[sc:mediad]
Prateik Babbar was the showstopper of the designer's collection and he undoubtedly rocked the show. In an outfit that represented the dichotomy of male and female, walked the ramp, hand-in-hand with dress donning model Jason Arland.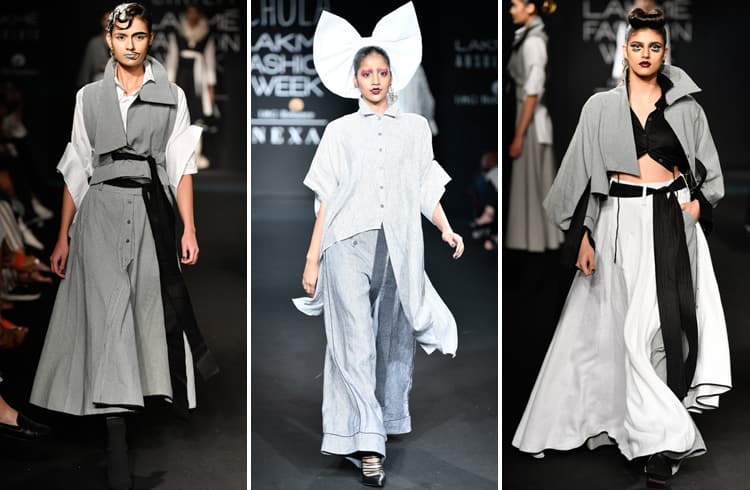 AM: PM by Ankur and Priyanka Modi:
The label AM: PM by Ankur and Priyanka Modi gave the fashion bingers a solid satiable palette titled Gypset at the Winter/Festive 2018 Lakme Fashion Week. With the style icons, Veruschka, Brigitte Bardot, and Talitha Getty, on the mind, the designer duo built their latest collection Gypset truly inspired by their traveling experiences around the world.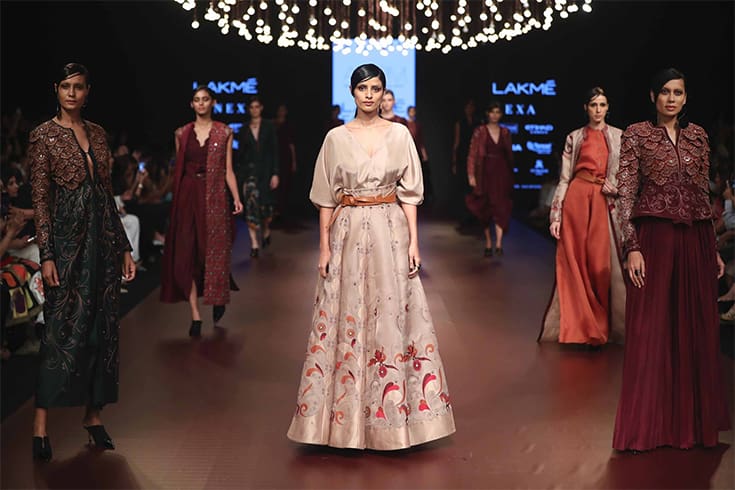 With tunics redefined as shirt dresses, salwars as flared pants and layering being the prime styling element, the collection was a delightful sight. From deep desert hues to forest greens, chili reds, the color palette was vibrant and free-spirited.
Elle Graduates:
From the Elle Graduates 2018, three designers, Studio Metallurgy, Divya Sheth and Untitled Co., showcased their collections on the global platform LFW Winter-Festive 2018.
Untitled Co. Studio Metallurgy's collection was purely an inspiration drawn from an industrial design that builds on accuracy and precision. Every garment was designed with clean cuts and sharp lines in mostly black based hues.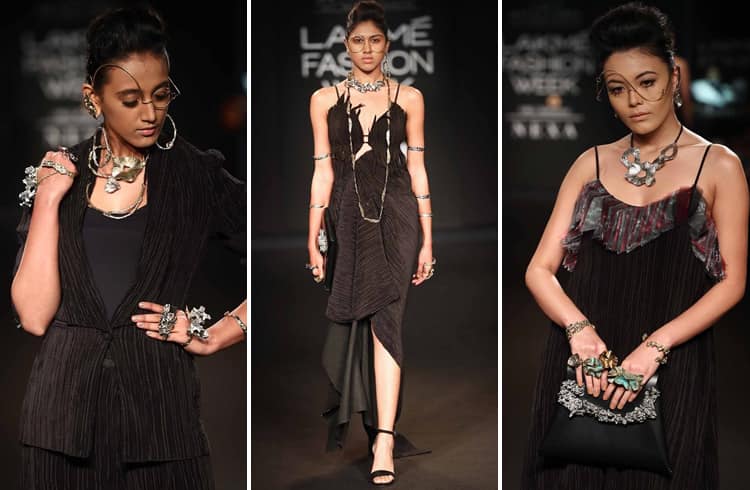 Divya Sheth's collection titled 'Shizen' which means nature in Japanese was a true blend of Indian craft and Japanese aesthetics.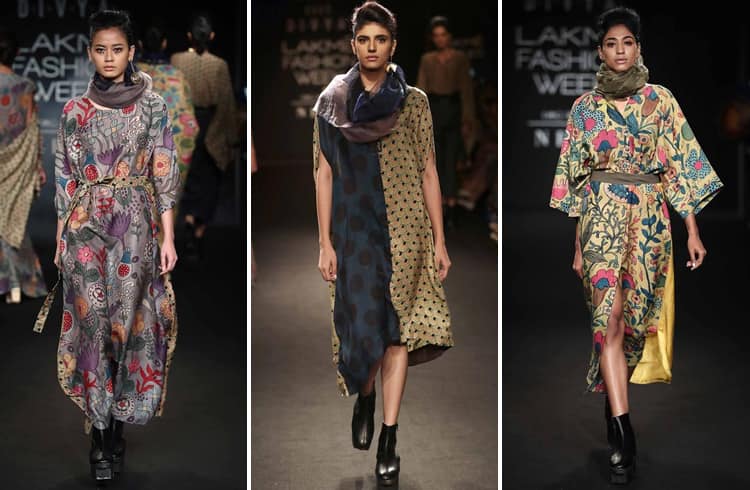 Untitled Co. by Rinzin Lama was all about separates, handwoven in silk and cotton along with textile art and embroidery.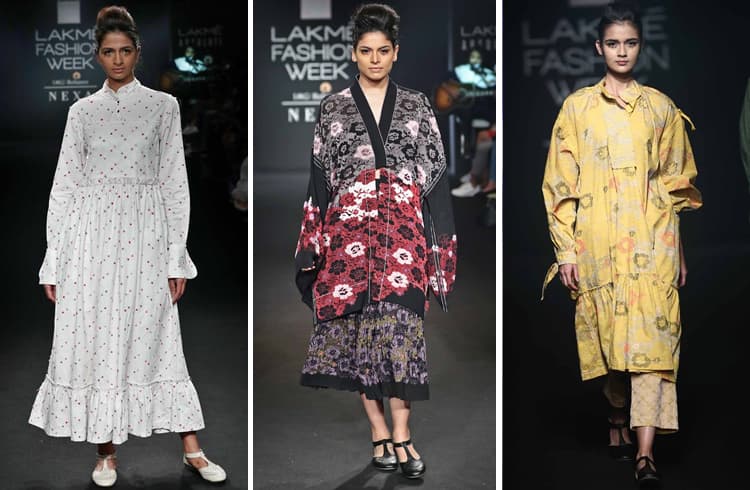 Abraham & Thakore:
After 2010, David Abraham and Rakesh Thakore, are now back again with their label Abraham & Thakore at the LFW Winter Festive 2018 with a collection named 'Cocktails and Samosas'.
The collection included evening cover-ups like kimonos, wraps, capes, sari blouses and certain wrap and tie dresses. Along with brocade, the collection also brought to light tussar with a hint of viscose that added softness to the textiles. From hand embroidery to sequins which transformed the texture of the fabric, the weaves held a strange bit of elegance with a mix of quirkiness. The collection also included jamas, chogas, baku, lungis and sarongs in a redefined state of fashion art.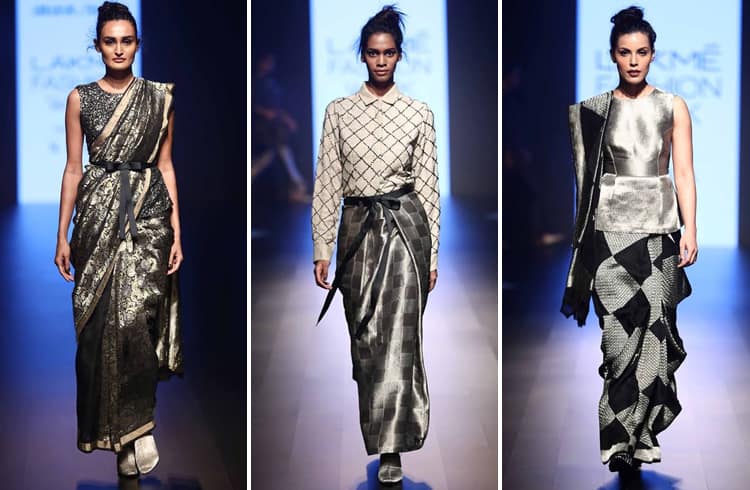 431-88 by Shweta Kapur:
It was all about eyes at the start of LFW Winter-Festive 2018 and leading the show was Shweta Kapur shooting a pop of electric blue with eyes. Themed to the free-spirit of a traveler, Shweta Kapur's collection consisted of subtle shades, in flowing silks and cotton embedded with skilled embroidery.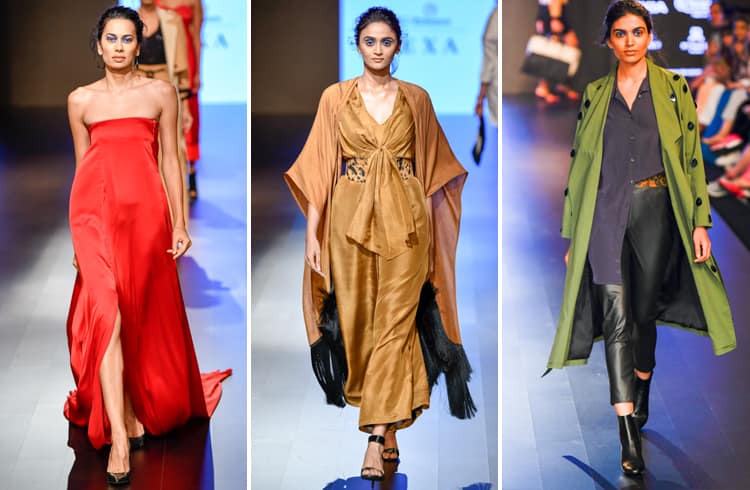 Amrich: Vrisa by Rahul and Shikha:
Gothic eyes, strong hued Indian textiles in comfortable patterns along with embroidery played as a strong theme for the designer duo, Rahul and Shikha's collection titled 'Bukhara' at LFW Winter-Festive 2018.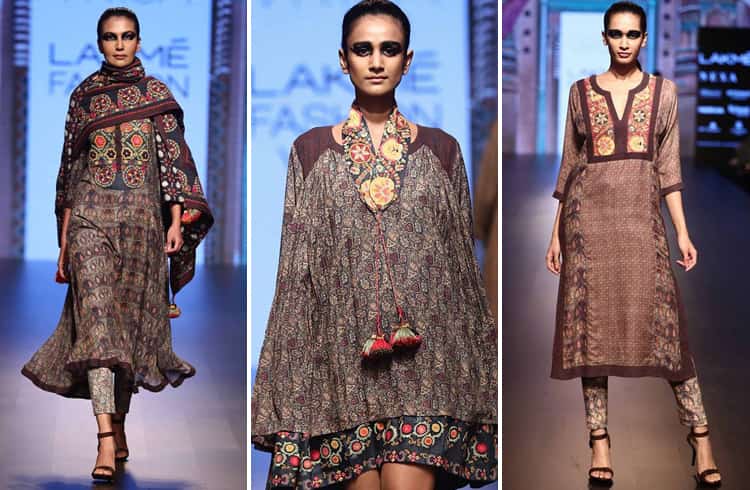 With this we wrap Day 1. The glitz and glamour was definitely breathtaking and we look forward to Day 2. Till then, keep up with the updates on FashionLady.
August 28th, 2018
Author: Sai Bhargavi Chintaluri
Images Source: facebook.com/LakmeFashionWk, vogue.in