Flare your ethnic look with the beautiful Lehenga in the many cultural festivities and weddings in India. This traditional Indian skirt is a must-have in your wardrobe to adorn to most of the traditional occasions that are consistently happening in India. The Lehenga choli is an essential ethnic couture to every Indian woman and not just one piece of design but multiple of them. For it can be for a bride to be, party, or for attending various pre-wedding ceremonies and many other events that a Lehenga choli can be adorned to. There are various types of Lehenga designs to choose from and one that suits your body type is the best choice. Here are various Lehenga designs to select to upgrade your ethnic look.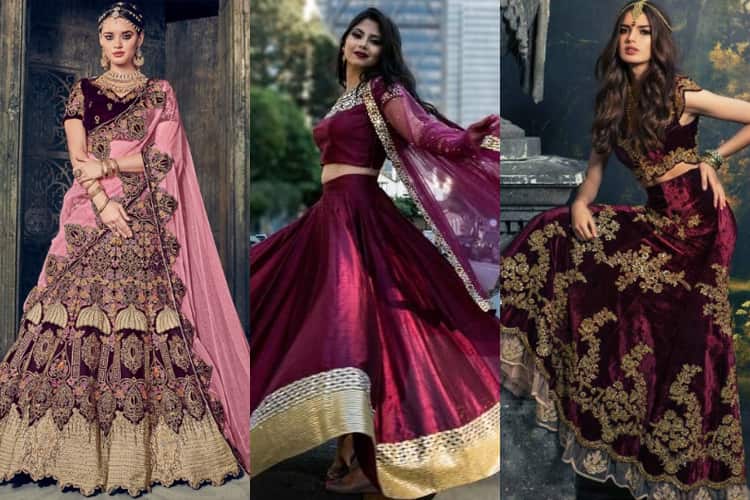 Flared Lehenga:
This design of a Lehenga is also known as a circular Lehenga it is among the oldest types that are still common among the Indian fashion market. Its flare is broad and at the hem, it forms a perfect circle. This Lehenga is voluminous and the brocade or crepe fabrics that it is made from is used to make its initial pleats at the hem that finally diffuse down to the flare. Embroidery is best if it is not added to this Lehenga design it will make it look 'too much'. The flared lehenga is perfect for all women to expect the ones with tiny waists for it adds volume below the waist. Hence women with slim waists look clumsy in this design. The best choli for this look is a short length choli with a subtle design.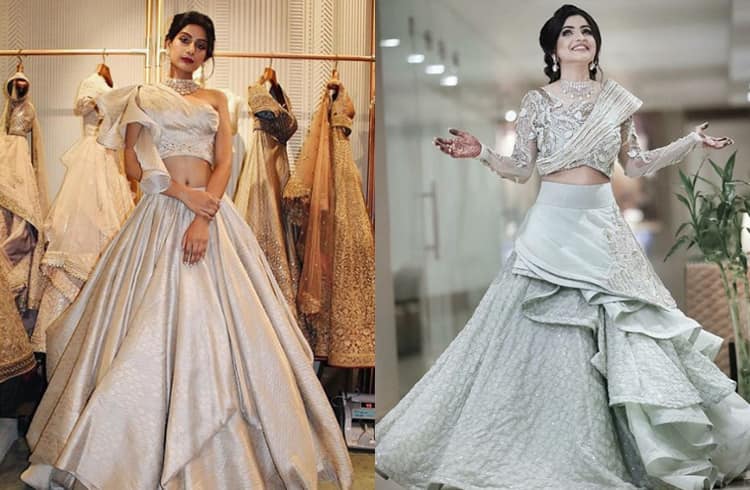 Half Saree Lehenga:
The Half Saree Lehenga has an illusion of a Saree but not completely but it is a Lehenga. What makes it a half saree and half lehenga is the dupatta draping that is common while dressing into a saree. It is worn with ease and is a comfortable attire with a beautiful flare that makes it look more stylish. It is hassle-free for you don't have to tie it so much as you do with a Saree dress and you can wear it with a long-sleeved saree dress. Cotton, new silk and brocade are some common fabrics that are used to make this A-line Lehenga. Avoid this type of lehenga if you are petite in size otherwise, all other body frames can wear this half saree lehenga.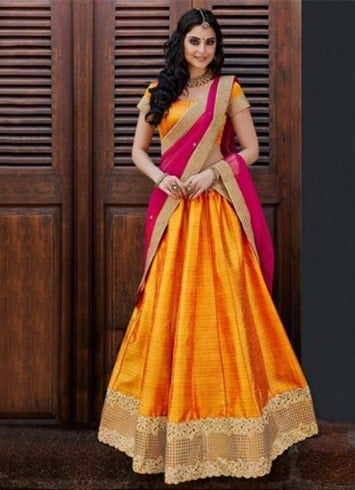 Mermaid Lehenga:
This is an absolute beautiful lehenga that is also called a fishtail lehenga. It is a perfect choice when matched with crop top lehengas for wedding such as the short halter-neck choli. This design brings out the curvaceous woman into the light as she adorns to the mermaid lehenga. Its flare is irresistible and top-notch gorgeous. The flow from the waist to how it accentuates the curves and then its mermaid flare makes your whole outfit look appealing. The perfect body shapes to wear this are hourglass and at times rectangle body shapes. While apple, pear, and slender women should avoid this mermaid lehenga for it will look like a wardrobe malfunction.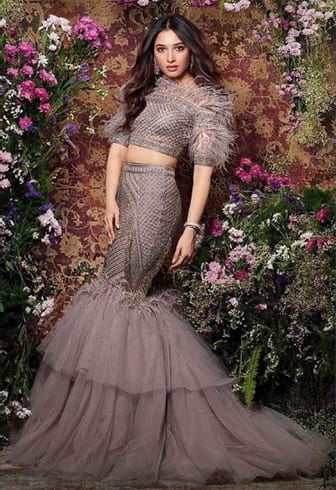 Sharara cut Lehenga:
As the Indian fashion industry continuously evolves. Different ethnic Indian attires are evolving for the better to fit with current societal needs. Categories of lehengas have evolved too and the sharara cut lehenga is one that has joined in. This design is stitched from the middle of the hem like a palazzo or trouser but its entire finish looks like a lehenga. Muslim brides love this lehenga design and it can be perfectly paired with a long Kurtis till hips length. Tall women, apple, hourglass shape body types should have a piece or two of this trouser lehenga design. As petite women, this is the worst choice for them to have or adorn to.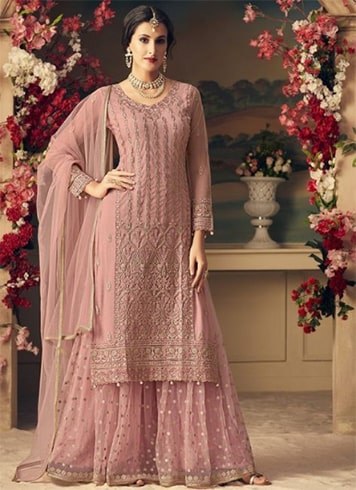 Paneled Lehenga:
A special feature to love this lehenga is that it creates a slimming effect and hides any extra flab. Many women love that! The classy panels that are attached at the flare of this lehenga hemline. Assist to improve the volume of its flare and add a unique design that is contrasting for a more glam look. This makes this lehenga look like a perfect special occasion attire. Get long cholis for the paneled lehenga and wear them as a guest to a traditional ceremony that you are invited to. Its colorful designs will make you look splendid in the occasion you are attending.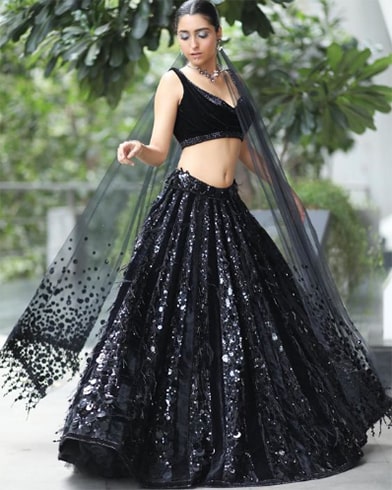 Lehengas with Jacket:
Lehengas with a jacket are trending now in the wedding scenes and it is a fresh garb for women to dress up too. Its flare is simple but the long jacket covers up in perfect embroidery has broad laces. Although you can choose any jacket that you like depending on the level of elegance and decency that you prefer. This type of lehenga design is the best for a bride's wedding reception or a member of the family. The unique feature about this attire is it hides the extra flabs if you are plump and add volumes if you are too skinny. The long jackets are the choli designs for this lehenga style. However, pear shape body types should avoid this lehenga design for it is not perfect for them.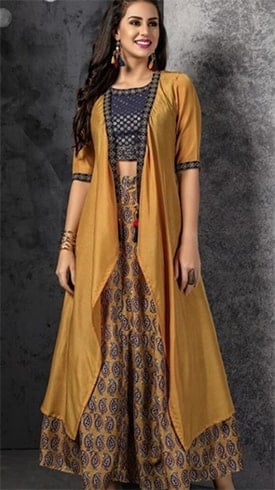 Straight Cut Lehenga:
It is obvious from the name of this lehenga that it is a straight skirt that flows along with your body shape. It also does not flare at all like other lehengas. It is versatile allowing it to blend well with almost every woman's body types. Choose the right inner wears while dressing to this lehenga for it is highly skin hugging. choose a choli blouse to pair it with and flaunt in your beautiful lehenga.  Another beautiful lehenga is the A-line lehenga that is perfect and elegant and easy to carry. It flares out from the waist down and different choli lengths are used for this lehenga. Both the A-line and straight cut Lehenga is perfect for every woman to have in their lehenga collections to wear them on different occasions.