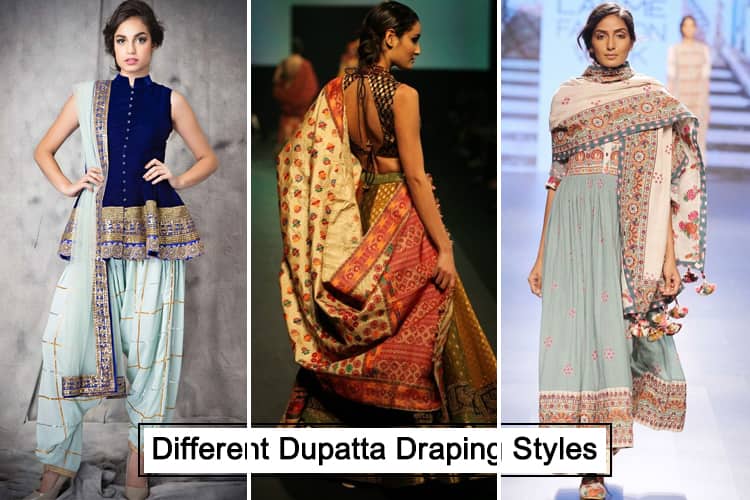 Don't we all need a versatile style for our Dupatta? For most of us, a dupatta can be quite a savior – from being the perfect cover for a slightly revealing saree to being the beautiful pallu for the bride – the best part about our dupatta is that it is so multi-faceted. In this article, we will give you 25 different ways to carry a dupatta and look like a bomb in the next event you attend. We promise you, ladies will be vying for your attention and knowing the best way to carry off a dupatta with style!
1. Just pin it on the side
What's the first and foremost style you will think when it comes to having your dupatta – a simple style where you need to pin it on your side. It's easy, it's cute and very easy to carry. All you need to have is a pin that secures your dupatta to one side – well. Make sure it's securely tied and you are good to go!
2. Tie the dupatta on one side and wrap it around hand
Another very easy to pull off style, just secure the dupatta one side (whichever you prefer) and then wrap the other end in your hand, just the way it looks in the picture. Simple, sweet and easy!
3. Drape it like a saree pallu
So you want to have that saree look but not wear a saree, well this dupatta draping style can come to your rescue. All you need to do is put the dupatta on one side of the shoulder and then pleat it and tuck it on your lehengas, just like you would do for a saree. Looks elegant, and just like a saree!
4. Let it fall!
This is a popular style of draping the dupatta when you have a designer blouse or a top that has prints in front. You can't do away with your dupatta, but you would love to show off the designs, so why not use this dupatta style? Simply drape your dupatta from the back of your neck and let it fall on the two sides of your shoulder (like the one in the picture). This draping style wouldn't even require you to fasten it with a pin simply because it gets the required leverage from having it on the neck.
5. The Quintessential Ghunghat
This would be a style we won't always prefer because um, having a ghunghat on your head is a little bit cumbersome and difficult to handle. So you can use this style of putting the dupatta when you are visiting relatives or elders – a practice that is prevalent more in the Northern side of the country. This is a way to show respect to your elders and is often used by brides as well.
6. Wrap it around neck
You could use this style of draping the dupatta when you are using it as a stole. It suits the persona when wearing a kurti. It also creates an illusion of length, so a petite woman could use this style to her advantage.
7. Pin it to waist
Easiest and often most gorgeous looking style of wearing your dupatta – this one requires no finesse at all! Just put the dupatta on one side and then pin the front part of it to your waist and you are good to go – simple, elegant and easy peasy!
8. Front Cowl
Aren't you amazed by the number of ways you wear the dupatta? Before we started off with the article, even we didn't know! This simple method requires you to up your dupatta from the front and drape the rest of it on your shoulders. They should elegantly fall behind your back.
9. Let it fall
This is a style you should wear when you want your dupatta to do all the talking. The USP of this style of draping is to showcase your dupatta – which might be sequined or have any other designs. All you need to do is have the dupatta fall elegantly on your shoulders.
10. Wrap
Now this one is a draping style that is quite different and not that easy to pull off. To look like the model, you will have to drape the dupatta diagonally and the parts which are left behind need to be brought in from the front. This one suits ladies with a slightly petite frame.
11. Dupatta draped on the side (version 2)
In this dupatta style, you will have to drape the dupatta from behind and bring it over your shoulders. One of the loose ends is in front of your chest and the other one comes from your back and is pinned to the waist.
12. The Cape Style Dupatta
This one is as the name suggests, a cape style of draping your dupatta. It is not that easy to carry because there is a risk of your dupatta slipping, so you may need top pin it from behind. But if you are worried about your look being spoilt because of your pins, you will be able to find designer pins that will actually blend in well with your dress.
13. Simple Style 13: Drape the dupatta on arms
A casual, yet easy style – this one involves having your dupatta casually draped on your arms. No pins, no pegs – your dupatta will just stay behind on your arms. It's best if you have a good blouse design and you can showcase it without having to hide it with the dupatta.
14. Ghunghat and U-turn style
This style is mostly inspired by Punjabi weddings and requires you to cover your head. This time around your dupatta won't be behind your back but you will need to drape it from the front by making a U-turn on your chest. This one is only possible when you have a really big dupatta.
15. Dupatta with a waist belt
If wearing dupattas with a pin is not your kind of style, then you can give the waist belt a chance. In this style, you can choose to have your dupatta in any one of the different styles, but instead of securing it with a pin, you are introducing a waist belt. This type of style is more prevalent in the southern part of India where brides mostly have gold waist belts to tie their dupatta.
16. Assamese Style Dupatta
This style of draping the dupatta is quite easy and looks extremely elegant. Thought Assamese women might not use it with a lehenga. The traditional dress of the Assamese is the Mekhela Chadar that is a saree that has two parts (Kind of like a half saree – popular in Southern India). The chadar is wrapped in a saree pallu style and the loose end in the back is brought towards the front and tucked into a triangular shape in the lehenga.
17. Pleated Style Dupatta
Another simple twist to your dupatta, this one requires you to just choose a side on which you will prefer to have the dupatta and then make pleats. Once the pleats are done, simply have them pinned- Tada! It's as simple as that.
18.The Dupatta style that drapes around toe
This one is a little difficult to carry about because of the immense length of the dupatta and because you will be carrying it off in a much longer length. You have to be really careful and drape it in a way that is similar to a saree pallu, however, you will have to drape it behind next to your toes.
[sc:mediad]
19. The Bengali Style Drape
Since we are anyway mimicking some of the traditional style drapings, why not the Bengali style too? This one requires you to have a really long dupatta and then drape it on one side and bring the end of it to the other side. The other end should be pinned to the front.
20. The Gujrati style draping
The Gujrati style dupatta involves wearing it from the opposite side and draping it towards the front. Very traditional and very elegant – at the same time!
21. The Unique V-style Dupatta
This dupatta style takes the v-style to a different level. If you are wearing a short blouse and you are feeling a little bit too conscious about your tummy, this dupatta style can be your saving grace. Just wear it in a typical V-style but then don't forget to pin it right.
22. Pleat and Belt it out
We have already told about the belt style dupatta, but what if you can belt it using the dupatta itself? Drape one side of your dupatta on your front and pin it. The other side could be brought over to the front and left open. This is an extremely good style especially when you need to keep your hands free for running errands.
23. The Elaborate Princess Style
Though we are putting it under the same banner of 'simple style', this one is a wee it different from the others and requires you to pin the dupatta in a princess-like style. Keep your dupatta open on the back and bring the two sides in the front (You will need a big dupatta, preferably one that is not to heavy to carry off this style). Secure the two open ends with a belt or a pin on the front. Now scrunch the cloth that is on your back and pin it in a way that it falls like a cascade. You have to pin it very strategically and also make sure that it is tied securely – otherwise, there is a huge possibility that the entire dupatta will come off!
24. Just Swing it!
This is similar to the style where you let the dupatta cover your chest. But instead, this one requires a slight tweak. Make sure the dupatta is secure on one side and is left open on the other side. It is a kind of casual yet sophisticated look and you can use it to show off your dupatta style a little more
25. Knot it up
This is one of the unique dupatta draping styles on our list now. The dupatta draping requires you to drape it in any style you like, either one-sided or side pallu, but instead of securing it with a pin, all you need to do is tie it with a knot on your shoulder. Not only is it unique, it is also something that wouldn't actually slip – so whether you are doing some chores or dancing, your dupatta is going to stay put!
So here were all the different types of dupatta draping styles we could find on the internet. Needless to say, the possibilities are endless and you could go on and on with the different styles that are there. Just a few pins, a belt (in some cases) is all you need to style your dupatta. Don't shy away, go ahead and try these styles and see which one suits you the best.
A lot of styles go with different types of lehengas, so we can't really guarantee what looks the best, but you could try some and see for yourself which suits you the best – the keyword here is 'EXPERIMENT'!