After a rather long day at work, your feet probably look less appealing-unless you're using one of these 10 foot care products suggested below. Dry skin, cracked heels, and calluses are common symptoms that your feet have taken a setback. And your feet take a more serious beating during the sunny weather with all the exposure.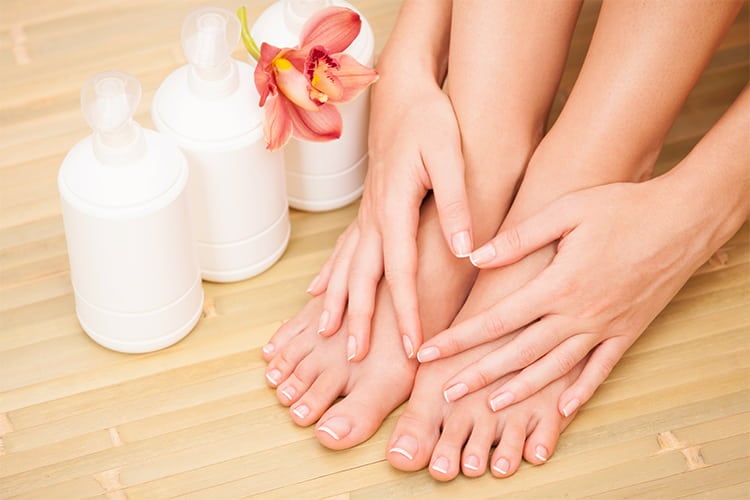 But we have discovered the answer on how to attain smooth, silky feet and shared it below. Read on.
Best Foot Care Products to Select From:
These 10 foot care products will keep your feet in best shape. Take a look:
1. Eucerin Intensive Repair Extra-Enriched Foot Cream:
Are you suffering from extremely dry, flaky feet? Then you should give the foot cream from Eucerin a try. The intense moisturizing cream is extremely soft on skin. It is formulated with natural moisturizing agents, provide hydration, and ceramide-3 to protect skin barrier. The foot cream absorbs easily, parabens, dye, and fragrance-free. People love this product for its soothing effect and treatment of calluses. It's all you looking for in a foot cream.
2. Burt's Bees Mama Bee Leg and Foot Crème:
The foot crème from Burt's Bee is a rich blend of peppermint oil and extracts of rosemary. These ingredients refresh and revive skin. The cream is also formulated for relaxing and soothing sore muscles in foot and legs. If your soles are perpetually flaky and cracked, then you should slather on this foot cream before putting on socks. And wake up to soft, smooth heels.
3. L'Occitane Shea Butter Foot Cream:
The foot cream from L'Occitane is super-hydrating, creamy, and smells divine. It has the goodness of shea butter that easily moisturizes cracked heels and lavender to revive tired feet. The best time to use this foot cream is right after you shower. Put on a comfortable pair of socks thereafter. You will notice your legs and soles feel soft to your touch in the morning.
4. The Body Shop Peppermint Intensive Foot Rescue Cream:
Definitely one of the best and affordable feet creams that actually works! Massage your hard, dry heels with the rescue cream before bedtime. Formulated with English peppermint oil, the foot cream helps in the treatment of callous, cracked skin. It has our seal of approval.
5. Himalaya Foot Care Cream:
The Himalaya Foot Care Cream works wonderfully on cracked, rough heels. It has natural ingredients like fenugreek; turmeric, honey, and sal tree extract to allow your feet feeling smooth. Slather the cream onto clean feet twice daily. It softens skin, heels, heals cracked skin, and prevents calluses from forming. Your flaky skin will disappear and your feet will transform completely.
6. Natural Bath & Body Lemon Chamomile Hand & Foot Cream:
The rich cream from Bath & Body Works is a favorite for us and most people because of its unique essential oil formula. You can rely on this cream for required relief especially if your feet are in rough shape after wearing heels daily. It is super creamy and a dream. Its ingredients like organic chamomile oil, lemon oil, organic, and natural butter provide intense moisturizing straight away.
7. Vaseline 100% Pure Petroleum Jelly:
Why because Vaseline Pure Petroleum Jelly never gets old. This product provides you the softest heels, hands down. It is non-greasy and absorbable. The natural, fragrant-free product heals dry feet in no time. You can use it twice or thrice daily. In less than a week, your cracks will be healed.
[sc:mediad]
8. Earth Therapeutics Foot Repair Therapeutic Balm:
We love this foot repair balm because of its many benefits. Combined with the goodness of chamomile oil, tea tree oil, and aloe vera for healing, replenishing, and hydrating dry area, the therapeutic balm greatly soothes your feet. This is the perfect treatment for dry, tired feet. It's thick, creamy, and luxurious texture nourishes skin to a great extent. You'd surprised with its results within one day, too.
9. Avon Foot Works Intensive Callus Cream:
Everyone should own this foot cream from Avon because it delivers what it says and heals cracked feet. You can slather on the foot cream liberally, wear socks overnight or few hours. Notice a big transformation in just two weeks time.
10. Vedic Line Foot Spa Scrub with Menthol:
This is yet another inexpensive and effective product which leaves your foot revived and smooth. The presence of menthol alleviates stressed-out feet while leaving it soft. You may use this foot scrub after a long day to feel and smell great.
So try any of these tried-and-best foot products to transform your feet completely.