For those lenient towards a post-vacation sun kissed glow without soaking in the sunlight, self-tanning products will be your best match. Luckily, today's options of the best indoor tanning lotions impart a glow that are impossible to tell apart from the real thing. To save you from going all over the place with a hundred formulas, we have compiled the best tan lotions.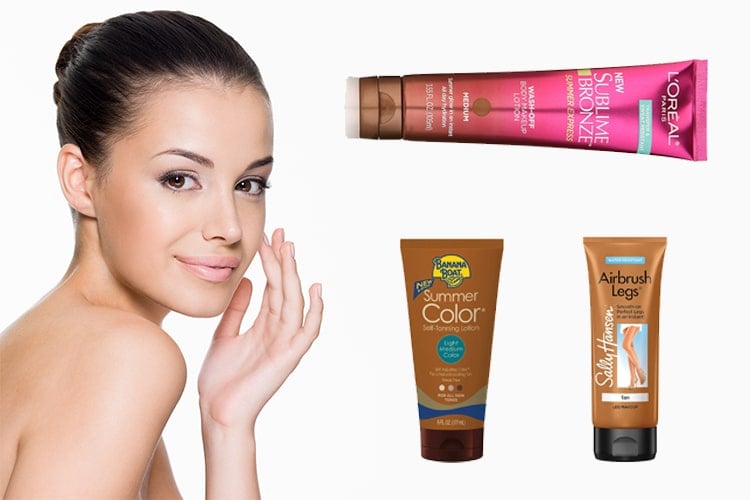 Top 10 Tanning Lotions to Use on your Body:
Keep reading to find out the best online sellers that help you look glowing for any occasion:
1. Banana Boat Summer Color, Self-Tanning Lotion:
Banana Boat self tanning formula is the overall winner in Amazon's best-selling tanner category. This favorite earned 4.4 rating for its oil and streak-free appearance. It is simple to apply, and users love it for its quick-trying finish. The product features two innovative shades-light medium and deep dark which offer a long-lasting otherworldly glow.
2. Sally Hansen Airbrush Legs Tan:
A brilliant multi-tasking product, Sally Hansen Airbrush Legs Tan provides a natural-finish bronzed glow while softening skin. This product has achieved high scores for blending on quickly onto skin whilst giving subtle, kissed-by-the-sun warmth. Worth the price!
3. L'Oreal Paris Sublime Bronze Tinted Self-Tanning Lotion:
L'Oreal Paris self tanning lotion glides on smoothly and enhances skin's natural glow instantly. After application your body will have a fresh from holiday look and not at all blotchy. Plus, the nourishing effects are here to stay. This one below comes in a deep natural tan shade that will leave behind a radiant glow.
4. Australian Gold Sinfully Black 15x Deep Dark Bronzing Tanning Lotion:
Achieve a good-for-you radiance with Australian Gold tanning lotion which includes walnut shell extract, caramel, and monoi de Tahiti to give a brilliant dark color. Upon application, this self-tanner deepens into a molten golden shade for a goddess-like finish.
5. L'Oreal Paris Sublime Bronze Tinted Self-Tanning Lotion:
Considering that a self-tanning lotion can easily run into a big spend, L'Oreal Paris tanner doesn't seem too much of an indulgence, right? Besides, the bronze tinted formula is as good as similar products go and will leave your skin luminous.
6. Neutrogena Build-A-Tan Gradual Sunless Tanning Lotion:
The tanning lotion by Neutrogena is not only a great bronzing product but also gives the silkiest feel when applied. If you are more into a spill-proof one, you'll probably fall in love with this tanner. It is infused with a sheer, subtle formulation that makes it perfect for tanning novices.
7. L'Oreal Paris Sublime Bronze Summer Express Body Makeup Lotion:
L'Oreal tanner in medium shade can bring out the perfect glow without looking overdone. Simply slather the makeup lotion to your skin and allow the product to develop naturally into a smooth, golden glow.
8. Avene Moisturizing Self-Tanning Lotion:
The self-tanning lotion by Avene is hardly exaggerated. The quick-drying formula nourishes minus greasiness and smells pleasant. This product blends in to your skin tone easily and provides a natural glow. Use this on your next beach vacay for achieving the killer tan.
9. Suave Professionals Visible Glow Self Tanning Body Lotion:
The Suave Professional self tan lotion feels like a dose of moisture for dry skin as it leaves your skin moisturized for 24 hours. And in case, you're worried, yep, this formula provides a streak free experience. Apply it on and wait to see the subtle, natural glow. And in the meantime, take pleasure in how smooth your skin feels.
10. Alba Botanica Very Emollient Sunless Golden Tanning Without the Sun:
If the idea of a dramatic tan makes you think twice, consider Alba Botanica Sunless golden tanning lotion, which not only delivers a nice glow but also nourishes skin. This product provides your limbs a subtle glow instantly-perfect for sudden parties or weekend outings.
These instant self-tanners may give your desired results but will not protect against sun damage as they do not have sunscreen ingredients unless indicated on packaging. So always apply a sunscreen with a broad-spectrum SPF 30 or higher alongside to protect skin. If you are unsure about picking the right sunscreen product then browse our selection here.