Selecting the best shampoo for dry hair can be quite a task, as there are countless products out there to select from and worse-they all promise to hydrate dry tresses. So how the heck will you choose the very best? As equal dry hair bearers, we understand your struggle to back-to-back switch on below average shampoo options. So, keeping that in mind, we have rounded up 10 popular shampoos that have specifically designed to nourish dry hair.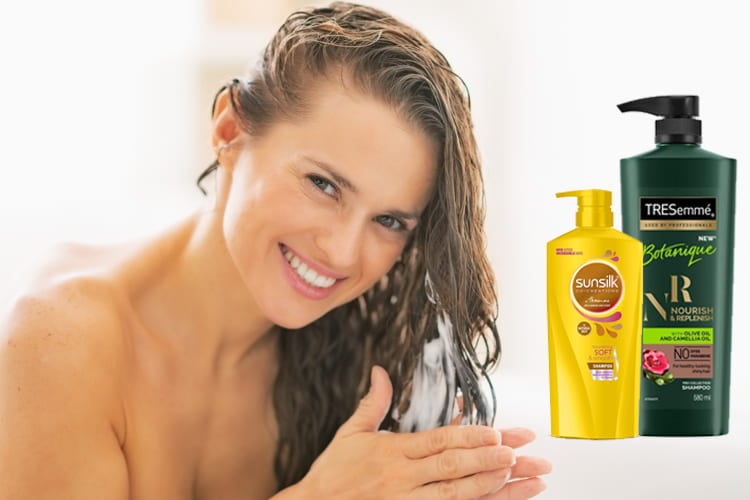 Shampoos Formulated for Dry Hair that's Worth Trying Out:
From Dove's Intense Repair Shampoo, to TRESemme Botanique Nourish and Replenish Shampoo, these are the most-talked about formulas.
1. Dove Intense Repair Shampoo:
The number one bestselling shampoo in Amazon at the moment from Dove's collection is a brilliant choice for dry hair. If your hair is drier than ever and has been chemically treated to the moon and back, select a bottle of this intense repair shampoo ASAP. And, this range is popular not for its reasonable price, but for bringing brittle, dry hair back to smooth richness. We can vouch for the product's effectiveness. Try it and experience the newness it brings to your hair.
2. WOW Skin Science, Apple Cider Vinegar Shampoo:
Another top choice for hair hydration, this apple cider vinegar shampoo provides bountiful of moisture to dry, straw-like hair. This product is great not only because the formula is sulfate free and free from parabens it delivers an instant silkiness to brittle ends. The best fact about this shampoo with its oh-so hydrating deliverance is its lightweight effect of not weighing down hair. Win, win.
3. Clinic Plus Strong & Extra Thick Shampoo:
The OG of dry hair shampoos-so if you wish your hair would restore back to its former soft glory, this one might just work. Not only does it bring about a glossy, bouncy hair, the milk protein boost formulation also keeps your hair more resistant to damage. In addition, it has the infusion of almond oils for the ultimate natural moisture boost.
4. TRESemme Botanique Nourish and Replenish Shampoo:
TRESemme's cult formula is infused with olive and camellia oil that promises to hydrate mega-dry hair, and does it work! You will notice a definite smoothness after the first wash itself. With almost 4.5 star reviews on https://www.amazon.in/, it seems like we're not the only one that loves this replenishing shampoo. Oh, and it comes under 500 INR. Bonus.
5. Sunsilk Nourishing Soft & Smooth Shampoo:
This moisture-enriched shampoo helps to repair dry, brittle hair by nourishing weakened tresses with its blend of five natural oils. The product is formulated to give nourishment, which it does perfect, and help ease the process of transforming dry hair from feeling rough. It is quite easily the go-to shampoo to save your tired hair time after time.
6. Khadi Mauri Herbals Amla and Bhringraj Herbal Shampoo:
There are no parabens or sulfates in Khadi's Herbal Shampoo, instead has organic ingredients like amla and bhringraj. So if you're looking for a daily moisturizing shampoo without harsh ingredients, this one is a must-try. Another plus point is its luxurious lather which is missing in other natural options. It gently cleanses whilst offering a good dose of nourishment making it a good buy for daily use.
7. Herbal Essences bio: renew Argan Oil of Morocco Shampoo:
The brand name gives it all away; it has the brilliance of herbal goodness to take care of your hair to the fullest. In fact, the infusion of argan oil means the moisturizing levels of this product are sky-high. Plus you'll get the silky, smoothness you desire for. Additional benefit: it smells amazing.
8. L'Oreal Paris 6 Oil Nourish Shampoo:
More than a normal shampoo, the 6 oil formula is perfect for nourishing dry, damaged hair, and cleaning sensitive scalps. Girls with dry hair will love this rich oil hair shampoo. The formula gently cleanses hair without stripping off moisture. Argan, jojoba, almond, olive, coconut, and camelina oil boosts moisture back to parched hair and bring your hair back to its famed glory.
9. BBLUNT Intense Moisture Shampoo for Seriously Dry Hair:
If your hair is especially dry, rebellious, and prone to breakage, this BBLUNT Intense Moisture shampoo will help rescue it. After using this product, we bet you'll vow never to return to your regular bottled option. The Vitamin E, jojoba oil, wheat germ oil, and hydrolysed keratin ingredients pays off in spades by smoothing frizz and adding in moisture to your strands.
10. Brillare Heavy Moisturizing Shampoo:
This moisturizing shampoo is made from rich hydrating ingredients, including avocado and wheat gram, so if you're into similar products, its' well worth trying out. Dry hair will love this restorative, moisturizing shampoo, and the 100% vegan certified reason doesn't hurt either.
One of these ten shampoos will be the core reason to your moisturized and smoothened hair. And at the risk of sounding like the bottle, do follow up with a good hydrating conditioner to see the desired results.