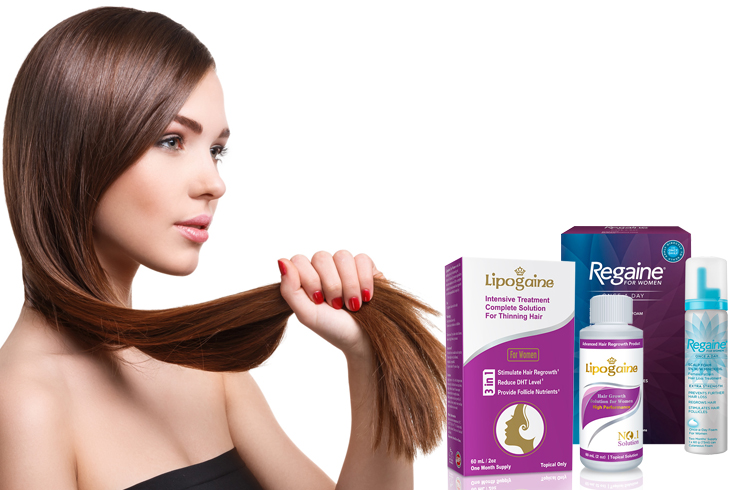 No matter how horrifying the thought is and how depressing and self-esteem stripping the reality is; hair loss is a grim reality that none of us can escape from. While several solutions and formulations can shout and promise you back your hair, very few of them have the right scientific research backing them as an effective hair loss solution. Minoxidil is just one of those rare medications proven to show results in even patients suffering from androgenic alopecia – a genetic hair loss disorder leading to even baldness. If you are serious about tackling the hair loss issue, Minoxidil has to be a part of your hair regrowth treatment plan. Let's look at some of the best Minoxidil products for women available for you to use and reap maximum benefits.
Top 5 Minoxidil Products For Women
1. Women's Rogaine Foam
Minoxidil for women is different than that of men as the concentration of Minoxidil differs. However, Minoxidil foam form for both genders contains the same 5% concentration of the compound and is equally effective for both. Rogaine is a big name, earning positive comments in all Minoxidil review. Introduced in 2014, it is the first FDA-approved treatment foam for women. It has proven to be highly effective in many women than the regular 2% solution. Using it is super easy. You simply need to take out some foam in a clean plate and gently massage it little by little into your scalp once a day. Within 3 to 6 months, results would start becoming visible.
2. Rogaine For Women
This is in the form of a 2% Minoxidil lotion in combination with purified water, propylene, glycol and alcohol. A non-greasy solution, its 2% concentration of the active ingredient has been known to produce spectacular results in females. Using a dropper, Minoxidil drops are dropped on the affected areas of the scalp and massaged gently till it gets completely absorbed by the scalp. It should be used twice a day. Each application of the solution should not exceed 1 ml. of the product. Again, it takes a minimum of 3 to 6 months for the Minoxidil result to show. If no results are seen within 4 to 6 months, then this product should be discontinued. It is also available with 5% concentration but that should be judiciously used once a day. Another brand to try of the same 2% Minoxidil concentration formula is Equate hair regrowth treatment for women.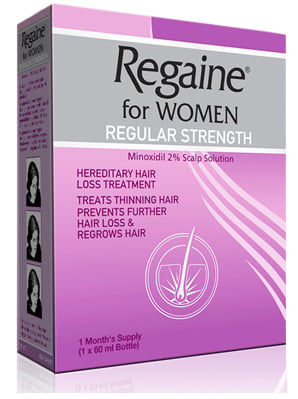 3. Provillus Minoxidil Spray
Provillus has quite a decent reputation attached to itself. It has formulated the 2% Minoxidil spray form for women and the 5% concentration for men. Spraying the solution on the scalp not only reduces all associated mess but also helps you cover evenly, all the affected areas of the scalp. It's blasting of the hair follicles further stimulates them. It is touted to revitalize the dying hair roots as well as stimulate the blood flow in the scalp which helps in the regrowth of hair. Thus, it proves a simpler, faster and more direct way to use the solution.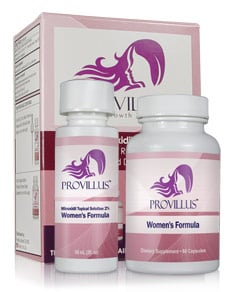 4. Lipogaine For Women
Unlike Rogaine, this 2% Minoxidil formula is not FDA approved. Again it is different from all other products as it also has biotin in its formula apart from niacin and other vitamins believed to be highly nutritious for women. Biotin is widely believed to be terrific for hair regrowth. One of the major Minoxidil side effects in other products is itching, dryness of scalp and some flaking as well. This product is ideal for all those who suffer from scalp irritation. Does Minoxidil work more effectively in this formulation still requires authentication but the product has some terrific reviews online. This formula is believed to dry faster than both liquid and spray. Its application and usage is same as that of Rogaine for women topical solution.
[sc:mediad]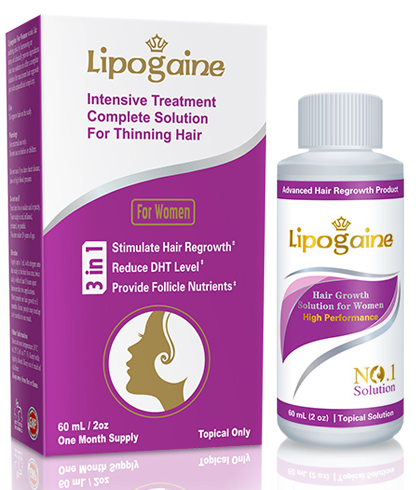 5. Perfect Hair Minoxidil Treatment
Perfect is one brand that provides a complete hair loss solution with a Minoxidil shampoo as well as a 2% Minoxidil stimulant recommended for women. One of its standout ingredients is Retinol, which you may recognize as Vitamin A. Studies have shown that retinol can not only stop thinning of hair but also minimizes the sebum which overflows with DHT and causes hair fall. Mixed with Minoxidil, it helps in the faster absorption of the hair growth stimulant. It also contains Azelaic acid, an organic compound extracted from plants and known to exhibit great results regarding hair loss. Since the shampoo lacks any acetone or other harsh chemicals, it is great even for sensitive scalp and does not cause any irritation.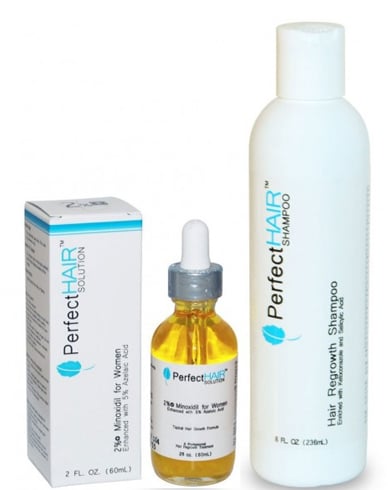 We hope you now have choices of various Minoxidil products. Which one has been your favorite? Do write in the comments section below.
Images Source: blogspot.com