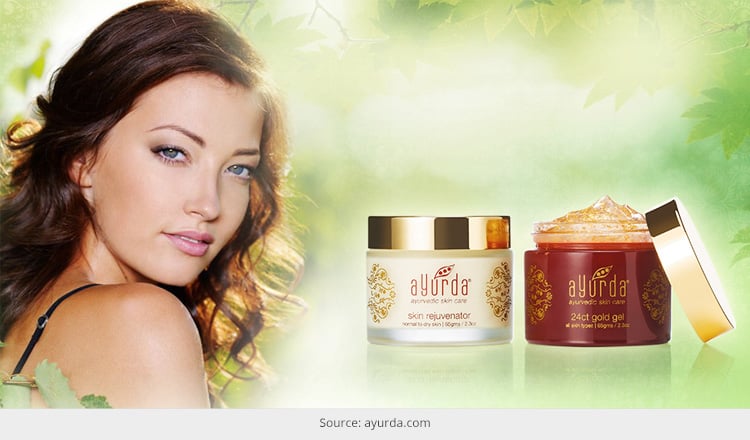 There are so many products that claim to be holistic in the market, which makes it difficult for us to know the right from the not-so-right! In short, we would today want to speak about ten ayurvedic skin care products that have not only a name, but have proved themselves to be the best so far.
[Also Read: What is Ayurvedic Cleanse]
Ayurvedic Skin Care Products
In no random order, please find the list of ayurvedic skin care products to use and to gain a flawless look.
Rangoli Herbal Face Wash
If the media ads have been telling you that ayurvedic skin care herbal products should form plenty of lather, you were misguided. Lather is a part of chemical inducements, which can do more harm than good to the skin. With that being said, the Rangoli Herbal Face Wash, used thrice a day can help tone the skin, firm it up, remove makeup and clean away the pores too. Rangoli herbal face wash as a product is one hundred percent soap-free, which means, the oils from the skin wouldn't be robbed and the glow would remain! From deep cleansing to hydration, refreshing the skin to total face cleansing, this is one product we say is promising.
Fair & Lovely Ayurvedic Cream
To do away with sunburns, tailam and kumkumadi, Fair & Lovely ayurvedic cream with active ingredients such as jast bhasma, ksheera and manjishta in it, helps lighten the skin and forms a protection on the skin's surface against the harmful UV rays of the sun.
Ayush Suvarna Poshak
Ayush Suvana Poshak by Hindustan Lever is an amazing skin product, made from 100 percent herbal touches. With Rasayani and Tirit as active ingredients, the skin would be safe and sans dark spots or blemishes. To enhance the skin texture or the tone of your skin, Ayush Suvarana Poshak is a cream that blends into all skin types. The cream should be used once in the morning and once at night, for the best results.
Roopamrit Fairness Cream
For a flawless skin to achieve and a bright radiant glow too, Roopamrit fairness cream made from natural ingredients is one of the most trusted ayurvedic beauty products, available in the market. Apart from providing the skin with a new sense of vitality and vibrancy, the cream helps bring down the melanin production of the skin, lesser pigmentation and tanning thereby achieved. In addition to that, Roopamrit helps clear acne, blemishes, dark spots and pimple marks too!
Ved Rasaa's Ubtan Fairness Cream
Made from very rare herbs and plants available only in the Indian sub-continent, Ved Rasaa Ubtan fairness cream is a conglomeration of essential oils and herbs (sandalwood, almond, turmeric and saffron), which once as believed was the secret beauty regime of the royals. The cream is known to bring back the tone and hue of the skin, lighten it and nourish the texture, preventing ageing and dark spots or other skin issues too. This is what makes Ved Rasaa one of the best ayurvedic skin products available today!
[sc:mediad]
Rangoli Face Moisturizer
Rangoli Face Moisturizer as an ayurvedic cream is best for those who have very oily and sensitive skin, or would still like their makeup base to stay put for at least 12 hours. The formulae is specially conjured to keep the skin protected from the harmful UV rays of the sun, and the best part is, homemakers too would enjoy using this cream, since it keeps the skin protected from the kitchen heat too!
Vicco Turmeric Fairness Cream
You may have grown up seeing the ads of television, claiming to make your skin glow and to lighten the tone too. Truth be told, Vicco turmeric fairness cream is one of the best ayurvedic skin care products with natural ingredients in it, namely sandalwood oil. Sandalwood oil as we all know helps keep the skin supple, soft and nourished, and since it is also an antiseptic ingredient, you can be rest assured that your skin would be free from bacterial and fungal onslaughts, blemishes, boils and acne or pimples too. The cream doubles up as a healing lotion for burns, nicks, cuts and wounds too!
Dabur Uveda Complete Fairness Cream
From the house of Dabur, the Dabur Uveda Complete fairness cream not only helps remove blemishes, patches and dark spots or ageing signs, but also brings back the elasticity and radiance of the skin. The cream penetrates deep into the epidermis of the skin and prevents more melanin from being produced, making the fairness quotient happen from inside out!
Shahnaz Husain Fair One Natural Fairness Cream
Lemon, honey, cucumber, rose and saffron form the main active ingredients in Shahnaz Husain's Fair One Natural Fairness Cream, which together help reduce the production of melanin soothes sunburns and brings back the soft supple skin you were born with.
[Also Read: Benefits of Turmeric As A Healing Drug]
Rangoli Roop Sagar Sensitive
If you have sensitive skin, acne and pimple prone skin with marks that just don't take the name of leaving, it is time to switch to Rangoli Roop Sagar sensitive cream. One solution for all skin issues and the cream keeps the skin moistened, soft, supple and smooth for very long. Packed with SPF 15, your skin is safe from the harmful UV rays of the sun too.
Did you like our choice on the best ten ayurvedic skin care products so far? The next time we would like to speak about patanjali ayurvedic products, and do a review on them. If you have any comments or suggestions on the same, do write in!
Recommended Articles:
Patanjali Aloe Vera Gel
Patanjali Face Wash
Patanjali Hair Oils
Patanjali Amla Juice
Patanjali Best Product for Skin, Skin and More
Best Ayurvedic Shampoo in India
How to Use Aloe Vera Gel for Hair
Top Winter Hair Care Indian Products
Glycerin On Face for Healthy Skin