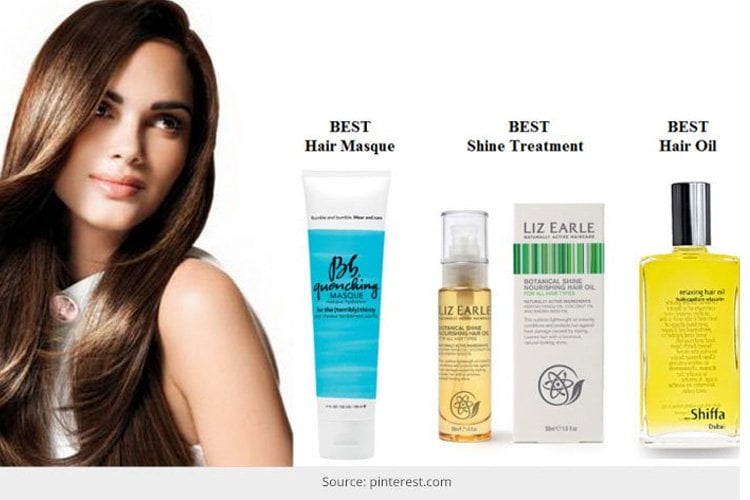 It continues to get chillier by the moment and this winter is slowly unfolding to its full glory. I love the winters for it brings forth beautiful breezy evenings, Christmas festivities, cups of hot chocolate, masala chais and soft furry quilts. But this is also a season of dry, limp, lifeless hair which irritates the best of us to no end and acts as a dampener in your otherwise perfect winter style statement.
To avoid bad hair days and flaunt gorgeous tresses this winter, follow a rigorous hair care schedule with quality conditioners, nourishing hair oils and deep conditioning masks. If you are confused as to what products are to be used this winter, then we bring a selection of the best winter hair care products which will make your hair wholesome, healthy and nourished.
Here Are The Products Which Top Our List
1. Matrix Biolage Ultra-Hydrating Shampoo
Price: Rs 190 for 200 ml
This shampoo works miracles for dry and frizzy hair and actually tames unmanageable hair. It hydrates and offers adequate moisture that is lost especially in the winter season. It will not only give the required shine and bounce, but also reduce the hair fall drastically.
With the wholesome goodness of pure lemongrass and sage, this is a perfect formula to give your hair a natural and soothing treatment.
[sc:mediad]
If your scalp has become oily and messy, then this shampoo just corrects it in one wash! A small quantity of this wonderful shampoo is perfect for one wash. Use this in combination with Matrix hydrating conditioner to get great results.
2. Herbal Essence Hello Hydration Shampoo
Price: Rs. 179 for 355 ml
This shampoo will definitely hydrate your hair beautifully with an infusion of Hawaiian coconut and orchids. Packaged in a curvy transparent blue bottle, this shampoo has an easy press to open mechanism and can be easily carried while traveling. It has a sweet and fruity fragrance which will tantalize your nostrils.
[Also Read: Hair Care In Winter]
The shampoo keeps its promises of making hair shiny and manageable. It generates good amount of lather and removes any buildup of oil and dirt. After one wash notice the change in your hair – it will be silky, smooth and manageable. Perfect formula for the winters!
3. Bajaj Almond Oil
Price: Rs 100 for 300 ml
Your hair needs a good hot oil massage this winter and what could give you better nourishment than this fab oil! With the wholesome goodness of almonds, this oil is the safest bet for oily scalp and hair type.
[Also Read: Affordable Hair Care Products]
Made of sweet scented almond oil, vegetable and mineral oils, this hair oil gives great nourishment in comparison to standard fare like coconut oil. Being a light-textured, non-sticky and pleasantly fragrant hair oil, this hair oil just needs to be massaged 2-3 hours before a shampoo session.
It is packaged in a glass bottle which might no be the wisest thing to do considering its a hair oil bottle!  Apart from this minor glitch, this oil is perfect for your hair this cold winter to provide nourishment and keep it bouncy, shiny and healthy.
4. Parachute Ayurvedic Hair Oil
Price: Rs. 40 for 95 ml
The Parachute Ayurvedic Hair Oil is your one stop solution for winter hair care products. This is without a doubt one of the oldest as well as the most popular brands that we all are familiar with. If this doesn't give you the confidence, then the fact that the International Academy of Ayurveda has certified this oil will give you the confidence that it is one of the best winter hair care products.
This one oil will take care of all your problems which are associated with the winter season such as hair breakage, frizzy hair, dry scalp, dandruff, etc. Rich in Ayurvdeic ingredient, this oil has a thick consistency which nourishes your dry hair and scalp. Now you know how to take care of hair in winter.
5. Dove Elixir Dryness Care Hair Oil
Price: Rs. 185 for 90 ml
If you thought that Dove only focused on soaps, shampoos and moisturizers, then you are wrong. The next time you are looking for products that would aid you in winter care for hair, give the Dove Elixir Dryness Care Hair Oil a try. The ingredients present in this oil will leave you spellbound and will also ensure that all your winter hair woes are taken care of.
For the perfect hair care in winter, you need to nourish it thoroughly with all the essential oils and this Dove product is loaded with nourishing oils like almond oil, coconut oil, mineral oil, lavender oil, palm oil, sunflower seed oil, sesame oil, extracts of lotus flower petals, etc.
6. Himalaya Herbal Anti-Dandruff Hair Oil
Price: Rs 160 for 200 ml
Himalaya Herbals in another well-known brand which manufactures one of the best hair oils in winter. Dandruff and itchy scalp are two of the most common winter hair woes that everybody faces. Well, it's time to say goodbye to all those problems with this winter hair care product.
This hair oil consists of ingredients like snowflake tree extracts, neem, tea tree oil and rosemary extracts. All these ingredients have anti-inflammatory and anti-microbial properties which will take care of your itchy scalp problem and get rid of the fungus that causes dandruff.
7. Dabur Vatika Olive Enriched Hair Oil
Price: Rs 225 for 300 ml
The Dabur Vatika Olive Enriched hair oil is a nourishing oil which can help you in taking care of your hair during the winters. It has a number of ingredients all of which serve a different purpose and combined together nourishes your dry and itchy scalp and hair.
The lemon extracts present in the oil will take care of your dandruff problems, the cactus extracts will not only boost the hair volume but will also make it shinier and the almond extracts will condition your hair.
8. Patanjali Almond Hair Oil
Price: Rs 100 for 60 ml
Patanjali products have slowly gained popularity and are quickly becoming a favored brand for a lot of people. One of its product that is ideal as a winter hair care product is the Patanjali Almond Hair Oil.
Your dry scalp during the winter can be cured by using this oil which has the purest form of almond oil. Along with solving your dryness problem, using this product will also result in softer and glossier hair which is free of dandruff. You can also use it as a moisturizer for natural hair in winter.
9. Biotique Bio Bhringraj Fresh Growth Therapeutic Hair Oil
Price: Rs 159 for 120 ml
Biotique products are really effective and so is this hair oil which is great for hair care in winter season. Now you can effectively fight all your winter hair problems such as dry scalp, hair breakage, hair damage, etc.
This hair oil is a therapeutic hair treatment where the Bhringraj extracts nourish your scalp and take care of all the other hair problems. You can also use this oil for hair growth.
10. Khadi Olive Oil
Price: Rs. 140 for 110 ml
Olive oil is without any doubt one of the best hair oils to use during the winters. You can use the Khadi Olive Oil to massage your hair but ensure that you warm it up a little bit. After the massage session, you should wrap your hair in a hot towel.
This winter hair care regime will treat your itchy and dry scalp and will also leave your hair softer and shinier.
Tips For Hair Care In Winter
Since your hair and scalp would become dry during the winter, you should avoid using blow dryers and hair straighteners as they can worsen the condition.
Do not wash your hair too often during the winters and always use lukewarm water while washing the hair.
If you are wondering how to keep hair hydrated in winter then the best solution is to use serums. Using a hair serum will protect your hair from harsh elements.
Give your shampoo a little rest and instead opt for deep conditioning of hair during winters.
Another way to keep your hair hydrated would be to drink lots of water which would help you in retaining the moisture in your hair.
If you have split ends, then do get the ends trimmed once in a month.
The best shampoo for winter hair would be one which has less chemicals. It is advised to use natural shampoos to take better care of your winter hair.
One trick to keep your hair shiny and soft is to add few drops of hair oil to the shampoo you are using.
Strictly avoid over-brushing your hair since your scalp is already dry and excess brushing will lead to hair breakage and hair loss.
Make sure to include a hair mask in your winter hair care regime.
We hope these tips and tricks for winter hair will help you in taking better care of your hair. Oil your hair regularly, use good shampoo and conditioner to restore your hair to its original sheen and beauty this winter season.
Recommended Articles:
Patanjali Aloe Vera Gel
Patanjali Face Wash
Patanjali Hair Oils
Patanjali Amla Juice
Patanjali Best Product for Skin, Skin and More
Best Ayurvedic Shampoo in India
How to Use Aloe Vera Gel for Hair
Top Ayurvedic Skin Care Products
Glycerin On Face for Healthy Skin