Here is the Patanjali Aloe Vera gel, and its reviews and specifications. It gives you good skin, heals your wounds, treats your skin; the benefits don't stop here but goes on to treat even the minute dark spots and circles. See how!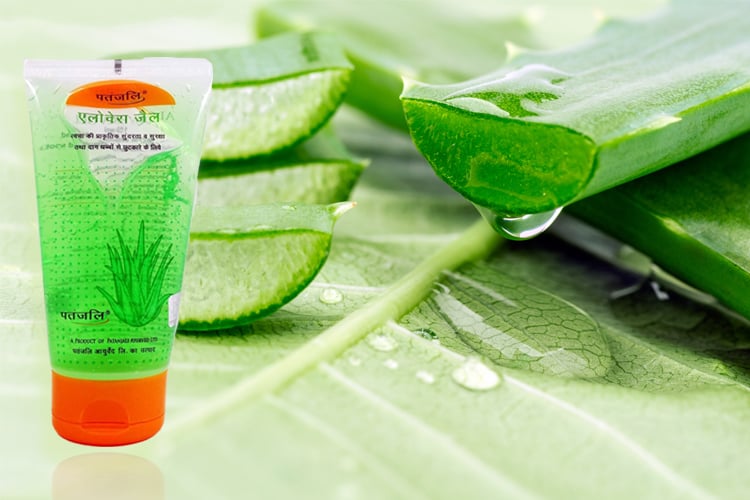 You got to try it! Seriously. Not once, but every time – during day or at night. It has 18 month-shelf-life. Call it a beauty obsession or skin love, this product is 'purityyy' for your skin. Which you desperately need in the maddening dust, and pollution we face. Put your hands together to Patanjali Aloe Vera Gel.
Reasons To Use Patanjali Aloe Vera Gel
How to sum up Patanjali Aloe Vera Gel is a tough task. First and foremost, it is natural gel, not artificial.
It treats dark spots and dark circles.
A good moisturizer it is.
Helps get rid of skin infections.
Reduces skin tanning and pigmentation.
And suits all skin types.
What more can you want?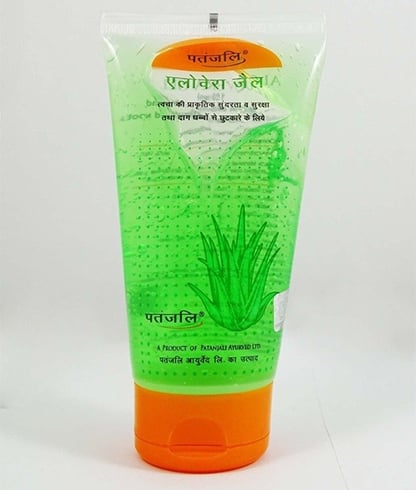 [Also Read: Aloe vera for Rash Around Mouth ]
Patanjali Aloe Vera Gel Method – How to Use:
Just squeeze out the Patanjali Aloe Vera Gel tube a bit (a pea size gel is all you need).
The green and 'gooey' blob that you get on your hand is what you have to apply on your face and neck.
Give it a rest time of 30-50 sec of your skin.
The gel will get absorbed by the skin. Though it will feel a little sticky, it will give a "cool" sensation to the skin.
Cool really cool!
Plus, the Aloe Vera Gel of Patanjali helps in moisturizing the skin.
Ingredients Values of Patanjali Aloe Vera Gel
The Patanjali Aloe Vera Gel has 90% Aloe Vera. Which is a HUGE thing from the 'purity' point of view.
Other than that, the Gel has permitted color (brilliant blue, tartrazine yellow), Vitamin-E, preservatives and fragrance.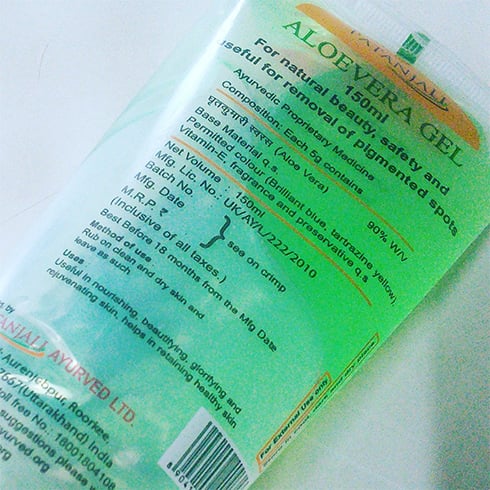 Patanjali Aloe Vera Gel Review:
"At INR 75 for 150ml, and INR 35/- for 60 ml tube, it's an amazing product. I would love to include the Aloe Vera Gel from Patanjali as my weekly home facial. It's so non-sticky; you can use it as a moisturizer underneath your foundation. After waxing, use this gel on your shaved arms and legs 'cos it soothes skin irritations, reduces redness and bumps. Patanjali Aloe Vera Gel an also be used as a body moisturizer or hand cream. This is an all-purpose product for skin at value-backed price." – Owner, Beauty Salon
Here is the List of Patanjali Aloe Vera Gel Benefits:
Patanjali Aloe Vera Gel can be used in multiple ways – for both skin and hair care. Let us find out how.
1. Natural Moisturizer:
Soft and supple. That's what Patanjali Aloe Vera Gel does to your face and skin. This makes it a fantastic product for winters.
How to Use:
Mix this gel with your regular moisturizer.
Apply it on your face, arms and legs (the way you normally do).
Note: Apply this gel on your face, that's it. A coin-sized amount is enough for your face!
2. Non sticky:
This is a very important plus point of Patanjali AVG. Since it is non-sticky and light-weight, it gets absorbed in the skin easily, without any 'effort'. Which means, it's a boon for those facing dry skin!
3. Best results for oily skin:
The Patanjali Aloe Vera Gel has a good quantity of oil in it. So, those of you down with oily skin should use it in small quantity, preferably along with a face wash.
4. Heals and repair skin tissues after burns:
Thanks to its anti-fungal properties, this AVG heals sun-burnt skin (like an 'ice-pack' being rubbed on the skin). Whether it is general itching or serious skin conditions like eczema, psoriasis, etc. Aloe vera gel of Patanjali brings you good amount of relief.
5. Heals small cuts, insect stings, wounds:
Whether it is small cuts, stings by bees and other insects, or minor to major wounds, Patanjali Aloe Vera Gel when applied externally brings faster relief than the allopathic options.
6. Suitable for acne prone skin:
Patanjali Aloe Vera Gel is good for pimples and acne. You get a soothing feel on application. Regular usage delivers results.
7. Dark Circle Eye Mask:
Who hates and aborts the very concept of dark circles? You, me, Everyone! Dark circles, puffiness, baggy eyes are our woes. Whereas, a concealer likes to hide the dark circles, aloe vera gel is one step ahead in treating them naturally.
How to Use:
Apply Patanjali Aloe Vera Gel under your eyes.
Allow it to get soaked properly in your under-eye skin.
As an option, you can dab a tissue with aloe vera gel and place it under the eyes.
8. Aftershave/After Wax Gel:
The gel of Aloe vera is a natural soother. It reduces redness and after-effects of shaving or waxing.
How to Use: It's simple.
Just apply and gently rub the aloe vera gel on the waxed or the shaved skin.
Let it soothe your skin for relief.
Guess what?
You can also freeze the aloe vera gel, and use the gel cubes on the affected skin to get instant relief.
[sc:mediad]
9. Lip gloss:
Okay, agreed, matte lipsticks are a rage. But you can convert the matte lipstick into a 'glossy' one, thanks to aloe vera gel.
How to Use:
Put your fav. matte colour on your lips.
Then apply a tad bit of aloe vera gel on your lips using your finger.
This gives your matte lips a SHEER and SHINY look.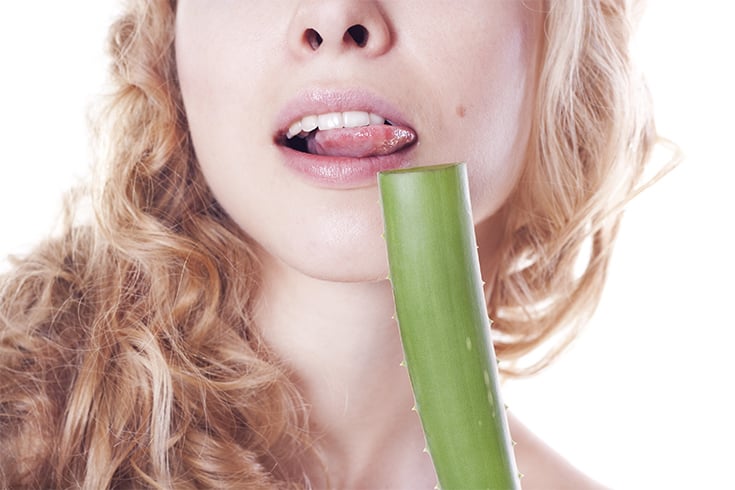 Btw, you can also apply aloe vera gel on your lips to fight skin pigmentation and hydrate lips.
10. Scrub:
Well, AVG is a good add-on to scrubs. It moisturizes dry skin. So in your next exfoliation, include Patanjali Aloe Vera Gel in your scrub.
How to Use: No hefty prep. time required.
Just add the aloe vera gel to your homemade scrub or a ready-made OTC one.
This ensures there is no-stripping of essential oils for your skin.
11. Night Cream:
For night-creamers, aloe vera gel of Patanjali gets you glowing and replenished skin next morning. That's because Patanjali AVG works on your skin overnight when you are busy dreaming and sleeping.
How to Use:
Dab your hands with this gel and leave it on your skin.
Get up next morning with a beautiful face.
12. Face Wash:
Run out of your face wash? Don't pick the soap. Instead, use Patanjali Aloe Vera Gel.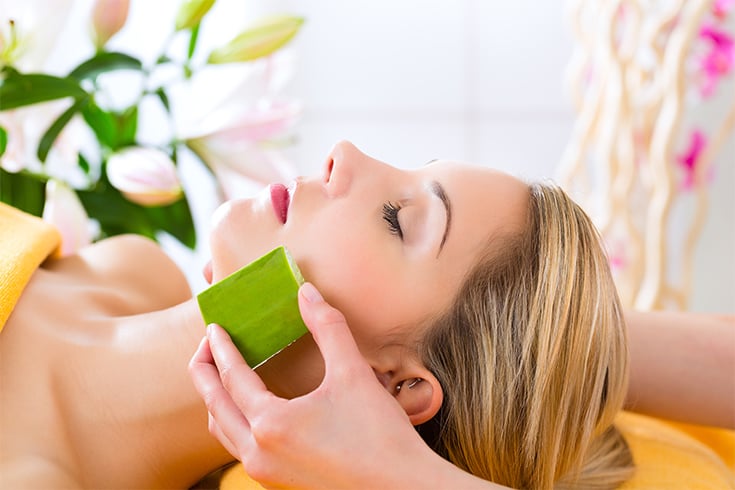 How to Use: Simple and easy DIY this is.
Use Aloe Vera Gel as your regular face wash.
First wet your face a bit, then apply the AGV and wash it off.
You gonna love it!
13. Hair Gel:
Style your locks naturally by going with Patanjali AGV. Pick the tube of this hair styling gel, massage it on your hair and see how you get back to soft-n-shiny tresses.
How to Use:
Dab your palm with the AGV, rub it a bit and style your hair.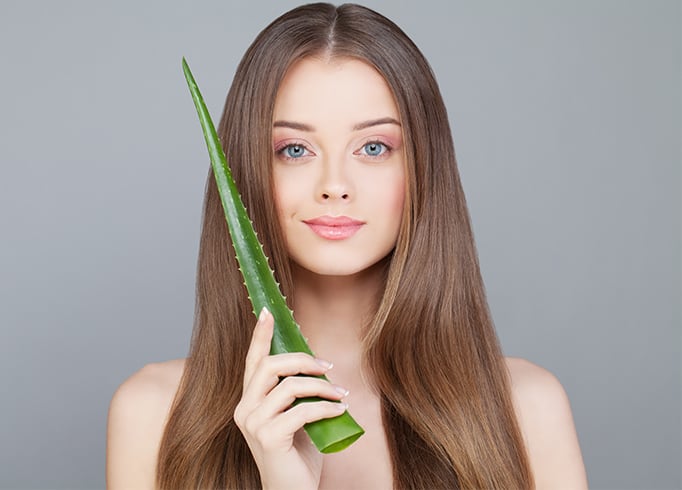 14. BB Cream:
News of the day! You can use aloe vera gel as a natural primer and a BB cream too. Whoa!
How to Use:
Mix some of your foundation with this aloe vera gel.
Now apply it on your face.
Your homemade BB cream is ready.
15. Works best for sensitive skin:
Is your skin sensitive to getting marks or spots? A pea-sized application of this aloe vera gel will bring relief and deliver results.
16. Vitamin E included:
Have dry skin? Mix this aloe vera gel and Vit E oil, apply it on the face, leave it overnight and see your face next morning look glowing as ever.
17. Makeup Remover:
Did you know coconut oil is a great makeup remover? And it's natural. Same thing applies to aloe vera (in our case, Patanjali Aloe Vera Gel)
How to Use:
Mix aloe vera gel of Patanjali with some glycerin.
Apply on face and leave it on for a while
Wipe off with a cotton ball
This combo will remove makeup like a PRO! Unbelievable, right? Test it out today!
18. Eyebrow Gel:
Through with the shaping and sculpting of your eyebrows? Now it's time for them to stay in place.
How to Use:
Put a tiny blob of aloe vera gel on your finger tip.
Now seal your eyebrows with this gel on your finger or take a flat makeup brush.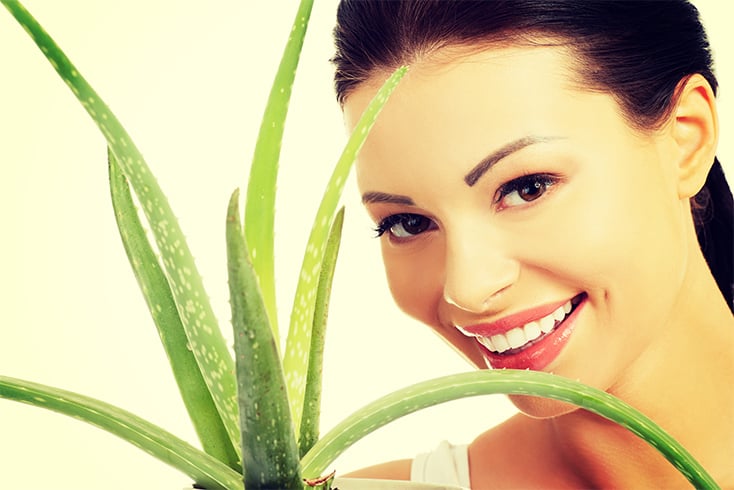 Does Patanjali AVG have any side effects? Let's find out.
Patanjali Aloe Vera Gel Side Effects:
We have just read the fantastic features and benefits of Patanjali AGV. But after all, it's a beauty product. So let's be in-the-know if Patanjali AGV has anything 'un-natural' in it:
The Gel has Preservatives
Does not give enough nourishment to dry skin
Burning or stinging sensation (in case of extremely sensitive skin)
This means it's not a 100% herbal product.
But, looking at its features, benefits and easy-on-pocket pricing, one can (and one should) ignore these minor points.
Precaution for Using Patanjali Aloe Vera Gel:
It makes sense to "test" out a small quantity of this gel on the skin. This will help to know if it has any harmful results.
Also, before you start to use this gel, go through the list of ingredients mentioned on the packaging. This is to make sure whether you are allergic/not allergic to any of them.
Tips for Patanjali Aloe Vera Gel:
Who minds knowing the tips? Here are some in case of Patanjali AGV:
Keep it out of reach of kids
Before you use, keep in mind that there shouldn't be any cuts or openings on the baby skin.
Final Words about Patanjali Aloe Vera Gel:
To sum it up, this is one product you must keep in your house. So that you can easily treat a wide variety of skin and hair problems, kitchen burns and other injuries without wasting time.
There might be dozens of Aloe vera gels in the market, but full marks to Patanjali Aloe Vera Gel for its purity and effectiveness.
Are you using Patanjali Aloe Vera Gel or plan to? What has been your experience. Do write in and tell us.
Recommended Articles:
Patanjali Face Wash
Patanjali Hair Oils
Patanjali Amla Juice
Patanjali Best Product for Skin, Skin and More
Best Ayurvedic Shampoo in India
How to Use Aloe Vera Gel for Hair
Top Winter Hair Care Indian Products
Top Ayurvedic Skin Care Products
Glycerin On Face for Healthy Skin