We wake up everyday to a face wash. Patanjali face wash has become the new face of fresh and glowing skin, and also comes in various forms like mint, activated carbon etc. Each type has a different benefit and function, let's see what suits you.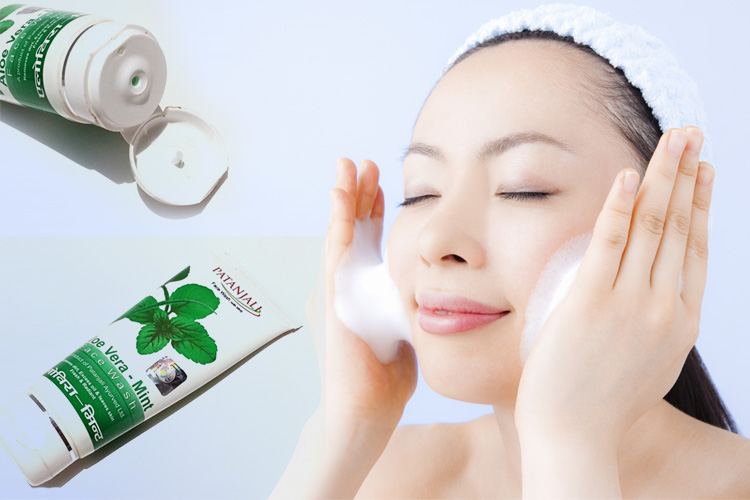 When Baba Ramdev first burst into the scene, everyone was amazed with his yoga prowess and the way he promised that yoga could change your life. He garnered tremendous support and there were hundreds of believers of the magic yoga man.
A few years ago, Baba Ramdev came with a range of products he called 'Patanjali'. From atta to toothpaste to face washes – almost anything and everything was available as Patanjali products. So how good are these products and should you be using them? This article will focus particularly on Patanjali face washes and whether they are actually good for you. Read on to know more.
Why Patanjali Face Wash?
Patanjali face washes are available in a number of different combinations- there's a rose one, a neem one, orange aloe vera, tulsi and even more.
Here is the List of Face Washes from Patanjali:
If you are looking to address certain skin issues, here are the best Patanjali face washes you should invest in:
1. Patanjali Aloe Vera Mint Face Wash:
Ingredients:
How to Use: Use daily before and after sleep to make your skin feel squeaky clean
Benefits:
If you have oily skin, it can help decrease the secretion of oil on your face
It has a mild fragrance and is not too overpowering
It is good for sensitive skin
Makes your skin radiant for a little while
Side Effects: The main side effect of this face wash is that it contains parabens (though in extremely minute quantities)
Price: Rs. 45 for 60gm
Review: Though this face wash claims to remove pimples, it does not work that well on pimples and even after three – four washes, users claimed that it did nothing to their zits. However, people have claimed that the face wash does reduce the oil secretion from the face and makes the face look a little radiant.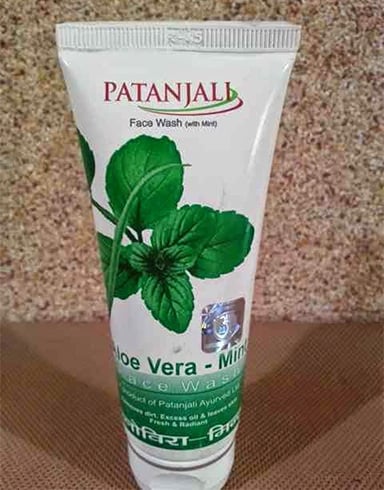 2. Patanjali Activated Carbon Facial Foam:
Ingredients:
How to Use: Take a bite size amount of the face wash and rub it on your slightly wet face. Lather and wash off
Benefits:
Keeps the face oil-less for a long time
Has a gentle cooling effect
Side Effects: People who have dry skin should avoid this face wash because it dries out the skin a lot and makes it very stretchy
Price: Rs. 60 for 60g
Review: It lathers and cleans the skin very well however for people with very dry skin, the face wash has a tendency to dry the skin further. It helps curb acne and is great for people who have sensitive skin. Since it is made from a lot of natural products, it does not harm the skin.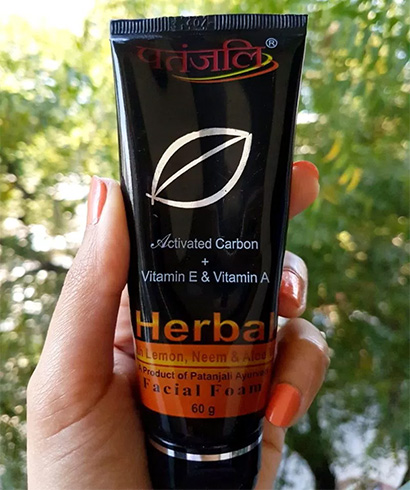 3. Patanjali Rose Face Wash:
Ingredients:
How to Use: Take a small amount of the face wash on your wet palm and gently lather on your face. Rinse with cold water
Benefits:
The product is very good for dry skin and helps to make it less stretchy
Mild cleanser and hence does not dry out the skin
Leaves skin smooth and refreshed
Side Effects: This product is one of Patanjali's gentlest products and hence there aren't any side effects at all. However, if you are not a fan of rose-smelling products, you might want to stay away from this because it smells strongly of rose.
Price: Rs. 60 for 60gm
Review: This product is a good one for people who love the smell of rose and have chronically dry skin. This does not lather too well, but works to clean the skin and leave it feeling soft and smooth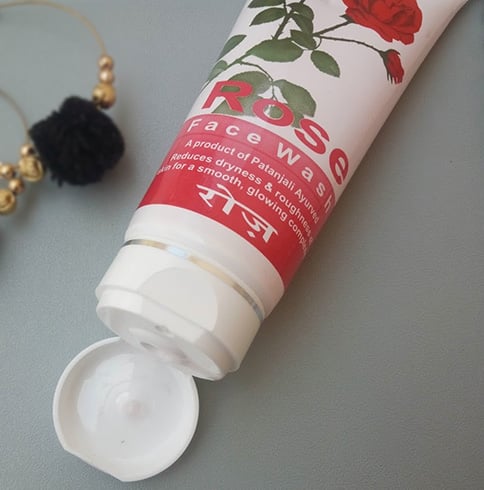 4. Patanjali Orange Aloe Vera Face Wash:
Ingredients:
How to Use: Simply use a little bit of product and rub it generously on your face till it lathers. Rinse off with cool water and pat dry
Benefits:
It lathers very well and has a smooth and creamy consistency
It is very good to clean the skin
Does not make the skin dry
Fights pimples and acne-causing bacteria
Side Effects: For people who have extremely dry skin, this product may however tend to dry the skin further. Avoid this face wash if you already have dry skin
Price: Rs. 45 for 60g
Review: If you want squeaky clean skin with a mild and fresh fragrance, this is the face wash for you. Most users have loved the mild-smelling and creamy face wash that leaves skin glowing for several days. It is also a great face wash to wipe off dirt and grime on your face without being too harsh on your skin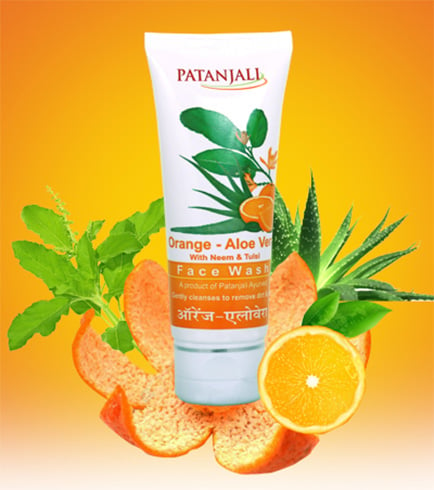 5. Patanjali Neem-Tulsi Face Wash:
Ingredients:
How to Use: use a small amount of the face wash on wet skin and rub it for about one minute. Lather and rinse with cool water.
Benefits:
The non-drying and pleasant smelling face wash is a great way to clean your face
It is an Ayurvedic product and works well for people with highly sensitive skin
Side Effects: Though there are no prominent side effects of this product, it can sometimes not suit people with very sensitive skin
Price: Rs. 45 for 60gm
Review: A great product with neem and tulsi extracts which help to clean the grime off the skin. The product also provides a glow to your skin without drying it out excessively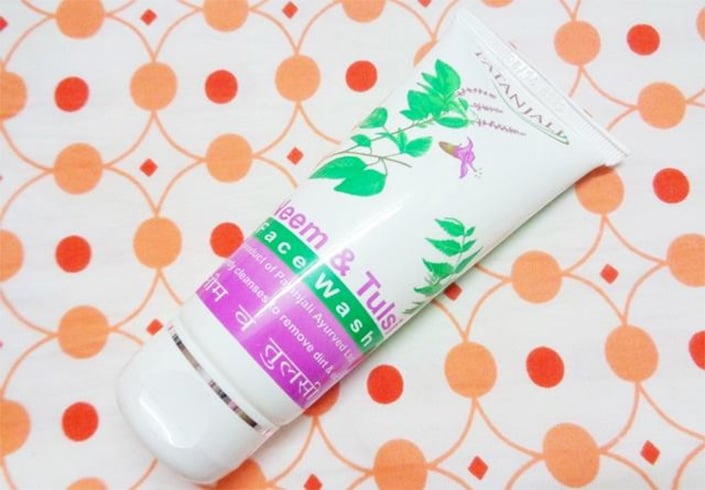 6. Patanjali Saundrya Face Wash:
Ingredients:
Diazolidinyl Urea and IPBC
Permitted colour and perfume
How to Use: Use a small quantity on your palms and lather your face. Wash off with cool water
[sc:mediad]
Benefits:
The face wash lathers very well and cleans the face thoroughly
Mild citrus smell that lingers on after sometime
There is also a glow to your face after the product is used
Side Effects: It can sometimes make dry skin even dryer
Price: Rs. 60 for 60g
Review: The face wash is supposed to act on your acne and reduce the oil secretion, however many users have said that it doesn't really act on these two factors. The face wash however works very well to clean your skin and leave it with a mild fragrance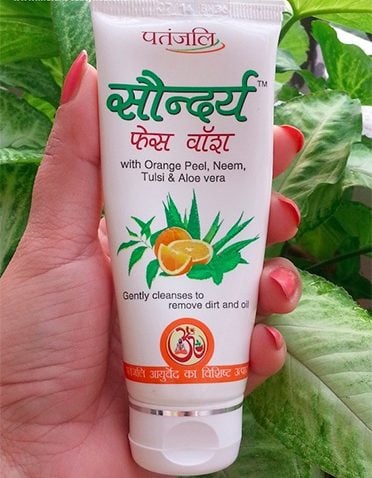 7. Patanjali Lemon Honey Face Wash:
Ingredients:
How to Use: Squeeze a little bit of the face wash on your wet palms and massage for one minute on your skin. Wash off with cool water
Benefits:
The extracts in the face wash claim to fight pimples and do not cause your skin to break out
It keeps your skin smooth
Side Effects: Though it claims to be okay for use by people with dry skin, it does tend to soak up all the moisture from the skin, thus making it even drier
Price: Rs. 45 for 60g
Review: For people with normal and oily skin, this face wash works great to remove the extra sebum and oil. It leaves your skin feeling fresh and lemony and also prevents your skin from breaking out. However, it shouldn't be used by people with very dry skin because it makes the skin even drier.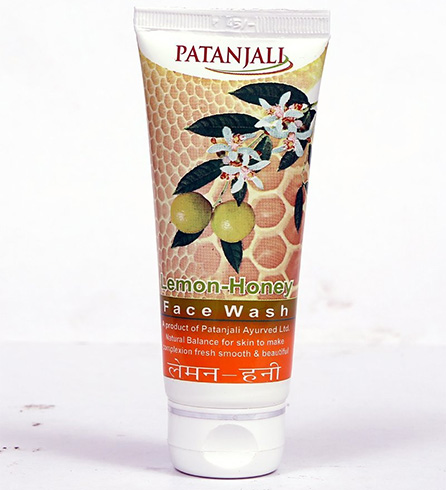 8. Patanjali Orange Honey Face Wash:
Ingredients:
Neem and turmeric extracts
How to Use: Use a small quantity and massage thoroughly on your skin till it lathers. Wash off with cold water and pat dry. Apply moisturizer post the wash
Benefits:
Makes skin radiant and clean
Reduces acne with regular use
Does not make skin too dry
Side Effects: Its claim to reduce oil secretion does not fall through and your skin still looks oily
Price: Rs. 45 for 60g
Review: The face wash is a favourite with many users who love the fresh smell of oranges on their face and also the fact that it cleans your face thoroughly without making it too dry. It however does not work well on oil secretion. It will control acne to a large extent and help you look radiant after just a few washes.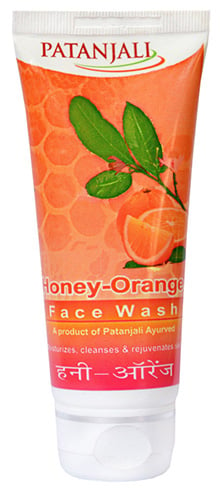 Precautions for Using Patanjali Face Wash
Now that we have mentioned all the great ways you can use the different Patanjali face washes, please make sure you follow these precautions for best use:
Not all Patanjali face washes will do as they claim. Make sure you use the one that is suited for your skin
Extracts and ingredients like lemon will dry your skin, so if you have dry skin, avoid the face wash with that ingredient
Always check for the expiry dates. Some of the popular face washes are not available and are out of stock and you might end up picking up an old product which will not be as effective
Always buy Patanjali face washes from authorized stores to prevent buying spurious items
Tips for Patanjali Face Wash
Patanjali face washes are great because they are made of natural and herbal products which make them very mild and are great for the skin. The less number of chemicals make it a great product for people who have sensitive skin. Whenever using these face washes, keep these points in mind:
Make sure you read the instructions in the face wash packets
Always use a face wash that is for your skin type- each product will have it mentioned so choose carefully
Follow the steps mentioned in the face wash for best results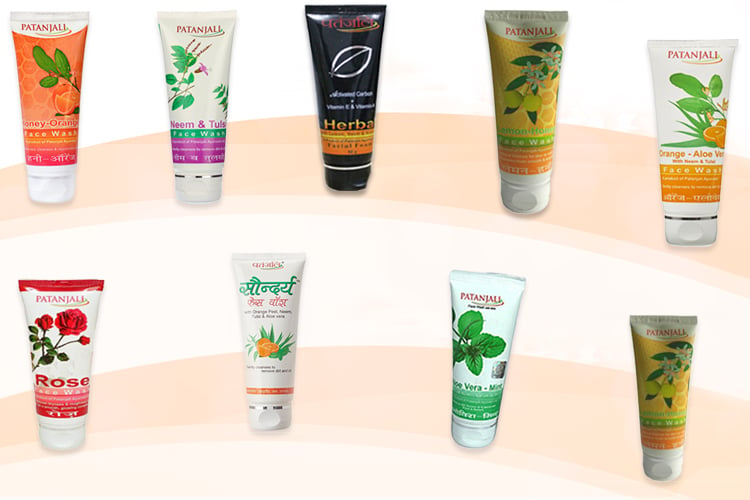 Final Words about Patanjali Face Wash
In short, Patanjali face washes are cheap and very good natural products for those of you who want to steer clear of chemicals. Some of the face washes are also easily available in the market and thus makes them very fast sellers. If you are looking for natural and mild products, Patanjali face washes are a great deal for you, plus they last long too!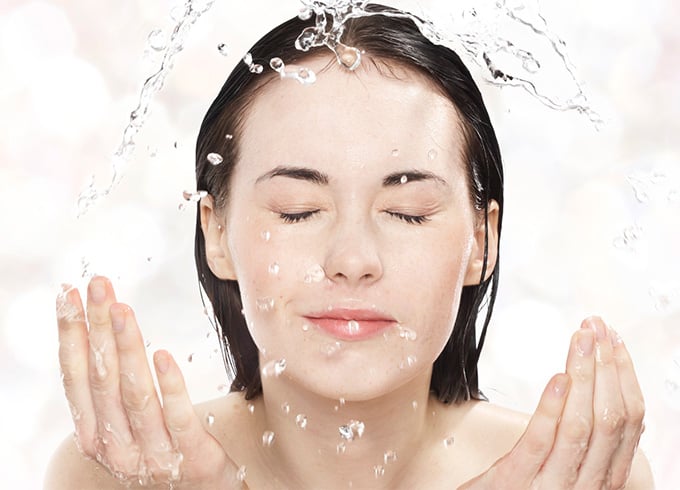 [Also Read: Patanjali Aloe Vera Gel- Review, Benefits And Uses]
Recommended Articles:
Patanjali Aloe Vera Gel
Patanjali Hair Oils
Patanjali Amla Juice
Patanjali Best Product for Skin, Skin and More
Best Ayurvedic Shampoo in India
How to Use Aloe Vera Gel for Hair
Top Winter Hair Care Indian Products
Top Ayurvedic Skin Care Products
Glycerin On Face for Healthy Skin