A good face scrub is an important product of any skincare routine. Done weekly, it will help keep your skin soft, bright, and plump-looking as possible. It is essential for all skin types, including oily skin. And it turns out that cleansing is not good enough for oily skin as it is prone to acne, pores, and ageing signs. Since it gets overwhelming to browse through the countless number of scrub products out there, we've cut down the work for you. Below we've rounded up a complete list of best scrub for oily skin, available in India. The detailed description will help you choose the perfect product for your face.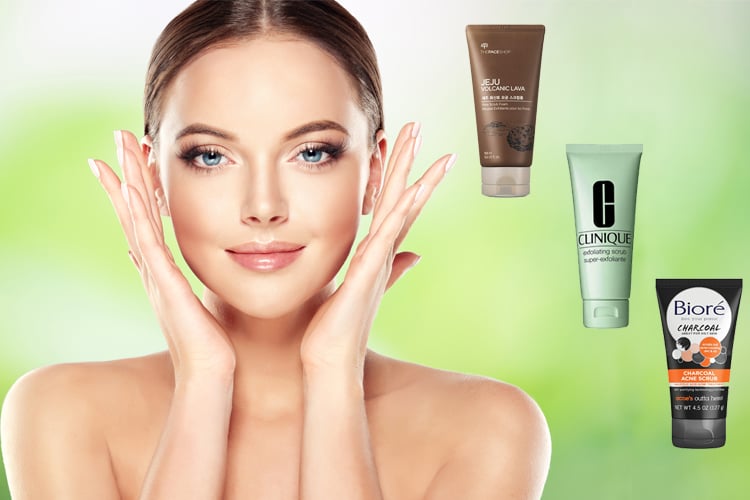 Try Any One of These Face Scrubs for your Skin and Budget:
Keep scrolling to select the best scrub suited to your concerns:
1. Clinique Exfoliating Scrub:
Many users love this scrub for its refreshing, tingly feeling, and the fact that it clears the way for soft skin. You may ideally use this exfoliating scrub once or twice a week. A little goes a long way for this product. The particles are tiny but you will totally get that exfoliating feel.
2. Biore Charcoal Acne Scrub:
Are you looking for an acne scrub that is better than outstanding? Well then you'll love this product as it prepares your skin to follow-up with other treatments. It has salicylic acid which helps in reducing acne breakouts, while the other ingredients in the formula unclog pores and leave skin moisturized.
3. Lacto Calamine Oil Balance Face Scrub:
Another popular face scrub product is the one by Lacto Calamine because it balances your skin's oil production. It is gentle on the skin yet has a lot of exfoliating power, thanks to the presence of ingredients like kaolin, glycerin, and neem that works wonder to balance excess oil, prevent acne, and excessive skin drying.
4. St. Ives Fresh Skin Apricot Scrub:
This drugstore product makes into our list of best scrub for oily skin because of its effectiveness in sloughing off dead skin cells. The small beaded kernels deep cleanse pores and prepare the skin to absorb other product better and boost their effectiveness. Many users admit loving the exfoliating power of this apricot scrub.
5. Kate Somerville ExfoliKate Intensive Exfoliating Treatment:
Though the price of this exfoliating scrub is on the higher side, it remains a popular choice for many. This treatment lives up to expectations and deeply cleanses skin. It serves as a blank canvas and increases the effectiveness of other skin care products. The nice herbal fragrance is an added advantage.
6. mCaffeine Naked & Raw Coffee Face Scrub:
This product is one of Amazon's most highly rated facial scrub and for good reasons. Coffee is the super powder ingredient present in the product which besides smelling luxurious boosts collagen production and reduces cellulite. Your skin will definitely be softer after using it twice in a week.
7. The Faceshop Jeju Volcanic Lava Scrub Foam:
Another much-loved product on Amazon is the Faceshop Jeju Volcanic Lave Scrub which offers instant results. It smells divine and leaves skin buttery-smooth. Just a small amount of the scrub will leave skin soft, purify pores, reduce blackheads, and minimizes pores.
8. Aroma Magic Mineral Glow Scrub:
If you have naturally oily skin, it's understandable to be hesitant to try a new scrub. However this little tube of joy by Aroma Magic is perfect for skin that is oily and acne prone. Formulated with natural ingredients to gently exfoliate, the non-irritant scrub will leave skin tingly clean and glowing when used weekly.
9. Neutrogena Deep Clean Blackhead Eliminating Daily Scrub:
If you're after immediate results, this daily scrub is considered to be a miracle product. You may use it once or twice a week to see the changes in your skin. A sight tingling feeling may be caused in the first few seconds, but you'll be left with fresh skin.

10. Khadi Mauri Herbal Charcoal Face Scrub:
This product doesn't compromise when it guarantees brighter, clearer skin. Small amount of the charcoal infused scrub will slough off the dead skin cells, while adding intense nourishment. All in all-this face scrub by Khadi delivers in spades.
If transparency and good quality products are your lookout, then our selection above will be suitable. The results will be quite pleasant as you'll be left with baby, smooth skin.