When we think about facial cleansers, we usually think of gel or foamy face washes that come in plastic dispensers. But do you know there is an alternate face washing formula in the form of bar soaps that are just as effective? These products are underrated but worth a try for various reasons. They're environmentally friendly, more affordable, and easier to carry on flights without worrying about TSA liquid guidelines.
Similar to any other cleanser, different ingredients work great to address different skin problems. For instance, if you have oily skin types then you need to pick a soap that has ingredients to balance excessive oil. As long as you are self-aware about your skin you can pick the right bar soap or you can simply have a look at our pick of best soaps for oily skin below to make your search easier.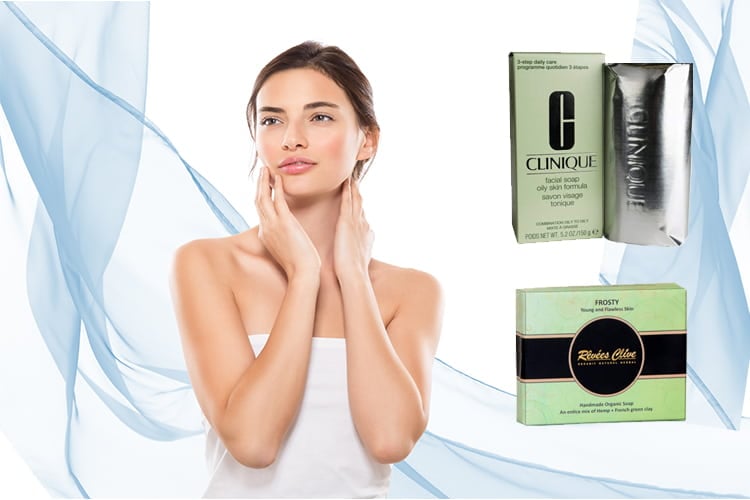 The Best Soaps for your Face:
Keep reading to find the right soaps that suit your oily skin:
1. Mirah Belle, Goat Milk Grapefruit Cleansing Soap:
Mirah Belle's range of natural cleansing soaps gives the gentlest purifying experiences. One particular bar soap for folks with oily, pigmented skin are the Goat Milk Grapefruit cleansing soap. The bar is 100% organic with zero chemicals but at the same time gives your skin a non-abrasive deep clean. The ingredients like goat milk, grapefruit, and citrus oils help deeply cleanse skin, unclog skin pores, boost microcirculation, brighten complexion, balance skin oil production and fight off infection.
2. Clinique, Facial Soap Oily Skin Formula:
There is a lot to rave about Clinique Facial Soap formula. This hand-milled soap is a super effective treatment for oily skin. It gently cleanses, and rinse off easily. The ingredients work to balance skin's natural moisture balance without leaving a taut feeling.
3. Curie, Rose Water and Glycerine Soap:
Cute packaging, pleasant fragrance, and highly moisturizing-the Curie Rose Water and Glycerin soap is a good choice. The brand makes bars in various designs and scents, but the best one for oily skin is the rose water and glycerin soap. It's a wonderfully natural way to cleanse skin and maintain skin pH levels. You'll be left with a moisturized finish, which is rare coming from a bar soap.
4. Tjori, Pulpy Papaya Facial Soap:
Tjori range of organic beauty products are a cult success, but this facial handmade soap version, especially made for oily skin type is worthy of mention. The infusion of pure natural papaya puree strikes the perfect balance for deeply cleansing skin, detoxifying, and balancing excess sebum production.
5. Khadi Natural, Jasmine Soap:
Having an oily skin may make your skin prone to acne blemishes and scar. No matter what the issue is, this blemish-busting jasmine soap from Khadi Natural is the solution. The star ingredient is of course the infusion of jasmine, one of the most therapeutic properties out there, known for its ability to heal skin blemishes. True to its name, the bar soap has a floral scent but it does more than just smell great. It's also great for promoting weight and soothing body.
6. Kama Ayurveda, Sugar and Tamarind Deep Cleansing Soap:
Another popular product for oily skin types is the sugar and tamarind cleansing soap by Kama Ayurveda. We highly appreciate this product because they're free from potentially harmful detergents and don't leave behind residue. They work thanks to pure tamarind extracts that whisk off excessive oiliness and refines pores, raw sugarcane extract which stimulate blood circulation, soap nut which lifts off dirt, and natural beeswax that keep skin moisturized.
7. Rêvées Clive, Frosty Hemp and French Green clay Handmade Organic Soap:
This particular option from Rêvées Clive is especially beneficial for oily skin since it has added benefits that leave your skin feeling squeaky clean, but hydrated at the same time. The organic soap combines rare mineral composition of hemp and French green clay to reduce pore size, renew skin cells, and reveal a flawless skin in one easy step.
8. Naturalis Handmade Soap with Natural Ylang Ylang Essential Oil:
We recommend cleansing with Ylang Ylang essential oil soap from Naturalis brand if you're dealing with excessive oil. This handmade bar work well for oily skin as they help dissolve oil from the skin's surface. The foamy texture leaves a silky feeling on the skin and its gentle ingredients like ylang ylang essential oil and organic rosemary essential oil tone the skin and diminish dark spots.
9. Just a Soap, Nature's Way Activated Charcoal & Lemon Goat Milk Soap Bar:
Reasons to love this multi-tasker: a great list of natural ingredients that sop up excess oil, limit shine and more. Think purifying goat milk, oil-absorbing activated charcoal, coupled with skin brightening lemon properties. With this one, you can get a gentle, yet effective cleanse while your skin is restored back to its balance.
10. TNW, the Natural Wash Handmade Potato Rice Soap:
This budget friendly natural foaming soap whisks off impurities and excess sebum leaving you with a clean, refreshed skin. Also nice: it helps in skin whitening and de-pigmentation.
These soaps will offer your skin the deep cleansing it needs without stripping off extra moisture. So make the right pick and prepare to see the positive changes.