TBH we put our hair through a lot of damage almost daily. From heat to color to highlights, to a number of product chemicals, we just don't stop. This is the reason why your hair needs that TLC to boost hair quality. Of course, there are a countless number of products that are popping up on store shelves and online every day, each promising to tackle hair problems. However not every product has all the answers to your woes unlike an olive oil.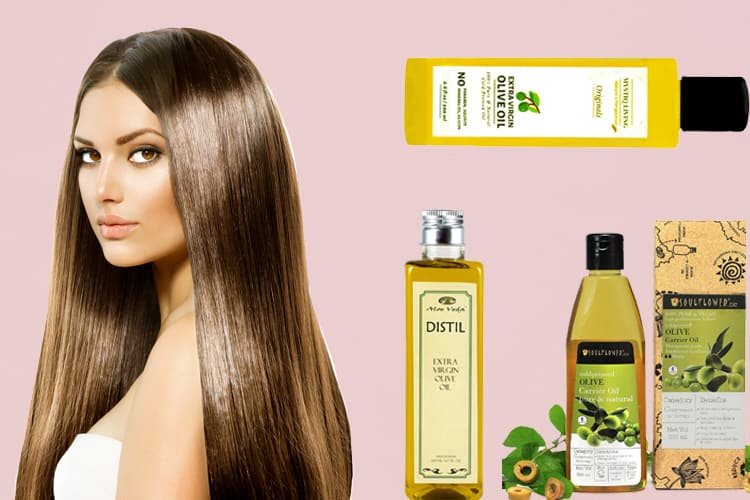 This natural solution is high in antioxidants and is suitable for all hair types. Applying a small amount of the oil onto hair and scalp can provide that boost of moisture and add luster. Below, we have rounded up a list of the best olive oil for hair.
The Best Olive Oil Brands That Can Change your Hair Care Routine Forever:
Scroll ahead to know more:
1. Khadi Natural Olive Oil:
If your hair is seriously damaged, then the natural extracts of olive complex can work to fortify brittle tresses by adding a surge of moisture. It will also boost a serious shine to the hair. The Khadi natural olive oil is a good formula to try. It has a mild scent and transforms dull, thirsty hair. This is the ultimate hair solution for dry, thick, or coarse hair. Massage the oil onto hair. Leave on for an hour and rinse off with shampoo. Your hair will be instantly revived and glossy.
2. Noor Secrets Pure Olive Oil:
Thanks to its antioxidant agents, the olive oil is considered to be a wonderful ingredient in the beauty world. And this hair oil by Noor Secrets is loaded with it. The olive oil from this brand protects hair from dryness and works as deep conditioner. Even though the product is designed for skin, a small amount of this oil will work even on hair.
3. Soulflower Cold Pressed Olive Oil:
Those obsessed with heat styling every day; use the oil as a deep heat protectant treatment to impart shine and smoothness. We recommend smoothing a few drops of the oil onto your sorry strands. This product can also treat other hair concerns like dandruff and dry scalp. The pretty packaging is another reason why users highly vouch this one.
4. Mystiq Living – Extra Virgin Olive Oil:
Mystiq Living luxurious olive oil transforms dull, damaged hair. Those looking for the ultimate product for a lack luster look without a greasy finish can turn to this lightweight oil by Mystiq Living. The extra virgin olive oil helps treats rough ends, while adding glossy finish to your hair.
5. Aloe Veda Extra Virgin Olive Oil:
Beating frizz and treating any hair type including fine, coarse, and silky. We especially recommend this hair oil for its lightweight texture-it's more like a hair conditioning oil, which makes it perfect for those with dry hair. You can apply this hair on dry hair to hide fried ends. Leave on for one hour and rinse off.
6. Pure Rus Cold Pressed Organic Olive Oil:
This cold pressed organic olive oil is highly recommended for any hair type that needs a boost of moisture. This oil will not only add shine but also decrease frizz allowing you to smoothly run your fingers through your strands.
7. Morpheme Remedies Organic Extra Virgin Cold Pressed Olive Oil:
If you're stuck on the notion that olive oil can work only as a skin treatment option, then opt for this amazing version from Morpheme Remedies. It is light enough and won't weigh down the hair, and act as a deep conditioner. If your hair is prone to breakage and dandruff, this hair oil is just what it needs. Results show that it strengthens hair while promoting hair growth.
8. Nature's Tattva Pure Olive Oil:
If you're not a fan of chemicals in your hair products, this pure oil by Nature's Tattva works to smooth and soften tresses through the use of finest olives. The hydrating oil is light enough to smooth on, treat dandruff, and add moisture without weighing it down.
9. Nature's Absolutes Olive Oil:
For the ladies with under-nourished hair, this olive oil by Nature's Absolute is your new Godsend. The lightweight oil makes it good to use, and doesn't weigh hair down. This is a serious formula which is high in antioxidants. It has a mild fragrance and keeps hair protected.
10. Green & Brown Extra Virgin Olive Oil:
Opting for this amazing version of extra virgin olive oil by Green & Brown brand will be a good idea especially if your hair is prone to breakage. The oil does not weigh down hair and is usable on split ends, dry scalp as a deep conditioner.
These are the highest quality of olive oils that you can buy. We hope your search ends here. If you wish to read on more such beauty reviews, then write in to us in the comment section below.