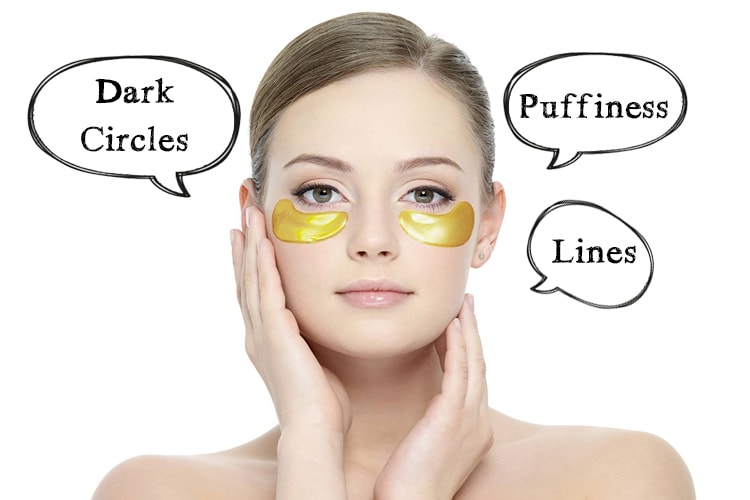 The area around your eyes is extremely sensitive. If ignored, it can become dry, puffy, dark, and also make you older than your age. But using an eye mask can provide an instant boost of hydration and cooling effect. While you may be using a good eye cream, you may also feel the need for an eye mask too. An eye cream is a daily maintenance product to maintain and protect skin throughout the day. On the other side, an eye mask is like a booster and provides instant hydration.
You may consider the eye mask as a solution to make sure that your skin doesn't suffer. Ahead is our favorite picks for the best under eye masks for dark circles, lines, and puffiness throughout the year and even beyond.
1. Klorane Smoothing and Relaxing Patches
The cornflower, arnica, and chamomile extract present in these blue gel masks works its magic in 20 minutes. It reduces puffiness before bedtime. You can try storing these eye patches in the fridge for extra touches of chill to kick start your day.
Benefits:
Calm and soften skin around eyes with soothing cornflower ingredient.
Refreshes, hydrate, and brighten eye area.
Reduce puffiness and visibly smoothen fine lines.
How to use:
Apply the eye masks under eye area.
Use these patches for seven days.
Place these eye patches in the refrigerator for longer use.
Note:
Do not use these eye patches if you are sensitive to adhesive bandages. In case of irritation, rinse off using cold water.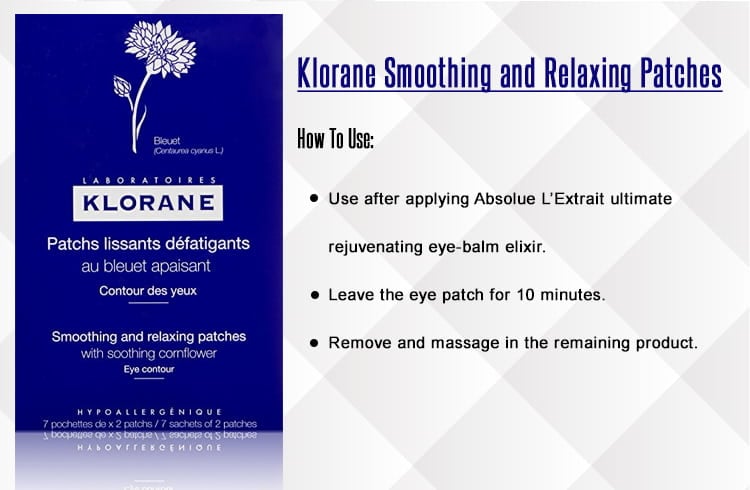 2. Lancôme Absolue L'Extrait Ultime Eye Patch
The Absolute L'Extrait Ultimate Eye Patch designed by Lancôme is an eye mask that immediately smoothens, re-plumps and adds skin radiance under eye area. After use, the eye area looks brighter and well-rested.
Benefits:
Instant smoothing, re-plumping, and radiance.
Instance result after one application for 10 minutes.
How to use:
Use after applying Absolue L'Extrait ultimate rejuvenating eye-balm elixir.
Leave the eye patch for 10 minutes.
Remove and massage in the remaining product.
Note:
The eye patches leaves the skin feeling fresh. When used together with Elixir eye balm, it provides visible results.
3. Yes to Cucumbers, 2-Step Single Use Eye Kit
Yes to Cucumber 2 step Mask is easy on the eyes with the soothing ingredients like cucumber, caffeine, and evodia fruit. It treats dark circles and puffiness.
Benefits:
Step 1 features two paper eye masks to decrease puffiness and smoothen delicate skin around the eyes.
Step 2 is an eye treatment cream to decrease dark circles and brighten eye area.
How to use:
Place eye masks under the eye area.
Relax for 10 minutes and then remove.
Dab a small amount of eye treatment cream around eye area.
Note:
After a late night, you can dab on these eye masks for best results.
4. Estee Lauder Advanced Night Repair Concentrated Recovery Eye Mask
You can rejuvenate your eyes after all the stress, lack of sleep and pollution. This eye mask is infused with advanced night repair technology and for delivering hydration. The repairing ingredients help in treating fine, dry lines, for a refreshed look in 10 minutes.
Benefits:
Suitable for oily, normal, combination, and dry skin.
Treats fine lines and wrinkles.
How to use:
Apply on cleansed face once a week at night.
Press liquid chamber to break the seal.
Then release formula onto pads. Massage gently to ensure pads are fully soaked.
Tear open the packet and separate the pads.
Apply one under each eye.
Leave on for 10 minutes. Remove pads. Gently pad in remaining serum.
Note:
Follow up with your favorite eye cream, whenever desired.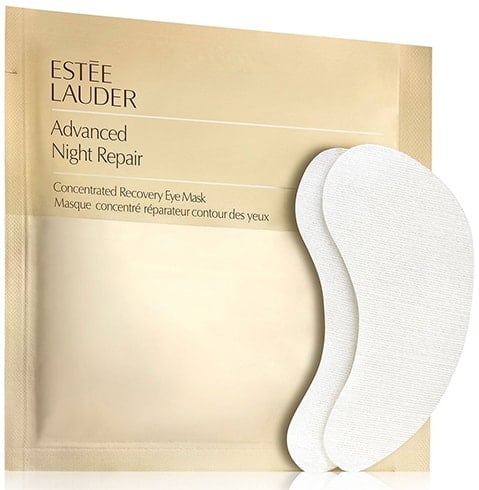 5. Elemis Pro-Collagen Hydra-Gel Eye Masks
Elemis Pro-Collagen Hydra-Gel Eye Masks firm and tighten skin around delicate eye area for a youthful appearance within minutes. The panthenol and plankton extract keeps skin hydrated, softens lines, and wrinkles.
Benefits:
Treats ageing skin, puffiness, and dark circles
Ideal for mature skin, acne-prone skin, sensitive, normal, combination, dry, and oily skin.
Perfect eye masks for blackheads and fine lines.
How to use:
Tear open and remove one hydra-gel mask from the back sheet.
Gently press the gel masks sticky down under eye area.
Remove the second mask from the back sheet and place under the other eye area.
Avoid direct contact with eyes.
Note:
Rinse thoroughly with water.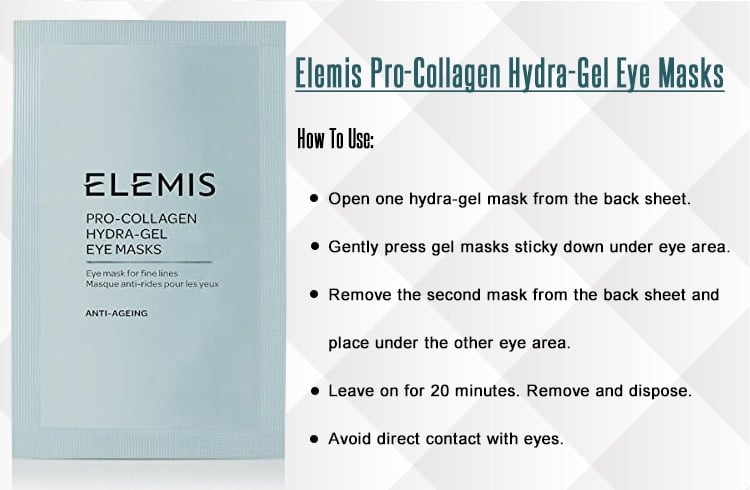 6. Dr. Hauschka Eye Revive
Eye Revive refreshes dull, tired, and puffy eyes. This soothing solution reduces the appearance of puffiness around eye area and comforts eyes effected by pollutants. Your eyes can instantly look refreshed and relaxed.
Benefits:
Extracts of fennel, chamomile, and black tea tone revitalizes eye area.
The soothing effect of the eye solution reduces puffiness around eye area.
Suitable for all skin conditions.
How to use:
Twist the top from one ampoule.
Thoroughly moisten a cosmetic pad.
Pull out the cosmetic pad and place over closed eyelids.
Allow the solution to work for ten minutes.
Note:
The eye solution is ophthalmologically tested and is suitable for contact lens wearers.
7. SK-II Signs Eye Mask
This is a moisturizing mask suitable for the eye area. It reduces dullness and fine lines around eyes. The ultra-soft cotton masks effectively reduce ageing signs around eye area. The appearance of fine lines is noticeably reduced and dullness around skin is visibly lightened.
Benefits:
Hydrates the skin of the eye area.
Temporarily reduces the appearance of wrinkles and puffiness.
How to use:
Place the mask with the film cover side up.
Leave it on for 10 minutes.
Use twice daily after cleansing.
Note:
The pack contains 14 pairs of eye sheet masks.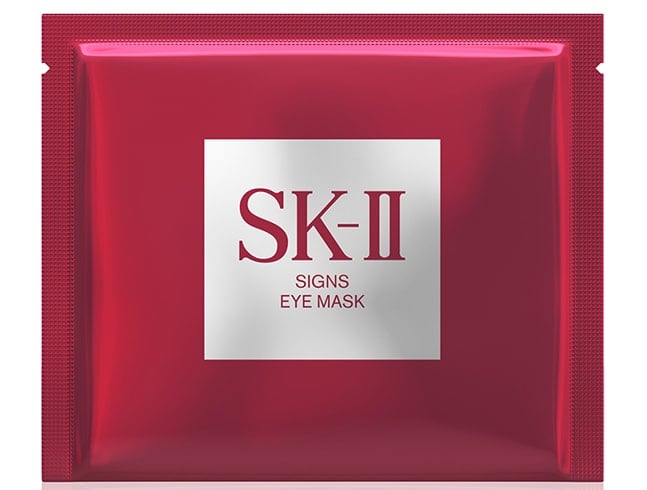 8. Soap and Glory Eyes Cool
This is the perfect eye masks for puffiness and tired eyes. The sleep masks available can soothe your eyes in an instant.
Benefits:
Cooling eye mask to soothe puffy eyes.
[sc:mediad]
How to use:
Wash your fabric masks with suds and rinse the gel.
Cool the gel insert in the fridge.
Pop it inside the fabric eye mask.
Place it around your head.
Note:
Simply pop out the gel inserts in the fridge and put it back inside the eye mask.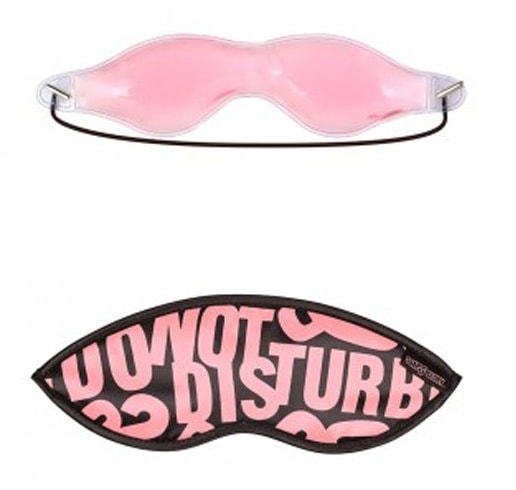 9. Clarins Eye Relief Beauty Flash
The instant reviving effect of this eye solution is formulated with rose water, lily, and white tea extracts. It soothes eye contour area and reduces fine lines. The appearance of dark circles decreases leaving your skin refreshed.
Benefits:
Refreshes, tighten, and brighten skin.
Hydrates delicate skin around eye contour.
How to use:
Apply twice a day before applying makeup.
Apply by lightly tapping over eye area.
Note:
This is a complementary beauty treatment that you should keep handy.
10. Hydro Cool Firming Eye Gels
This is a set of single use, disposable eye gel which features a cooling transdermal gel which infuses the eye area with cooling ingredients to soothe and de-puff eye area within 10 minutes.
Benefits:
Firm, de-puff, and reduce premature wrinkles.
Reduces the appearance of fine lines.
Improve blood flow and reduces dark circles.
How to use:
Use once a week whenever you require a quick fix.
Remove back film and apply gel side to under eye area for 10 minutes.
After treatment, gently remove away patch and dispose.
Note:
The product is free of petroleum, fragrance, dye, chemical sulfates, and mineral oil. They are dermatologist tested for sensitive skin.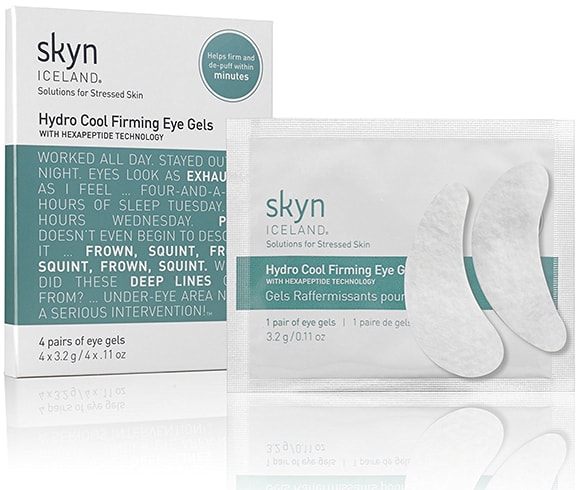 11. E.L.F Hydrogel under Eye Masks
These three sets of cooling eye gels cool and brighten tired eyes. It contains ingredients like seaweed and licorice, which are soothing for eyes.
Benefits:
Plump, moisturize, and soothe under eye area.
Refreshes under eye area.
Treats skin concerns like puffiness, dark circles, and dry skin.
How to use:
After cleansing, remove patch from its packet.
Place under eye for 10-15 minutes.
Discard patches after use.
Pat in any excess formula.
Note:
Use this eye treatment prior to makeup application.
12. Darphin, Eye Sorbet Mask
Darphin Eye Sorbet Mask instantly moisturizes eye contour area, prevents water loss, and soothe delicate eye area. It has amazing ingredients including Japanese green tea extract, cucumber, and watermelon.
Benefits:
Cooling texture for instant icy sensation.
Sensitive high tolerance formula.
Provides hydration and radiance to delicate eye area in 10 minutes.
How to use:
Apply eye mask twice or thrice a week by gently tapping over eye are.
Leave on for 5-10 minutes.
Remove excess using makeup remover.
Apply appropriate amount of eye contour care.
Note:
This is a patch-like-mask for maximum penetration of ingredients.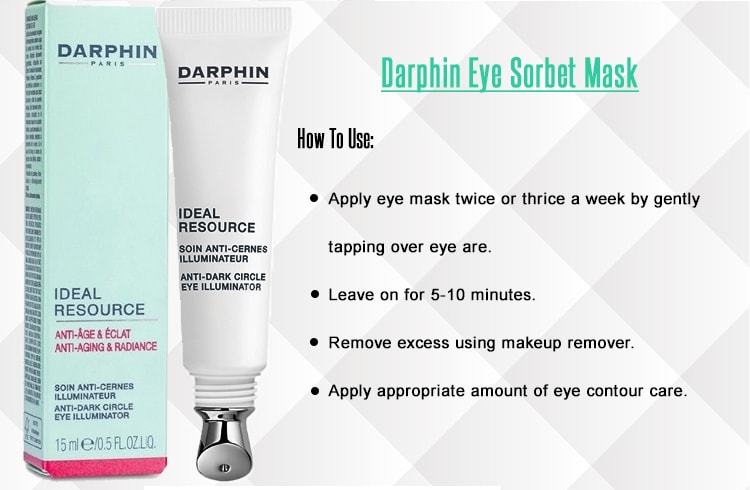 13. Chantecaille, Gold Energizing Eye Recovery Mask
This natural seaweed based mask is infused with a 24 karat gold serum. It is also packed with other ingredients which help re-plump and moisturize skin. The eye mask leaves the eye area looking smooth and radiant. The powerful botanicals works to treat puffiness, fine lines, and lighten the appearance of dark circles.
Benefits:
24 K Gold and silk have antioxidant and soothing properties.
It soothes and lightens appearance of dark circles with its blend of peptides.
Anti-puffiness complex reduces puffiness and promotes firm skin.
The plankton extract can create a smooth finish to instantly promote a more lifted appearance reducing the look of wrinkles.
Fights ageing process softening the appearance of fine lines.
Anti-wrinkle hexapeptide softens expression wrinkles.
Contains antioxidant properties to visibly lighten the appearance of dark circles.
Has moisturizing and film-forming properties.
Provitamin B5 restores skin moisture levels.
How to use:
Apply twice or thrice a week for instant and long lasting results.
Keep on the skin for 20 minutes.
Follow up with an eye cream.
Note:
Free of animal components, phthalates, sulphates, detergents, mineral oil, petrolatum, palm oil, synthetic colors, synthetic fragrances, and GMOs. No animal testing. No parabens.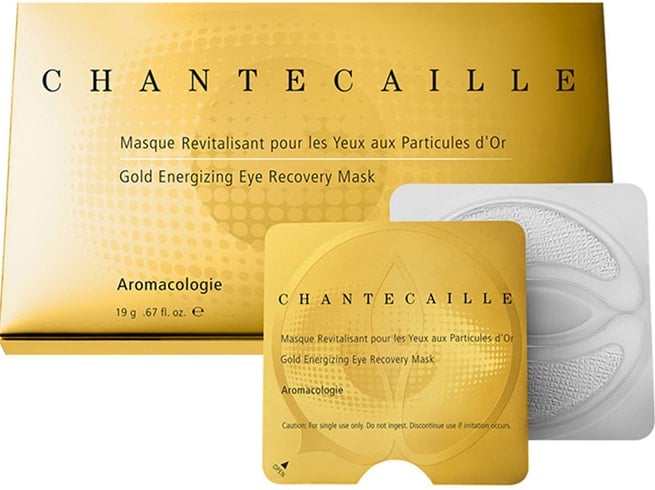 14. Origins No Puffery Eye Mask
This is a roll-on-under eye mask treatment to de-puff eyes. This cooling roll-on treatment with yeast extract can instantly de-puff and brighten dark circles. The Hoelen mushroom extract can calm skin to reduce visible redness, leaving eyes refreshed.
Benefits:
How to use:
Gently roll the eye treatment under each eye starting from the inner corners to outer corner twice a day.
Pat in using ring finger.
Note:
The product has been ophthalmologist tested.
15. Patchology FlashPatch Eye Gels
The jelly-like texture eye gel mask leaves a soothing sensation on the eye area. It contains caffeine to fight puffiness and promote circulation. This is a quick fix for tired eyes. These biodegradable eye gels are soothing and refreshing to instantly perk up eyes.
Benefits:
Caffeine- improves micro-circulation for brighten skin and to reduce puffiness.
Hydrolyzed collagen- improves skin hydration, elasticity, tone, and density.
Sodium Hyaluronate – Naturally binds moisture to the skin
Centella Asiatica – Encourages collagen synthesis while inhibiting skin inflammation
Portulaca Oleracea Extract – Brightens the under eye, rich in vitamin C and essential Omega 3 fatty acids
How to use:
Place one pair of gels onto clean, dry under-eye area for five minutes or longer if desired.
Massage remaining serum onto skin.
Note:
Use this makeup skin care regimen whenever desired to soothe, tired, and over-worked eyes.
These are few of the best under eye masks for dark circles. Hope you find the suitable one for your skin tone. Do write in to us with your feedback and experiences.