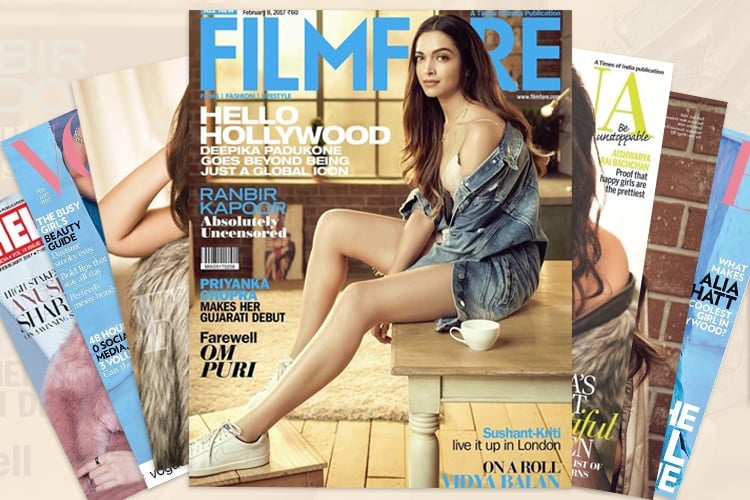 Magazines are women's best friends, especially during spa time and leisure time. And picking a magazine to read is often a herculean task. We have compiled the February Bollywood magazine covers and its details to make things a bit easier on you. Drown into the impressive and showy Bollywood magazine covers and make the most of the fashion exhibits.
Aishwarya Rai on Femina
With beach waves hairdo, and smokey green eyes setting a fire in the hearts of her adorers, was Aishwarya Rai on the cover of Femina, February 2017 edition. Looking sultry and steamy in a Dhruv Kapoor fur coat, she gave one of her best postures for the cover.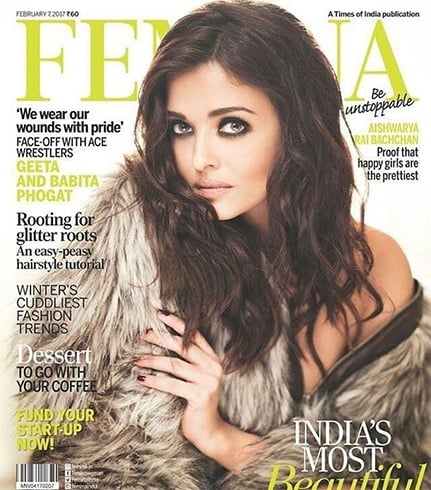 Marianna Mukuchyan, the hairstylist brushed her hair to give the most sensuous appeal. While we were expecting a stark red lip hue, Daniel Bauer, the makeup artist gave a neutral shade to her lips and her face details.
Hop on to melt your hearts with the diva's sensuous avatars-
As delirious as she was in Ae Dil Hai Mushkil, the ageless beauty got us high with her intoxicating looks in Antonios Couture dress overlapped by the fur and faux jacket from Dhruv Kapoor label. Amidst her beautiful aura, we can see her flaunting the Diamond Gallery solitaire ring.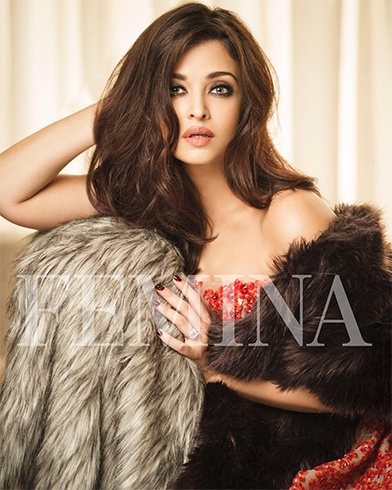 Elegant, wild and seductive was the diva in a Khosla Jani gown.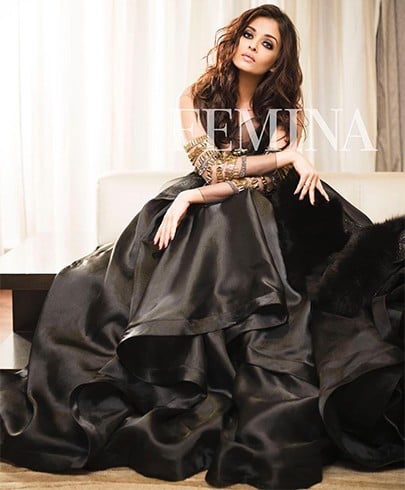 In Ferragamo separates, Zara jacket and Dior boots, the lovely lady stood tall and boss-like.
We must admit that Abhay Singh, the photographer arrested her beauty skilfully in his lens. Kudos to Aastha Sharma, the stylist who has delivered the beauty, Aishwarya Rai wrapped in exotic styles for the magazine.
Deepika Padukone on Filmfare
Filmfare has opted to cast the global icon, Deepika Padukone on their February edition and we simply love her looks. There is no denying that racing faster than the wind, Deepika is on the road to success. The busy-bee looked thoroughly relaxed and at peace on the cover. In an H&M shorts and a bralette, Zara denim jacket, she flaunted her toned muscles gallantly. Dancing on her fingers were pretty The Line rings.
Georgiou Gabriel, the hairstylist kept her hair non-frizzy, out of the way and neat. Daniel Bauer, the makeup artist gave her a bronzed finish with brown lips.
In comfortable, casual apparels, Deepika rounded her cover shoot for Filmfare. Want to know more? Read along –
L – Dreamy and glowing like a beacon, the diva stilled for one of the feature images. In an H&M tracksuit and a bralette, a lacy Calvin Klein bra, with elegant looking Swarovski and The Line necklaces, she was worth every stare. TBZ band rings found their way onto her slender fingers.
R – Slaying it royally in an H&M slip dress, she looked sexy. TBZ and Forever 21 were her choices for rings. Swarovski and The Line necklaces added charm to her alluring style.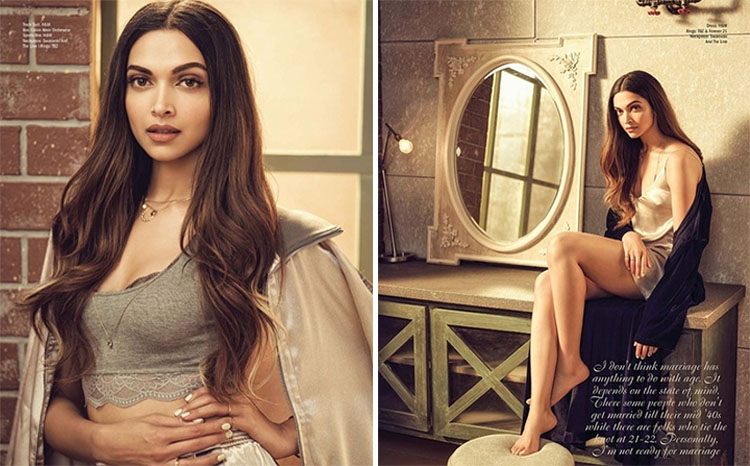 [sc:mediad]
L – She brandished her worth-dying-for figure in a Deme by Gabriella top and distressed tracks. Nike sports bra and shoes gave the look a workout vibe. She kept her accessories the same for this look with an addition of H&M hoops.
R – Lazed out on the floor, flaunting her toned abs, the diva made us cry out in delight with her killer look. Calvin Klein shorts and bra, Topshop denim and Zara shirt looked simply fantastic on the diva.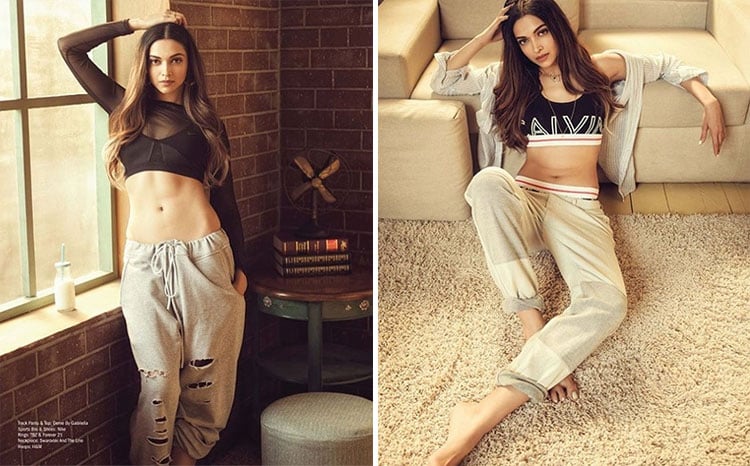 Shaleena Nathani, the stylist gave Deepika such captivating styles that it was too hard to look away. Love the work of Abhay Singh, the photographer!
Jacqueline Fernandez on Grazia
Grazia magazine for their February edition chose the face of Coach, Jacqueline Fernandez as their cover girl. She dressed up head to toe looking like a rockstar in the Coach Spring 2017 collection. Smokey silver eyes, a brunette shade ruffled hair rounded her rock band style.
Styling credits go to Ekta Rajani.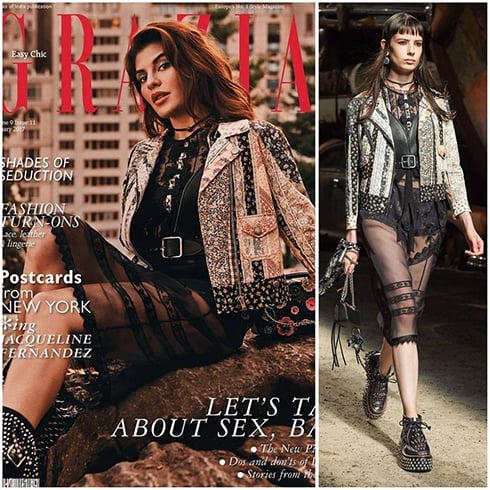 Anushka Sharma on Hello
Bagging all the fame and credits for spectacular performances in the year 2016, Anushka Sharma has won millions of hearts. The beauty graced the cover of Hello magazine for the February 2017 edition and the crowd went gaga over her sophisticated yet luscious looks.
For the cover image, the diva picked a Lulu & Sky white dress, to which she added onion pink faux fur jacket from H&M. Layering necklaces from Louis Vuitton, she rounded her upscale style. Sleek, gelled hair given by Georgiou Gabriel and makeup with a slight pinkish tinge given by Marianna Mukuchyan closed her beauty concept.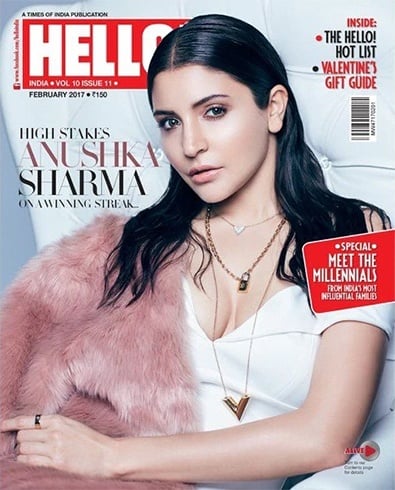 Richa Mehta lead by Sonam Poladia drained their creative thoughts and gave Anushka eye-catchy and impressive styles.
Skim through the photoshoot taken by Prasad Naik here with us-
L – Layering at its best was the diva in a Pink Porcupines bodysuit and cover-up, topped by Deme by Gabriella skirt. The all white theme of the photoshoot definitely gave her an angelic look. Louis Vuitton jewelry was her only choice of accessories.
C – In a Deme by Gabriella dress oozing sensuality with her plunging neckline, she was smoking hot.
R – Striking sharp and uptown were Anushka in a Tanieya Khanuja outfit. Louis Vuitton jewelry, dewy makeup rounded her style fabulously.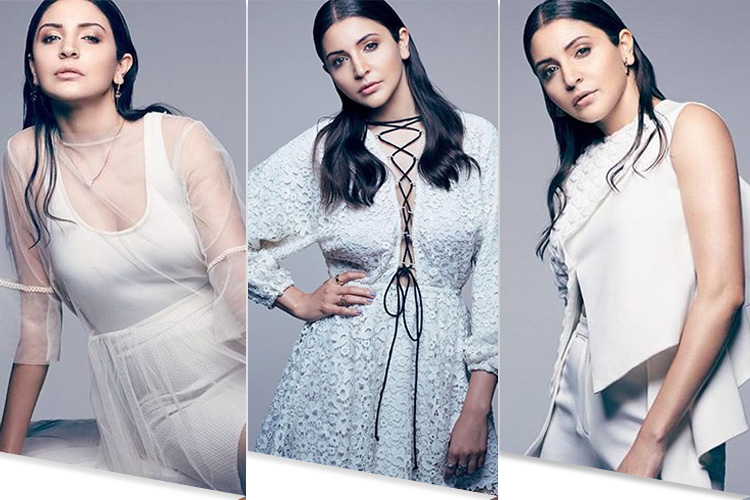 Alia Bhatt on Vogue
While Alia Bhatt and Sidharth Kapoor together took us all for a spin with their beach photoshoot for Vogue last year, Alia Bhatt this February has decided to write a beautiful blue story all by herself on the cover of Vogue.
We totally admire the young tigress for her craftiness in acting and in fashion. For the cover image of Vogue, she looked icy hot in a Chanel denim jacket over a slip dress. She adorned dazzling pieces of jewelry from Nirav Modi and aced the look. Bronzed highlighting, nude lips and ruffled hair closed her cover look glamorously. The cover image with the diva in a blue backdrop sends out such cool vibes, doesn't it?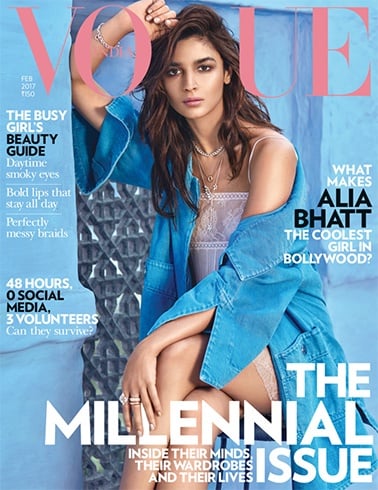 Yianni Tsapatori, the hairdresser, tossed an unruly texture to the diva's tresses. The Italian makeup artist, Rosario Belmonte, pampered her skin and gave it a polished touch.
Lensed by Greg Swales and styled by Anaita Shroff Adajania, this photo shoot brought forward the matured coin of the diva.
Here are her brand loaded avatars, take a look-
L – In Ashish jeans and jacket, H&M vest, and with jewelry from Anjali Bhimrajka and Gehna Jewellers
C – In a Mr. Self Portrait top and in an added piece of jewelry from Kaj
R – In Red Valentino jumpsuit, La Perla bra and trendy jewelry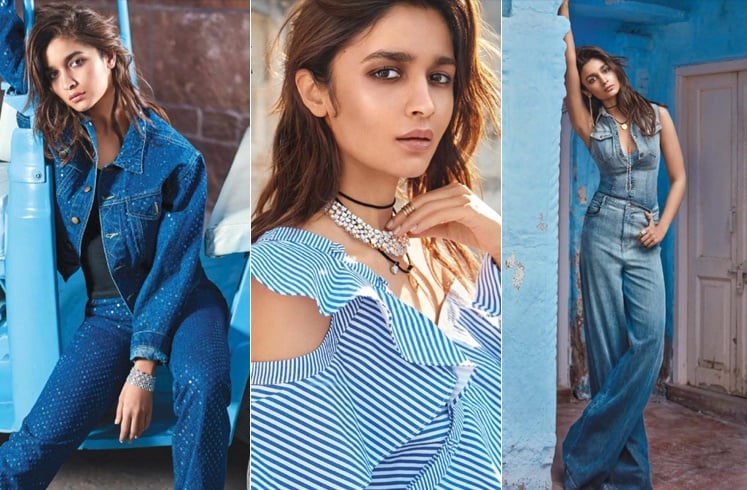 L – In Dolce & Gabbana embellished top, Victoria Beckham jacket, Osman trousers and Aquazurra sandals, she was a total chic
C – In a black H&M bralet, Karen Walker jacket, Rose Room Couture fit and flare jeans and Sophia Webster sandals, she looked trendy and fad.
R – In Alexander Wang jacket, La Perla bra, Victoria Beckham bralette and Moeva London brief, she looked sexy.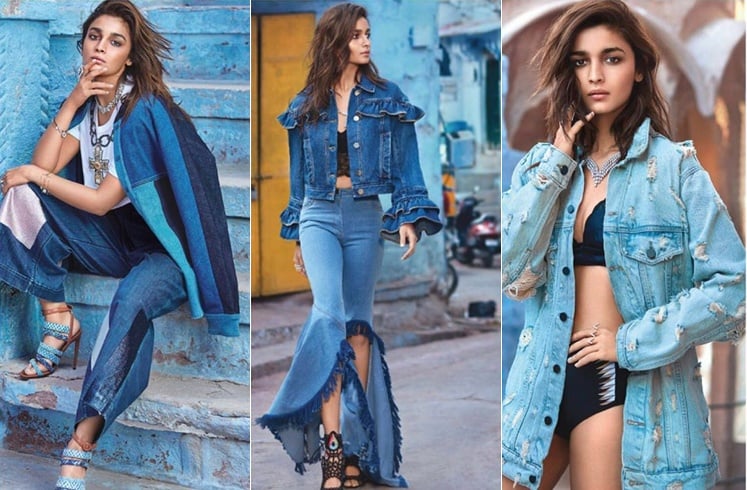 L – In Haizhenwang outfit, JF London metallic heels, Jimmy Choo cat-eye shades, she looked fabulous.
C – Love the Levis vest and the Fyodor Golan high-low skirt, along with JF London shoes on Alia.
R – In a bomber off-beat jacket from DSquared2 and distressed high-waist jeans from Rejinapyo, she looked unconventional and fashionable. JF London metallic shoes are worth a shot, what do you say?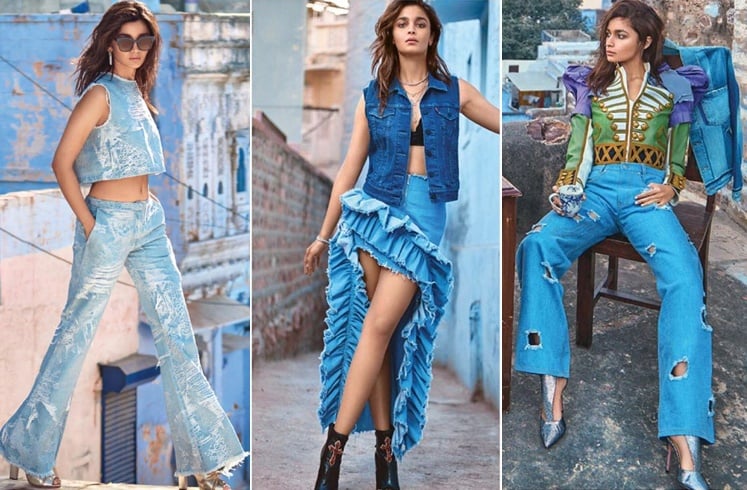 So ladies, the Bollywood gossips, and fashion inspirations are out in the stands, take them home with you for some entertainment!
Images Source: instagram