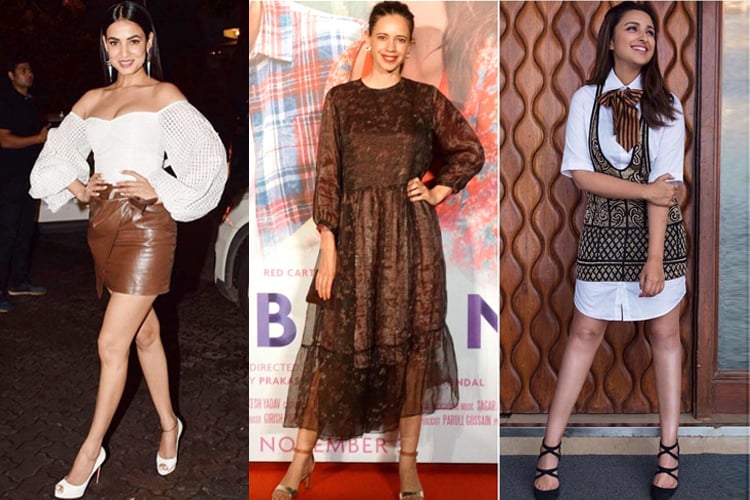 The "ugly" color brown seems to be making a subtle comeback in the celebrity wardrobes. Ringing in autumn a little early, B-town is giving us all the goals to ditch neutrals and blacks and opt to don shades inspired by mother nature, like the deep soil, bark of the tree, etc.
With organic fashion and earthy tones being the buzz words this year, we have all the reasons to wear this color which otherwise does not enjoy a very happy reputation.
A favored color choice from the 70's, looks like there will be some spottings in the rich and warm hue this autumn.
We have always had bags and trenches in shades of brown, but now, it's time we upgrade our collection adding elementary brown.
Transitioning perfectly into the winter wardrobes, this color is here to stay.
Considering it's a tricky color to work with, we have a lookbook here, made only for you to help you and guide you through the various dressup
Scroll further to witness how the leading Bollywood industry divas are wearing "browns" and take your cue lovelies.
Kalki Koechlin's Brown Velvet Choli
Kalki most recently donned a pretty brown velvet choli. Dressed in an outfit from the Rustic Rajasthan collection of the designer label Noura by Dipti Sawardekar, Kalki channeled her much ethnic energies. The brown embroidered choli worn with the green velvet pants and soft net layering made for a chic ensemble. An interesting festive look ladies to wear if you are not a brown person.
Parineeti Chopra's Striped Brown Bowtie
Parineeti added some oomph to her photoshoot adding a brown accessory. To upgrade her style statement, stylist Sanjana Batra, dressed up her muse in a white shirt dress with an overlay that looked like an extended waist-coat from the designer label Saakshi Kinni. To complete the look and to binge on the trending color, Sanjana had Parineeti wear a striped brown bowtie. We liked this man-up and adding the color with a bow tie is smart. You may give this one a shot ladies.
Sonal Chauhan's Chocolate Leather Midi Skirt
Actress Sonal Chauhan treated us with a worthy chocolate look. Wearing a short leather skirt in rich chocolate, Sonal definitely made a statement appearance. Stylist Devraj picked up this winner from The Loja Boutique. The wrap around skirt paired with the Zoomberg white off-shoulder top had Sonal exuding some offshore exotic autumn vibes. While the corset fit accentuated her slim waistline the exaggerated bell sleeve added some drama to this suave look. We admit we are all hearts for the chocolate leather midi. Take this one to your party nights ladies. Seal the look with heels and sleek jewelry pieces just like Sonal did wearing her white Louboutins and Shilpa Puri earrings.
Alia Bhatt's High-Waist Leather Pants
For the big talk at MAMI this year, Alia Bhat wore high waist straight pants in shades of brown. An attention seeker for sure, this one from the house of Self Portrait deserves a special mention. Stylist Ami Patel added some glamour to her formal yet chic pants, topping them with a lacy white cold-shoulder blouse. A pair of nude sandals and ear studs played perfectly add-ons. A heavy liner and a neat man bun finished the look to the T. We liked this one from head to toe. Replicate it, ladies.
Vidya Balan's Rust Brown Saree
Vidya Balan's saree looks always get her much appreciation. Her voluptuous figure along with a beautiful Indian face take any saree from drab to fab. In a recent sighting, the woman wore a rust brown from the label, Nadiya Paar. Rendering more beauty to the earthy brown was the matte gold border and kalamkari full sleeve blouse. With a pair of earrings from Sangeeta Broacha and wearing her jet black long tresses, open Vidya aced this one with her team of stylists from Who Wore What When. If you are in that handloom frame of mind then wear this one for your upcoming festive get-together. Don't forget to add a bindi for some additional drama.
Kalki Koechlin's Brown Jumpsuit
This exotic face has some swag which adds cool to any outfit. Most recently wearing a brown sleek jumpsuit from the young and upbeat label Love Gen, Kalki surely got our attention back to jumpsuits. In a warm brown hue with love written on it, Kalki put her playful side at work. Pairing it with a white ruffled round neck top from Hemant and Nandita and light brown Paio shoes, stylist Shreeja Rajgopal had us swooning. Relaxed and super chic, go for a look like this to wear browns this season.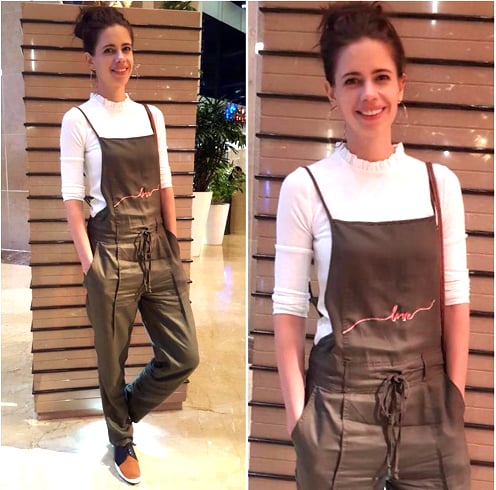 Kalki Koechlin's Printed Brown Dress
Kalki spelled comfort chic looking like a pretty lass, wearing a printed dress in brown. With that overall small print and the color palette, the dress revived major fall vibes. The piece comes from the house of the queen of handloom, Anavila Misra. Due credits to stylist Shreeja Rajgopal for styling up the dress the high street way with a pair of chunky studs from Minerali and a pair of silver and brown sandals from Only Two Feet.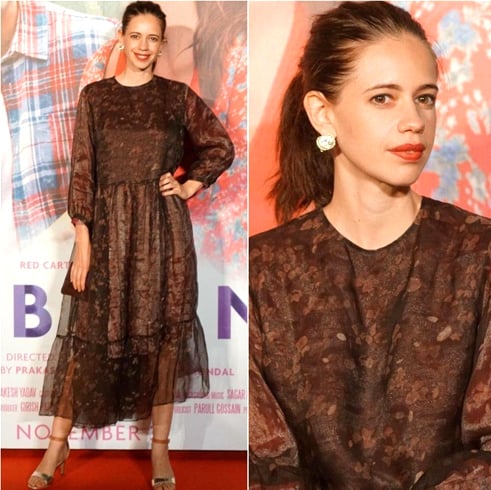 Shama Sikander's Brown Skirt
Actress Shama Sikander made a regal appearance wearing a long skirt in metallic brown tones from Sounia Gohil. The escapade of the skirt lined with white buta work looks aesthetically pleasing. Paired with a black full sleeve top this look can translate into a royal festive appearance. Take your cue ladies.
Sunny Leone Brown Pleated Pants
On the sets of Splitsvilla, Sunny looked smoking wearing high waist pleated pants in camel tones. Wearing it with a white corset blouse, the adequate skin show caused the temperatures to soar.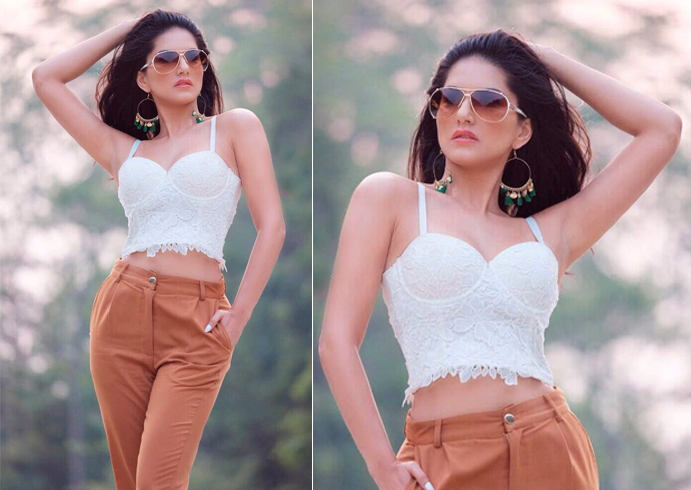 Images Source: instagram