Brocade is a rich textile, commonly crafted from woven and thick silk to create an embossed look. The fabric has found its place in modern-day furniture, draperies, and sneakily made its way to designer clothing collections as well. The sartorial Brocade fabric has found a place in many closets and we understand why.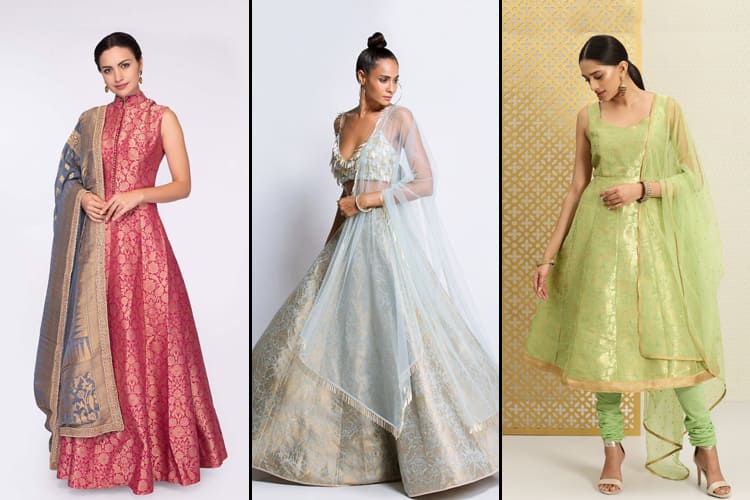 Brocade-in all its nobility guarantees to infuse our style choices with a swipe of luxury and we're always ready for that sort of feeling. This royal texture looks amazing on blouse, lehengas, saris, and other Indian attires. This festive season it deserves their moment. And that is why we've rounded up 10 brocade fabric pieces you can add to your wish lists this festive season.
10 Brocade Pieces You Can Add To Your Wish Lists:
From blouse, kurtis, anarkalis, saris, and lehenga set, it's clear that the brocade fabric is popular in the style sphere. And we're just excited to share the same with you.
1. Brocade Maxi Dress:
Once a while, you can drop the idea of saris or kurtas. Instead opt for a brocade dress which can offer comfort and amplify your style. How about a rich fabric in an even richer hued maxi dress? Yes, please
2. Brocade Kurta With Palazzos:
Talk about a statement-making brocade kurta with palazzos. So pretty, we can't help but admire. This should be fitting enough to carry to birthday parties, corporate events, social functions, and engagements.
3. Brocade Pallu Silk Saree:
Proof that the rich fabric can be rendered in a distinct silk brocade saree! The one below is the most luxurious use of the fabric you'd ever see.
4. Brocade Lehenga Set:
A brocade lehenga set will demand as much attention as the saree above. This stunner of an ensemble is the easiest way to elevate your style from glam to glammer.
5. Brocade Lehenga And Blouse With Dupatta:
The fabric on this lehenga with dupatta will make for a serious dynamic addition to any wardrobe. And in any case a matching blouse and dupatta are better than a single-toned lehenga.
6. Brocade Blouse With Silk Skirt:
A brocade blouse like this one is a win, win for all occasions. So stunning, it honestly may be a major sellout this festive season.
7. Brocade Kurta Set:
The perfect look for the festive season-or, you know other days you feel like going traditional without being overdone. The luxe mustard toned brocade tunic can do you no wrong.
8. Brocade Kurta With Churidar:
These brocade kurtas are no exception. Pretty in green! Pretty in House of Pataudi! Dazzling in brocade! We just described you.
9. Brocade Anarkali:
This brocade anarkali would look just as stunning dressed up as it would with a minimal look. If you are a glam, girly girl, then you can also opt for a similar toned brocade anarkali dupatta for added effect.
10. Brocade Floral Jaal Saree:
Because we cannot resist a brocade saree with florals! We just can't. This piece easily transcends seasonality. So you can wear this event after event and look so right.
These are the top 10 brocade designs, that one could flaunt this season. Sass up your wardrobe and look flawlessly elegant celebrating the festivals lined up.