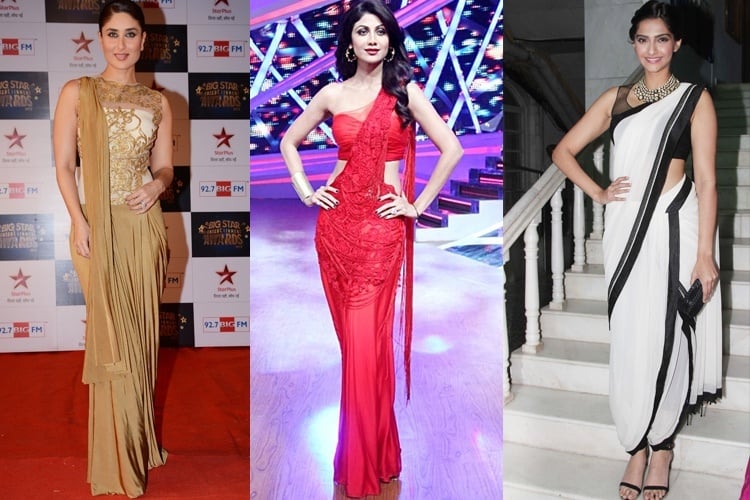 Sarees are quintessential Indian traditional wear and an epitome of elegance. It is the attire that makes you look sensuous keeping that classy yet sexy appeal intact.
Be the 60's, 70's or the new gen, women have always flaunted this sumptuous drape and looked steamingly gorgeous.
Who can stop experimenting? Innovation has driven designers to bring in the new and enhance the old to make fashion last ages. So, to bring the sexy back in town, we have these ravishing readymade saree designs by top notch designers to heat it up for all you ladies!
[Also Read: Saree Gown Designs]
So, go ahead and have a look at our alluring ready to wear sarees collection and grab the one that redefines hotness for you, the bombastic way.
Here are some Ready to Wear Sarees
I am sure; these contemporary sarees with a twist are going to get some hearts craving for you.
[Also Read: Everything About Designer Sarees]
The Crochet Saree Gown
If you want to sizzle in style and let your aura mesmerise most, then this Saree Gown is just for you. It is one of the ready made pleated sarees that have worked wonders on the ramp of Lakme Fashion Week and would work wonders for you as well. Keep it simple yet sexy with this unconventional stunning gown. This sassy readymade saree gown attire with minimal Crochet work will add the needed feminine touch to your style quotient. See men gasp for breath and fall weak on their knees when they steal a glance of you. Put on your sexy stilettos and flaunt this attire with great panache.
The Skirt – Blouse Saree by Kiran Uttam Ghosh
If you like it bold, then this polo chic pre stitched sarees collection by Kiran Ghosh, is just the one for you. With a neck line so classy and a matt leather waist belt around, this saree is going to be a head turner. The saree brings in a whole new dimension to traditional draping and is a sure shot killer on the ramp. This tantalizing outfit is going to get some hearts racing wherever you go.
[Also Read: Celebrities in Plain Saree]
The Sublime Pink & Gold
If you want to venture into serenity, and bling is not your thing, then this beautiful half saree is just meant for you. Such sublime work on the saree will just leave you awestruck. The gold and pink combination is so soothing; you wouldn't want to take your eyes off. This is one of the pre stitched saree designs that is a best pick for an engagement or a day wedding. It will leave your folks baffled and captivated on how simplicity stands apart! Flaunt it with a low back choli and see the temperature rise up. Personify your sensuality each time you wear it.
Maroon Lace by Tarun Tahiliani
This exquisite work of lace by Tarun Tahiliani is a piece your eyes would be glued to. This stunning deep maroon readymade saree will make you look voluptuous and will redefine hotness. The medium waist belt and the collar neck blouse add a tinge of a "Modern Indian Woman" to the whole look. This is a perfect outfit for a cocktail party, if you want to have your ethnic shoes on. So if you believe in being innovative and experimenting is your thing, then this should be your pick!
[Also Read: Kanchipuram Bridal Sarees]
The Choli-Pyjama Saree by Wendell Rodricks
The choli-pyjama readymade saree by Wendell Rodricks comes with a unique twist. The saree is layered using the jersey from it, making it completely alluring. It redefines the blend of style and tradition. The concept of having a flared Pyjama beneath, with a choli on top, adds that's feminine touch to the complete attire. Be a show stopper and let some hearts skip a beat. Let some eyes fall out of their sockets, ogling at you.
Cropped Pant and Blouse by Nishka Lulla
If you are worried on how to wear a pre stitched saree, then this readymade saree will simplify it all for you. This saree by Nishka Lulla was a head turner at the Lakhme Fashion Week. It is not just a contemporary saree, but one that defines grandeur in style. Having a cropped pant beneath and loose blouse on top, portrayed how being bodylicious is not restricted to skin show. A lovely light yellow short saree draped around just adds the missing seductiveness to this regal attire. A beautiful pick for a classy Sunday brunch, if being traditional and quirky is on your mind.
[Also Read: Make a Style Statement with Designer Half Saree]
Let the occasion be anything, your fashion quotient will be on an all time high. These out of the box, sexy and seductive sarees will make folks go gaga over you. So choose your favourite readymade saree design and redefine your sensuality. Hopefully, this list will come handy in finding that drop dead gorgeous saree you looking out for. We look forward to seeing you with a new aura added to your style.