Readymade saree is all about ease, comfort, and functionality. These stitched options consume lesser time and can be worn in less than a minute or two. Apart from the durable option, many of us also look for timeless appeal while narrowing down the saree choices. That's where the different designs come in, to elevate your tried-and-tested options. Whether it's pleated or draped detailing, there is one for every shopper.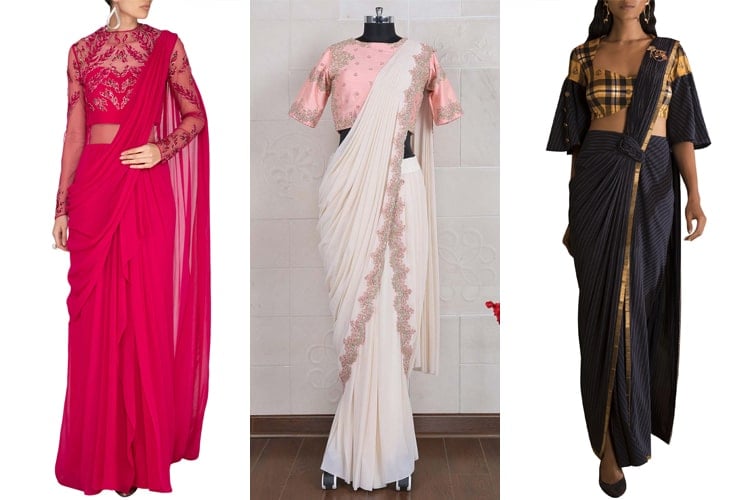 To make your festive season more special this year, we've rounded up the best of pre-stitched saree designs below.
10 Readymade Saree Designs To Shop Right Now:
Ahead, shop the 10 saree trends you're going to see throughout this season:
1. Pleated Silver Readymade Saree With Sleeveless Blouse:
Fact: we're lovers for pleated saree-especially when it comes in a metallic tone. Pair a similar one with a sleeveless plain blouse for a glam-look, or divide yours with a blouse and not-so-average heels.
2. Pink Resham Embroidered Saree:
An evening soirée is a simple occasion to take risks with a saree like this. Skip your neutral tone jewellery and opt instead for gold finish accessories for the easiest pop-up. It'll ease your peach tanned dressing and look really great with exaggerated rings or earrings.
3. Embroidered White Saree with Pink Blouse:
Sometimes you just have to open for new trends, such as an embroidered saree as this one. Try something similar in white and throw off a blouse in a reflective shade. In a sea of red hues, sometimes it's best to opt for subtle.
4. Draped Saree with Bustier:
Ready-made saree doesn't always need to be wishful. By throwing on a pair of embroidered jacket in similar tone, you can take your saree game to electric new heights.
5. Khaki Green Ombre Saree:
Another popular mention under readymade sarees is silk pieces, especially in khakis! For outfitting, you can go for distinguishing factors like pairing femme blouse, either tucked in or cropped to bring focus in to the waist detailing.
6. Chiffon Saree Gown With Matching Sheer Blouse:
The possibilities of wearing a chiffon saree gown are endless, and you can make it a point to wear yours with an equal pairing of sheer off-shoulder blouse.
7. Pre-stiched Striped Blue Saree:
If you love something cool and on-trend then try a readymade saree in stripes. Or, if you're not committal towards the blue look, you can look for other hued pieces, and stay right on fashion.
8. Champagne Draped Chiffon Saree:
Or, consider a personality-packed embellished saree with features an inclusiveness of shape. All the more, it's evergreen. With this style, you can pair fine jewellery pieces which runs the gamut of accessory pieces.
9. Dusty Rose Embroidered Saree With Geogette Base:
An inescapable sea of embroidery within one saree look with fabrication like linen and silk are coming this season. Try styling yours with pops of pastel shades like the dusty rose one below.
10. Floral Printed Readymade Saree:
Readymade silk sarees in multi-colors is fascinating and a luxe. You can invest in one just to get the right touch of the seasonal trend.
Hope you love our pick of function meets fashion readymade sarees. These designs can surely take your style to the next level.