While everyone is talking about Indian Cinema completing 100 years, let us focus on Bollywood fashion, which has been the most integral part of Indian cinema for a century now and has also completed its whopping 100 years.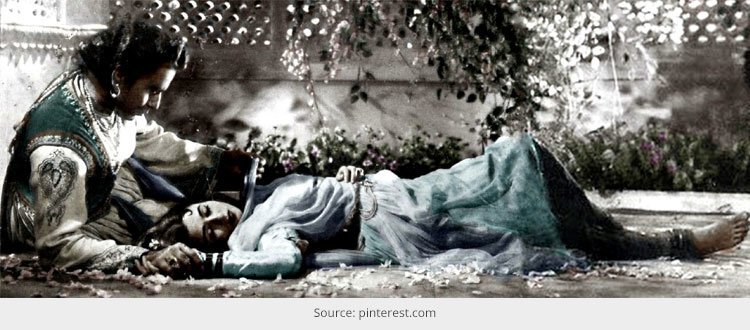 Music and fashion have always been the discrete elements in making a cinema successful at the box office. Indians are very much particular about music and they're hugely interested in checking-out what their favorite celebs are wearing in a movie.
Fashion entered Bollywood decades ago. We have seen how yester year actresses from 50's looked sunning even in the black and white roll, when every shade they wore was inexorably hidden in black and white color.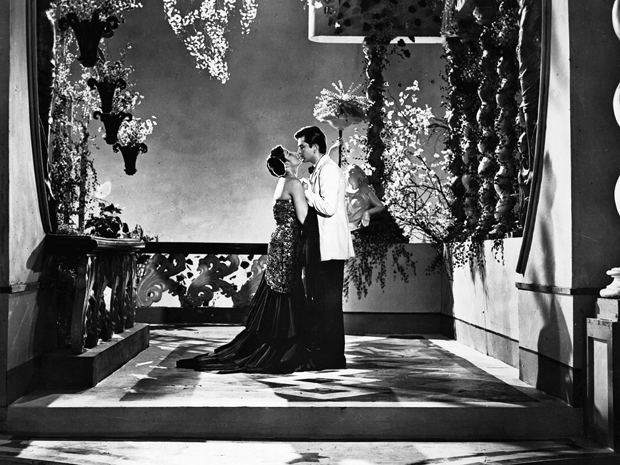 Even in those days, our Cinema world was well aware about fashion and had a superb taste, when it came to fashion the leading ladies. Actresses like Madhubala, Nargis, Sadhna, Saira Bano, Sharmila Tagore and Hema Malini were trend setters and even today, we follow their style and search for the same designs they had worn decades ago.
In fashion, what comes around goes around. The 60's style has been revamped time and again.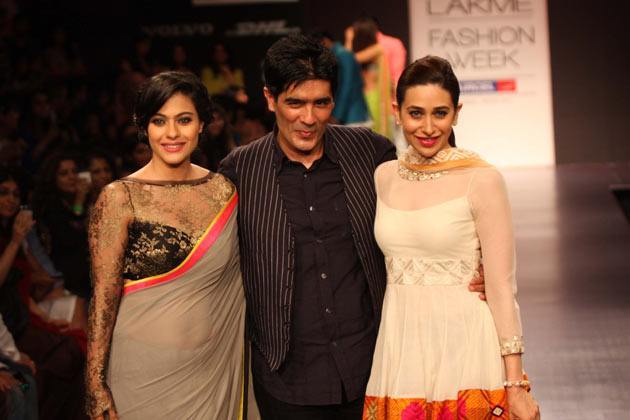 Manish Malhotra, the leading fashion designer and favorite of almost all Bollywood celebs, has paid his tribute to 100 years of Bollywood fashion by showcasing a superb retro collection from every iconic period that witnessed a landmark in Indian fashion industry.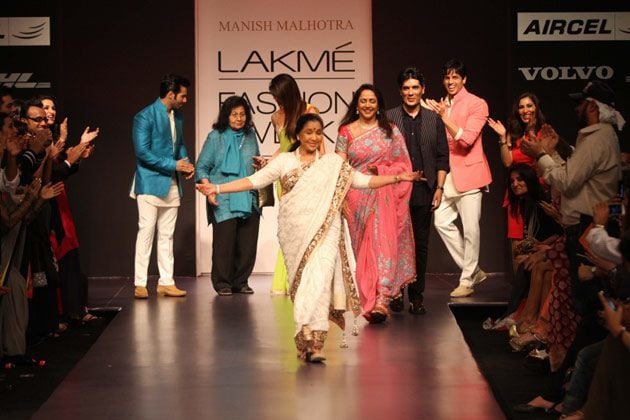 Several Bollywood A-listers including Asha Bhosle, Karishma Kapoor, Kajol, Karan Johar, Hema Malini, Priyanka Chopra etc. did a ramp walk for this renowned fashion designer.
Female models were seen in 60's and 70's style, reminding us of Mumtaz in Brahmachari, Saira Bano in Ayee Milan Ki Bela and Hema Malini in Johny Mera Naam; whilst male models reminded us of Rajesh Khanna, Rajendra Kumar and so on.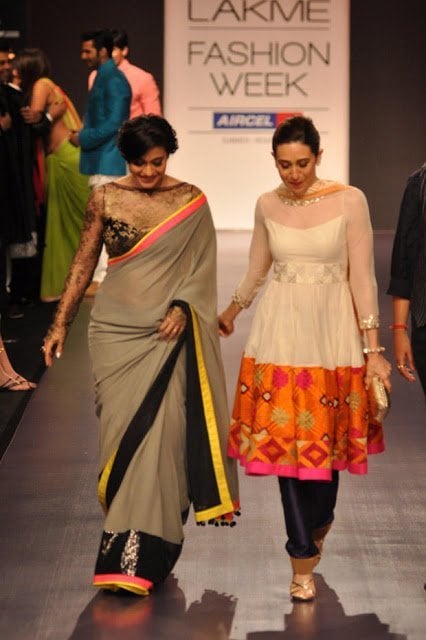 Manish effortlessly brought back the magic of black and white era through fabulous designs of anarkali, fitted salwars and kurtis, the one-sided embroidered sarees, flower power, the hair make-up and polka dots.
While Kajol and Karishma looked stunning in their outfits, Hema Malini was looked gorgeous in a pink color sari with embroidery work, while Asha Bhosle gracefully walked the ramp with elan in a off-white saree with detailing.
As per Manish
 "I have grown up watching Indian cinema. I have loved cinema and cinema has loved me back. It has made me what I am today. When I got this opportunity to celebrate 100 years of cinema, I had to embrace this milestone and create a memorable collection reflecting my equal love for cinema and fashion."   
Apart from Manish, other designers like Asmita Marwa, Shehla Khan also showcased their retro collection. Have a look!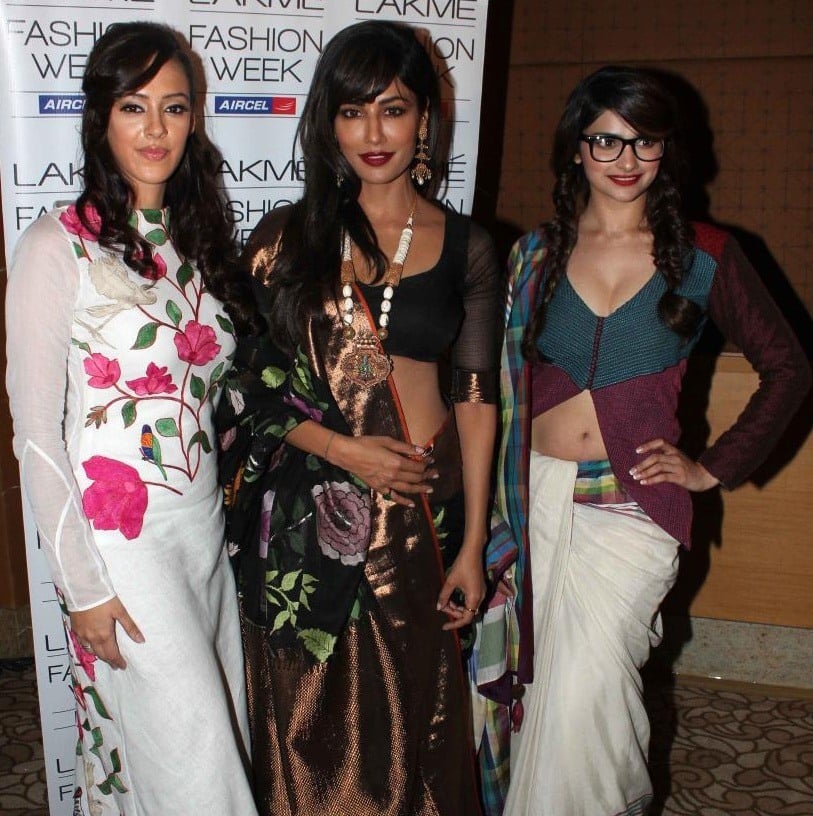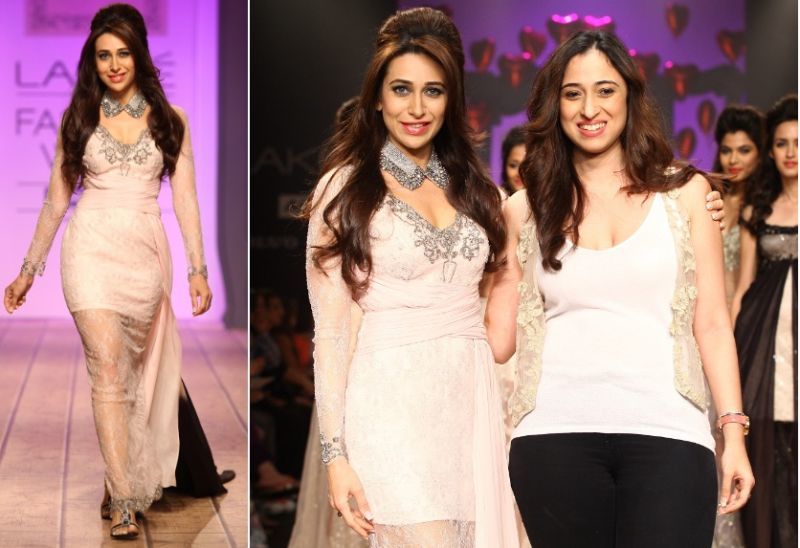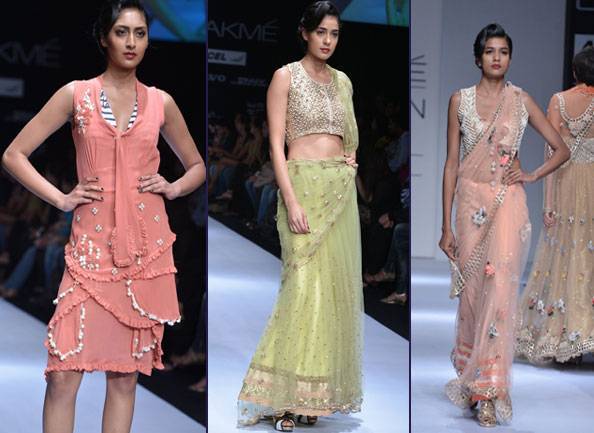 B D Somani Institute of Art and Fashion Technology, on the other hand, also celebrated 100 years of Bollywood fashion through Silhouettes 2013 Bollywood Bytes fashion show.
[sc:mediad]
Here are a few picks from the show. Keep scrolling!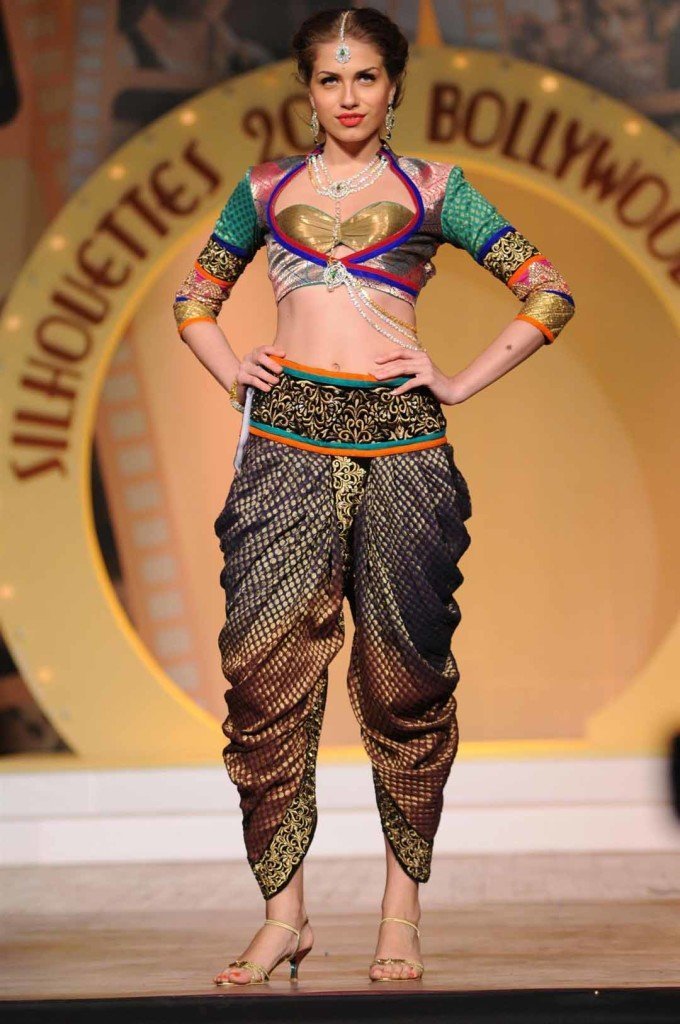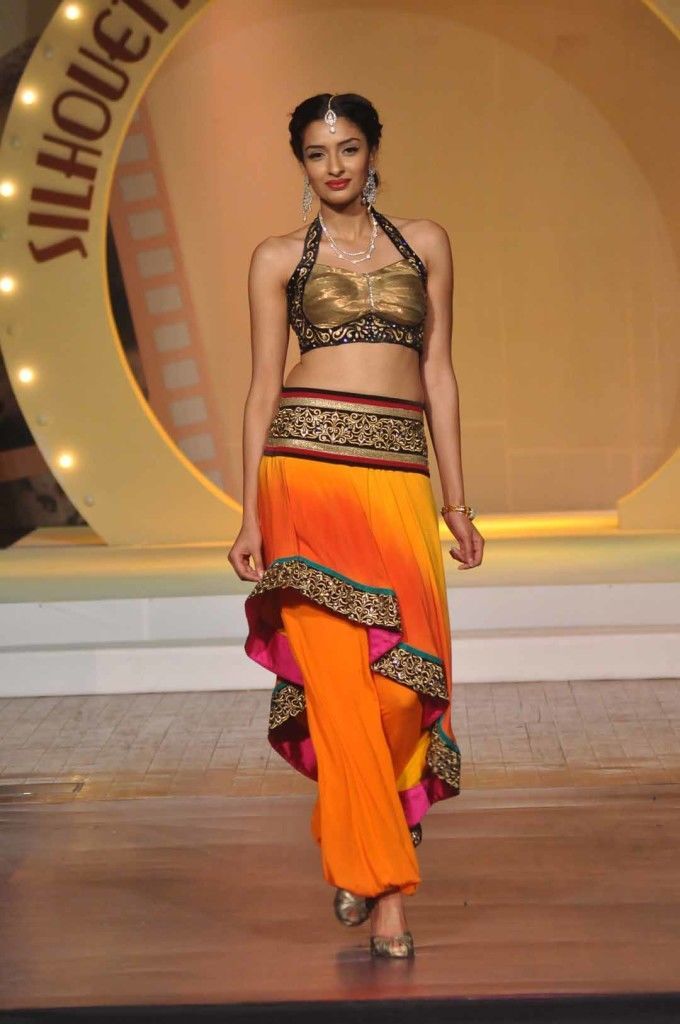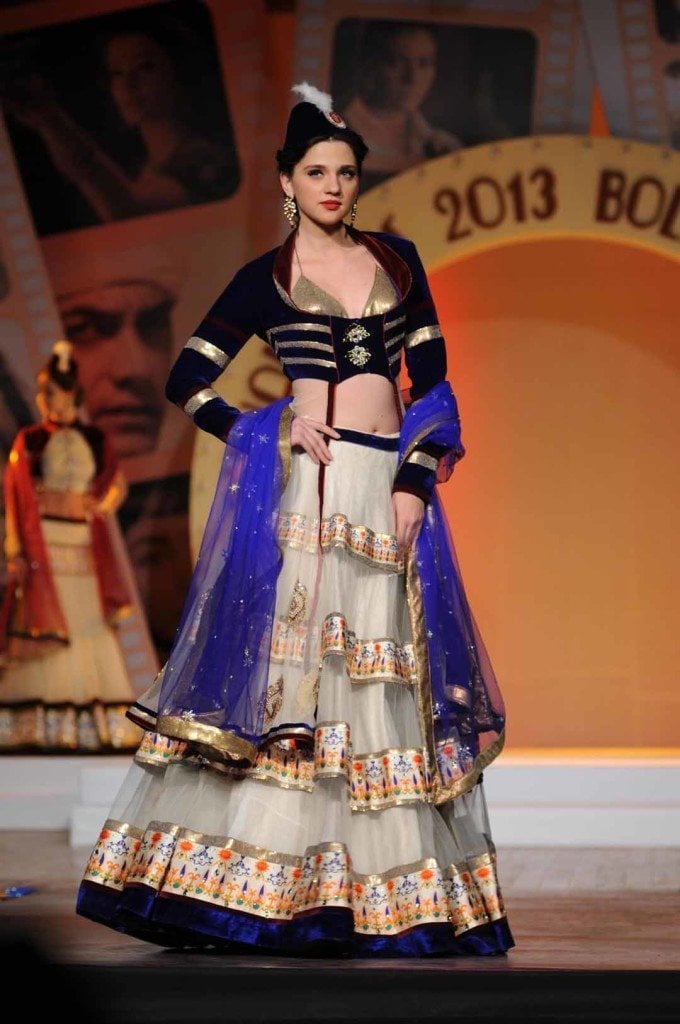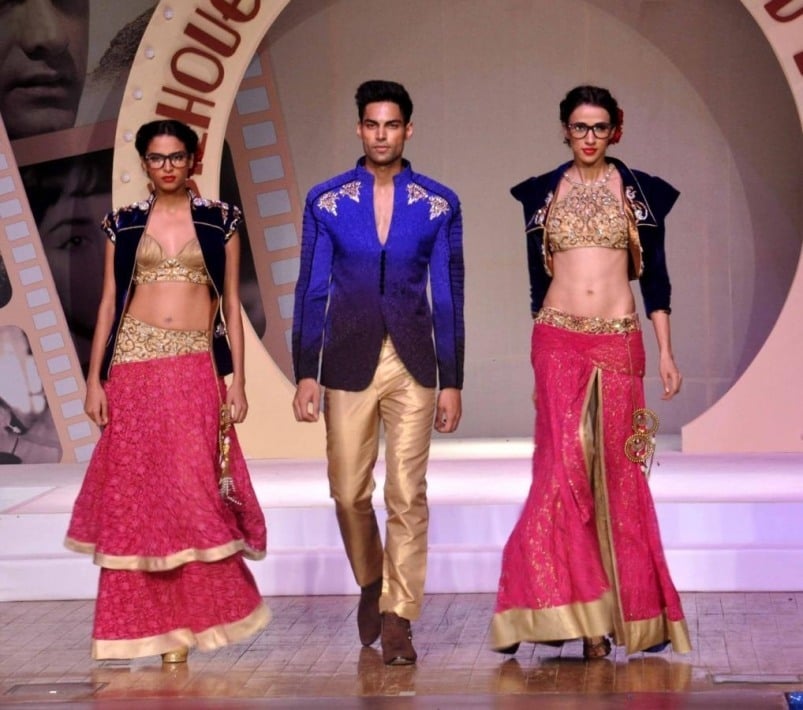 Here's a video on retro collection by Manish Malhotra showcased in Lakme Fashion Week 2013
Hope you liked this post!
Cheers!!
Images Source: pinterest.com