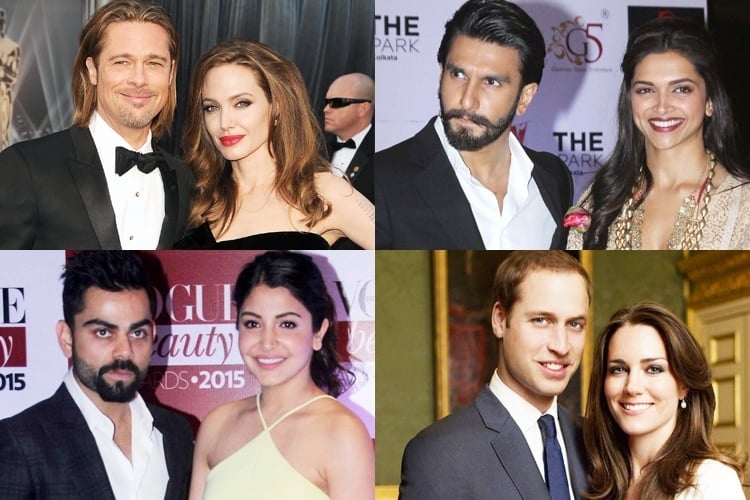 Celebrities aren't immune to failed relationships, but it's also not hard to find inspiring love stories.The below mentioned couples prove to the world that two people can grow together in marriages. And then there are duos that withstand the test of time even without a marriage license.
Take a look.
1. David and Victoria Beckham
When they met in 1996, David Beckham was instantly smitten. He couldn't get enough of the mysterious Spice Girl called Victoria Adams. Victoria too was likewise enamoured by the good looking man, although she had little idea that he was a world famous football player. They tied the knot in 1999; the media gave them a cute nickname 'Posh and Becks'. Later, there was a lot of rumours going around that their marriage was in trouble and that they were splitting up, but the couple has shut down all such false rumours and proved to the world that love is all you need to keep you going. Posh and Becks are definitely one of the cutest celebrity couples that we know.
2. Kate Middleton and Prince William
The royal couple are so cute together. While Kate charms us with her timeless beauty and mild manners, Prince William impresses us with his strong sensibilities. Together they are a match made in heaven indeed. When they got married, the world took notice. They were closely scrutinized by the media which wanted to dissect every part of their relationship to find some faults or cracks. But they showed us how to sail through it all with calm grace, with heads held high. We wish them years of happiness and countless joys.
3. Brad Pitt and Angelina Jolie
Theirs was definitely not a fairy-tale romance. When they met on the sets of their action flick 'Mr and Mrs Smith' there was chemistry. But Brad Pitt was married to Jennifer Aniston at that time. When he eventually broke up with her and filed for a divorce, Angelina Jolie was labeled the villain. The media called her a ''home wrecker'', they said that she was the ''other woman'' who ruined Brad and Jenifer Aniston's marriage by luring him away. But love is not always a pretty emotion. Love, when it is real, is raw, difficult and sometimes unfair. You don't get to choose who you fall in love with. It just happens, and happened it did for Brad and Angelina.
[sc:mediad]
4. Deepika Padukone and Ranveer Singh
Recently, Deepika Padukone confessed that after her breakup with Ranbir Kapoor, she became depressed and was in a bad place. It came as a wakeup call to us the public, who tend to look at stars as people with fabulous lives and no worries. Deepika showed us that she was just as human, just as susceptible to heartbreak, as the rest of us. So seeing her happy now with Ranveer Singh makes us happy and makes us believe in the power of love to heal.
5. Anushka Sharma and Virat Kohli
When news spread that Anushka Sharma and Virat Kohli are in a relationship, the actress received a lot of backlash. Everybody seemed to have an opinion on whether Virat should date her or dump her. When India lost the world cup, tweets were posted citing Anushka as the sole reason for Virat's not-so-good performance in the match. People claimed that Anushka was bad luck, that she made him lose focus and so he must break up with her. But the couple stuck together and were recently spotted shopping in London. We hope their love prevails and that they do not let the opinions of some negative people influence them. They truly deserve their happily-ever-after.
[Also Read: Beautiful Couple]
It is not easy making your relationship work when you are constantly under the scrutiny of the media. When there are rumours and gossip columns dedicated to talking about your relationship and waiting to pounce on the first sign of trouble, it takes very good understanding and mutual respect for each other to make it work. Kudos to these celebrity couples for ensuring that love triumphs.