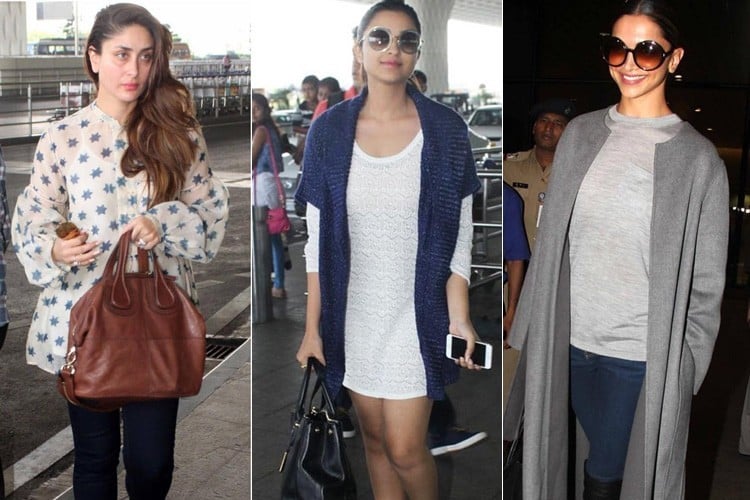 Lots of our celebs are spotted at the airport and even at such locations, the divas have not compromised with their vogue.
Let's take our time here in perceiving the different airport looks
1. Sonam Kapoor
The fashionista Sonam Kapoor's airport look definitely looks summery and breezy. She donned a Nimish Shift outfit and carried a handy Gucci bag. The boots were styled right with the dress. Completing the look with nice shades and bright red lip, the actresses looked refreshing.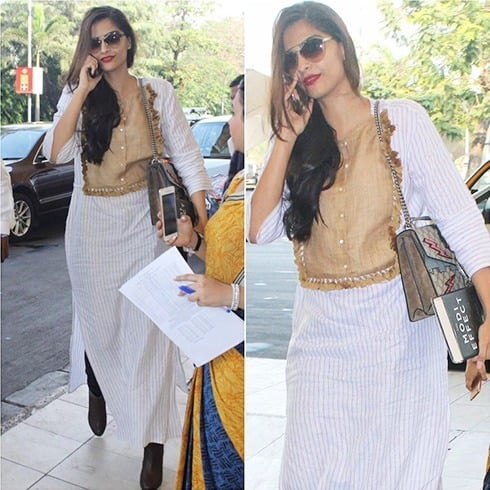 2. Twinkle Khanna
Spotted at the airport dressed casually in a white pleated top and blue jeans was Twinkle Khanna. She with her casual outfit made an amazing style statement adding a blue blazer and eccentric shades. She definitely looked cool and well rested.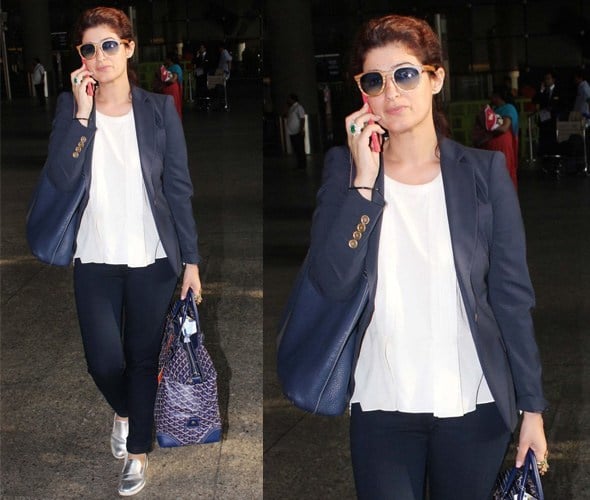 3. Neha Dhupia
Neha, who was seen sporting over-sized outfits recently, was spotted at the airport in a nautical top and black capri with an over-sized jacket. She carried a well accommodating McQueen handbag. With a pair of cat eye shades and cool sneakers, she rocked the style.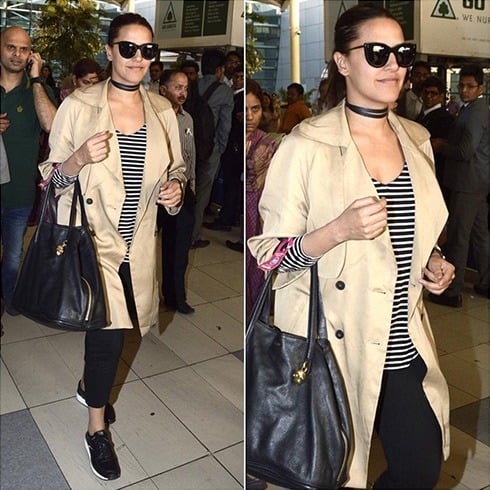 4. Huma Qureshi
Huma went all black at the airport recently in a Falguni Shane Peacock suit. With high ankle lace boots, a sling bag, she looked delightful as always.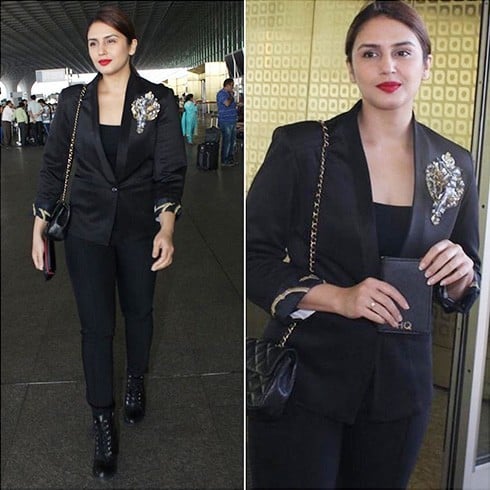 5. Deepika Padukone
Quite recently, Deepika was photographed at the airport and she looked fabulous in a husk colored tee and blue jeans. Looks like boots are the best wear for airports as we have seen many of our favorites picking them. With a gray long jacket and extraordinary shades, the well balanced actress carried off a charming look.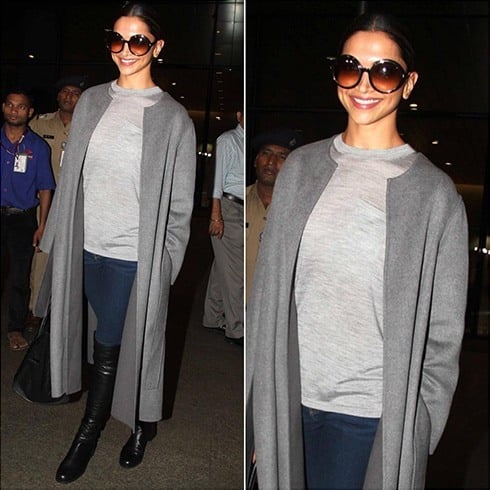 6. Jacqueline Fernandez
Jacqueline with her ever ready smile was seen at the airport in a white tank top and blue skirt that has a long slit. Carrying a compact Celine handbag, she walked in ease in a pair of silver floaters.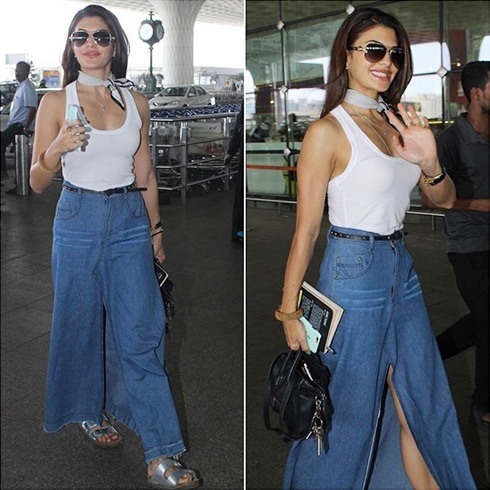 7. Malaika Arora
The actress who rocks the ramp walk even today was clicked at the airport looking very offhand in a black full sleeves top and a pair of blue jeans. It cannot happen that Malaika Arora could pass by without making a style statement – she added Prada sunglasses and a Maison Valentino Sandals completing it chic style.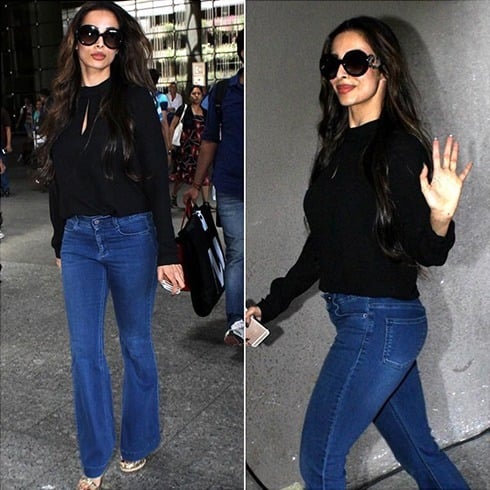 8. Karisma Kapoor
Karisma is seen often these days coming out bold as showstopper and many more. She got the spotlight focused on her and hence she was seen sporting a H&M sweater at the airport carrying a Hermes handbag. The black shades and the bubblegum pink lips look great on her.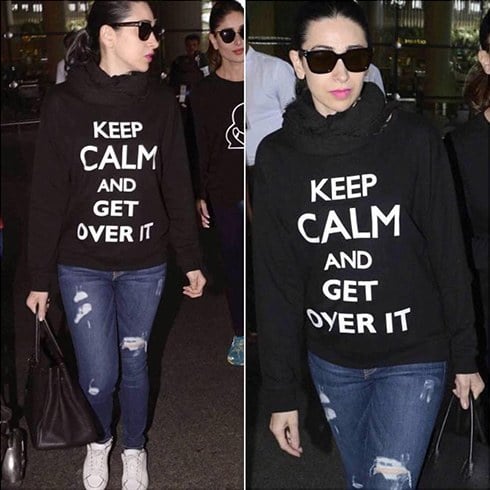 She was seen again in a long striped top, blue jeans. She topped a black blazer and the sober pink pumps stole the show.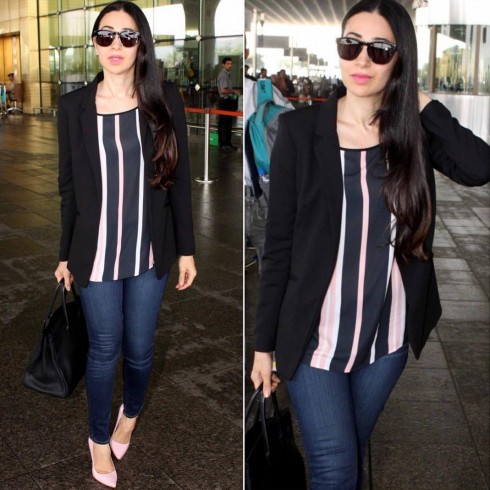 [sc:mediad]
9. Parineeti Chopra
Spotted going around quite a bit was Parineeti Chopra. The actress displayed to us the different airport looks.
She was seen in a white top, blue distressed jeans and brown boots. Carrying a handbag that can comfortably accommodate the essentials she walked in style. The key feature is the hexagon shaped shades.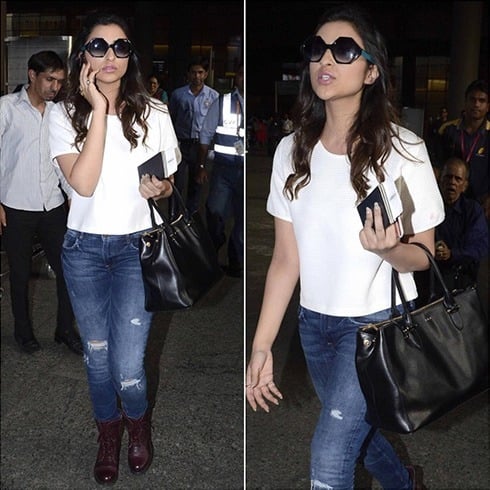 She was also seen in a simply adorable white dress and navy blue cardigan. The oval shades, the sneakers gave her a cute, sweet finish.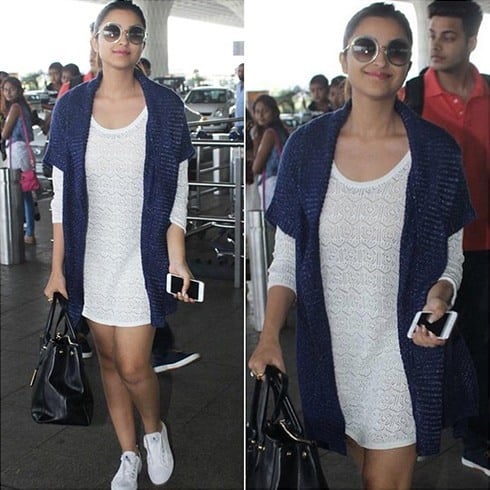 The diva also walked to the airport dressed in a blue dress topped with a leather jacket. Simply cool are the black sneakers and the over-sized shades.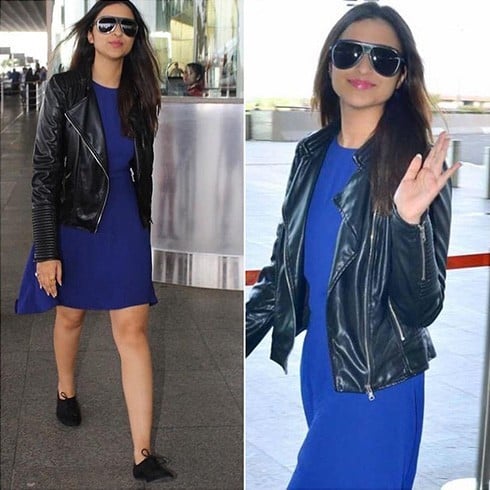 10. Kareena Kapoor
Roaming around quite a lot and hitting the airport too often was Bebo. Within one week to three weeks, the darling actress showcased various looks.
She was seen in all black Karl Lagerfeld sweater and matching pair of jeggings. She accessorized in a pair of cat eye shades, a Balenciago handbag and walked comfortably in a pair of sneakers.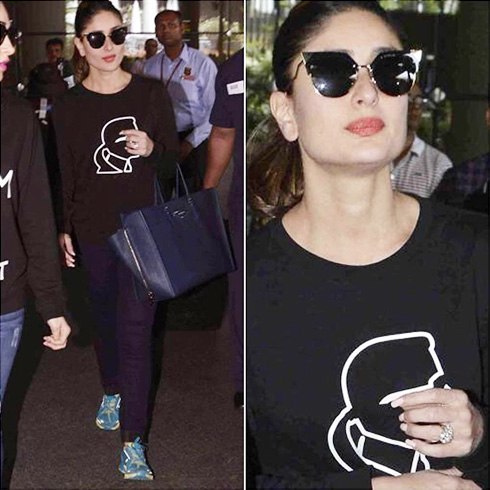 She was spotted in a star printed sheer white top over a pair of jeans. She carried with her a brown bag and note the cowboy toned boots that she fit her feet into.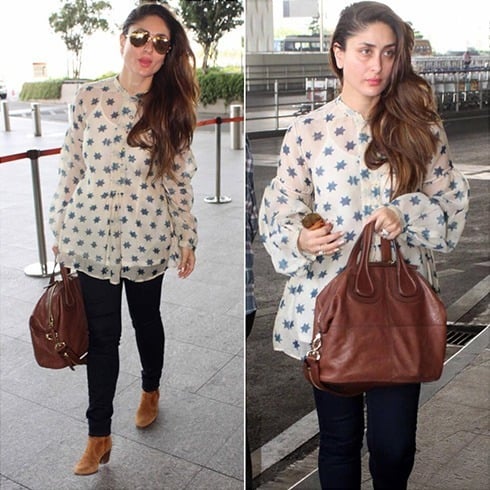 She was seen slipping into similar boots again at the airport. She was dressed in a blue jeans and white top with a checkered jacket. Carrying a similar handbag, the Heroine looked stylish.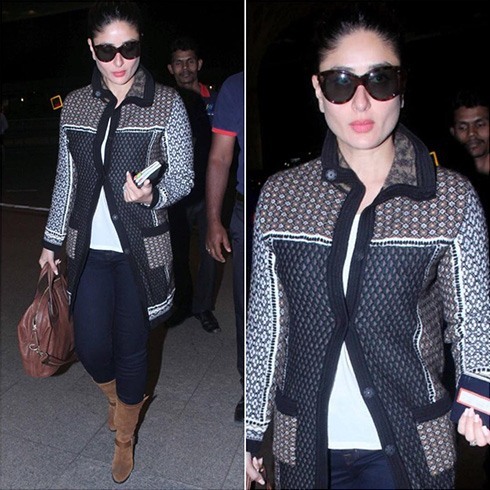 One more airport look of hers covers her in a Zara jacket over a nautical top and blue jeans. She added the same boots to the outfit and carried a Givenchy handbag. The Fendi sunglasses made the most of the look.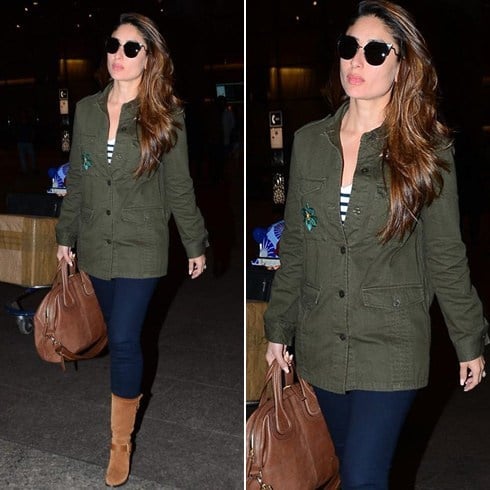 Very recently, she was seen in a white shirt and distressed jeans. She carried a spacious and handy bag and also added cool black shades. The eye catchy feature is the polka dotted scarf. The scarf added a dramatic look to utterly simple attire.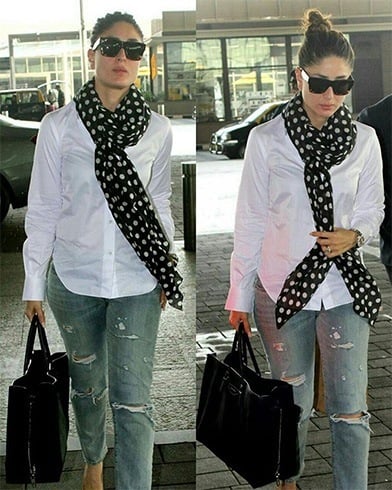 11. Kangana Ranaut
Looking like an uptown girl, Kangana was spotted at the airport in an aqua blue printed dress. She accessorized with a bright purple sling bag and walked stylishly in a pair of ankle length boots. With the hair curled up perfectly, she looked superb.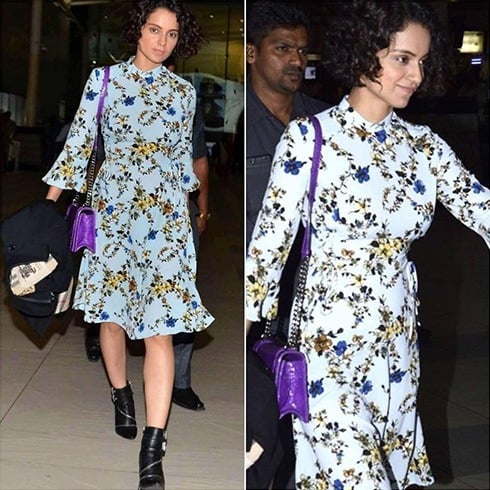 Looks like Kangana maintains the curly hair do for travel. Spotted in a similar situation, she was dressed in a nautical top and a pair of jeans. She added a jacket and a Burberry bag to the extremely chic style.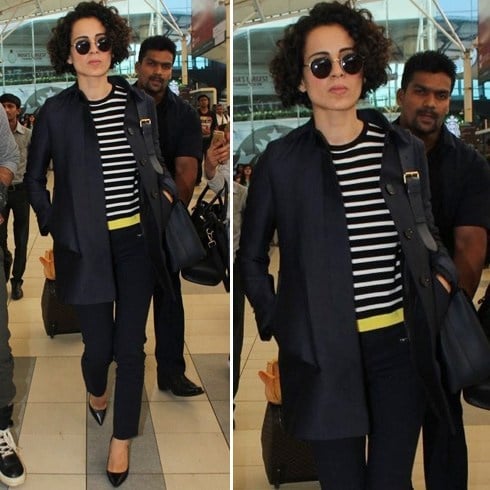 Yet another airport look of Kangana is definitely the rocker style. She paired her shiny black jeans with a gray tank top and ankle boots with pointed heels. With the trademark curls and cool shades, she carried an attitude that struck like a thunder bolt. With a sling bag and a jacket casually hanging on one arm, she bamboozled the look.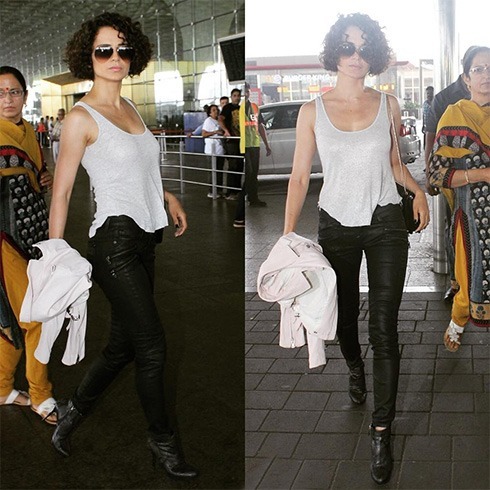 Hope you liked the post!!!! Please share with us your favorite celebrity airport look in the section below.
Images Source: instagram.com