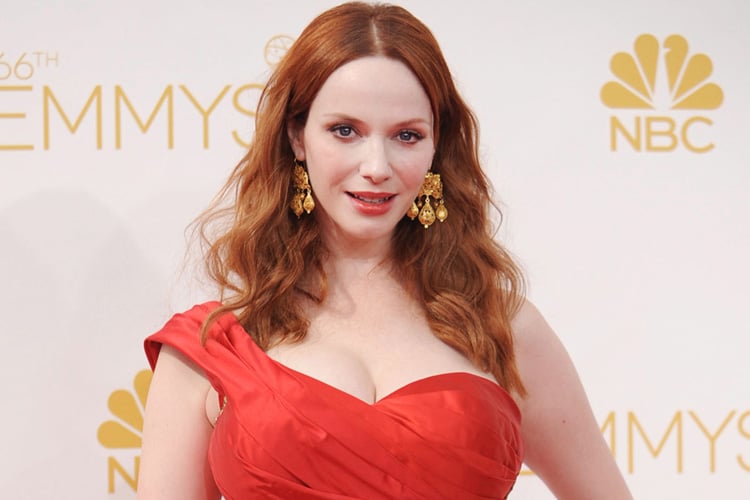 She starred in a James Bond TV ad for VISA alongside Pierce Brosnan way back in 1997. In the year 2010, she was voted "Sexiest Woman Alive" by Esquire magazine. At the age of 18, she started modelling, which took her 10 years to make it to Hollywood. Even British politicians e.g. British Equalities Minister Lynne Featherstone have commented on her "hourglass" figure. She is a throwback to the days of Marilyn Monroe, Veronica Lake and Jane Russell. She and her husband have one strange rule – that they must see each other after every 2 weeks (at least). She has double citizenship (of the United States and Britain). She is 'Joan' – the Mad Men star Christina Hendricks.

Christina Hendricks Height | Christina Hendricks Age | Christina Hendricks Boyfriend | Christina Hendricks Family | Christina Hendricks Professional Career
So successful was her role in Mad Men that one fine day Christina told People magazine "My life has pretty much changed in every single way. Except for my friends and my family."
Personal Details
| | |
| --- | --- |
| Name | Christina Rene Hendricks |
| Birthday Date | 3 May 1975 [celebrity_age_calc data="1975-05-03″] |
| Birth Place | Knoxville, Tennessee, USA |
| Sun Sign | Taurus |
| Eye Color | Blue |
| Hair Color | Red |
| Nationality | American/United Kingdom (Dual nationality due to her Dad) |
| Religion | Non-religious she is |
| Education | Fairfax High School |
| Occupation | Model -n- Television Actress |
| Marital Status | Married |

Family Details:
| | |
| --- | --- |
| Father | Robert Hendricks (he worked for United States Forest Service) |
| Mother | Jackie Sue Raymond (psychologist) |
| Siblings | Aaron Hendricks |
| Spouse | None |
| Children | None |
Christina met her hubby through the co-Star of Mad Men, Vincent Kartheiser.
Past Relationships
Christina Hendricks and her hubby Geoffrey Arend have been married for over 7 years.
She said to the UK edition of Cosmopolitan:
'Geoffrey walked in and I was like, 'Who is this guy?' He had amazing hair and was all dishevelled – he was running late and everyone was waiting for him. He just came in with this very high energy. 'He was just charming, funny and very magnetic. I got his number that night under the pretence of, "We could just be friends." And of course I immediately went home and Googled him.'
Not many rumours and relationship stories there are about Christina Hendricks. Boring, na???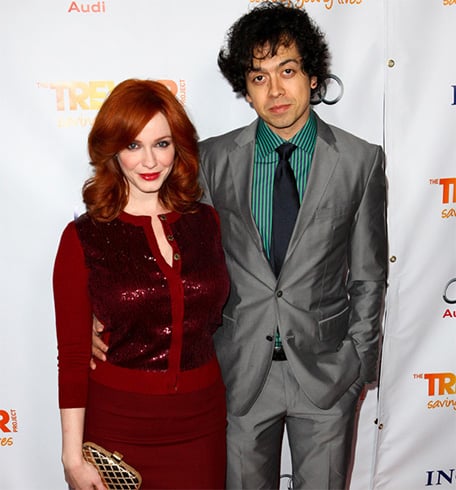 Body Status
| | |
| --- | --- |
| Build | Voluptuous and Hourglass both |
| Height | 5 ft 8 inches |
| Weight | 73 kg |
| Waist Size | 30 inches |
| Hip Size | 39 inches |
| Shoe Size | 8 (US) |
| Dress Size | 12 (US) |
| Body Measurement | 42-30-39 inches |

Favorite Things and Hobbies
| | |
| --- | --- |
| Color | Red, Coral |
| Food | Spaghetti (with red sauce) |
| Place | Not known |
| Sport | Not known |
| Brand | Fresh Cannabis Rose (perfume), Chanel Vitalumiere Aqua with SPF, HD cream blush by Make Up Forever |
| Actor | Not known |
| Actress | Not known |
| Film | Love Actually, Like Water For Chocolate |
Christina says "I don't think any woman in the world could get tired of being compared to Marilyn Monroe."
[sc:mediad]
Professional Career
First Debut: The actress made her television début in the MTV anthology series Undressed.
Brand Endorsements: Johnnie Walker whisky, Visa Credit Card, Clairol Nice 'n Easy color line, London Fog (world's most famous brand of jackets and coats), Baskin Robbins, Clean & Clear Strips
Career Achievements: Christina Hendricks was nominated for 6 Primetime Emmy Awards for AMC Cable Television series 'Mad Men' and also for playing 'Saffron' in the FOX series Firefly.
Remuneration: $ 0.1 million
Net Worth: $ 8 million
Christina Hendricks Weight Loss
Keeping in shape might be a tough challenge for the lady, but here is what she does to stay curvaceous and hot.
Workout Plan
The hot and voluptuous Christina works out along with her husband on the treadmill.
Sit–ups and push-ups, weight training (she uses a BOSU ball) are all a part of her workouts.
Gym for her is thrice a week. Dance is a great way for her to kill the pounds.
Diet Plan
No regrets when it comes to eating. Christina used to drink cappuccino in large quantities (in her growing years). That's no regret for her, still.
She likes to keep her refrigerator full of green and leafy veggies and yes, fruits. She makes soups at home while using a variety of veggies, herbs, and spices.
Her most favourite food items? It is homemade foods such as mashed or steamed potatoes, fried chicken, quiche, sushi etc.
As for her fitness formula, she stays away from foods that are rich in high carbs and trans-fats.
Facts About Celebrity
As a young teenager, Christina was a goth. Her mom was ashamed of the young lass and kept telling her how horrible and ugly she looked.
Whatever made Christina dye her hair red? The credit goes to Anne Of Green Gables who was the red-hair inspiration for Christina.
Christina can play accordion.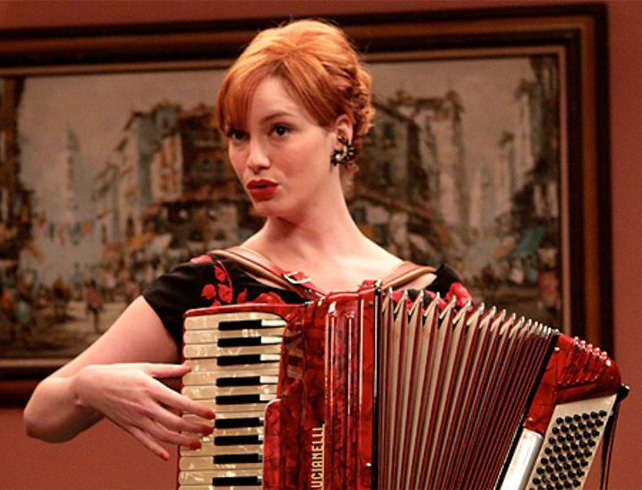 While struggling as an actress, the lady appeared in many commercials.
At the time of her wedding, Christina's bridesmaids were dressed in nothing ordinary, but vintage.
Do you know what British Equalities Minister Lynne Featherstone said about the actress? "Christina Hendricks is absolutely fabulous. We need more of these role models. There is such a sensation when there is a curvy role model. It shouldn't be so unusual."
Christina was a big fan of Dungeons of Dragons. Guess what? She used to play it with her brothers.
Commenting on her style choice when she was a teenager, Christina has the following to say "People literally spit on me. I was a Goth girl, and in preppy Fairfax County, that did not go over very well…I dyed my hair about 42 different colours, shaved it at the back and wore black make-up…My mother was mortified and kept telling me how horrible and ugly I looked, and strangers would walk by with a look of shock on their face."
Weird it is but Christina hates her hairstyles of her 'Mad Men' show. The strange thing is that the show has had a 7-year run.
Any acting regret she has? Yes, in MTV's Undressed, a popular anthology series which ran from 1999-2002. She wasn't too proud of her work in that.
At one point, Christina was job-hunting. The worst part is Hendricks was dropped from her talent agency for having taken the "Joan" role on Mad Men. Her agency told her, "It's a period piece, it's never going to go anywhere. We need you to make money and this isn't going to make money". She remained firm on her decision, and they dropped her. What was Christina's rationale? Say she "I had been on several shows that were meant to be the big ones, that would go on for ever, and they didn't. So there was no sure bet and I'd already taken a chance on them and I felt, why not do the one you're in love with and take a chance on that?" Sticking to her decision paid off. Her "Mad Men" role was the best career choice the actress has made till date.
In 1997, the 'Mad Men' girl moved from London to Los Angeles in the pursuit of an acting career.
Can she ever be a doting mother? No, as Christina is not keen to go the family way, even though she has been married to Aaron for 7+ years. The actress said to the Health magazine "We've decided that we are not really interested in having children. It seems like it's expected that you'd want to have kids."
Post her graduation from high school, Christina moved to New York and took to professional modelling.
This was the highly irresistible and glamorous Christina Hendricks for you. Care to write back to us how you found her?
Images Source: pinterest