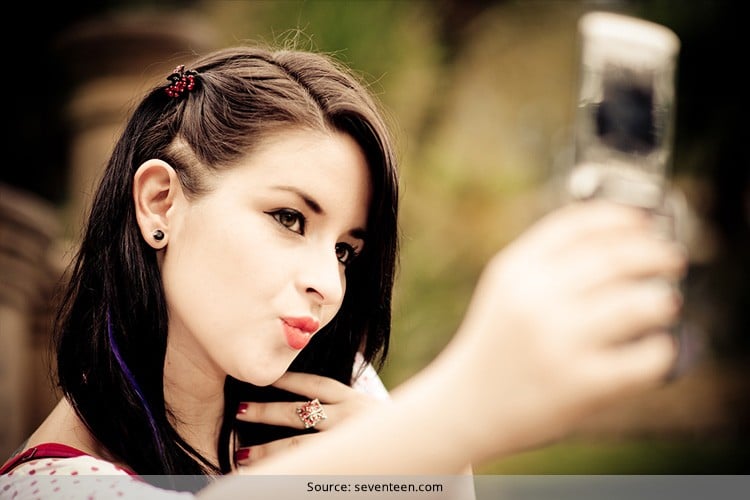 Girls, we know how much you love your phones and cameras in them, and those selfies, OMG, you've flooded every possible social media page with them. Good job! Now it is time to have some more fun, since we bring to you beauty tricks for taking your best selfie. Before you learn more about these beauty tricks for taking your best selfie, we would begin by saying HAVE SOME FUN. Now why's that? When you are in an upbeat mood, you sure would bring out the best, the sassiest and the snazziest of all moods and poses, which helps enhance the below mentioned beauty tricks for taking your best selfie, so start out now.
[Also Read: Here Are Tricks On How To Look Good In Stylish Ponytails]
1. Selfies Aren't To Be Taken Too Seriously
That's true, beauty is to be taken serious, selfies, no way! Selfies are for fun sake and keeps, which is exactly why we began with the 'HAVE SOME FUN' logic as part of the entrée to beauty tips, beauty tricks and how to take beautiful selfies. Selfies are for fun so don't get too serious about the same. You aren't in a serious fashion photoshoot where you have to look all glum and serious to get the right one.
2. Do You Have The Right Light Source?
Lights play an important role without which your cute selfies won't be the perfect selfies you wish to have. Now a light source doesn't mean the shoot halogen large hot lamps, because having them around isn't possible always. What you can make do with are lights on the streets, maybe candles (a couple of them for a romantic surreal mood) or the sun's natural light too. Never take a selfies against the light source, go in sync and in the same direction of the light source.
3. Tilt The Camera Slightly
Very important to have those beauty secrets understood when taking the perfect selfie. Your camera needs to be at a flattering angle, so don't allow anyone vertically challenged or shorter than you take your pictures. This would result in the wrong angle use and you wouldn't look like a diva. Double chins appear when you take selfies from a lower angle! Do you want that?
4. Makeup Wise
Now to the best part of taking selfies- makeup trends! Talking of makeup trends, selfies across social media show us women with plenty of bronzer, highlights, eyeshadow and contouring, which experts warn against! Subtle is OKAY, too much is not! If you have to contour your skin, ensure that the same is blended well into your skin for the best results to show in your selfies.
[Also Read: Top 6 Selfie Makeup Tips]
5. Use A Primer
Primers are important as a base since it works well on every complexion and smoothens the skin texture out. This would mean you don't need those magical filters to even out the skin texture on your face. Primers can be in cream or powder base, which you can use.
6. Don't Forget Your Foundation
Once again, best beauty tips that we would speak of here is to use powder, cream or liquid foundation as per your choice and skin type. Foundations should be one tone or closest to your skin type and color, since it would reflect light. This brings about a diffused look to your skin and a healthy even glow as well. Avoid too much of foundation use or else your skin would look cakey and WHITE! Use a translucent powder if you have an oily skin, which helps matte the skin tone!
[sc:mediad]
7. Do I Use A Blusher?
YES! Milky blush for light tones, peach for moderate skin tones and regular pinks for darker skin tones.
8. Keep The Eyes Minimal Or Sultry
Without making your eyes look too flashy or shimmery, unless it is a theme party, your eye makeup should be au naturale and smooth. You could try sensual smokey eyes or maybe leave it tightlined with kohl, the choice is yours. Don't wear too much colorful shimmery eyeshadow during the day or else your eyes would look dull and gray.
Do let us know how you liked this post on beautiful selfies beauty tips and tricks. If you have your own tried and tested beautiful selfies using your own tips and tricks, do write in. And if you are using one of our tips and tricks mentioned, do send us your girl selfies or women selfies to show us too!