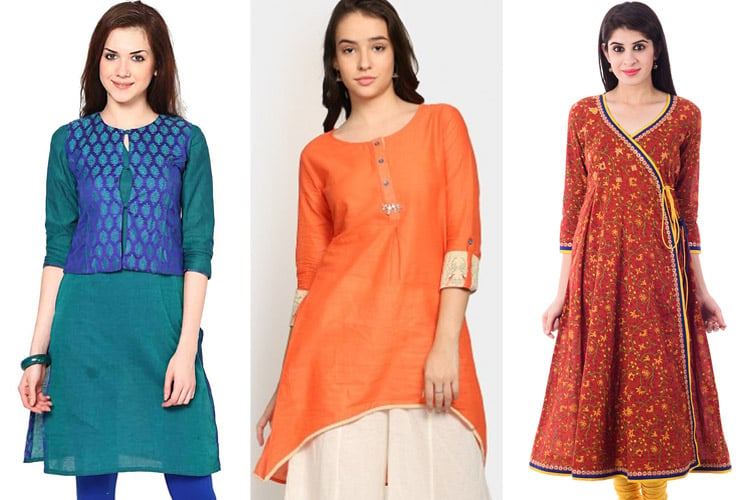 Are you a college-going lass, working bee, house-wife or a diva? No matter the slot, a lady needs to look good all times of the day – the whole day, in fact. And when it comes to fashion and dressing, she had better know what's hot and what's in.
KURTI is one such fashion trend-cum-statement, which fits the bill really well.
It is chic, easy-to-wear, and easy-to-wash. There are kurtis for every season, mood, and occasion. But how many of you know there are many Types of Kurti Designs, and not just one? You will come to know, through this blog.
Kurti is not just a garment, it's a style statement, for the girl next door to your favourite heroine look. Plain-looking or sexy and designer, the Types of Kurti Designs are truly vast.
You will be surprised to know the range of kurtis – Tail Cut Kurti, A-Line Kurti, Trail Cut Kurti, Anarkali Kurti, Angrakha Kurti, Dhoti style Kurti, Flared kurti, Indo-Western style kurti, Floor length/Gown style kurti, Long straight kurti, Pakistani kurti, Colour-block kurti, Printed kurti, Shirt kurti, High-low kurti, Kaftan style kurti, Princess cut kurti, Asymmetric kurti, C-cut Kurti, Tulip Kurti, Overlay Kurti, Double Layered Kurti, Reversible Kurti, Pintuck Kurti, Slit Kurti, Denim Kurti, Kurti With Jacket, Empire Waist Kurti, Tiered Kurti, Cape Style Kurti, Kurta with Pocket, Cold Shoulder Kurti, Frock Style Kurti.
Phenomenal, isn't it? How about knowing more about each type of Kurti in detail?
1. Tail Cut Kurti
The name says it all. This kurti has a "tail-like" effect on the back/rear side and is short on the front side. Call it western wear option for the young and glam babies. with the layered pattern, a tail-cut kurti creates a unique flair of its own for parties and formal functions.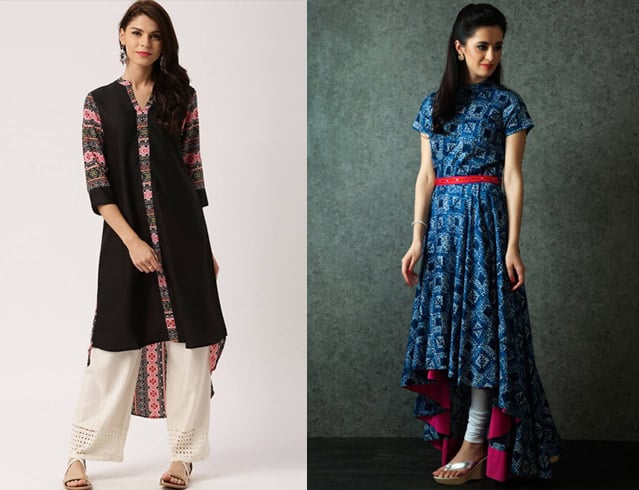 2. A-Line Kurti
Most favourite it is amongst the teeny-boppers. Just like the letter A, it is narrow at the top and flares at the knees (or ankles depending on the length of the kurti). It can be teamed up with a legging or churidar (once you have made up your mind on the comfort aspect between the two).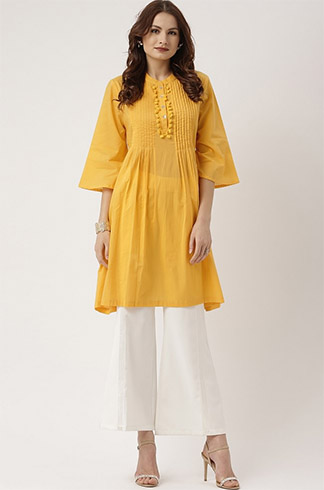 3. Trail Cut Kurti
This kurti design has C-cuts on both the sides. You can choose the texture of the materials between georgette, chiffon to silk and crepe. If you want to further enhance the look of the designer cuts, border embroidery can be a good option.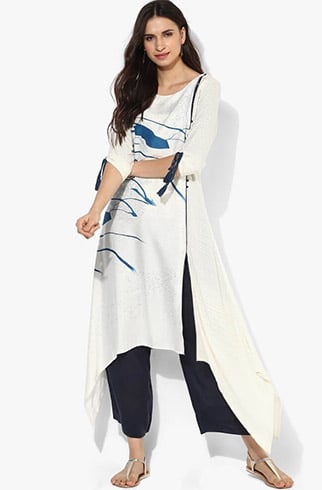 4. Anarkali Kurti
Grace, elegance and traditional ethnic look – an Anarkali Kurti is a perfect blend of all these. The other plus point of an Anarkali Kurti is that it suits every body shape – Hourglass, Rectangle, Pear or Apple. With the festive occasions nearing, go ahead and shop for this type of kurti. Wearing jewellery can further enhance the look of Anarkali Kurti.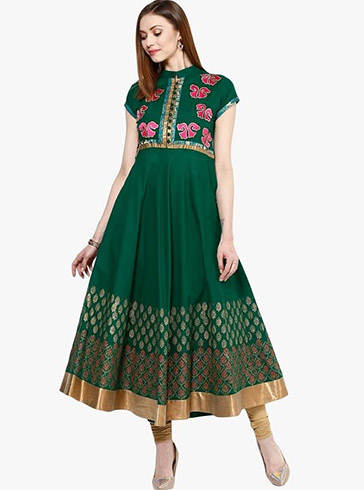 5. Angrakha Kurti
B-town divas are in love with this kurti design. Why? An Angrakha Kurti is a fresh version of the tunics worn by the musicians of the royal court. What makes it unique, you ask? It has two similar-looking or contrast flaps which lay on each other and can be tied with the help of straps at the side. Take it up a notch with beads, hangings or chic pom poms.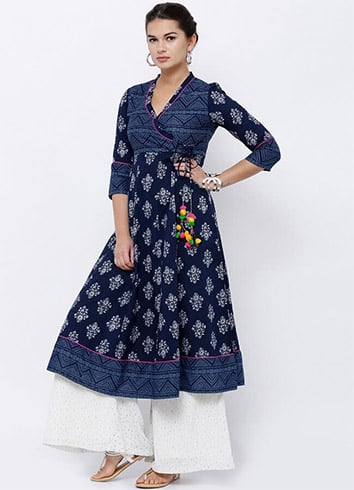 6. Dhoti style Kurti
Do you know the fashion interpretations of Dhoti style? There are Dhoti pants, Dhoti Saree, Dhoti Dress, Dhoti Gown etc-all of them trendy and contemporary. Of late, it is the Dhoti style kurti that has gained lots of appreciation. First of all, it is loose (nothing tight about it) and comfortable in wearing. Plus, it gives a glam designer look at the parties. In Dhoti style, the drapes may start from bodice and can be further enhanced with designer cuts and creative patterns. The belt in Dhoti style kurti flatters feminine curves.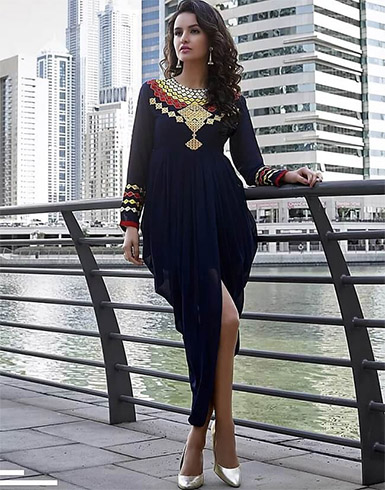 7. Flared kurti
Fashion on Fire?? Yeah. That's what Flared kurti is virtually about. Flares (narrow or wide) look gorgeous any day. They also give a regal look to the parties. A flared hemline looks good on tall women so ladies with short height should avoid it.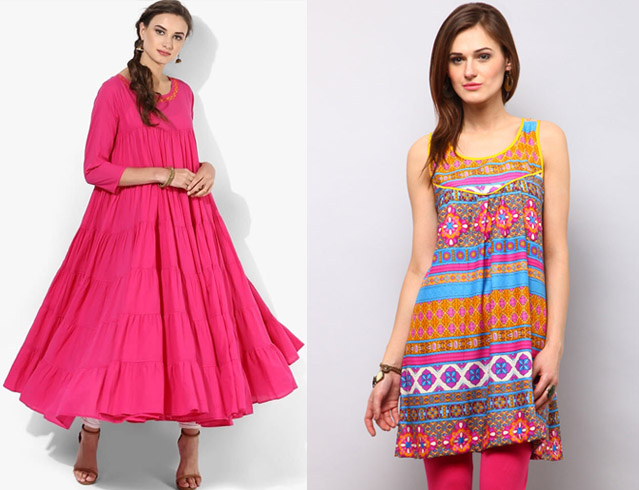 8. Indo-Western style kurti
You can sport a part-desi part-firangi look with this Indo-Western style kurti. Special neckline, sleeve styles and different cuts helps make the western look steal the show.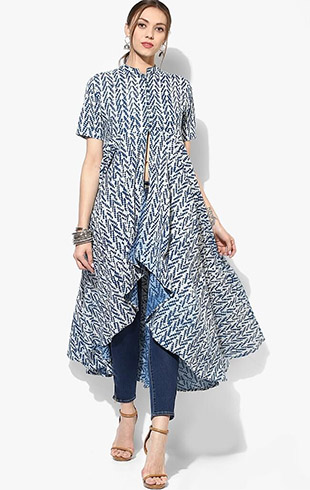 9. Floor length/Gown style kurti
Evening gowns get their Indian equivalent with Floor length/Gown style kurti. It makes a favourite style statement in Bollywood too at red carpet events, award functions and inauguration functions. There are many styles to this kurti – embroidered, printed, designer anarkali, etc.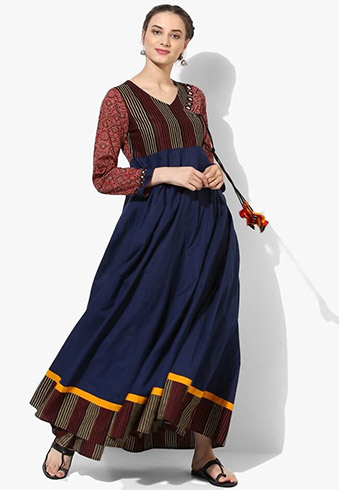 10. Long straight kurti
You are bound to look taller in the Long straight kurti. Courtesy, the straight hemline which makes it possible. And then, it gives you a professional look too. Which is why it can be a TOTAL rage when it comes to doing a fashion makeover for office-wear.
Avoid going in for short sleeves as a long-straight kurti is bound to look more stunning with full-sleeves.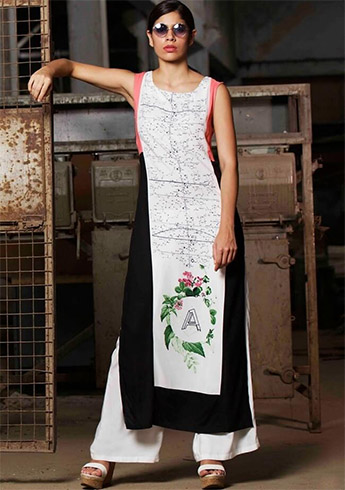 11. Pakistani kurti
Long, straight and baggy, guess what makes Pakistani kurti a hit? The trend of wearing something ill-fitted yet different. Available in calf- length to ankle-length size, a Pakistani kurti is sure to make you look out-of-the-world.
[sc:mediad]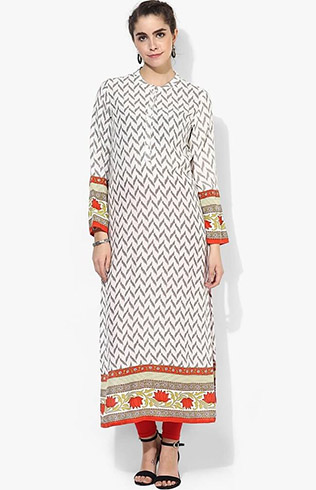 12. Colour-block kurti
This kurti design is dedicated to the adventure-seeking ladies. What makes a Colour-block kurti stand apart from the others is the choice of contrasting colors set in bold blocks. Which is why, it is an excellent pick for the lasses who like to make a bold statement. See to it that the color combination you choose works well together and doesn't leave a sour impression.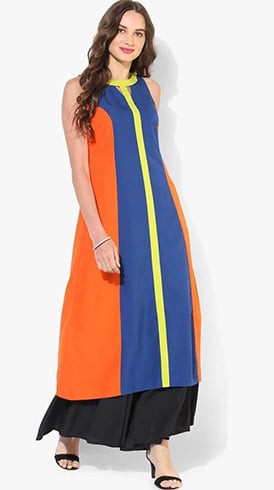 13. Printed kurti
This avant-garde Printed kurti gives you the options of trying out simple block print to digital print. Such can be the impact of a Printed kurti that you just don't need extra accessories.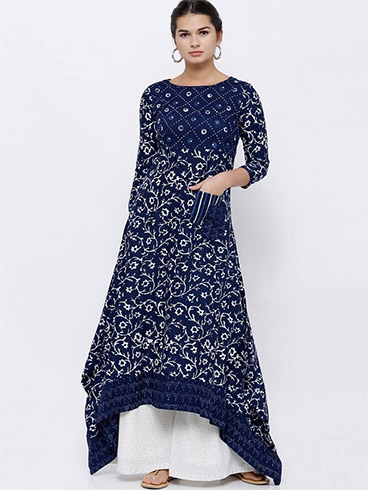 14. Shirt kurti
You are going to love this fusion of Indian kurti and western shirt, because you are going to look both professional and stylish at the same time. In short, the Shirt kurti can be a perfect and trendy dressing choice for your office wardrobe, both casual and formalwear!
The fabric you choose in Shirt kurti should be skin-friendly, so that it makes you feel comfortable at your work zone.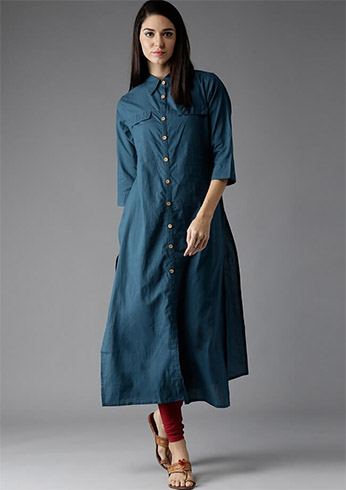 15. High-low kurti
Will you love this high-low in life? You better. Because the High-low kurti has a shorter front hem as compared to the back. Extremely stylish and casual- it adds a fresh perspective to modern-day dressing.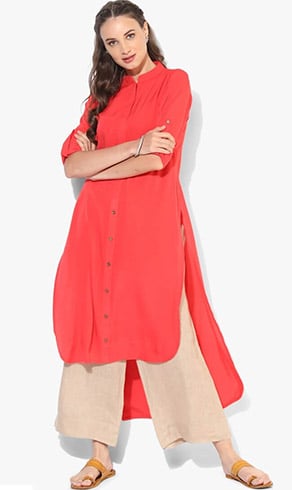 16. Kaftan style kurti
Is it Afghan-inspired or a take from Mughal culture? Whatever it is, the Kaftan style kurti has created a suitable place for themselves in women's closet today. This loose-fit clothing style with wide drop sleeves spells glamour, sophistication and everything marvellous.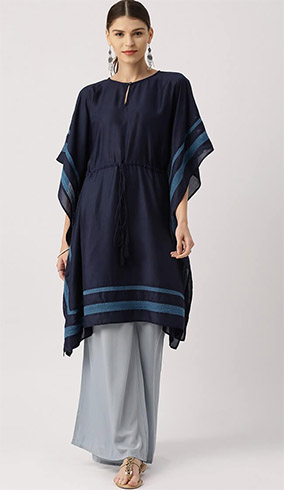 17. Princess cut kurti
Look like a fashionable princess in this Princess cut kurti wherein princess seams are created on kurti to get you flattering feminine curves. The shaped seams start from the shoulder or armhole and end at the waist. Then they continue down, shaping the full length of the garment across the waist and hips. Mind you, there is no side opening in Princess cut kurti.
Collar neck in button down pattern or embroidered yoke complete the look of this kurti.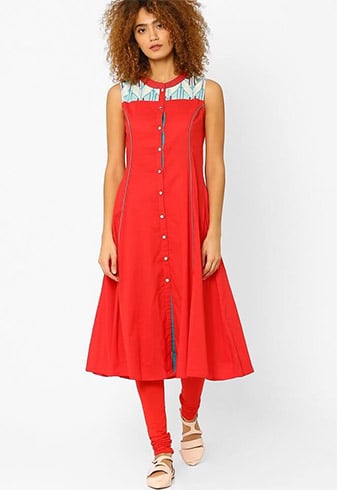 18. Asymmetric kurti
If straight hemlines bore you to death, then Asymmetric kurti could be your saving grace. Heard of illusion in height? The Asymmetric kurti gives you exactly that and beautifully. This could be one reason why this kurti becomes one of the most favoured dresses of Bollywood divas. As for the choice of materials, light weight fabrics like chiffon, crepe and georgette are most preferred.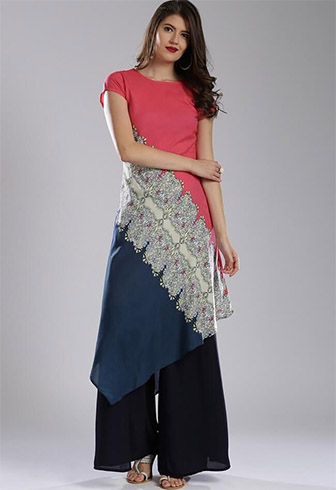 19. C-cut Kurti
Hello C-cut! Well, the front hem of the C-cut Kurti has 'C' shape (quite obvious), and it is this cue that makes it look different from other high-low kurtis.
If you are tall by any chance, then C-cut kurtis will suit you well, making you look slimmer and stylish.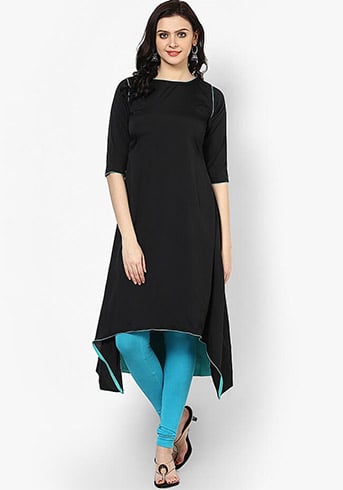 20. Tulip Kurti
Tulips are not just for the garden, but also for the feminine you. A Tulip Kurti will flatter any college-going girl. And why not? It's got a trendy-looking tulip shape design on the hemline – which makes it look different from all other kurtis.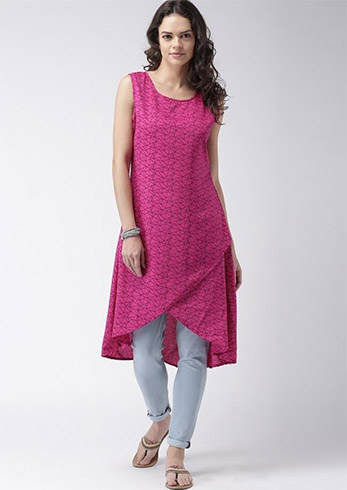 21. Overlay Kurti
The Overlay Kurti is a unique-patterned kurti which has full-length overlay starting from the waist.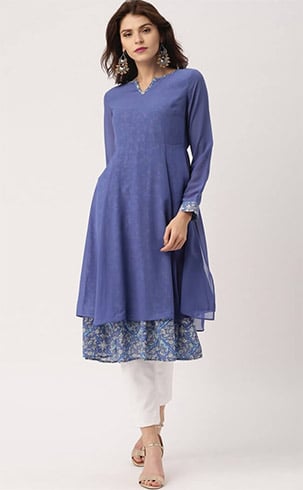 22. Double Layered Kurti
Is there anything special about this kurti? It's DOUBLE-LAYERED (exactly as mentioned). Which is why Double Layered Kurti gives a gorgeous layered look! Wear it for your social evenings, even at the start of the festivals. They will leave a unique impression- be rest assured. These types of kurtis are increasingly becoming popular and are available with "undetachable" and "detachable" extra layer.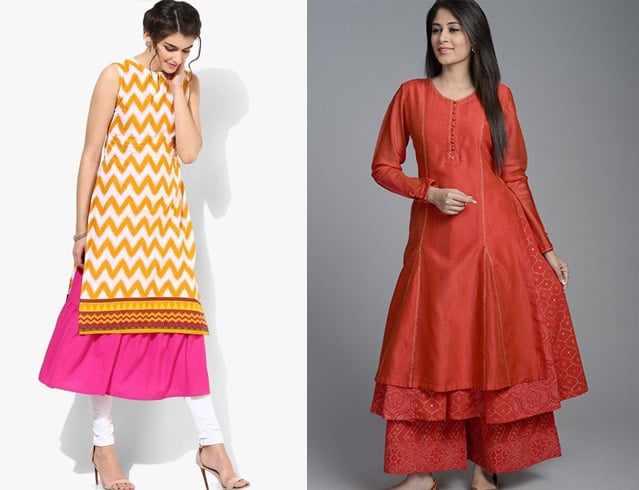 23. Reversible Kurti
The best advantage of this kurti is that it can be worn INSIDE-OUT as well. So it gets you the benefit of two different-looking stunning looks at the price of one! If your travel calendar is blocked to the hilt, it makes sense to pack in a Reversible Kurti. Sounds like an innovative idea, isn't it?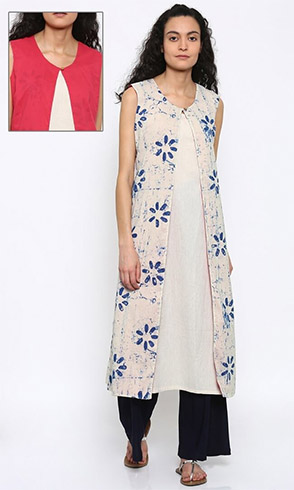 24. Pintuck Kurti
Pintucks are ornamental pleats in the fabric which can add versatility and diversity to your wardrobe. Such is their popularity that a Pintuck Kurti has made it to the fashion ramps. With pintucks on the necklines, you are surely going to win attention.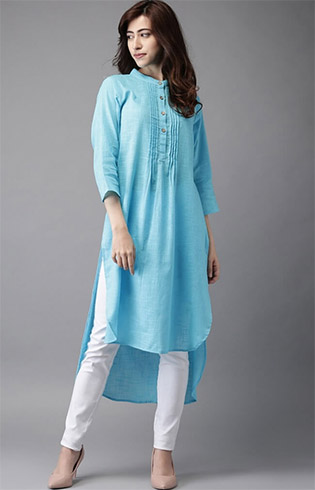 25. Slit Kurti
If there can be slit skirts, there surely can be Slit Kurti. You know their purpose right? Add glamorous and a sensuous feel to the outfit. The best thing about a Slit Kurti is that it goes well with statement skirts or palazzos. You can also pair them with ripped jeans or embroidered cigarette pants and look hot as hell.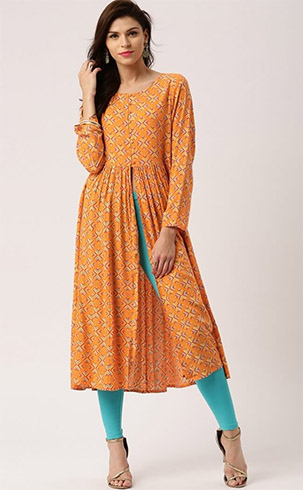 26. Denim Kurti
The fact that Denim is reserved for jeans and tees is a myopic thought. It has left its impact in the shirts fashion and now with kurtis business too. So ditch your boring shirts and jackets and don a Denim Kurti to get that sporty rugged look. Just pair them with statement bottoms and you could be the next denim lass.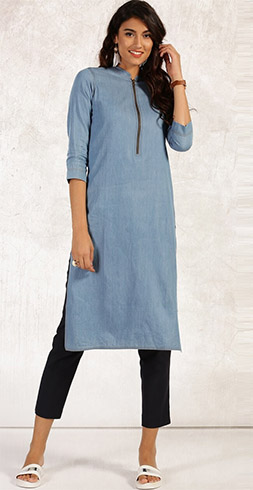 27. Kurti With Jacket
This type of kurti takes inspiration from 'Ishaqzaade' look of Parineeti Chopra. Teamed up with contrasting jackets, Kurti With Jacket makes such an elegant statement.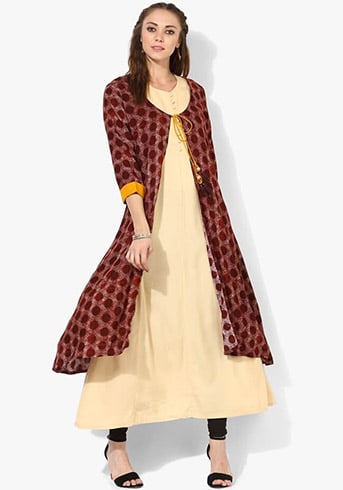 28. Empire Waist Kurti
Influenced by empire waist gown, an Empire Waist Kurti tapers from the bust line and flows through the entire length. Get a matching legging and you will love the level of elegance.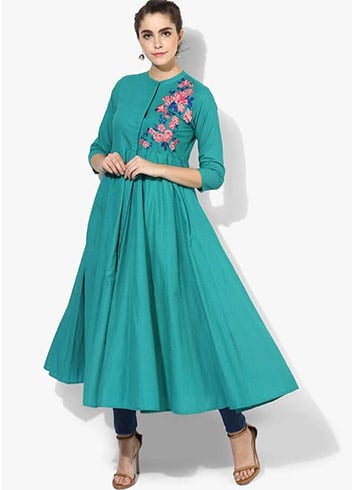 29. Tiered Kurti
It is when tiers of fabric are stitched together in a quirky fashion that a Tiered Kurti evolves. Goes to show much sought-after creativity in fashion. The interesting thing about this kurti is that it adds kind-of-volume to the usual body frame. That is why, it looks extremely classy when you wear it with statement bottoms and accessories.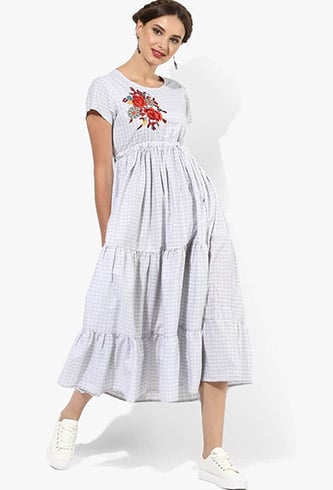 30. Cape Style Kurti
Cape has been a much-loved fashion trend and Cape Style Kurti takes this trend into a whole new realm. These ultra-chic indo western kurtis will surely make heads turn wherever you go.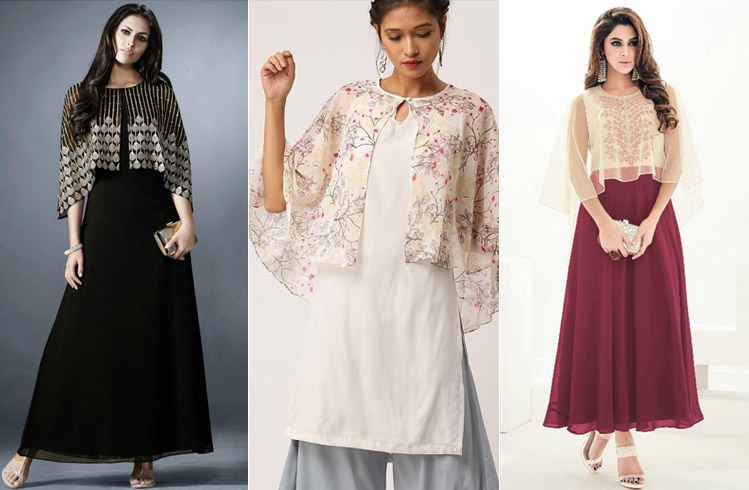 31. Kurta with Pocket
Now this is an interesting twist in the ethnic wear. With pocket stitched in, this kurti shows a versatile pattern. Absolutely!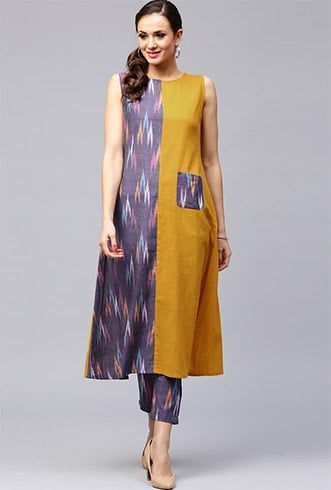 32. Cold Shoulder Kurti
How cool can you be? When you wear a Cold Shoulder Kurti. It is the coolest trend doing the rounds. It gives you the advantage of adding a modern contemporary touch to ethnic looks. GO for it! You will love it (as much the people watching you).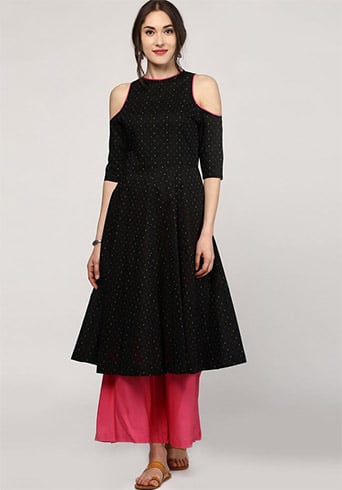 33. Frock Style Kurti
Want to show your chirpy side without making too much of effort? Frock Style Kurti is there to fulfil your fashion wish. The flare at the end imparts a nice indo-western look to the kurti.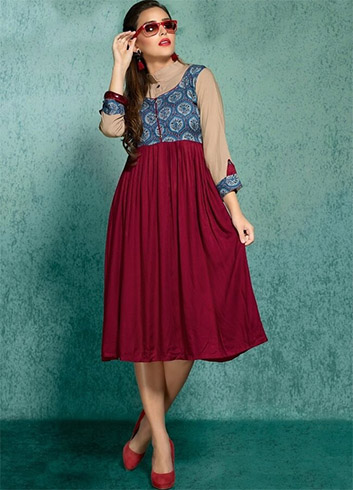 Hope you loved the Types of Kurti Designs shown. Which of them do you plan to shop and wear? We would like to know. So, do write in.
Images Source: pinterest