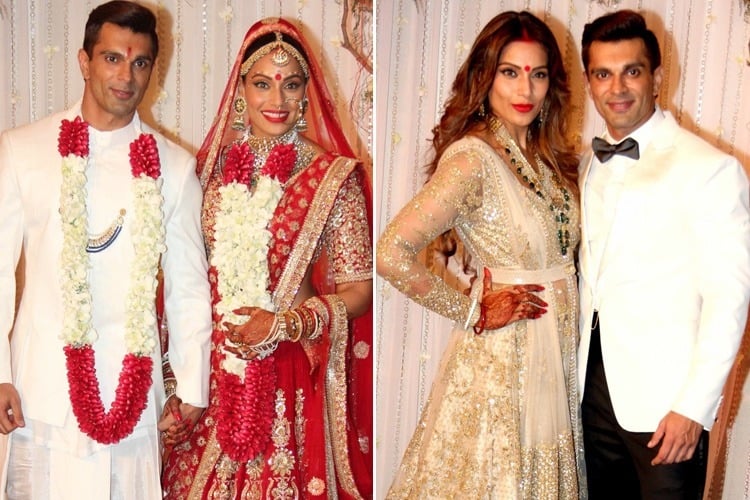 All romantic tales have a happy ending. This one has streaks of Punjabi and Bengali blood (genetic one, though), rituals, traditions, fanfare, excitement and Bollywood industry in full attendance at the reception.
On the 30th April, the 37-year old sexy Bengali babe Bipasha Basu went off the spinster radar as she tied the knot with the 34-year old Karan Singh Grover, her Alone co-star, who she had been seeing for quite some time.
For all of you who would like to know more on Bips-KSG, this marriage happens to be Karan's third and Bipasha's first.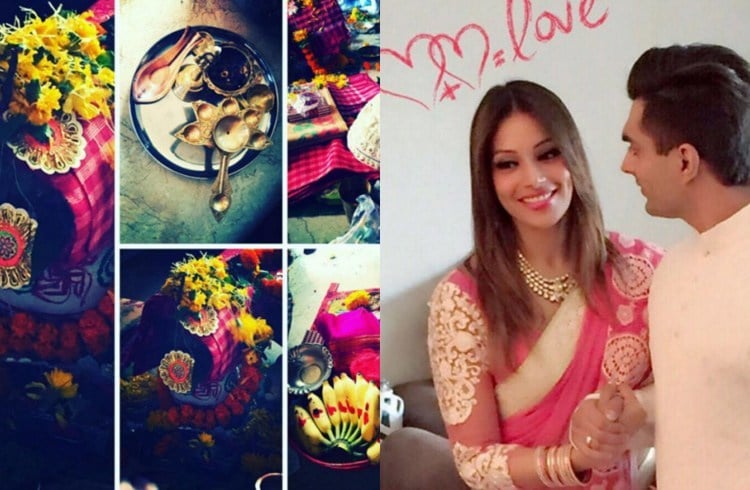 Mehendi Ceremony Of Bipasha And Karan
The Mehendi and Sangeet ceremony of Bipasha and Karan had its fun moments. It was held on April 29 at a suburban Mumbai lounge, where actors Bipasha and Karan arrived.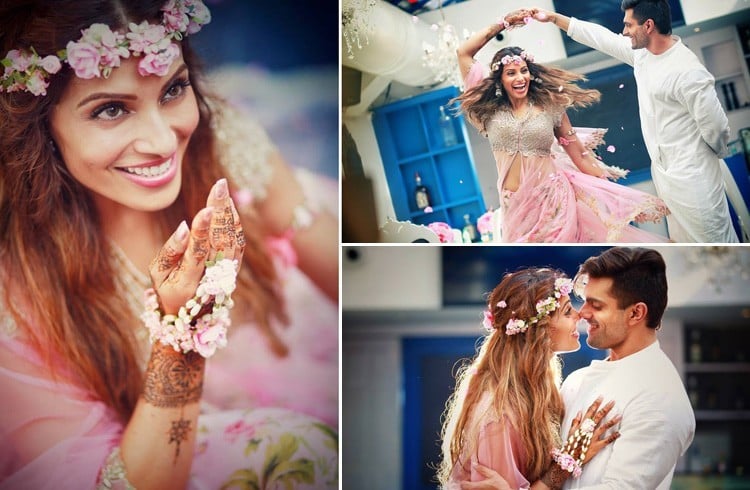 Bipasha looked a head turner for sure dressed in a pink lehenga which had a printed underlay and matching purse. As for her accessories, there was a tiara, haath-phool and baju bandh, all made out of flowers.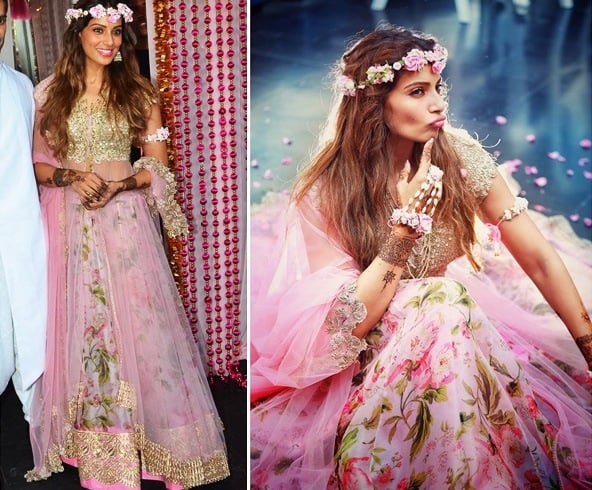 The Shetty sisters comprising of Shilpa Shetty and Shamita Shetty and couture designer Rocky S were more than glad to join Bipasha in this photo click.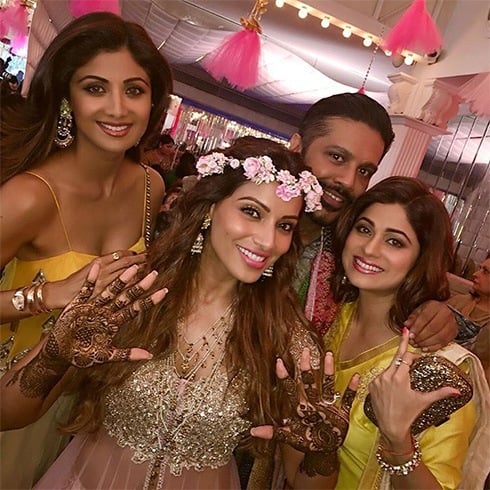 Bips and her entourage of girlfriends gladly showed off their mehendi.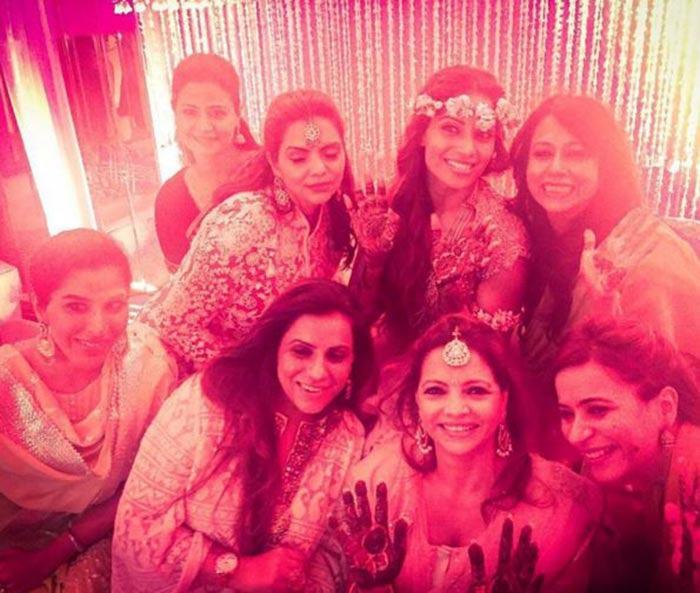 Looks like KSG couldn't contain his excitement as he joined Bips in her Mehendi celebrations.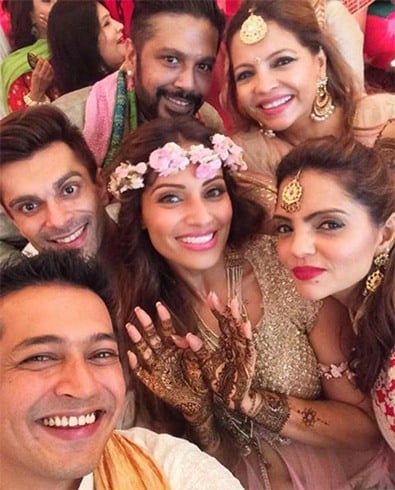 Costumes And Jewellery Worn By Bipasha Basu And Karan
Karan who tied the knot with Bipasha at a private ceremony in Mumbai went for an ethnic looking white kurta and pyjama. His ensemble was beautifully accessorised with a carved polka and a jadau brooch suitably strung with pearls and sapphires from none other than Jaipur Jewels, which is a reputed jewellery brand.
Talk of the bride, and Bipasha was dressed in traditional Bengali style. She wore a heavily embellished red lehenga that Rocky S had designed for her. On the jewellery part, she wore exquisite kundan, nath bangles, red-white chandan dots on her forehead and maang patti.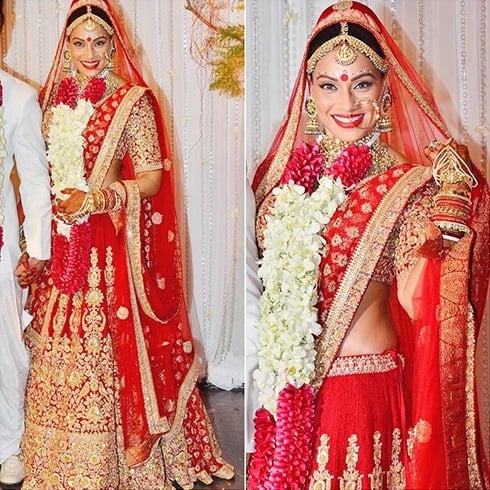 Not only is she breathtaking to look at, the bride made a breathtaking entry as well in her true blue Bengali ishtyle with a mukut on her head and betel leaves in her hand.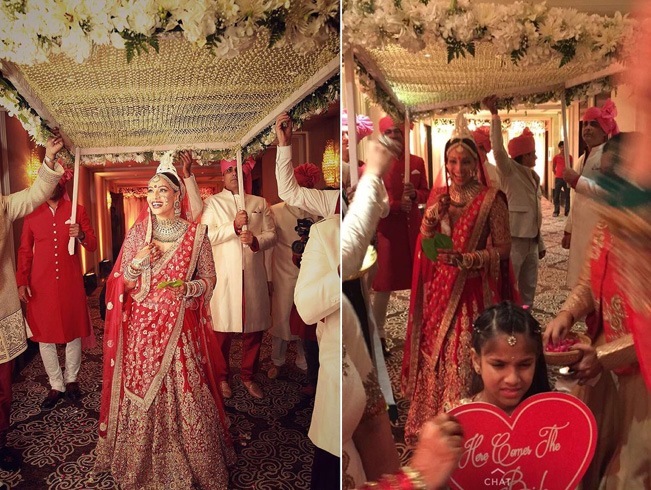 Seems like she couldn't stop her dancing skills in her wedding. Bipasha did a mild foot tapping as she was reaching the mandap.
No Bengali wedding is complete without shubho drishti, a ritual that takes place just before the final marriage round. If you are an avid Bengali, you will know that in Bengali marriages, the bride is made to sit on a small pedi and is given seven rounds of the bridegroom. The interesting thing is, she has to do all this while keeping her face covered with betel leaf since she is not meant to see the groom. Bips followed the same process and finally saw Karan.
Look how Bipasha looked absolutely gorgeous while undertaking it. During this ritual, the couple were cheered by friends. In fact, very few celebs were invited for the ceremony, prominent being hair stylist Sapna Bhavnani and Bipasha's ex-boyfriend and her Raaz co-star, Dino Morea.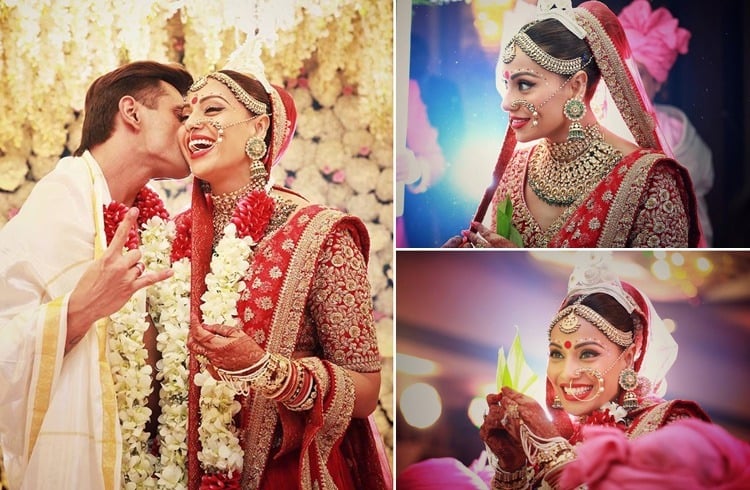 [Also Read: The Mega Star Celebrates Srija's Wedding In A Mega Style]
Wedding Reception Of Bipasha-Karan
The who's who of Bollywood was in attendance at the reception of Bips and KSG, which was held at St. Regis hotel in South Mumbai. In poured the love and blessings of star celebrities such as Amitabh Bachchan, Abhishek Bachchan, Aishwarya Rai Bachchan, Salman Khan, Preity Zinta, Malaika Arora, Sonam Kapoor, Genelia and Riteish Deshmukh, Sanjay Dutt and Manyata, Ranbir Kapoor, Shah Rukh Khan to name a few.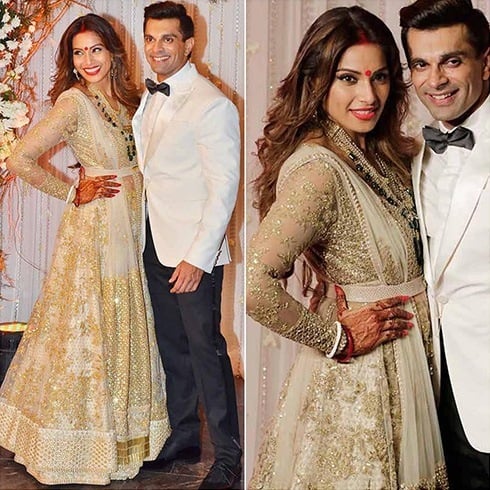 Bips was ecstatic to the core upon seeing Sallu at her wedding. She told the media, "Salman attended my wedding, my biggest wish has come true." Karan too was seen by her side and he said, "She is very very happy that Salman has come."
Salman was nice enough to say the following about the couple, "These two make a very nice couple and I hope they last."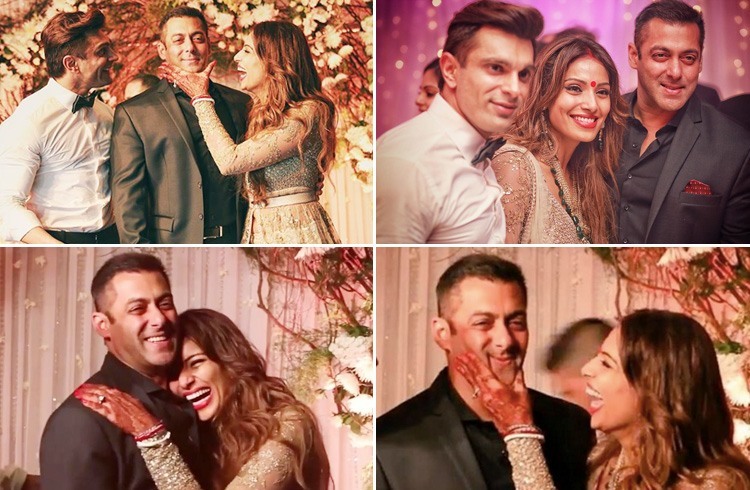 [sc:mediad]
Abhi-Ash looked a regal couple as they posed with Bips and Karan at the reception.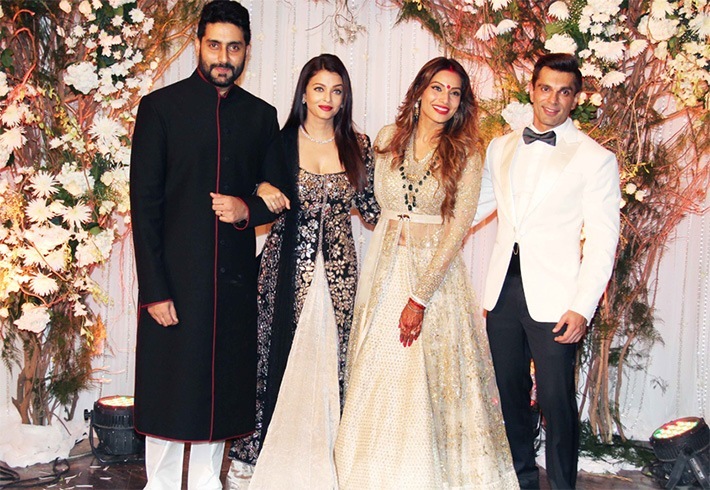 Hope you enjoyed going through the awesome pictures of Bipasha and Karan Singh Grover's wedding. Do let us have your comments on what attracted you the most – the newbie couple, costumes, guests or the overall excitement.
Images Source: instagram.com, facebook.com/theweddingstoryfilms