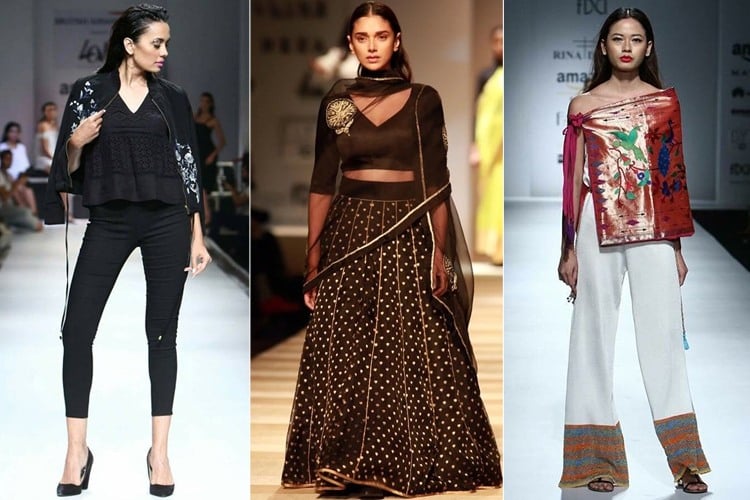 It may be Fall/Winter 2016 for you, but in the fashion industry Spring/Summer 2017 has already arrived. The designers are ready with their collections for the next summers, and the industry is all set to see them at the shows.
The first of the season, The Amazon India Fashion Week SS17 kick started at its designated venue, the NSCI grounds in Delhi.
In its 28th edition now, AIFW SS17 in association with Maybelline India, will play host to a total of 110 designers, including the stalls, who will be designing a collection around the theme of the season, "India Modern Festive".
The gala affaire scheduled from the 12th October to the 16th of October promises to offer 5 days of unlimited fashion. FDCI in the bid to revive the handloom legacy of various regions in India, has dedicated 2 days with 23 celebrated designers showcasing their interpretation of the traditional Indian textiles.
[Also Read: A Lavish End To A Stylish Amazon India Fashion Week, Autumn-Winter 2016]
FDCI president Sunil Sethi said it is a step towards preserving the heritage. Sethi said,
"The languishing handloom sector has been resuscitated by the #iwearhandloom campaign started by Textile Minister Smriti Irani. In continuation with this, FDCI and its designers, are making a difference in preserving the heritage of the country through our conceptual shows. This edition is our earnest attempt to merge the past, present and future through meaningful initiatives"
Day 1 at the AIFW SS17
Road To Chanderi
Samant Chauhan
Krishna Mehta
Rina Dhaka
British Airways presents Love Generation
Italian Fashion Show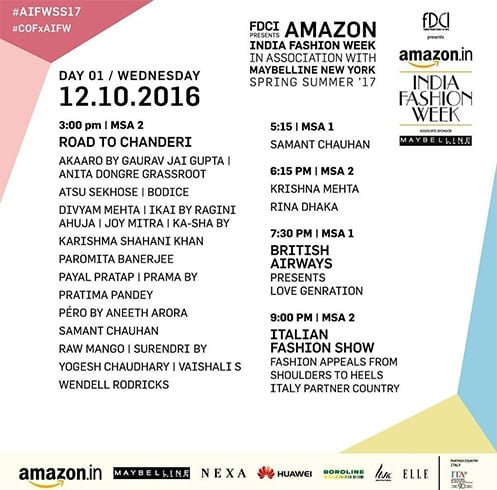 The opening show on Day 1, was an ode to one of India's most traditional fabrics, Chanderi. "Road to Chanderi" with a heavy designer line-up of 17 designers, rediscovering this heritage textile to suit their signature style, showcased an exclusive collection re-inventing the versatile fabric.
The designer line-up included:
Aakaro by Gaurav Jai Gupta
Anita Dongre Grassroot
Atsu Sekhose
Bodice
Divyam Mehta
Ikai by Ragini Ahuja
Joy Mitra
Ka-Sha by Karishma Shahani Khan
Paromita Banerjee
Payal Pratap
Prama by Pratima Pandey
Pero by Aneeth Arora
Samanth Chauhan
Raw Mango
Surendri by Yogesh Chaudhry
Vaishali S
Wendell Rodricks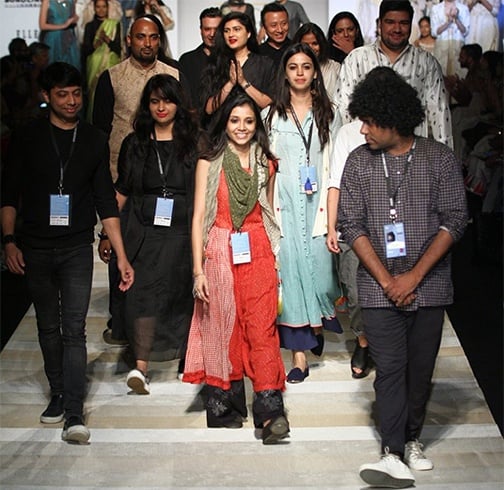 The show began with a nude color palette evolving into brighter hues of mustards, blues and greens finally ending with a burst of monochrome. High waist pants and shirts gave way to deconstructed outfits finally moving on to saris.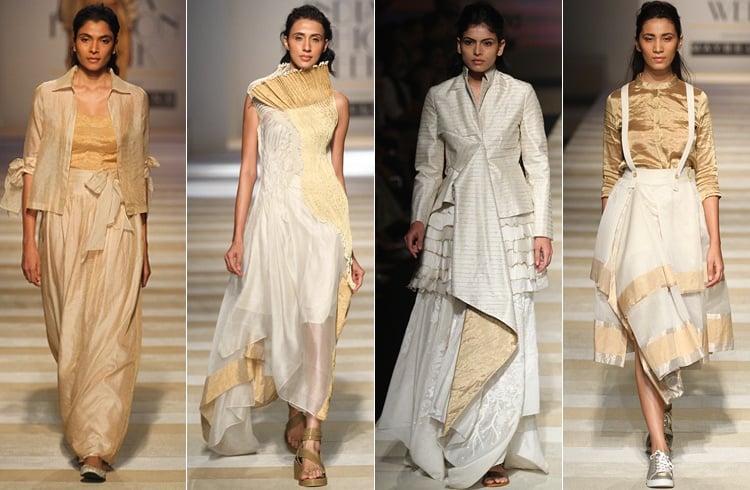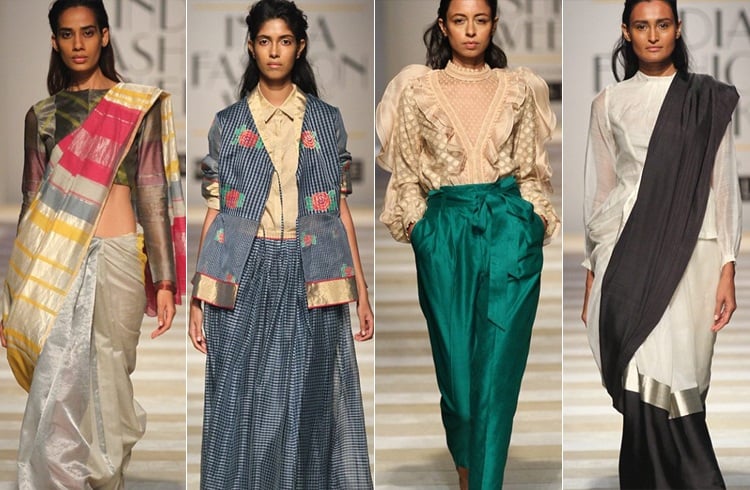 The showstopper for this exceptional show was the most graceful, Aditi Rao Hyadri. Wearing a black lehenga set by Raw Mango's Sanjay Garg, the lady stomped away to glory.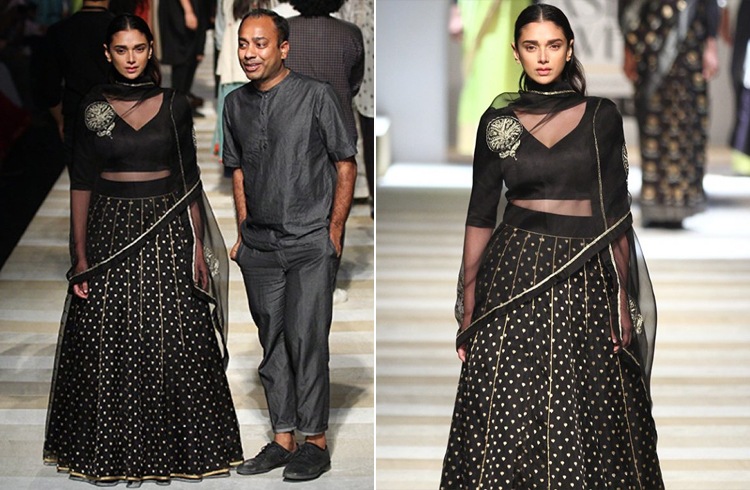 Samant Chauhan Spring/Summer 17
Samant Chauhan presented a timeless collection taking inspiration from the Aryan era. The collection oozed regality giving us a more modern interpretation of the royalties from the by gone era.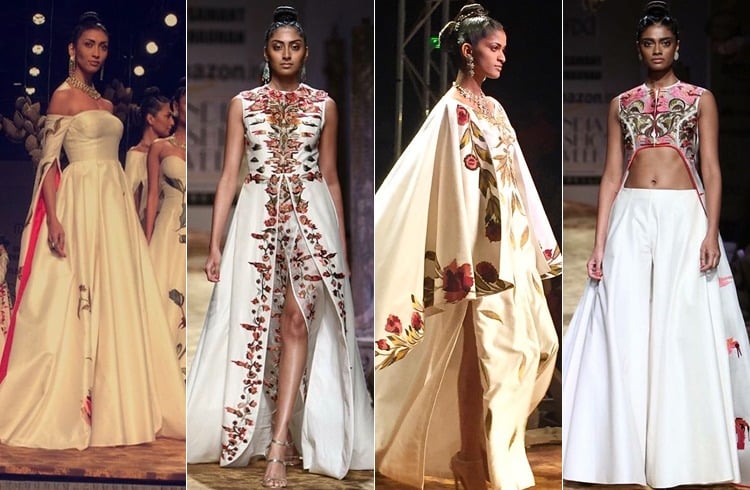 A vintage and romantic collection of white canvases painted with floral accents in muted hues, set the summer mood just right.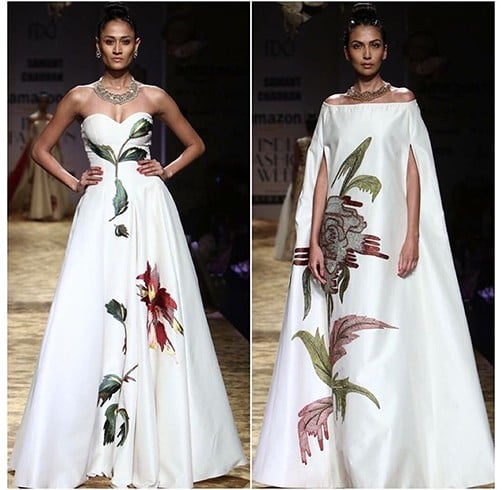 Clinched waist, structured silhouettes, asymmetric and a lot of texture and movement defined Samant's SS17 collection.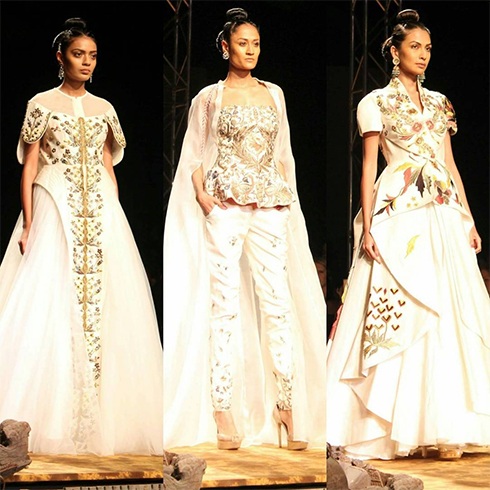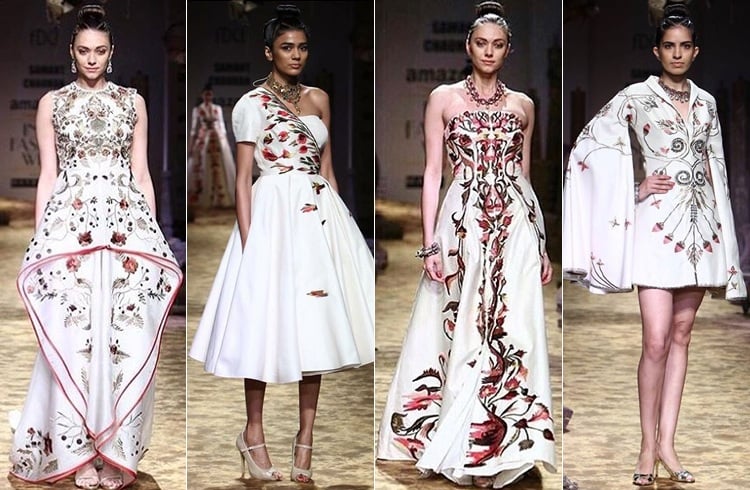 The outfits spelled feminity with a pop of red here and there adding that bit of command yet playfulness.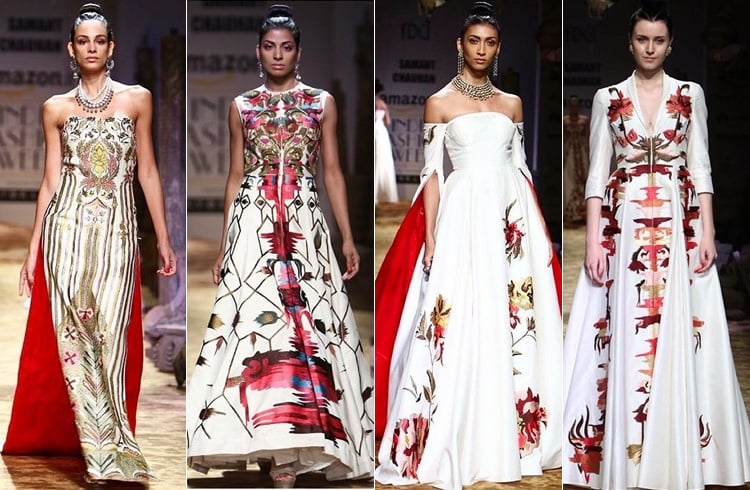 Keeping his design aesthetics simple and uncomplicated the designer romanced with the Spring/Summer runway.
Hair and Make Up artist Ambika Pillai, gave Samant's muses defined eyebrows, minimalist make-up and top knots with distinct and defined partings complimenting the designer's mood board.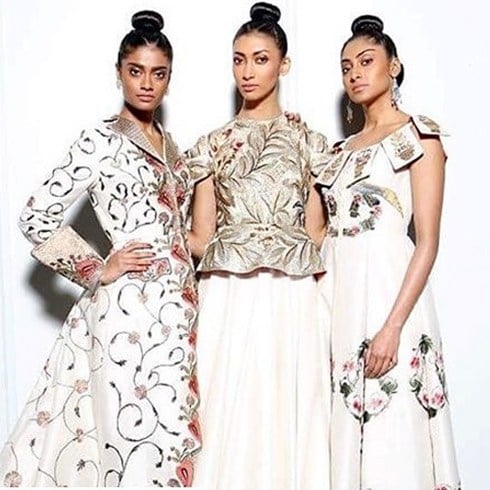 Krishna Mehta
Designer Krishna Mehta gave us the perfect flavor of festivities with a twist of gingham with her SS17 collection, The Curious Alice. With her muses looking like dolls the burst of colors she off-loaded on the ramp was nothing short of a visual treat.
Her collection looked young with an OTT vibe. Kooky styling added the much needed oomph to the bold checks.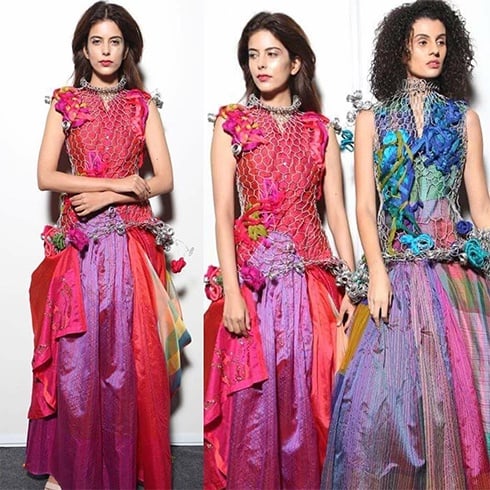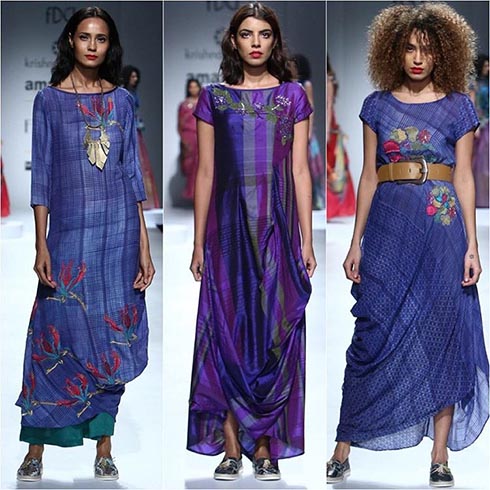 Designer Krishna Mehta surprised us with her asymmetric and dramatic skirts, kurtas and one-pieces. The vibrant drapes totally swayed us away.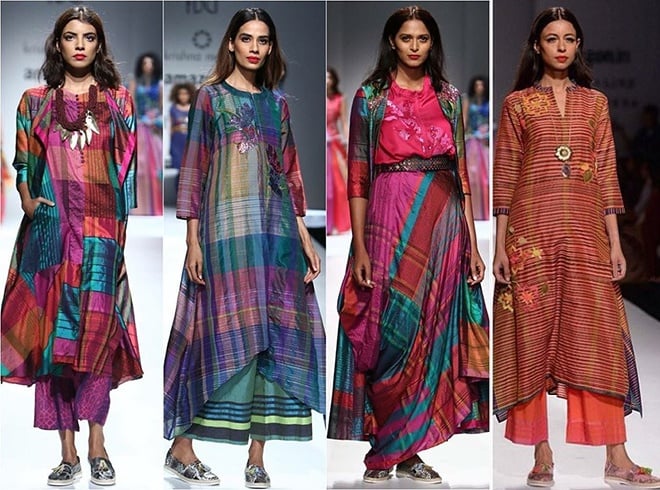 She redefined sari by adding belts, long blouses, peplum jackets and a whole lot of plaids.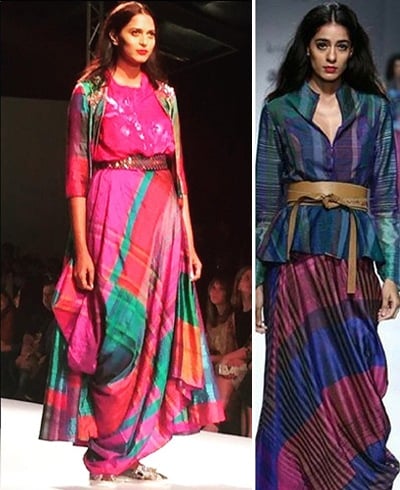 A whole lot of textures, colors and layers came together to present such an exceptional and wearable collection.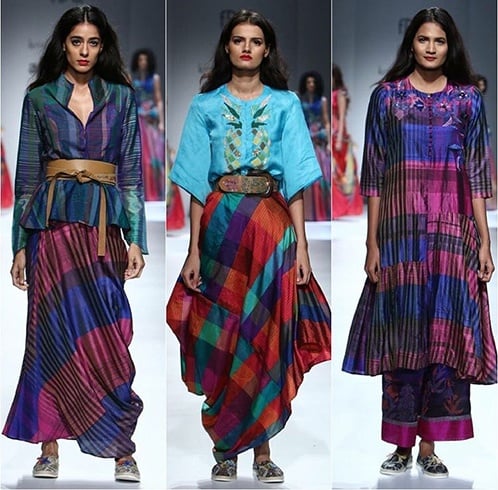 The dash of shimmer on the lower lash line of Krishna's Curious muses, has already become the talking point. Take a bow lady for presenting such a beautiful riot of colors.
Rina Dhaka
Ace designer Rina Dhaka presented an exemplary collection on Day 1 of AIFW SS17. With a color palette set in mostly cream and maroon tones, Rina celebrated ruffles beautifully in her collection.
Playing with floral motifs, she gave us some moments that will re-define our dress up in the summers of 2017.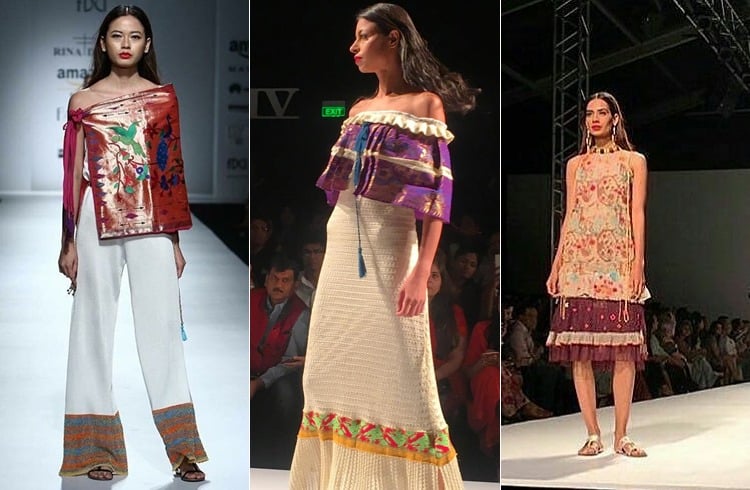 We have to admit, we are crushing over Rina's ruffled sari dazzling with a sparkled escapade.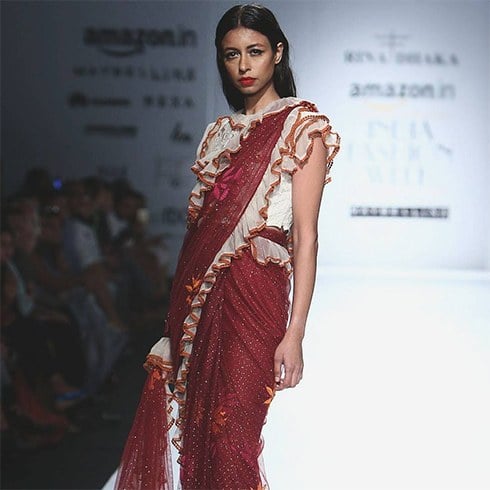 Rina Dhaka totally stunned us with her innovative design aesthetics presented at the AIFW SS17.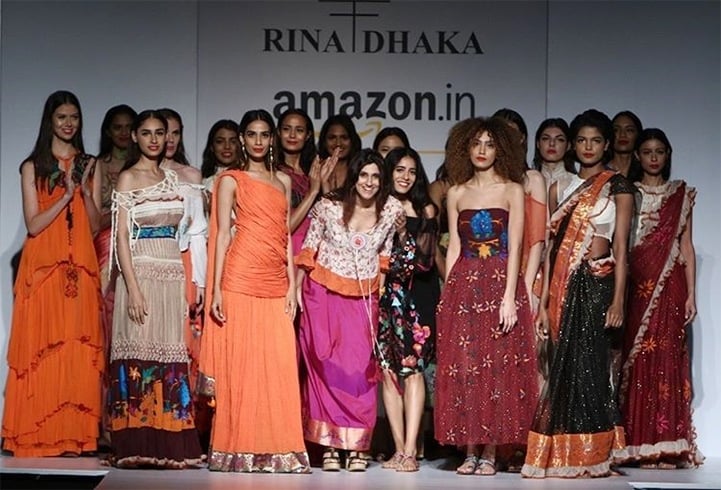 British Airways Presents Love Generation
The label Love Generation redefined casual chic with their first ever showcasing. Relentless efforts of three designers, Nandita Mahatani, Bhavana Pandey and Dolly Sidhwani gave us a collection of ready to wear garments which perfectly define the modern day girl.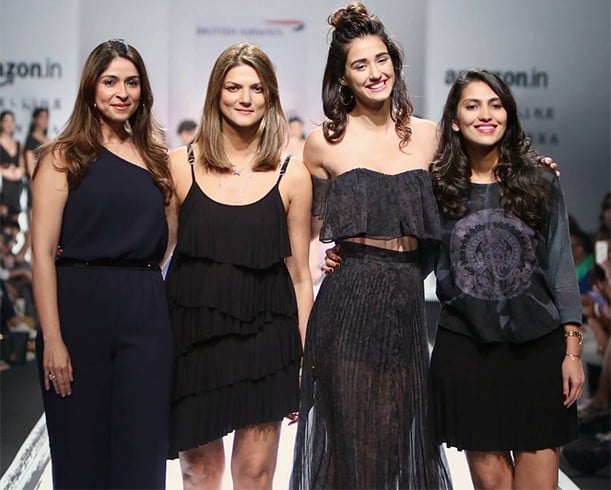 Hip and contemporary defined the Love generation collection. Tailored in breathable fabrics like cottons, georgettes, crepes and denims, every outfit was a take home piece.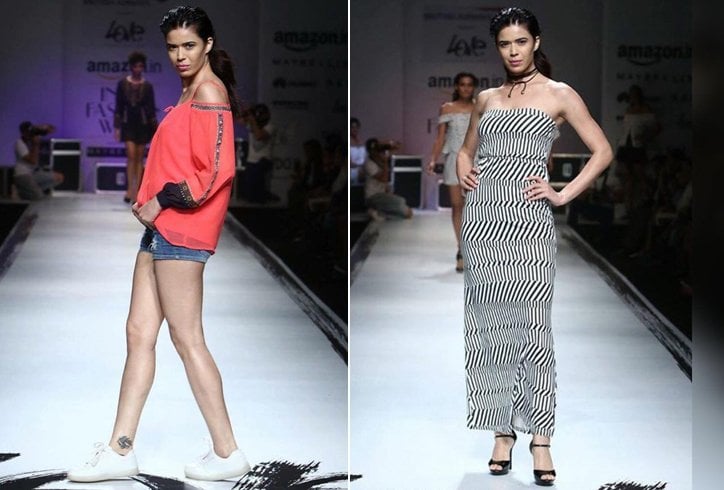 Set in bright summer hues of yellows, blues, ruby reds and pinks the ease with which every outfit can be dressed up or dressed down, was the most fascinating aspect of this collection presented in association with British Airways.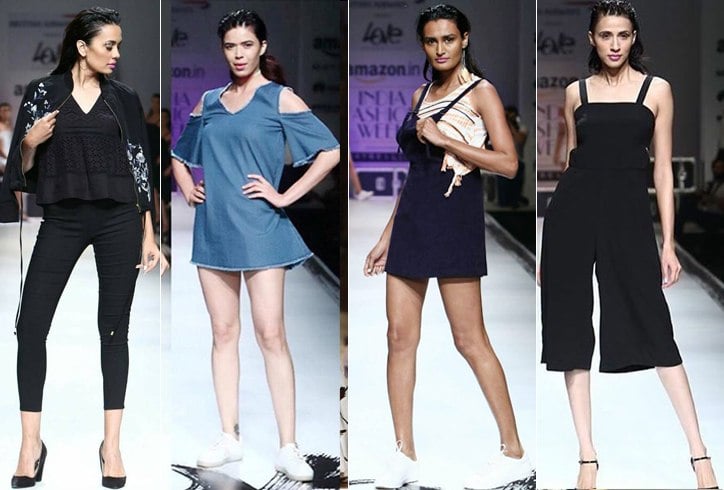 A host of celebrities including Dino Morea, Riddhima Kapoor, Ritesh Sidhwani, Nitya Mehra and Chunkey Pandey graced the front row at the show.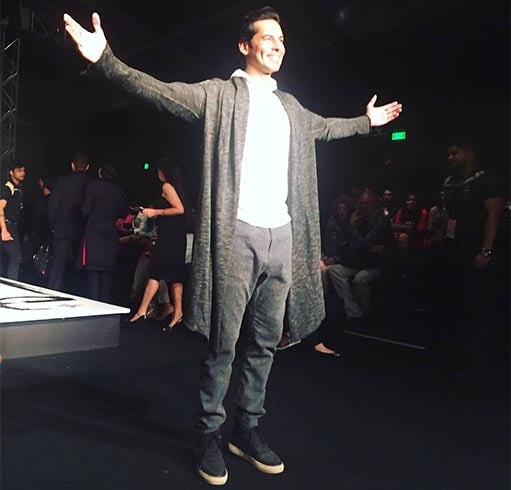 M.S Dhoni fame Disha Patani played the playful showstopper at the show. The show began with Disha taking over the ramp in washed denim separates. The lady made a comeback grooving in a black off shoulder top paired with long transparent skirt.
Celebrity makeup artist Elton Fernandez for Maybelline gave the models the perfect go to summer look.
We heart this collection and will surely be stalking them now on.
Italian Fashion Show
A one of a kind partnership made way for the first time for FDCI, when Italy joined in as the Partner Country for AIFW SS17. Italy known for its craftsmanship will be showcasing a host of its designers presenting the Indian audiences a piece of their skilled craftsmanship.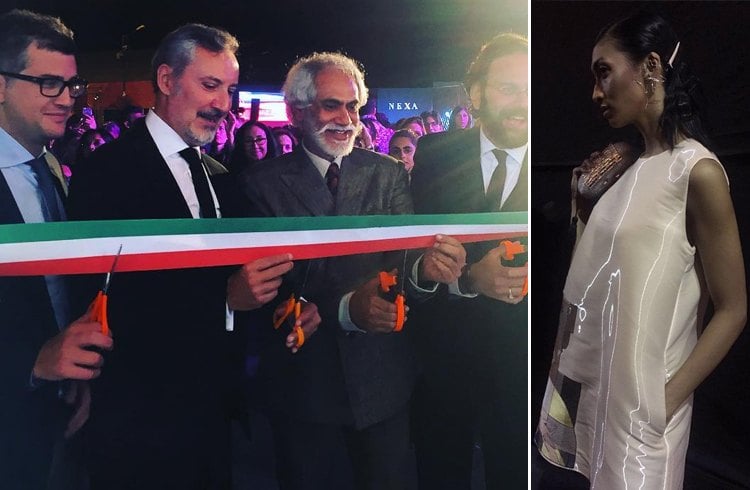 Italian designers, David Grillo, Alberto Zambelli, Leitmotiv and Bav Tailor, under the aegis of Camera Nazionale della Moda Italiana (the National Chamber of Italian Fashion), showcased their designs on the opening day of the event.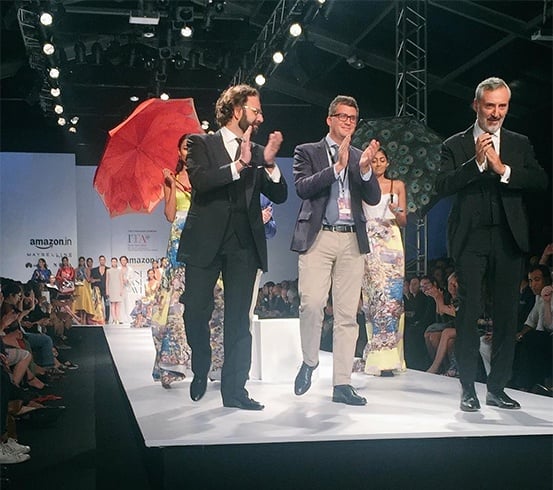 A rich color palette, structured silhouettes, classy and wearable garments every piece presented looked bespoke.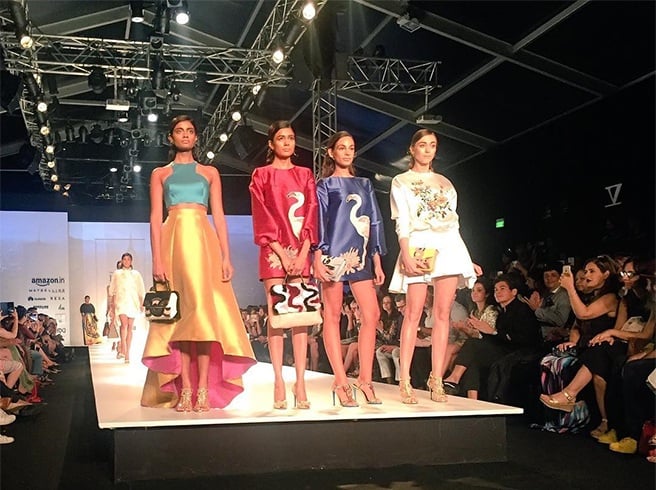 The Italians also brought in their accessories which made for charming eye candy's.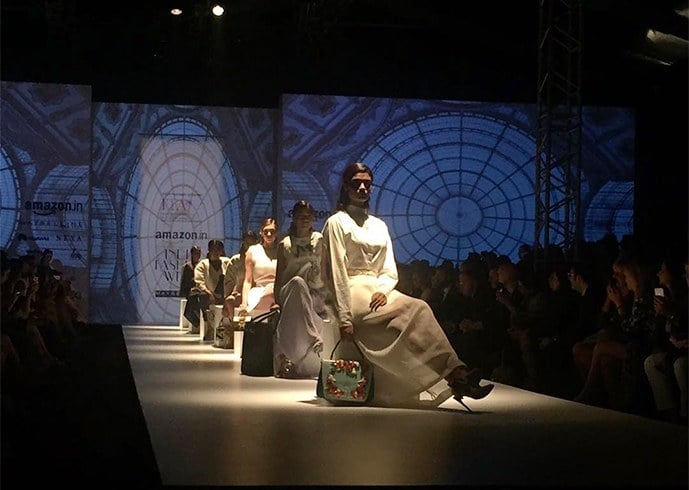 The show was a phenomenal end to the Day1 of the AIFW SS17.
Images Source: instagram.com, vogue.in