We all want to achieve flawless skin. And to achieve just that here is the latest Korean beauty trend that may help us. They have introduced a new cleansing technique that has taken over the beauty world, promising nothing but dream-like skin. And the steps are relatively simple to follow.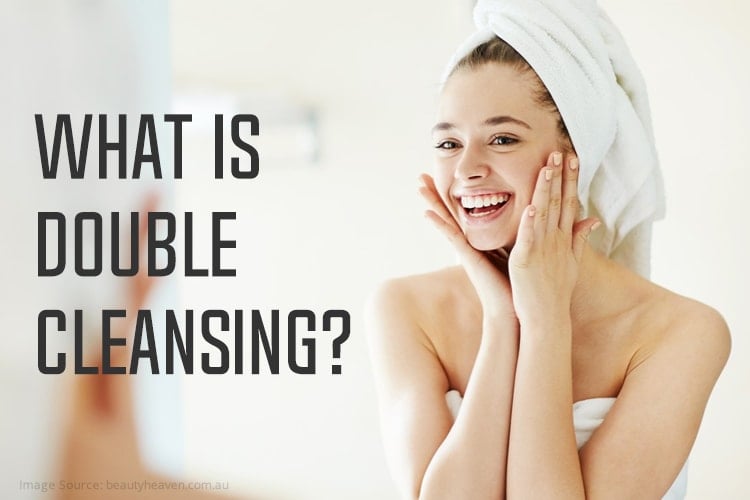 Double Cleansing Korean Beauty Trend:
This trend is known as the quickest method of achieving deeply-cleansed, smooth, and radiant skin.
What Is Double Cleansing:
The Double cleansing method is a two-step process for removing makeup and deeply cleansing the skin. They involve the use of specific types of products in a particular order, just like a 10-step Korean skincare routine. For instance, double cleansing for oily skin involves using two different types of cleansing products- oil-based cleanser and a water-based cleanser.
Let us break this down for you in detail below:
The First Cleanse:
The first step involves removing makeup, which is a normal night routine. But the idea here is to make use of oil-based products, like cleansing oil or cleansing balms. Micellar water is a favorite choice, especially for removing eye makeup.
These cleansing oils can attach themselves to the dirt, makeup, and excess sebum, and remove them off once you cleanse your face. Additionally, make use of wet flannel with warm water for a thorough skin cleansing.
Products we recommend- Bioderma's Sensibo H20 Makeup Removing Micelle Solution, Garnier Skin Naturals Micellar Cleansing Water
The Second Cleanse:
Now that you have removed your makeup, instead of using heavy duty products, you should make use of nourishing cleansers. Look out for products that are soothing and ideal for your skin type. Massage the formula into the skin thoroughly, and wash it off.
The best part of the second process is that you don't require a warm cloth as we don't want the pores to open up.
Products we recommend- The Face Shop Herb Day 365 Cleansing Foam Aloe, Nivea Refreshing Cleansing Milk.
These steps are really simple to make a big difference to your skin.
How To Choose Your Cleansing Products:
No matter how many bloggers or You Tubers may try to make you believe otherwise, making use of a coconut oil do not constitute oil-cleanse. In order for a cleanser to work best, it must be formulated with surfactants. Oil cleansers come in several consistencies, from thick to thin.
Here are some of our favorite cleansers to get you going:
1. Bioderma Sebium H20 Micellar Water:
This is a favorite in the backstage of all fashion weeks. It cleanses through heavy makeup in seconds and regulates sebum for leaving the skin perfectly matte and free from spots.
2. La Roche Posay Effaclar Purifying Cleansing Gel:
When in contact with water, the cleaning gel transforms into a light whip that leaves skin clean without taut and an uncomfortable feeling.
3. Clinique Take The Day Off Cleansing Balm:
Once massaged into the skin, the cleansing balm-oil works superbly to remove makeup, grime, pollution, and stubborn sunscreen. This is ideal for dry skin.
4. Shiseido Perfect Cleansing Oil:
The cleansing oil is super gentle and pH-balanced with little or no fragrance and alcohol. This cleanser greatly pampers and moisturizes skin.
[sc:mediad]
5. Cetaphil, Gentle Skin Cleanser:
The gentle skin cleanser is simple, affordable, and a favorite of celebs. There's nothing to dislike about this power cleanser.
6. Dior, Hydra Life Lotion To Foam Fresh Cleanser:
Foam cleansers can work wonders in removing heavy makeup and leave the skin squeaky clean without drying it off. The creamy texture can inject moisture into the skin.
7. Kiehl, Ultra Facial Cleanser:
The facial cleanser by Kiehl is a steal. With a rich moisturizing formula, the gel cleanser dissolves makeup and impurities. Formulated with an aromatic blend of botanical oils, this lightweight oil cleanser can gently and effectively cleanse your complexion.
8. Simple, Purifying Cleansing Lotion:
This is a product that removes dirt and makeup. It is suitable for sensitive skin and is affordable. A very effective and cheap skincare staple!
9. Orveda, Clay-Mud Cleansing Powder:
Orveda's products are one of the most effective and gentle ones, combining the intelligence of science and power of nature. To use this, rub the powder into a paste by adding water. Then apply onto your face using the accompanying Konjac sponge. Your skin will become bright and squeaky clean.
10. Glossier, Milky Jelly Cleanser:
The cleanser leaves no traces of makeup and keeps skin moisturized after washing off.
11. Bobbi Brown, Soothing Cleansing Oil:
Want cleansing oil that does not have any preservatives, mineral oil, or silicone? Then you should try Bobbi Brown Soothing Cleaning oil. This is natural oil that is gentle and easily takes off makeup.
12. Neogen Dermatology, Green Tea Real Fresh Foam Cleanser:
The foam cleanser is suitable for oily, combination, and acne-prone skin. It contains ingredients, like green tea extract, which brightens, calms, and hydrates skin. The double cleansing for oily skin removes impurities like sweat and dirt from the skin without stripping off skin's natural oils.
13. Garnier Clean+ Shine Control Cleansing Oil
If you are in search of a water-based cleanser that targets oily skin concerns to provide your skin with double cleansing for acne-prone skin, then consider Garnier Clean+ Shine Control Cleansing Gel. Formulated with charcoal to draw out impurities like a magnet, the water-based cleanser is a must for oily skin.
Is It Possible To Over-Wash Your Skin?
While your skin needs to be cleaned twice a day, a double cleanse is not always necessary, especially when you wake up in the morning. What a water-based cleanser does is, it prepares your skin to absorb the day cream and moisturizers, so that you get the best out of them. You can save the micellar water for the evening.
Over-cleansing can lead to dryness, irritation, and sensitivity. The ideal cleanser should be sulphate-free and that which avoids stripping the skin off its natural oils. And it's essential not to rub the skin too harshly.
If you think you may be over-washing your skin, it could be a great idea to change your cleansers. You need to select a cleanser that re-balances the skin. Irritation can occur when things like soap bars are used. These can upset the skin barrier and disrupt the acid mantle.
The solution is to use the right cleanser suitable for your skin types, regardless of whether you are double cleansing or not, as when the skin barrier is being repaired, the sensitivity gets resolved too.