It's safe to say that Korean beauty trends are a step ahead in terms of exciting innovation. And lip powder or powder lipstick is one of the new offerings. You've probably already seen hair products, sheet masks, face cream pods. What adds to the newest trend is the lip powder.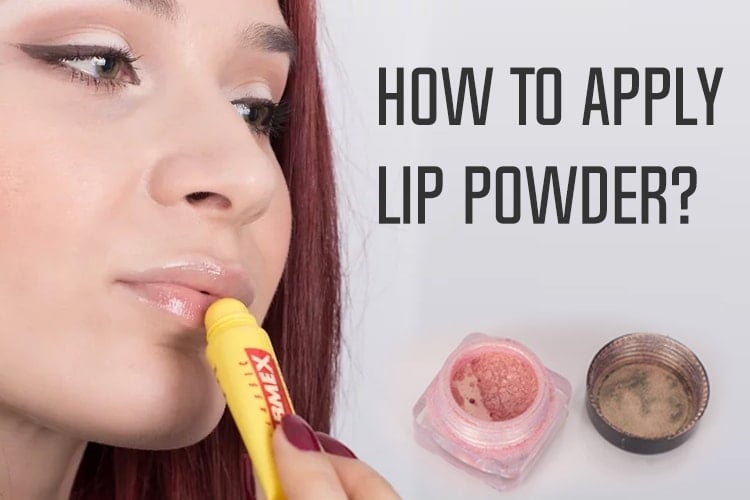 In this article, we'll talk about the origin of lip powder and explain the best techniques to achieve a gorgeous powder lip look! We'll also explain the benefits of using powder lipstick and why it is right for you.
Lip Powder And Ways To Apply It:
Here it goes.
What Is Lip Powder:
Lipstick powder is new to the Western beauty world. The trend started in Korea where innovation began to define the beauty world. The lip powder is not a face or bronzing powder. Its consistency does not remain powdery when used on lips.
Upon application, the lip powder becomes creamy and smooth as it contains hydro-gel ingredients. The powder lipsticks also contain pearly, luminescent minerals that draw attention to your lips.
There are several lip powders available in the market that contain beneficial ingredients like Vitamin E, to ensure getting a smooth and nourishing look.
How To Use Lip Powder:
Powder lipsticks are a perfect addition to your makeup kit. If the full-powdered idea intimidates you, then start off with a bit of it. Then, top your favorite lipstick or gloss for a full, natural look. Lip powders are compatible with several forms of lip color, which is why they're so popular and versatile.
For a glossy finish, simply apply lip balm on the lips and smear the matte lip powder on the center of your lips.
How To Apply Lip Powder The Right Way:
You should apply lip powder like you use regular lipstick. But, make sure to get a flawless result.
Here are a few steps to follow:
1. Exfoliate Your Lips:
Similar to any other lip color, it's essential to start off with a smooth base. Dry, flaky lips make the lip look uneven. To prep your lips, use a lip exfoliater. Or you can whip a homemade lip exfoliater using sugar, honey, coconut or olive oil.
Dab your exfoliater onto your lips. Gently scrub off the dry skin using a clean toothbrush or clean fingers. Allow it to sit on your lips for a bit and remove using a damp towel.
2. Apply Lip Balm:
After exfoliating your lips, you can moisturize them using a thin coat of your favorite lip balm. This can keep your lips smooth and nourished. But make sure to use only a small amount, so that the lips look nourished. If you do want to use a generous amount of lip powder, make sure to remove the excess balm before applying your lip powder.
3. Apply a Reverse Lip Liner:
It can get a little tricky to achieve crisp border using lip powder. For this reason, try a reverse lip liner. This is applicable to the outer perimeter of your lips. When you go for the lip powder, the reverse lip liner can act as a protection to prevent the color from smudging along the lines. You can get reverse lip liners from beauty supply stores or online.
4. Apply The Lip Powder:
The first step is to select the best color for you, depending on your natural lip color. If you have light-colored lips, select colors like coral and red. If you have rosy lips, then go for bright orange and pink. Also, dark-lipped women look amazing in deep wine colors and bright red.
To apply the lip powder, make use of a small lip brush or a lip powder applicator. We suggest dabbing a bit of powder against your palm to start your look using a lighter shade.
Start the lip powder application from the center of your lips and gently brush it outwards. Do not start applying it on the lip corners to a less consistent color. If the color is not what you like, then add an extra coat or two.
Benefits Of Lipstick Powder:
Similar to any other skincare product, lip powder too has certain benefits.
[sc:mediad]
1. Lip Power Is Velvety And Long Lasting:
Powder lipsticks are velvety without the drying effect of the conventional tube lipsticks. Not only does the lip powder liquefy when applied to the lips, but also stays on for long hours. The pigments present in powder lipsticks remain for long hours after application.
2. Powder Lipsticks Have Amazing Texture:
Lip powders are infused with Vitamin E and hydrating oils that can provide lips with a smooth, long-lasting look, and not a clumpy finish. It has a unique consistency and the texture does not feel gooey. This makes the lip powder superior to traditional lip gloss.
Three Best Lip Powder Products To Buy:
There are not many products that offer lip powders, but we have the three best lip powder options you should definitely try.
1. Sephora Collection Lip Powder:
Sephora is one of the best in the beauty world. Their line of lip powders are lightweight and can be used individually for a shimmery look. The lip powder contains pearl pigments to create the look of fuller lips. The product is great because the design is user-friendly and also allows for smooth and even distribution of the pigment.
2. CLE Cosmetics Melting Lip Powder:
CLE melting lip powder features a waterproof and smudge-proof velvety finish. The melting lip powders come in eight shades ranging from pink to plum and coral. The lip powder comes with a doe angled application, which pulls the powder straight from the tube.
3. RiRe Lip Powder:
You can achieve smooth and refreshing lip coverage with this new RiRe lip powder. The powder emulsion forms a pigmented layer giving a glossy look once it touches your lips. This can be used on both cheeks and lips.
Powder lipsticks are becoming really popular and therefore are easily available in the market. So put away your conventional lipsticks for the season and start using the versatile lip powder.