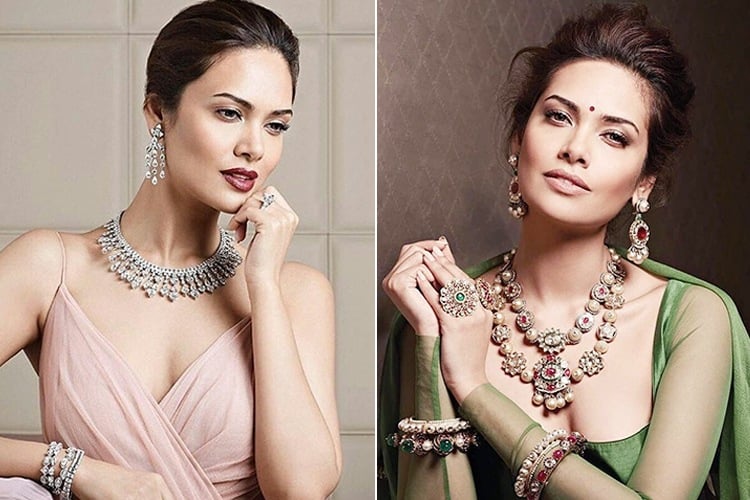 Hazoorilal Jewellers by Sandeep Narang, started a campaign that features their latest collection, and they picked Esha Gupta as their muse.
The campaign featured Esha in a marvelous historic theme taking us down the Mughal era lineage. To a fashion follower, the campaign styles are surely a treat. Let us admire and appreciate the jewelry, the outfits and the actor's impeccable beauty-
In Rimple And Harpreet Narula
Esha looked classic in a golden brown outfit by the designer. It is very thoughtful of the designer to adhere to the warm tones, when the antique designs are at display. The golden brown necklaces, the kangans, the jhumkis and maang tikka looked timeless. Stacking up such heavy pieces didn't look even a bit sluggish. With bronze makeup and brown natural lips, Esha looked amazing.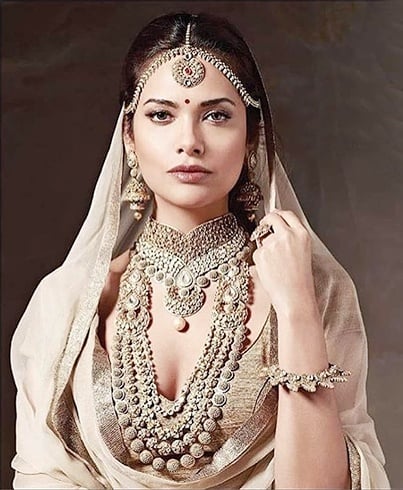 In Anita Dongre
The ace designer's bright yet elegant yellow outfit was picked for Esha Gupta. Dressed like a Mughal empress, Esha adorned lustrous jade and ruby jewelry pieces. Starting from the bangles, rings to tikka, jhumar and nose ring, she looked royal and grandiose. We definitely find it difficult to resist such illustrious pieces of jewelry. Don't you agree?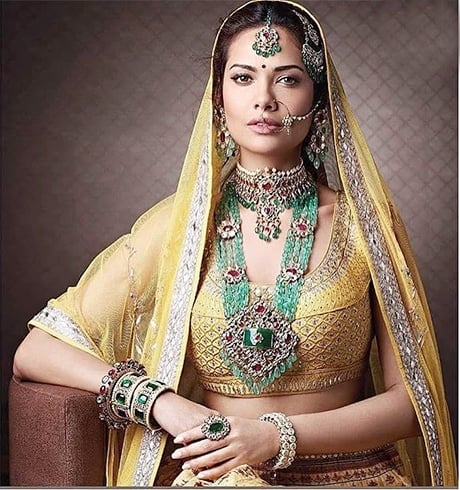 In Sailex Ngairangbam
In an emerald Sailex Ngairangbam outfit, she looked charming and majestic. The striking rubies embedded classically into the gold with subtle shining pearls was breathtaking on her. Tying up her hair into a bun, adding a bindi, she magnified the beauty of the outfit and the jewellery.
[sc:mediad]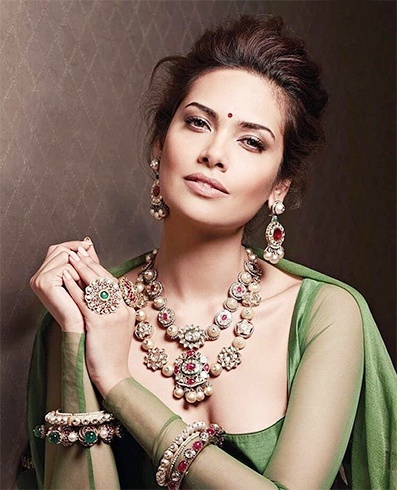 In Sana Barreja
Esha Gupta moved onto a comfortable looking trendy gown from Sana Barreja for one of the campaign photos. In a plum colored gown, she leaned against a wall flaunting the enduring pieces of diamonds. Isn't the cuff amazing?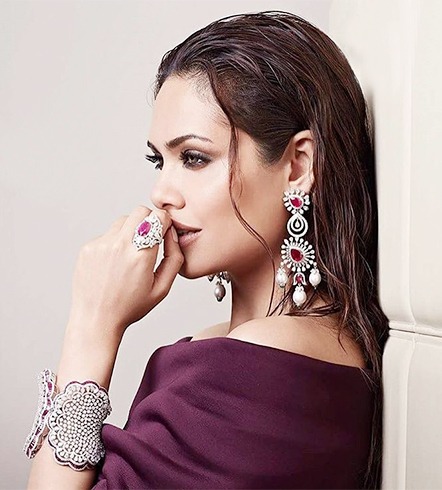 In Vineti Bolaki
Esha looked like a modern era queen in a pastel shade Vineti Bolaki gown. To match the elegance of the outfit, she chose the perennial diamonds. These diamonds definitely look worth dying for. Don't you think?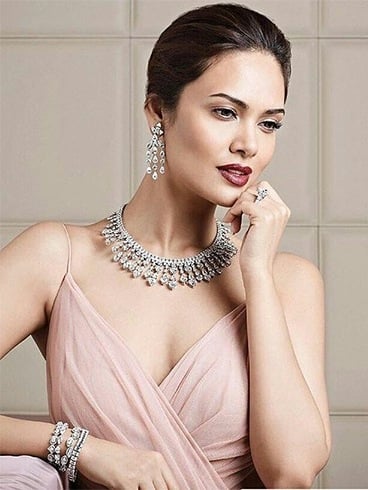 Great job by Aastha Sharma, the stylist, for creating such a mesmerizing campaign with Esha Gupta with Hazoorilal Jewellers. The stylist made sure the natural beauty of the diva shine through the heavy jewellery. With very less makeup and mocha brown, striking pink lip colors, she gave Esha Gupta a stunning appearance.